Berkeley is a vibrant and spirited place that may surprise those who still see it as the counter-culture center of the Sixties. Free speech and "flower power" are forever in the city's DNA, but Berkeley has evolved into a culinary and cultural travel destination with a "green" soul. The tree-lined streets of Berkeley offers creative, educational and fun experiences for every member of the family. From fun art activities for children to several kid-oriented museums, there's always something lively and festive right around the corner. Here are Trekaroo's top picks for things to do in Berkeley with kids:
Walk among roaring, stomping, realistic-looking dinosaurs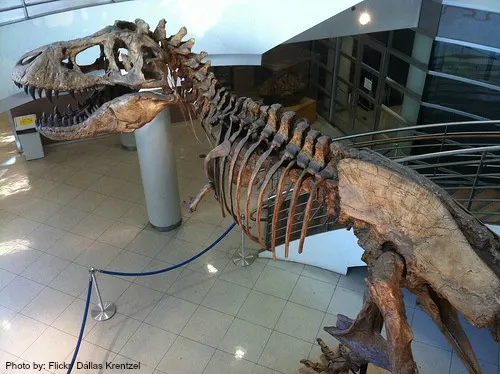 Photo by Flickr/Dallas Krentzel
Explore the prehistoric world like never before in Dinosaurs Unearthed at at the Lawrence Hall of Science- UC Berkeley. Scientists, engineers, and artists designed these creatures to be as lifelike as possible. The gigantic animals open their jaws, blink their eyes, and move their limbs. See the Hall's dinos spring to life — if you dare! Dinosaurs Unearthed features amazingly real animatronic dinosaurs, a hands-on fossil dig site, articulated full-size skeletons, actual dinosaur fossils, and interactive multimedia stations. Younger visitors will have fun in the Young Explorers' Experience. This special exhibition area features activities designed for visitors aged 2–7 years.
Visitors to Lawrence Hall of Science can also explore the skies in an interactive planetarium, where questions and activities are part of the program! The geodesic dome is installed with a state-of-the-art projection system. The 50-seat planetarium's Public Planetarium Program is presented every Saturday and Sunday. Daily programs are also offered Monday-Friday during the summer. Saturday Night Stargazing, weather permitting, is held every 3rd Saturday of the month, year-round.
Read Trekaroo user reviews of Lawrence Hall of Science.
Ride a scaled down steam train
Tilden Regional Park's activities have become a happy tradition for generations of East Bay youngsters. From a carousel ride and a picnic to a swim at Lake Anza and a stroll through the botanic garden, Tilden has variety to delight everyone. Ride along the scenic ridge of Tilden Regional Park on a scaled-down steam train or visit the Little Farm. The Little Farm features a variety of farm animals including cows, sheep, goats, rabbits, chickens and pigs. Several heritage breeds are preserved here, including Milking Shorthorn Cattle. Visitors are welcome to bring lettuce or celery to feed the animals.
Tilden Park's Lake Anza is a favorite getaway. Its sandy beach is open to the sun and sheltered from the wind, with lifeguards posted during the swim season. There is a beach access fee to the swim area, which has changing rooms and picnic grounds are nearby. The lake is open for fishing throughout the year and kids under 16 are welcome to fish without a license. The lake is not stocked, but has naturally occurring largemouth bass, bluegill, sunfish, and channel catfish.
Read reviews of Tilden Regional Park.
Climb aboard one of the country's best playgrounds
The Adventure Playground is a wonderfully unique outdoor facility where staff encourage children to play and build creatively. Come climb on the many unusual kid-designed-and-built forts, boats, and towers. Take a ride the zip line or just hammer, saw, and paint. Adventure Playground is designed for children seven years old and older, however younger children are welcome as long as they are within arms reach of a participating adult. Next door to Adventure Playground is the Shorebird Park Nature Center, a solar powered facility built out of straw bales and recycled materials. Here you'll find a 50 gallon salt tank, a 30 gallon fresh water tank and displays on marine mammals and birds.
Read reviews of Adventure Playground.
Relax at the Aquatic Park
The Aquatic Park provides a wide range of recreational opportunities including bird-watching, boating, hiking, biking and the Dream Land for Kids play area, as well as a habitat for bird and aquatic life, frisbee golf in the meadows, and fitness exercise courses. Dream Land for Kids is a unique tot and school-age play area featuring extensive wooden castles, walkways, and other structures.
Get slithery
The The East Bay Vivarium is one of the largest reptile specialty stores in the nation. They offer the most diverse selection of reptiles in the U.S. Their inventory includes snakes, lizards, turtles, frogs, tarantulas and much more! The store supplies zoos, educational institutions and classrooms as well as individuals and families with snakes, lizards, tortoises, turtles, frogs, toads, salamanders, tarantulas and scorpions and carry a book selection of more than 200 titles covering these animals in captivity and the wild.
Learn and Discover
The East Bay's discovery museum for young children Habitot features hands on exhibits and indoor play areas are especially for infants, toddlers and young children. The museum's six small-scale theme exhibits create a learning, discovery and play space for kids and their families. Fun exhibits encourage parent and child interactions with multi-sensory learning games and activities. Current exhibits include Waterworks, Drop-in Art Studio, Little Town Grocery & Café, Infant-Toddler Garden, Wiggle Wall, and the new Medical Center with a special veterinary care wing, including puppies and kitties that need care and attention. When they're not driving the ambulance, examining X-rays, giving vaccinations or caring for newborns, kids are bathing puppies in this new veterinary clinic.
Read reviews of Habitot Children's Museum on Trekaroo.
Fly a Kite
Image courtesy Berkeley Kite Festival
Cesar Chavez Park offers a wide range of recreational opportunities in a marina setting with spectacular views of the three bridges, Alcatraz, and Angel Island. Home of the Annual International Kite Festival in July, this park plays host to the most serious kite flyers in the world. Every year, they make their pilgrimage to Berkeley to demonstrate their kite-flying prowess and present their amazing kite creations. In addition to watching the kites, the Berkeley Kite Festival offers free kite-making lessons and kite-flying lessons. If you don't have a kite, you can purchase one at the giant sales tent. The event is free, and each area of the festival provides a different glimpse of what kiting has to offer. You can bring a picnic or purchase food from the vendors at the festival which will offer hot dogs, barbequed chicken, pretzels, ice cream, and corn on the cob. If you go, Bring a blanket to sit on, and bring sweaters for everyone, since the breeze out on the Berkeley Marina can get pretty dang chilly.