Southern California is one of the theme park capitals of the world, and for families trying to do it all (or all it's possible to squeeze in before dropping in exhaustion), at least three to five days in the area is ideal. To stretch your vacation dollar, I recommend CityPASS for your theme park ticking needs: their all-inclusive Southern California passes include one day admission to Universal Studios Hollywood and SeaWorld, one day admission at either the San Diego Zoo or Safari Park (formerly known as the Wild Animal Park), and three-day park hopper admission to Disneyland Resort. Can you get to it all? If you plan your vacation around your three days at Disney (centrally located in Anaheim), the answer may be yes. And most certainly you'll get your money's worth.
We used our Southern CA CityPASS while based at the Disneyland Hotel, which is only 40 minutes south of Universal Studios in one direction and 1.5 hours north of San Diego's attractions. With such a magical place to lay our heads (and a week in which to tour parks), we enjoyed our three days in Disney with day trips to both Hollywood and San Diego (with time to soak up the sun at California beaches besides!).
Of course, to get the most from their CityPASSes, families will want to make the best use of their time, which is why my family and I were happy to engage in some on-site investigation this summer (I know, my job is rough), noting what not to miss at Disneyland Resort's two theme parks. Below I break it down by age to ensure your family hits the highlights best suited for your school-aged kids.
Ages 6-8: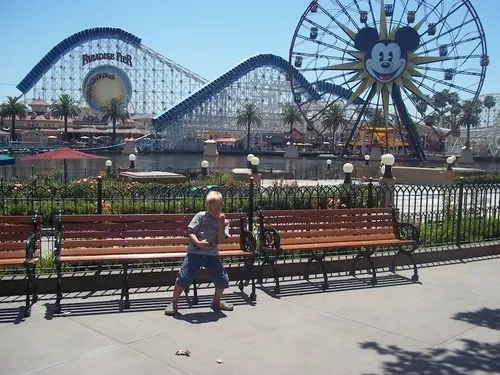 Most kids ages 6-8 are finally tall enough to ride all of Disneyland Resort's 'mountains' (Matterhorn Bob Sleds, Space Mountain, Big Thunder Mountain Railroad, and Splash Mountain), but if their daring doesn't quite measure up, alternatives abound. Most kids this age enjoy the newly revampedStar Tours, but if Space Mountain is too much, head to nearby Finding Nemo Submarine Voyages or Buzz Lightyear's Astro Blasters (Disneyland). Likewise, if the rest of the family is racing to Splash Mountain, take the younger set to The Many Adventures of Winnie-the-Pooh. In California Adventure, 6-8 year olds are likely too small for California Screamin' and Grizzly River Run, but the brand new The Little Mermaid and Toy Story Midway Mania are perfect alternatives.
Toon Town (in Disneyland) is still a hit with this age group, but go ahead and save it until after Fantasyland, where attraction lines fill up fastest. Kids can explore Mickey, Minnie, and Goofy's houses while waiting for rides like the Gadget's Go Coaster or Roger Rabbit's Car Toon Spin.
Kids 6-8 may be tall enough for the Twilight Zone Tower of Terror (California Adventure) and are welcomed on Pirates of the Caribbean and the Haunted Mansion, but beware scary images and themes. Better suited: the attractions in A Bug's Life in California Adventure, which never get too crowded.
Ages 9-11: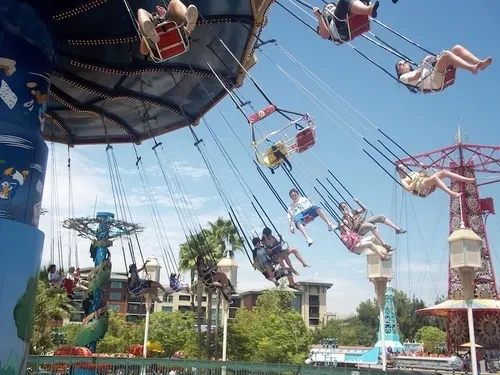 Kids ages 9-11 are finally tall enough (and often daring enough) for thrill rides such as the Indiana Jones Adventure (Disneyland) and California Screamin' (California Adventure) but are also the perfect age for Disney classics such as The Jungle Cruise (they'll finally get those corny jokes) and Pirates of the Caribbean (Disneyland). In California Adventure, 9-11 year olds will love the midway rides such as Silly Symphony Swings and Goofy's Flight School. Snag fastpasses early in the day for the Grizzly River Run water ride and save time during the heat of the day for the Turtle Talk with Crush show, located in the backlot (California Adventure).
Almost without exception, kids this age will enjoySoarin' over California (California Adventure) and love the newly reinvented Star Tours (Disneyland), which features so many experience combinations, it will be different every time! If arriving in Tomorrowland early, families can ride Buzz Lightyear's Astro Blasters before the line lengthens while waiting for Star Tours fastpass times. Finally, for some downtime, let kids this age run loose (after establishing where an adult is located) on Tom Sawyer's Island (Disneyland).
Ages 12+: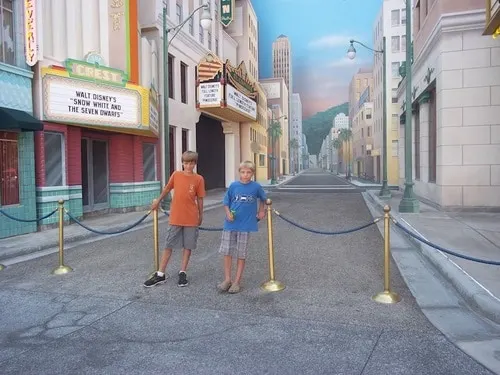 Kids ages 12 and up will want to hit the ground running in both parks, and often want to focus their time on the action-oriented attractions, so put their endless energy and longer legs to use snagging fast passes (with an adult) to the attractions they most want to ride (again and again). In California Adventure, they'll likely love Twilight Zone's Tower of Terror, Grizzly River Run, and Screamin', but when a break is needed, will also enjoy the 3D shows in California Adventure's Hollywood Pictures Backlot.
Kids 12 and up are also prime age for Disneyland Resort's evening shows and entertainment. While younger kids might be better off in bed (where you might wish to be as well!), tweens and teens love the thrill of staying up late and seeing the resort lit up at night. By far the best pick: California Adventure's World of Color, which is featured over Paradise Bay. Grab a fastpass to this show earlier in the day (by Grizzly River Run) for the best views. If you don't have the chance to spend a separate evening to view the firework spectacular at Disneyland, know that you'll get a partial view while leaving World of Color.
If you can enhance your three days in the Disneyland Resort with an on-site stay, you'll save even more time commuting to and from the parks, and enjoy perks such as extra fastpasses (upon check-in) and Extra Magic Hour. Staying on-site also saves your sanity; those mid-afternoon breaks in the pool or napping in the spacious rooms will really make you feel like a…well, princess. Just minus the castle.
Amy Whitley is the founding editor of Pit Stops for Kids, a family travel resource covering kid-friendly resorts, attractions, outdoor adventures, and all the pit stops you'll need along the way. She also writes for a number of print and online travel publications, and is a family travel expert at Best Family Travel Advice. She lives in Oregon with her husband and three sons, where they enjoy backyard adventures when they're not traveling.