Last Updated on
Trekaroo generates revenue from purchases made through links to our partner brands.
The tastiest time of year has arrived at the Disneyland Resort. For 54 glorious days, the Disney California Adventure Food and Wine Festival celebrates all the bounty of California's thriving food scene. There are 14 different Festival Marketplaces serving creative dishes and regional beverages. Culinary demonstrations, Junior Chef experiences, and signature events round out this wonderful event.
Discover more exciting things happening at the Disneyland Resort in 2019.
Trekaroo is an affiliate of booking.com. Which means you get the same exact deals but our kangaroos get a few extra treats when you book through us.
Sip and Savor Pass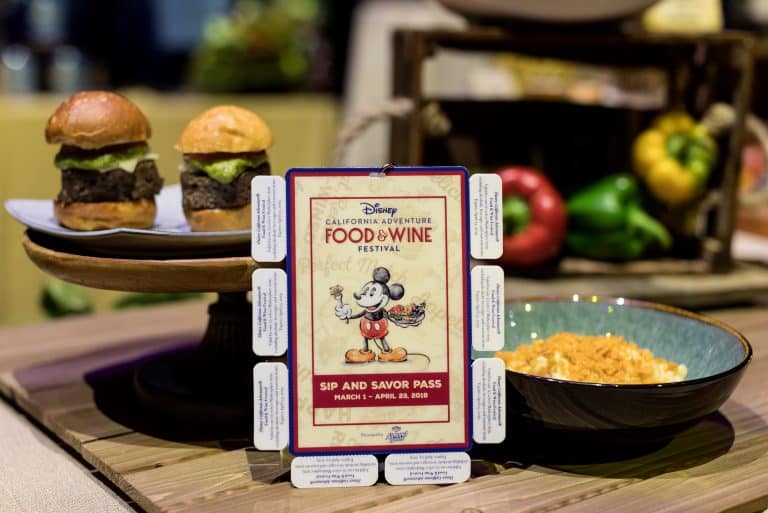 The best way to make the most out of the Disney California Adventure Food and Wine Festival is to purchase the Sip and Savor Pass. It is $49 for Annual Passholders and $54 for non-passholders. Each Sip and Savor Pass has 8 tabs on it. These tabs can be redeemed for food and non-alcoholic beverage items at the festival.
Between the Festival Marketplaces, food carts, and Paradise Garden Grill, there are at least 21 locations where you can use your Sip and Savor Pass. It is a great value and a fun way to enjoy multiple items. The pass can be purchased at the Studio Store, Elias and Co, Seaside Souvenirs, Artist Corner, Trolley Treats, the Festival Welcome Center, and Festival Gifts and Merchandise Carts.
Discover more Disney Special Events worth planning your vacation around.
Disney California Adventure Food and Wine Festival Marketplaces
Citrus Grove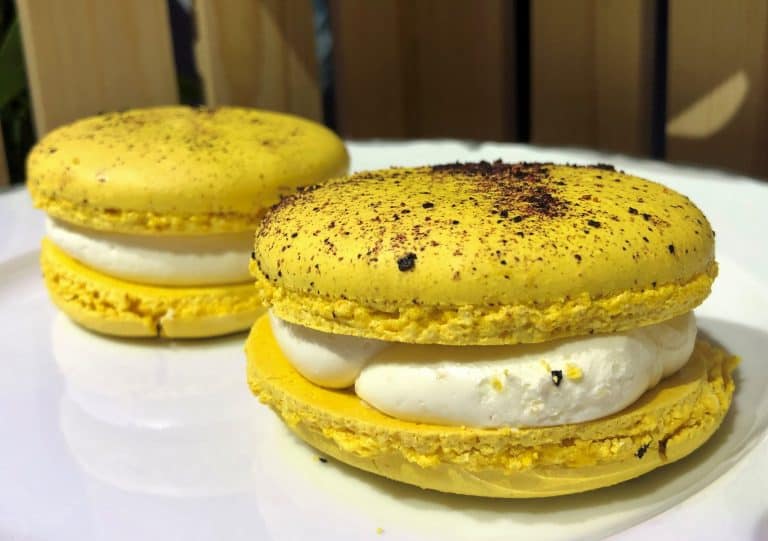 You can't have a California food festival without celebrating citrus. At this marketplace, you will find Orange Chicken and Rice, a staple of my kids' diet, and Citrus-brined Pork Roast with Tangy Barbeque Sauce and Lemon Pepper Slaw. Disney continues to put out some spectacular macarons. The Meyer Lemon Blue Diamond Almond Macaron has a classically sweet exterior but the filling has a terrific lemony tang. Beverages served at this kiosk include the Meyer Lemon Ginger Mule (alcoholic) or Ginger Beer (non-alcoholic).
Berry Patch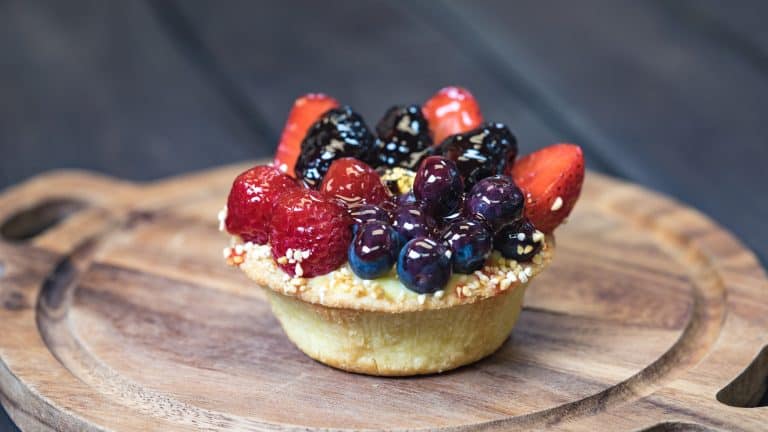 As you might have guessed, this marketplace is an ode to berries. The Strawberry & Coconut Rice "Frushi" with Sweet Oikos Yogurt Wasabi Sauce is fun and healthy. The Fresh California Berry Pie is like a work of art. The Strawberry Float with Vanilla Ice Cream is topped with whipped cream and a crunchy cereal garnish.
Peppers Cali-ente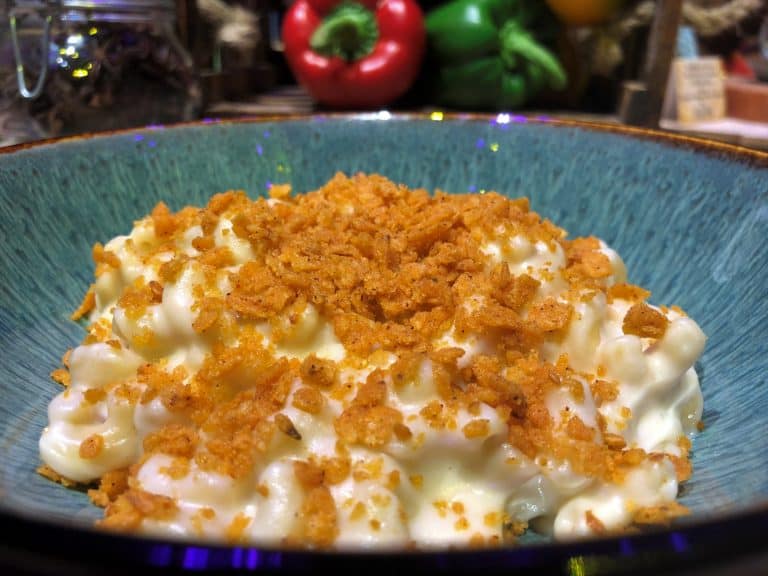 The spice is kicked up a notch at this marketplace. Salmon Peruvian Poke with Cucumber-Lime Salad and Ajo Verde Salsa is a fresh and tasty option. The superstar of this stand is the Ghost Pepper Mac and Cheese with Chili Cheese Corn Chip Dust. It definitely packs some heat, but nothing too overpowering for those of us who love spicy food. I couldn't get enough of it. The beverage served here is a Jalapeno-lime Margarita, a favorite of us spicy addicts.
Veggie, Veggie, Fruit, Fruit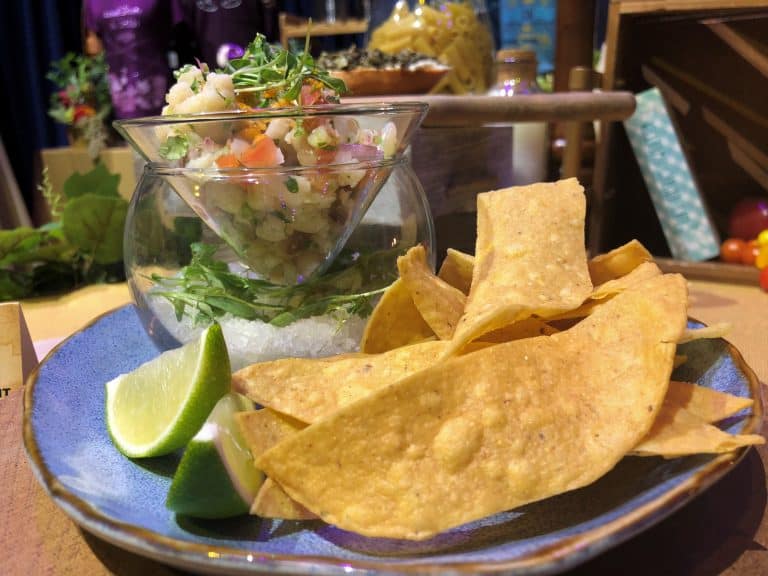 This marketplace is a celebration of California produce. The Grilled Asparagus Chicken Caesar Salad reminds me of the Asparagus Festival that takes place in Stockton every spring. The duo of Lime and Strawberry Frozen Fruit Bars is refreshing on a warm Orange County afternoon.
Definitely don't miss the Cauliflower Ceviche with Chile Corn Crumble and Tortilla Strips. Cauliflower and lime, who knew they were such a perfect pairing? I will definitely be trying to replicate this dish at home. Drink options include Cool Lime Margarita with Frozen Lime Ice, Davis Bynum Sauvignon Blanc, and Chihuahua Cerveza Limon Premium Lager (Newport Beach).
Avocado Time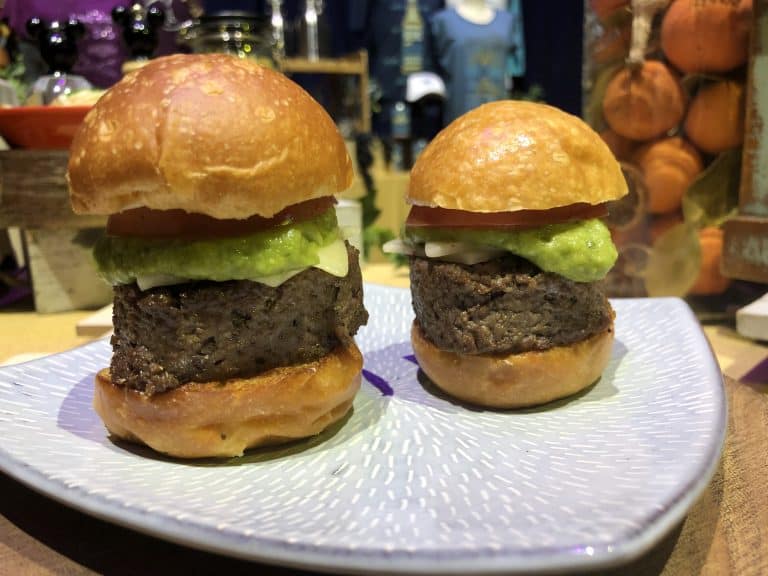 You can't possibly attend a food festival celebrating California without sampling something avocado-themed. This marketplace features a Spice Roasted Chicken Pita with Avocado Hummus and Garlic Sauce as well as a Petite Impossible Burger with Guacamole and Pepper Jack Cheese. This vegetarian burger is not to be missed! I never would have known this burger didn't contain meat. The "meat" is juicy and flavorful and has the same look and texture as beef. The guacamole was smooth and fresh, a great compliment to the burger.
Wash it all down with a Pineapple Passionfruit Kombucha, a refreshing, healthy, and palate-cleansing non-alcoholic beverage. This kiosk also sells a Kombucha Mojito Cocktail.
I Love Artichokes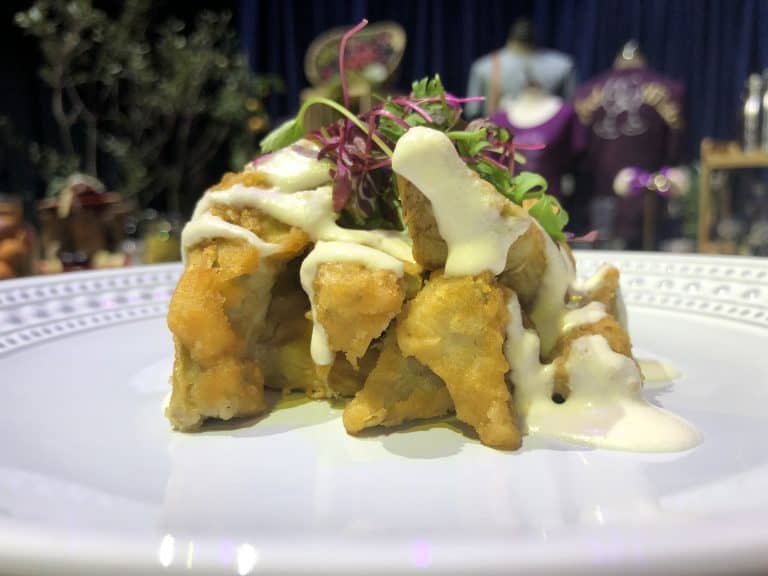 If you do love artichokes, the best option at this marketplace is the Fried Artichokes with Lemon Aioli. If olives are more your thing, try the Artichoke Toast with California Olive Tapenade.
The Almond Cake with Butter Streusel, Apricot Compote, and Brown Sugar Creme Fraiche is a good option for the almond dessert lover in your group. The cake has an almond extract flavor which the apricot compote compliments nicely. The Chihuahua Cerveza Rico Lager (Newport Beach) is served here as well.
Cluck-a-Doodle Moo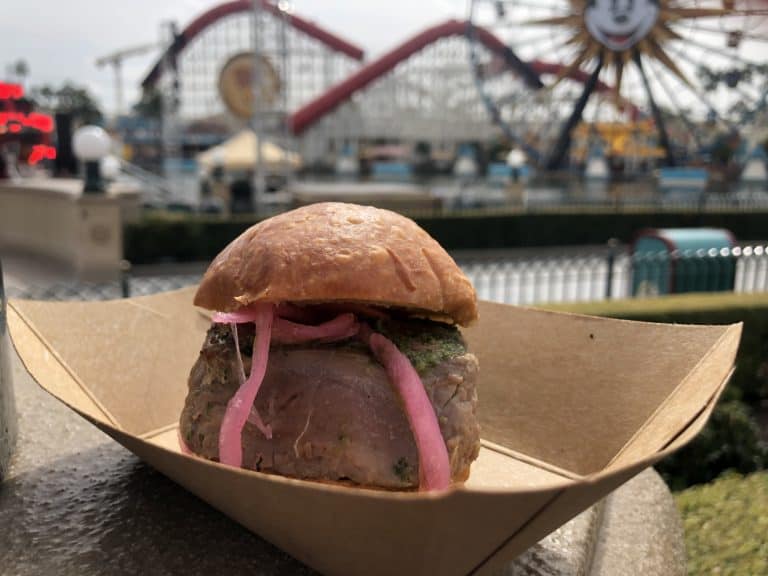 The most popular dish at the 2018 Disney California Adventure Food and Wine Festival was the Harris Ranch Grilled Beef Tenderloin Slider with Chimichurri Sauce. Thankfully, this bad boy is making another appearance in 2019 and is as tasty as ever. The beef is tender and juicy. Pickled onion and garlicky chimichurri kick things up a notch. Salt and Vinegar Parmesan Chicken Wings round out the food offerings at this marketplace.
Here they serve a Watermelon Lemonade which is more sweet than tart and packs a wonderful watermelon punch. This is also the place to enjoy a festival beer flight featuring Thorn Brewing Company Barrio Lager (San Diego), Strand Brewing Co 24th Street Pale Ale (Torrance), Karl Strauss Brewing Company Festiv-Ale (San Diego), and Brouwerji West Dog Ate My Homework Blackberry Saison (San Pedro).
Garlic Kissed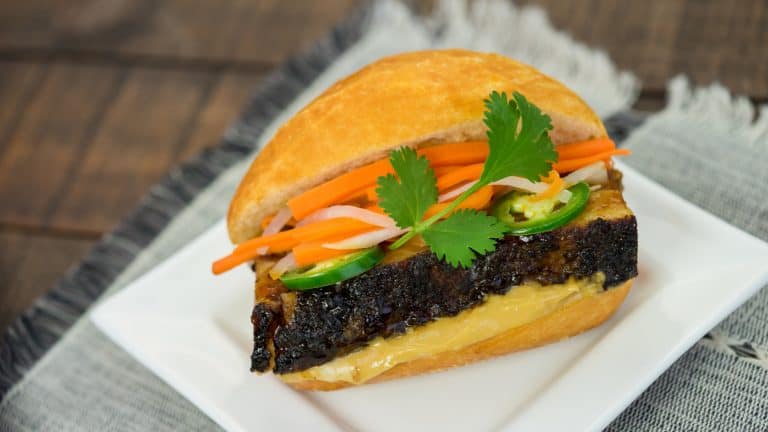 The second most popular dish at the 2018 Disney California Adventure Food and Wine Festival was the Creamy Mac & Cheese with Garlic Bread Crumble. It is making an encore appearance at Garlic Kissed this year alongside Black Garlic Soy-braised Pork Belly Banh Mi and Chocolate Crunch Cake. The featured beverage is a Bloody Mary with a Garlic-stuffed Olive.
Heading to Disneyland during wet weather? Here are our tips on what to do at Disneyland on a rainy day.
Off The Cob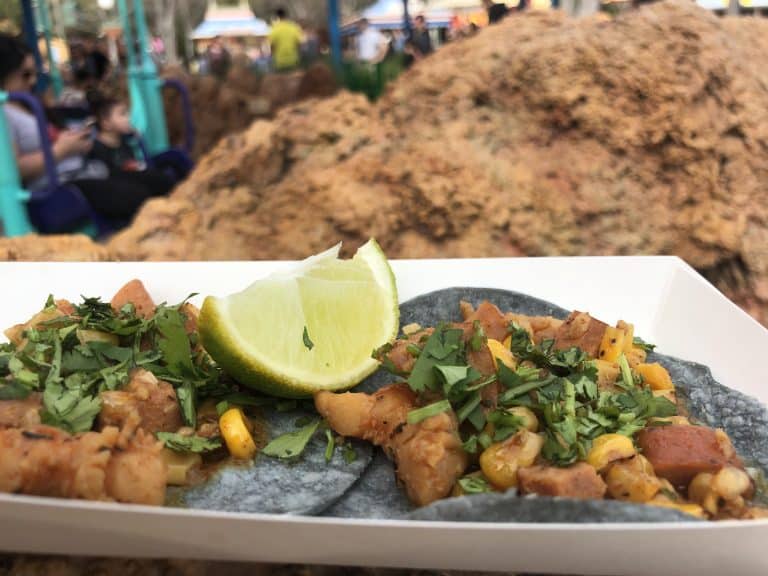 Did you know that California is 2nd in sweet corn production in the entire country? Celebrate corn by trying the Esquites Sweet Corn Nuggets with Bacon Lardons. Then enjoy an unusual but tasty mesh of Mexico and Louisiana while snacking on the Shrimp Boil Tacos with Andouille Sausage & Fresh Corn. Beverage options include a Peach Tea and Citrus Radler Lager.
Golden Dreams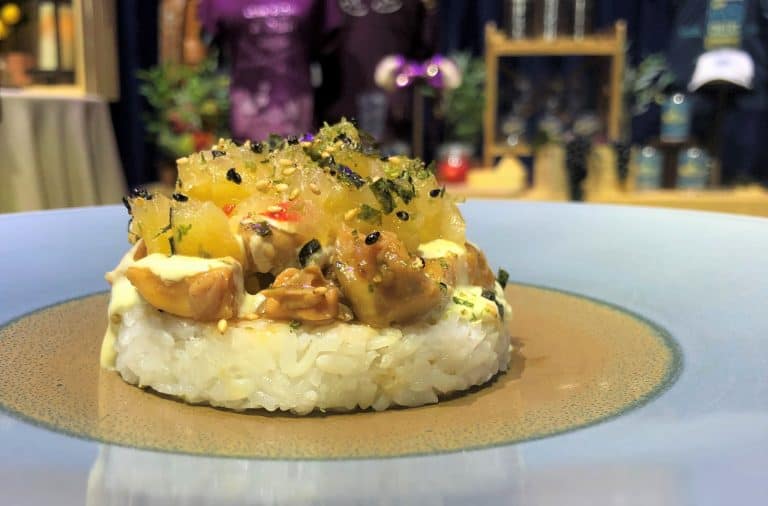 Familiar foods in unfamiliar preparations seem to be the theme of this marketplace. People who like teriyaki will love the Deconstructed Teriyaki Chicken Musubi with Pineapple Relish. It is like the popular Spam-based dish but with chicken and in rice bowl form. You can also find Anaheim Chile Relleno Bites with Salsa Verde. Finally, chile rellenos in bite-size form. Why didn't I think of that?
The true star of this food marketplace is the Chocolate-Peanut-Caramel Parfait. Oh. My. Gosh. Decadent and divine, this creamy-with-a-peanut-crunch dessert is my favorite sweet option at the festival. The beverage option at this cart is basically the drink of my husband's dreams- Yippee! Mickey's Cotton Candy Soda. It is made with Sprite, cotton candy syrup, rimmed with buttercream, and garnished with a pineapple cotton candy garnish.
Nuts About Cheese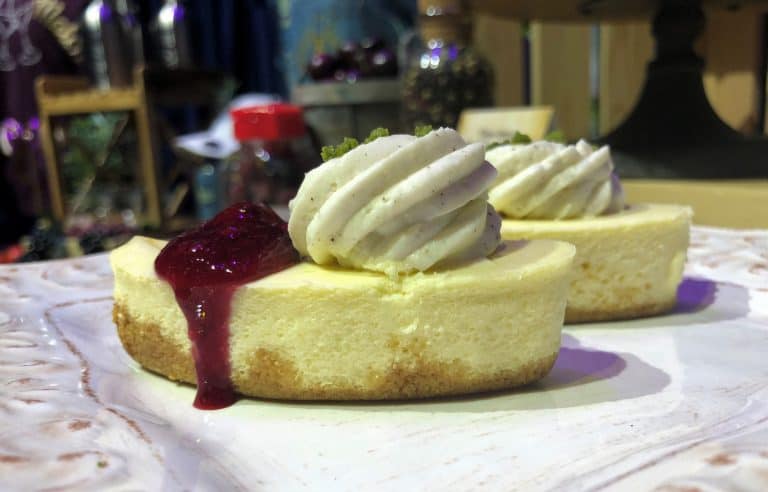 The Fisclani White Cheddar Lager Soup served in a mini Boudin Sourdough Bowl has been on the festival menu since the very first Disney California Adventure Food and Wine Festival 11 years ago. It continues to draw the crowds. New this year are the Ham and Vella Jack Cheese Pinwheel with Smoked Pistachio and the Creamy Oikos Yogurt Cheesecake which is topped with a cherry compote. The Karl Strauss Columbia Street Amber Lager is served here as well.
Uncork California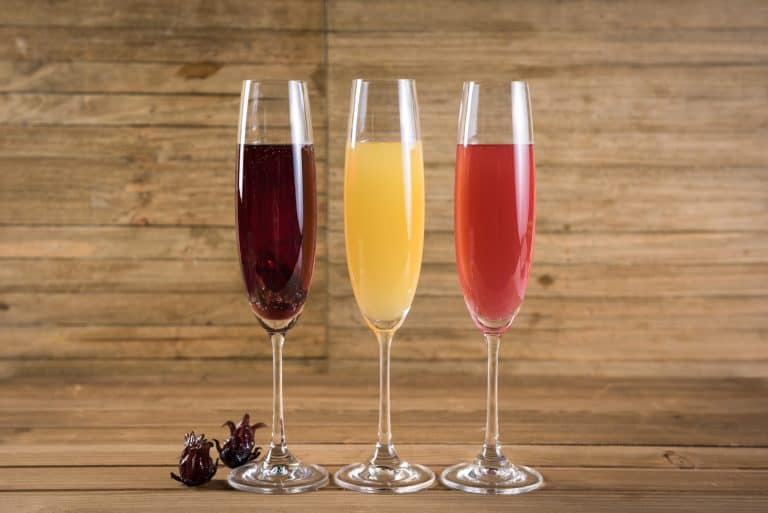 Beverage flights are the true star of this marketplace. There are white wine flights, red wine flights, and even mimosa flights! Each flight has three varieties to enjoy. If you are hungry, sample the California Artisan Cheese Selection. Choose from Point Reyes Blue or Fiscalini White Cheddar.
California Craft Brews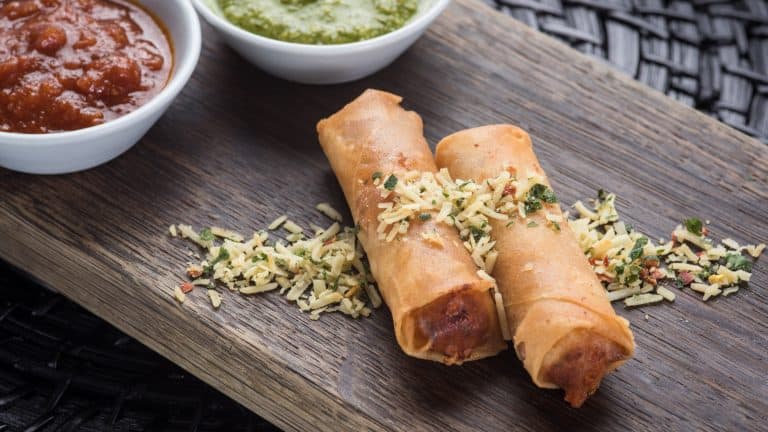 The wines couldn't be the only beverage to have their own marketplace! Two different beer flights are available, in either a "bright" or "hoppy" theme. Each flight contains 4 California beers. 10 beers are also available by the glass. What goes better with beer than pizza? How about Pepperoni Pizza Egg Rolls with marinara and pesto sauce?
Is this your first trip to DCA? Here are our tips for visiting Disney California Adventure for the first time.
LA Style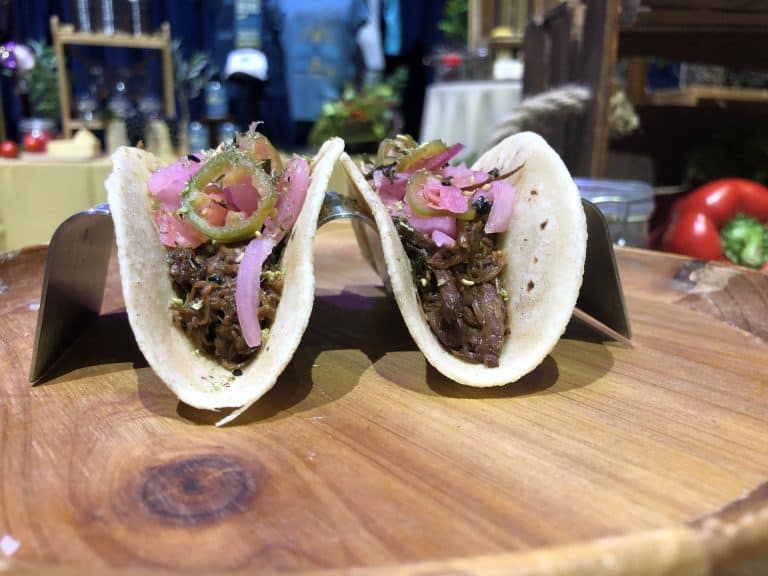 There is one marketplace that is not in the Festival Corridor but definitely not to be missed. LA Style is in Hollywood Land, near the entrance to the Monsters Inc. ride and the Backlot Stage. The BLT Chicarron Duro with Rancho Crema is basically BLT meets pizza with a Mexican flare.
Don't miss the Asian-style Beef Barbacoa Taco with Pickled Ginger. The barbacoa is juicy and full of flavor. The pickled onion gives a nice punch of acid to balance out the dish. It is garnished with furikake, a dry spice made with powdered seaweed and sesame seeds. Wash it down with a Tiki Cocktail made with rum, Falernum, bitters, lime juice, and grapefruit juice.
Tip: There is a churro cart nearby serving up Chocolate Peanut Butter Churros. They are topped with peanut butter cream, chocolate icing, and chopped peanuts and available on your Sip and Savor Pass!
Festival Beer Garden
The Festival Beer Garden has its own flight featuring 3 beers and a hard cider. It also serves many beers, a bourbon barrel-aged Scotch Ale, and mead. Most of the beers featured are based in California.
Paradise Garden Grill
I love how Paradise Garden Grill changes up its menu to reflect whatever seasonal celebration is taking place in the park. The following menu items are available during Disney California Adventure Food and Wine Festival. Beverage options include Matanzas Creek Sauvignon Blanc (Sonoma County), Nielson Chardonnay (Santa Barbara County), Olelo Cabernet Sauvignon (Paso Robles), Deschutes Brewery Pacific Wonderland Lager, and Sudwerk Brewing Company Marzen from Davis, CA.
Beer Battered Cod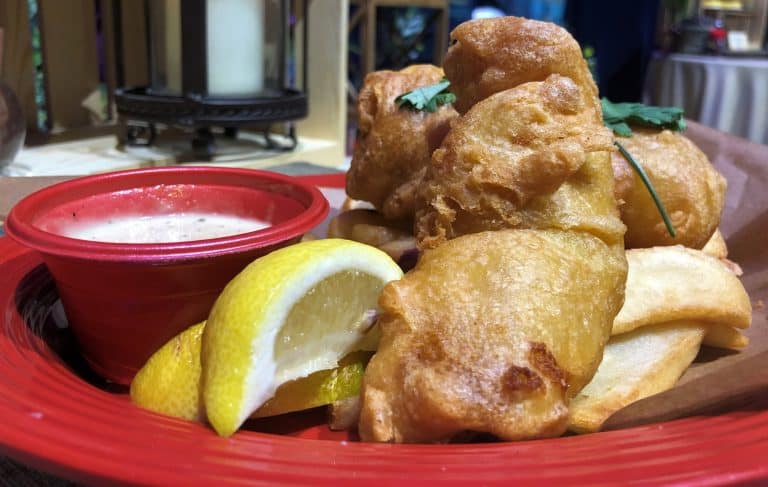 This is basically fish and chips, a popular dish in California's coastal communities. The cod is served with steak fries and a spiced remoulade.
Impossible No "Meat" Ball Submarine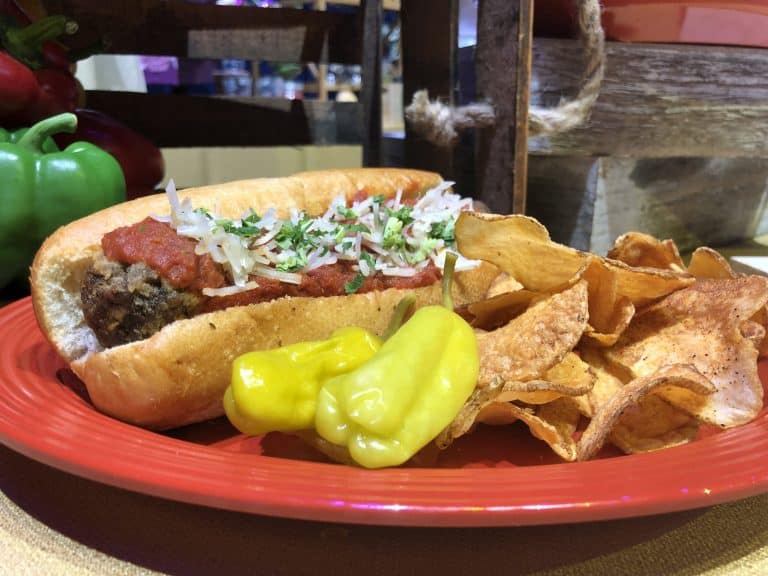 This sandwich is impressive. It truly tastes like a meatball sub. The only real difference is that since the dish is vegan, eggs are not used to bind the meatballs so they are a bit softer than normal. It is served with homemade kettle chips which are really, really good.
Beer-braised Pork Tacos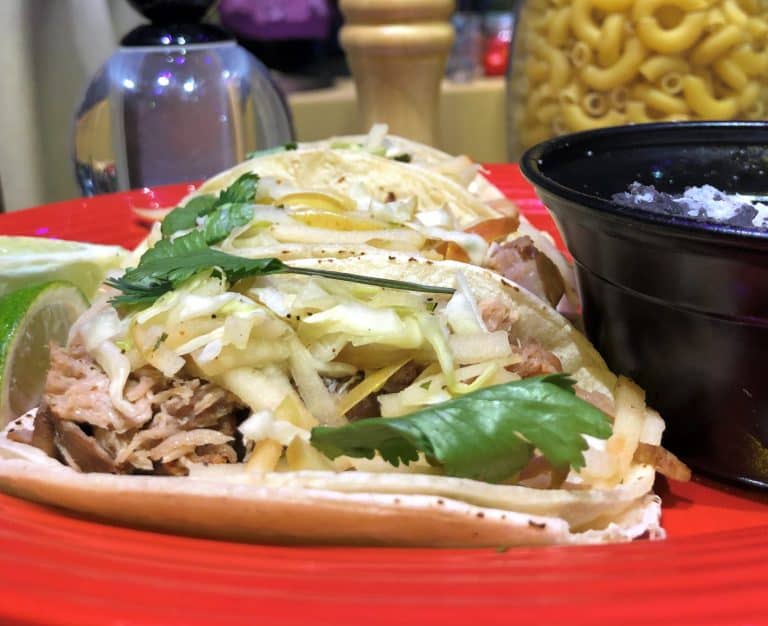 Who doesn't love good pork tacos? These are served with pickled apple slaw, black beans, and queso.
Large Soft Pretzel with Beer-Cheese Dipping Sauce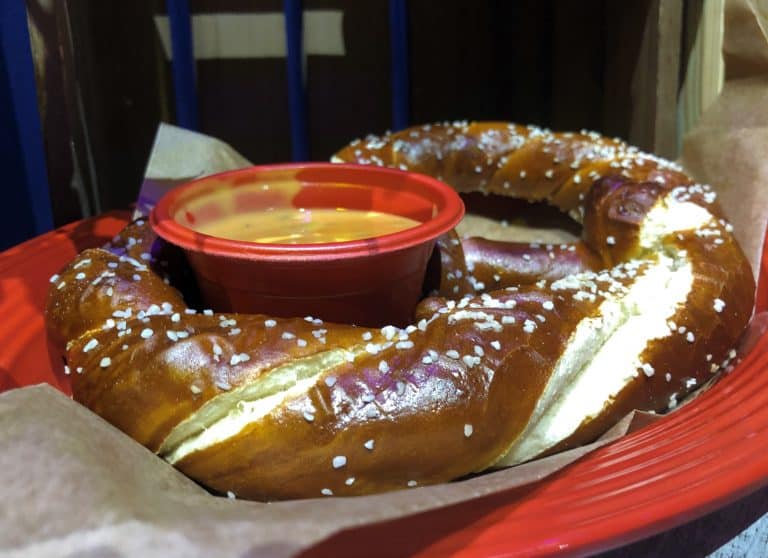 Why? Because the Beer Garden is next door.
Buffalo-style Roasted Turkey Leg with Celery Slaw and Crumbled Blue Cheese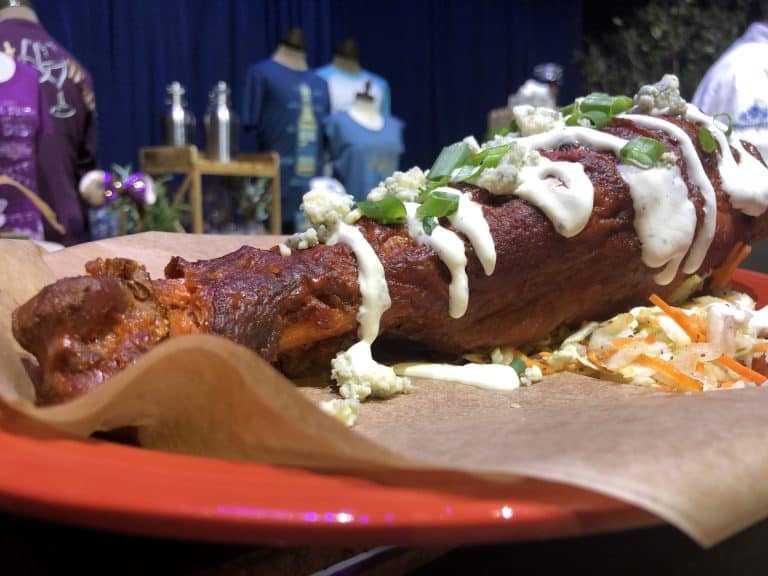 Disney has been serving up it wildly popular turkey legs for years you have probably been asking yourself, why not make it Buffalo style? Well, they listened to your pleas and now the turkey leg is soaked for 24 hours in a chile brine before being topped with all that Buffalo goodness.
Black Forest Parfait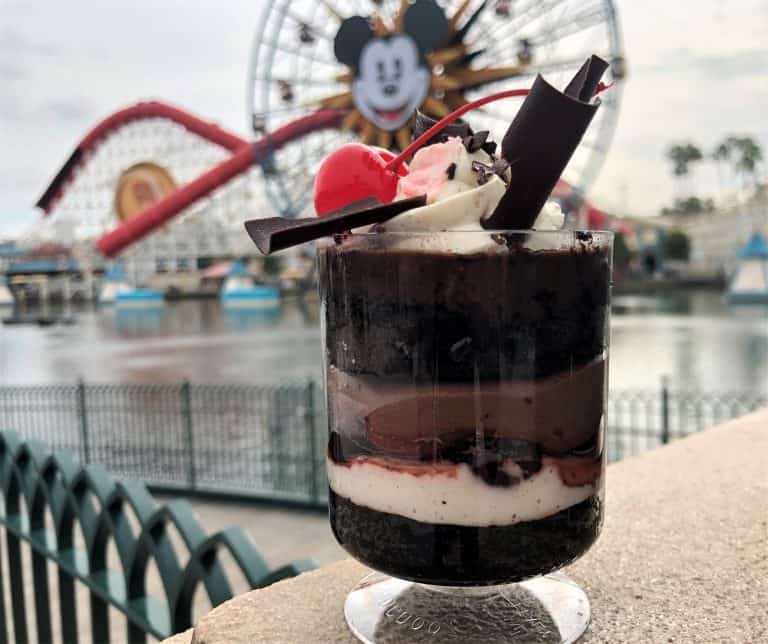 Why have a regular Black Forest Cake when you can have it in parfait form? Chocolaty, creamy, and the perfect amount of cherry.
Note: Only the Beer-Battered Cod, Impossible No "Meat" Ball Submarine, Beer-braised Pork Tacos, and Black Forest Parfait are available with the Sip and Savor Pass.
Check for amazing deals on family-friendly hotels near Disneyland.
Junior Chef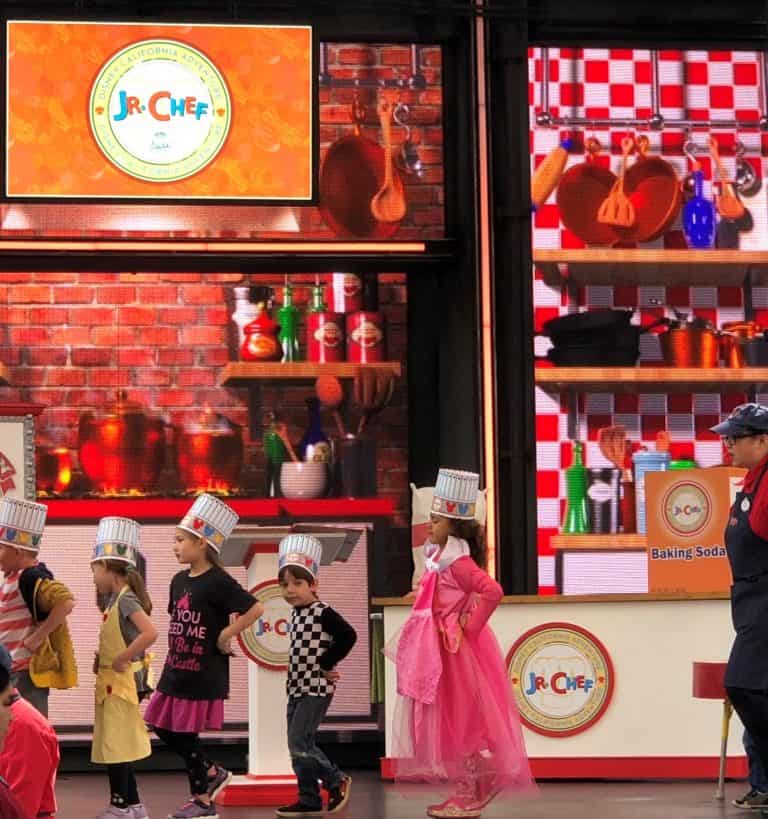 Junior Chef takes place on the Backlot Stage in Hollywood Land. Special cooking experiences, geared towards 3-11 year-olds, are led by Chef Goofy. Kids will learn a recipe and have a chance to prepare something fun. The experience takes place several times a day. Note: Blue Diamond Almonds is a major sponsor of the Disney California Adventure Food and Wine Festival so almond products are often used in these cooking demonstrations.
Family-friendly culinary demonstrations will take place every Friday through Sunday at 3pm on the same stage. Farmers, ranchers, and growers will be talking about the food we eat and providing mini cooking demonstrations and on weekends at 4:15pm. Visiting chefs will take the stage on weekends as well at 5:30pm.
Classes and Special Events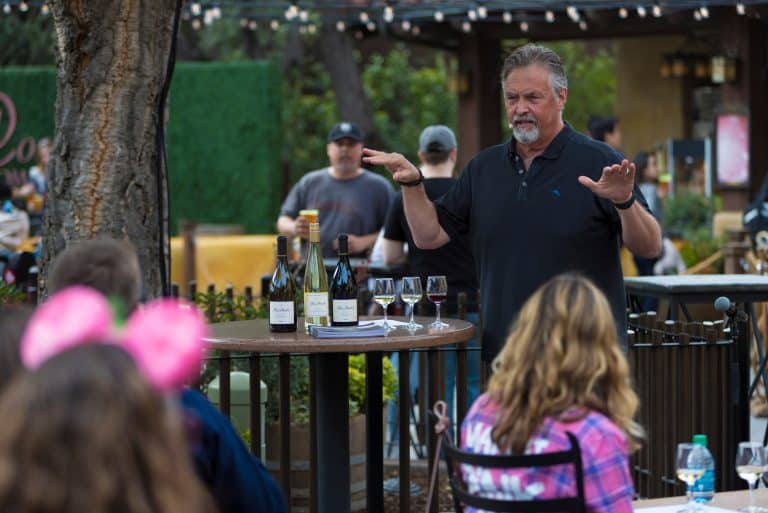 Part of the fun of the Disney California Adventure Food and Wine Festival is all the special events and classes that take place. There are tasting seminars every Thursday through Sunday for $20. There is also a mixology seminar where participants will learn to make their own special cocktail.
Guy Fieri is making another one of his popular appearances at the DCA Food and Wine Festival on March 9. His event is already sold out. A special Dinner with Disney Chefs is taking place on March 28 at the Wine Country Trattoria. Advanced reservations are highly recommended. For $225, guests will enjoy a four-course meal with beverage pairings.
Two special Winemaker Receptions are taking place March 22 and April 19 at Carthay Circle. Wine-industry experts from MacMurray Vineyards and Silverado Vineyards will be there to serve up a wonderful selection of wines and well as hors d'oeuvres. The cost is $99 per person and reservations are required.
Every Sunday a celebrity chef will take the Palisades Stage for the In the Kitchen With… and Sweet Sundays events. These events are $110 and take place from 11-1. A light breakfast buffet, a sample of the chef's dish, and sparkling toast are included.
Festival Music and Entertainment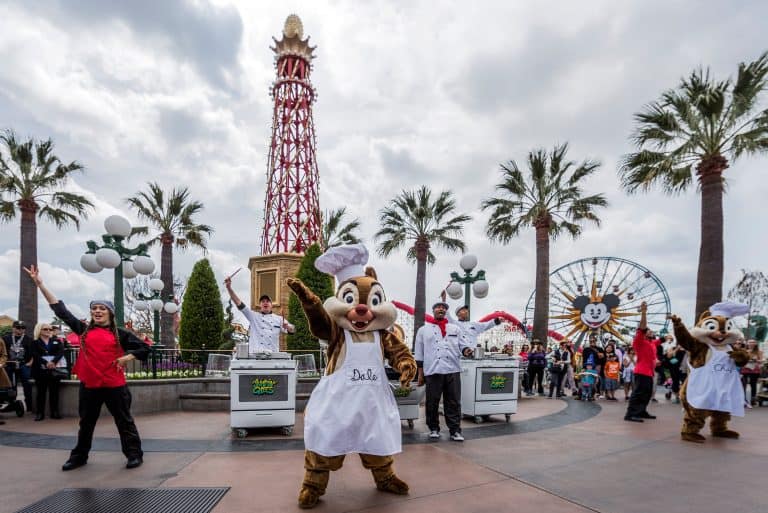 You can't have a great festival without a solid music lineup. Luckily, many Disney favorites will be taking the Palisades Stage throughout the festival. Acts include Phat Cat Swinger, Adelaide Tropical, and Yachtedly Crew. The intimate Paradise Gardens Stage will feature Bacano Boombox, John Russell, The Tina Aldana Band, and Carmel Helene. The Jammin' Chefs will make appearances along the parade route. They using cooking instruments to put a fun percussion show, and Chip n Dale join in on the fun.
Watch more fun at the festival…

Lead image by: Disney Parks