Looking for things to do with kids in Mesa, AZ? There are lots of fun things to do in this suburb of Phoenix that has really become a destination in its own right.
How about finding wild horses as you float down the Salt River? Posing with unique sculptures on Main Street? Or watching your favorite baseball team during spring training?
The City of Mesa, Arizona offers vast outdoor spaces for exploration, as well as museums full of kid activities, amazing art, and interesting history. These are our favorite things to do with kids in Mesa, AZ.
18 Best Things to do with Kids in Mesa, AZ
1. Visit the Arizona Museum of Natural History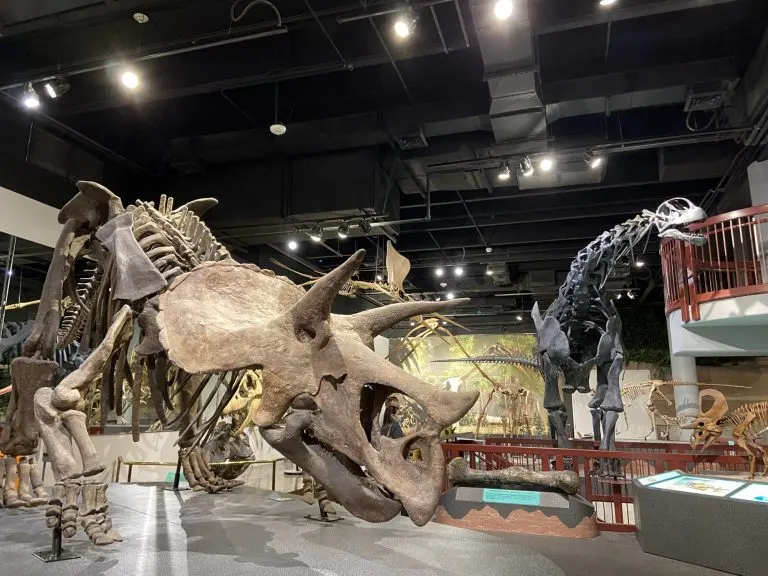 Dinosaur lovers adore the Arizona Museum of Natural History. Every half hour a flash flood pours down "Dino Mountain" as animatronic dinosaurs roar and shake their heads. Displays encourage touch and play, like building puzzles or feeling the rumble of a volcano.
In addition to prehistoric discoveries, the museum teaches the history of Arizona. First, explore an ancient Native American Village. Then hike through a replicated underground mine before emerging into a territorial prison.
Outside, try your hand at panning for gold. The museum even provides a little baggie so you can take home your loot.
2. Check out the Planes at the Arizona Commemorative Air Force Museum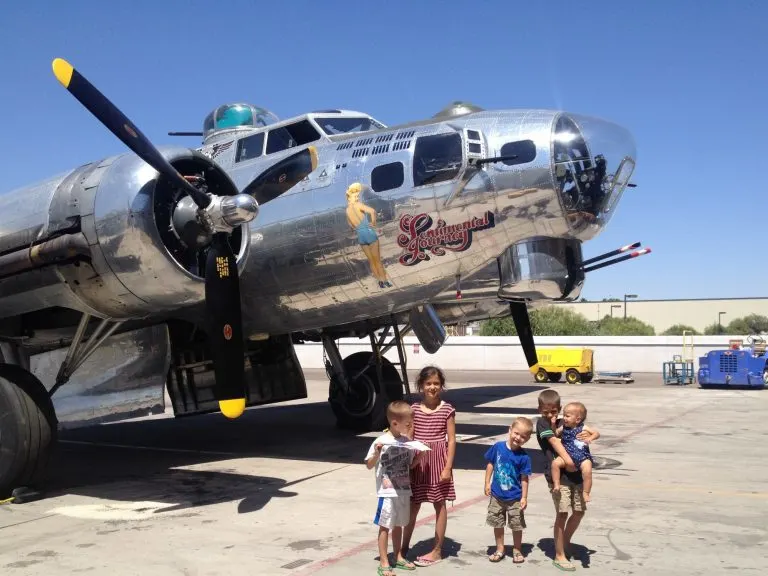 The Arizona Commemorative Air Force Museum allows aircraft enthusiasts to get up close and personal with historical wartime planes. Helpful docents share stories from the past, making history come alive. Occasionally, guests can even climb inside the cargo planes and bombers, pretending to be a pilot or gunner in World War II.
3. Interact with Art at the i.d.e.a. Museum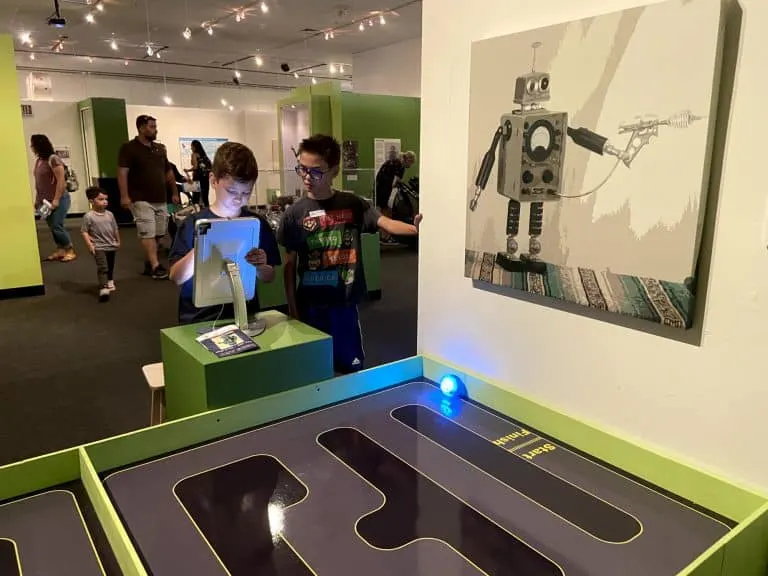 At the i.d.e.a. Museum, children explore fine art by creating their own masterpieces and interacting with art pieces. Rotating exhibits showcase how anything from robots to construction can be art. And an area called Artville allows children four and under to play without being plowed down by big kids.
If you love history, check out our article on where to find Arizona Ghost Towns. There is one right next door!
4. Float Down the Salt River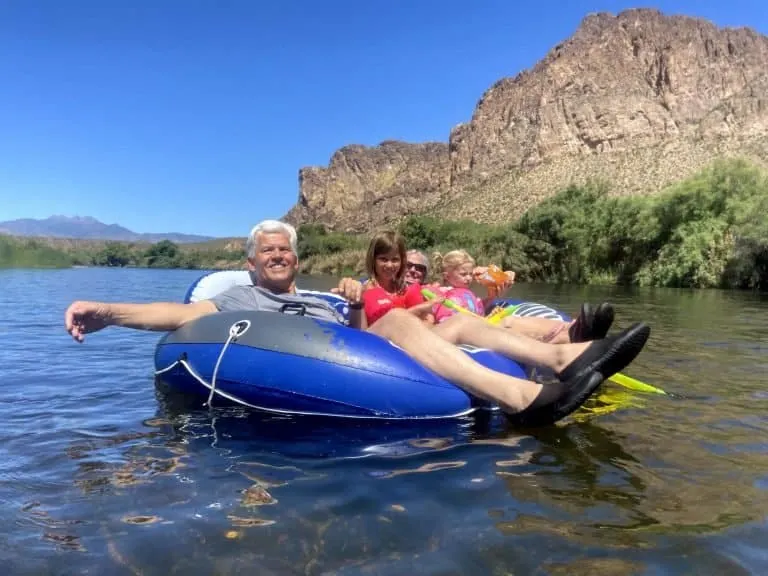 Heading to the water is one of my favorite things to do in Mesa, AZ. Grab a tube, kayak, or paddleboard and enjoy a leisurely float down the scenic Salt River. Along the way you could encounter the wild horses, river otters, and other critters that live along the riverbank, so be sure to bring a waterproof camera.
Salt River Tubing provides tube rentals and shuttle service, but it is also possible to do the trip on your own if you have two drivers. On weekends the float crowd tends to be a bit more rowdy, so with a family I'd recommend trying to stick to weekdays.
5. Head to Saguaro Lake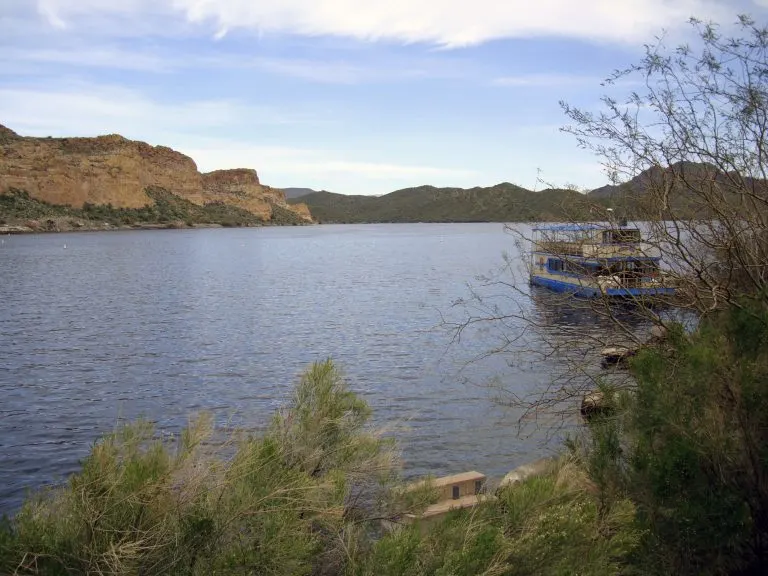 At Saguaro Lake, rent a boat for fishing, waterskiing, or tubing. Or take a kayak or paddleboard through the narrow canyons along the shoreline. On those hot Arizona days, this is definitely the place to be!
If you would rather stay dry, the Desert Belle Steamboat offers a narrated tour of the lake. Keep your eyes peeled and you might just spot some bighorn sheep along the striated cliffsides.
Explore more of the state! Here are the 10 Best Things to in in Arizona with Kids.
6. Play at Pioneer Park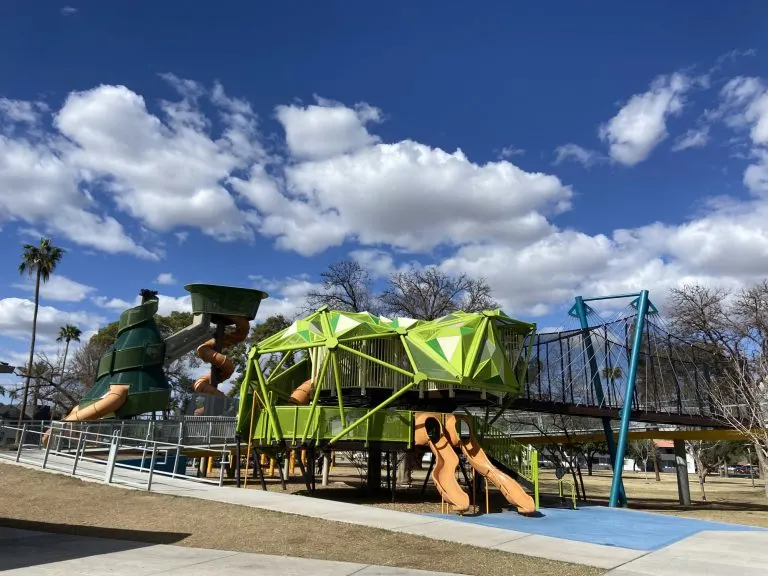 Mesa parks are some of the best in Arizona, and feature some of the coolest playgrounds.
Pioneer Park boasts a gigantic 9,000 square-foot playground. Kids can climb through the treehouse play structures, run across the suspension bridge, or swing across the hanging obstacles.
The park also showcases a mesmerizing water wall and splash pad to make summers at the park enjoyable. After playing make sure to explore the historic train and monuments.
7. Climb on the Orange Monster at Eastmark Great Park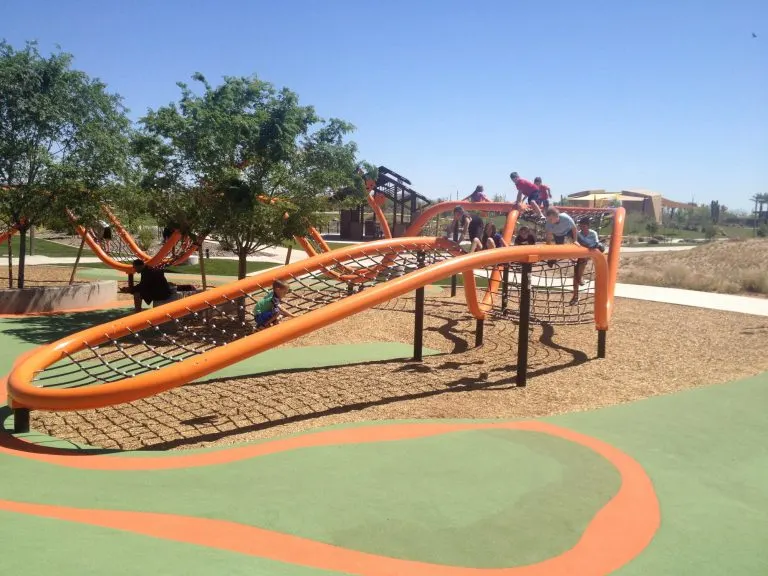 Another cool playground resides at Eastmark Great Park. The "Orange Monster" mesh rope climbing structure is a favorite feature with kids of all ages. And it wouldn't be a great Mesa park without a splash pad!
Walking trails, picnic tables, and tons of sports courts fill the almost 100 acres of this park, providing enough active opportunities to keep families having fun for hours.
8. Make a Splash at Riverview Park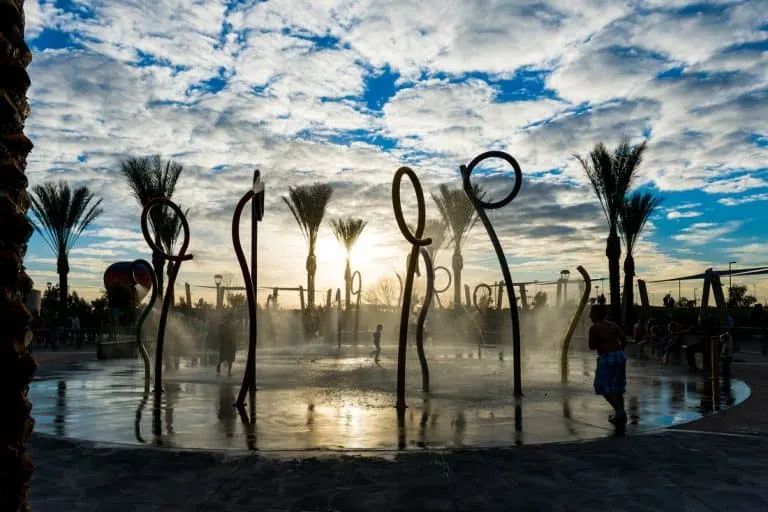 The playground at Riverview Park features a 50-foot-tall climbing tower, two shaded playgrounds, and a 60-foot-long mesh rope climbing structure. Kids also love to cool off in the seasonal splash pad.
In addition to these awesome play features, visitors can also enjoy a community fishing pond, walking trails, and covered picnic tables.
Find more great parks nearby using our Best Parks in Arizona guide.
9. Take a Trail in Usery Mountain Regional Park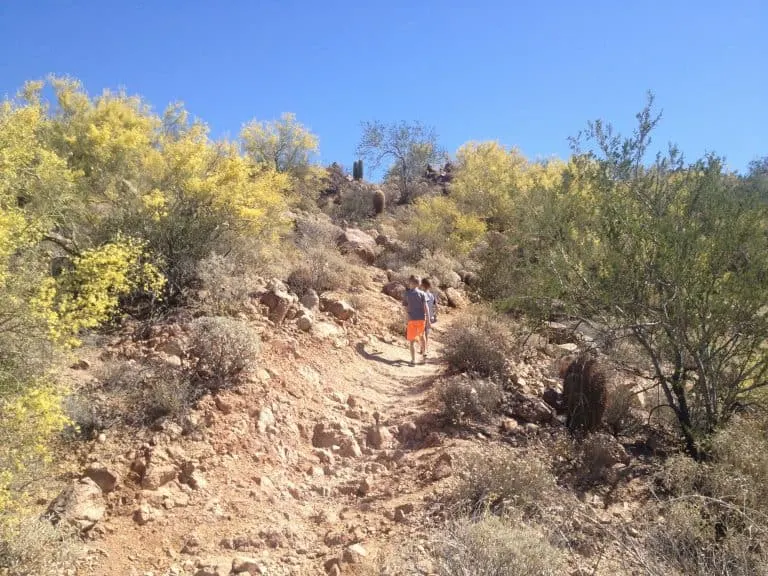 One of the best ways to experience the Sonoran Desert is by heading off on one of the desert trails. Desert hikes are awesome ways to get outside, especially in the late fall, winter, and early spring.
Usery Mountain Regional Park features 29 miles of multi-use trails. The short Vista Trail offers a quick half-mile up-and-over hike, while the popular Wind Cave Trail (three miles round-trip) provides a bit more of a challenge.
10. See Hieroglyphics in the Superstition Mountains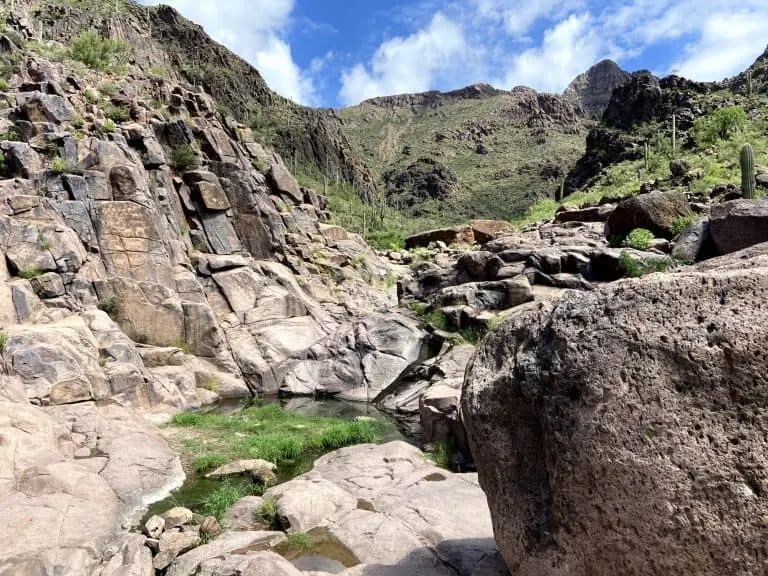 Just east of Mesa, AZ lie the iconic Superstition Mountains. Trails here range from easy to extreme. Both the surrounding scenery and sprawling views are spectacular, especially during wildflower season.
For families, I'd recommend the Hieroglyphic Canyon Trail (three miles round trip), ending at Hohokam Indian petroglyphs. For a bit more of a challenge and some cool variety, try Peralta Canyon (4.5 miles round trip).
11. Go Horseback Riding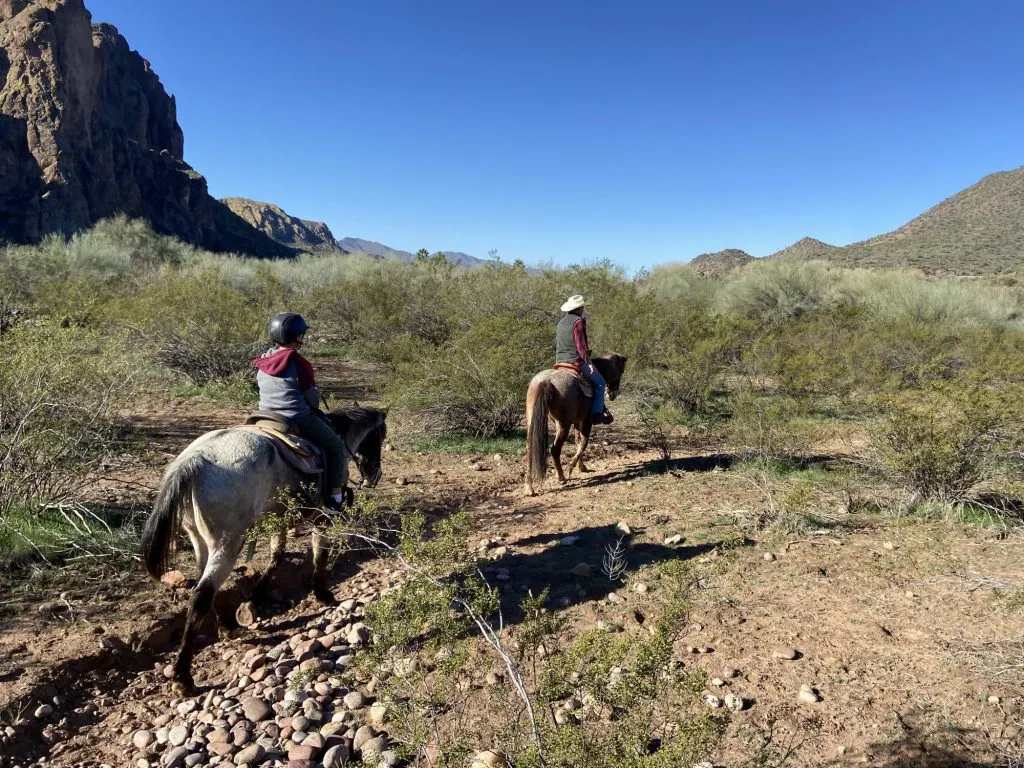 When you get tired of using your own feet, try horseback riding! Saguaro Lake Ranch Stable hosts rides along the Salt River, up creosote-covered hills, and along cactus-studded ridges.
The guides are great with nervous kids and will make sure you have an amazing trail ride, no matter your experience level.
Trail rides are for riders ages seven and up but there are pony rides available for littleones that are 2-6.
State Parks are great place to hike! Check out or article, 10 Best State Parks in Arizona.
12. Explore Miles of Mountain Bike Trails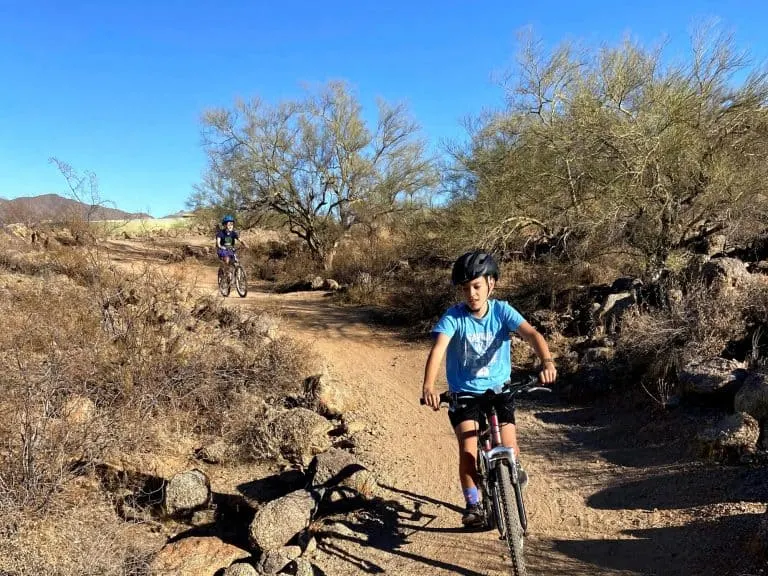 Desert Trails Bike Park is a great place to get acquainted with mountain biking skills or perfect your technical skills. An easy MTB trail loops around the park, while pump and skills tracks for all levels cover the ground between.
When you are ready to take it to the wilderness, the best trails can be found on the Hawes Trail System. 62 miles of trails weave past cactus in the Tonto National Forest. Glimpse views of the scenic Red Mountain and Salt River as you race over specially designed and maintained trails.
13. Discover Downtown Mesa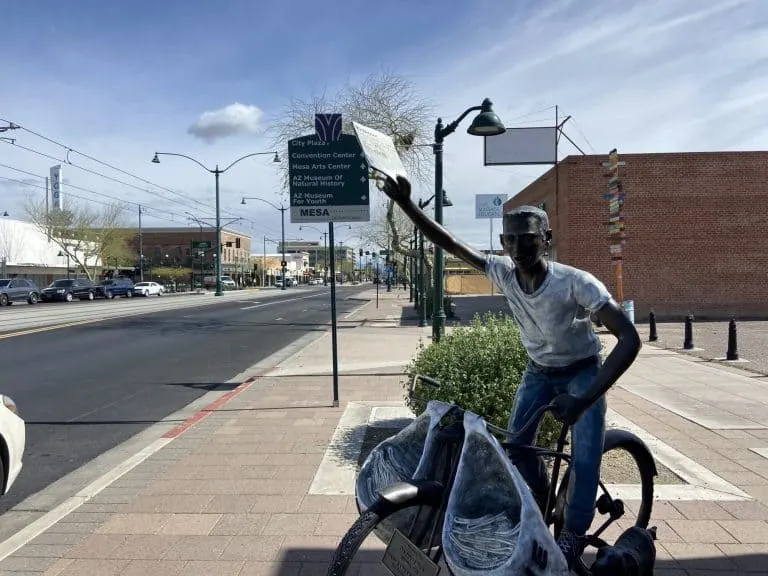 Mesa's Downtown is home to unique shops, restaurants and art pieces. Start off by downloading the Downtown Mesa Art Walk guide and wander down main street, stopping to pose with sculptures and interactive murals. Kelsey Monague's famous butterfly wings also make a fun photo op.
Take time to pop into the eclectic shops you pass, like Buckhorn Vintage and Atomic Age Modern. The vintage shops are like a trip down memory lane and a museum in one.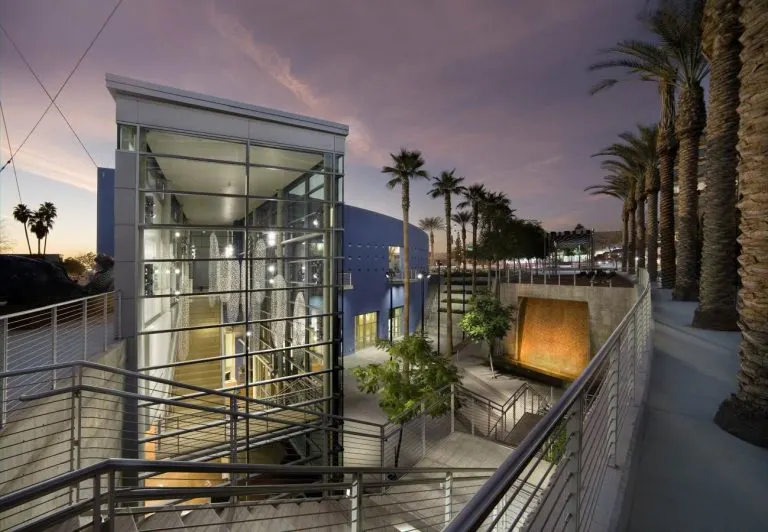 At the Mesa Arts Center, explore the galleries of the Mesa Contemporary Arts Museum before attending one of the many kid-friendly performances hosted here. Check their website for upcoming events, including theater, comedy, and music.
Did you notice the light rail running down Main Street? Valley Metro Rail runs from downtown Mesa all the way to North Phoenix. Hop aboard for a quick trip to downtown Tempe or Phoenix. Then use our articles about Phoenix and Tempe to find the best things to do there.
14. Catch a Ball Game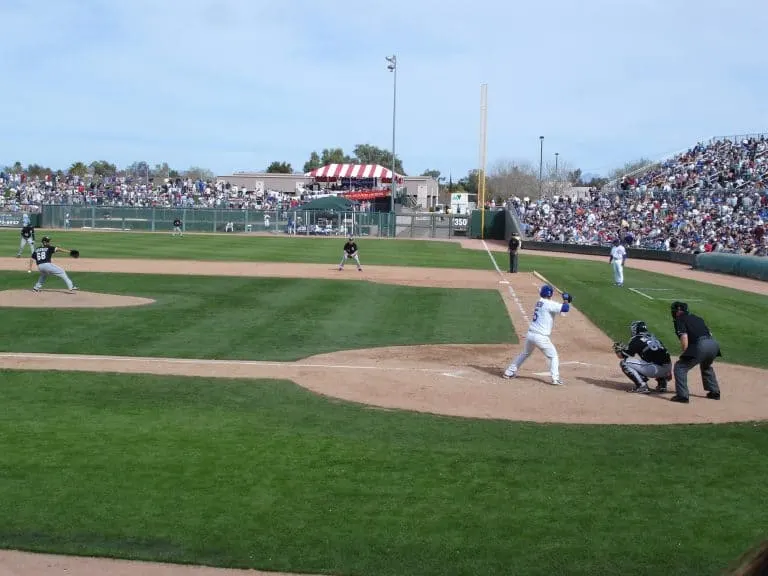 Every March, Mesa, Arizona welcomes two major league baseball teams for their annual Spring Training. The Sloan Park at Riverview is the seasonal home to the Chicago Cubs, while the Oakland A's train at Hohokam Stadium.
Spring training games offer the perfect opportunity to catch a professional game for a fraction of the price. And the smaller stadiums mean a chance to see your favorite places close up. Those facts and more make this one of the most popular things to do with kids in Mesa, AZ.
Check out this article for tons of tips about Arizona Spring Training: The Cactus League with Kids.
15. Hunt for Geocaches
The City of Mesa designed two GeoTours to help families discover unique attractions around town, both with opportunities for prizes!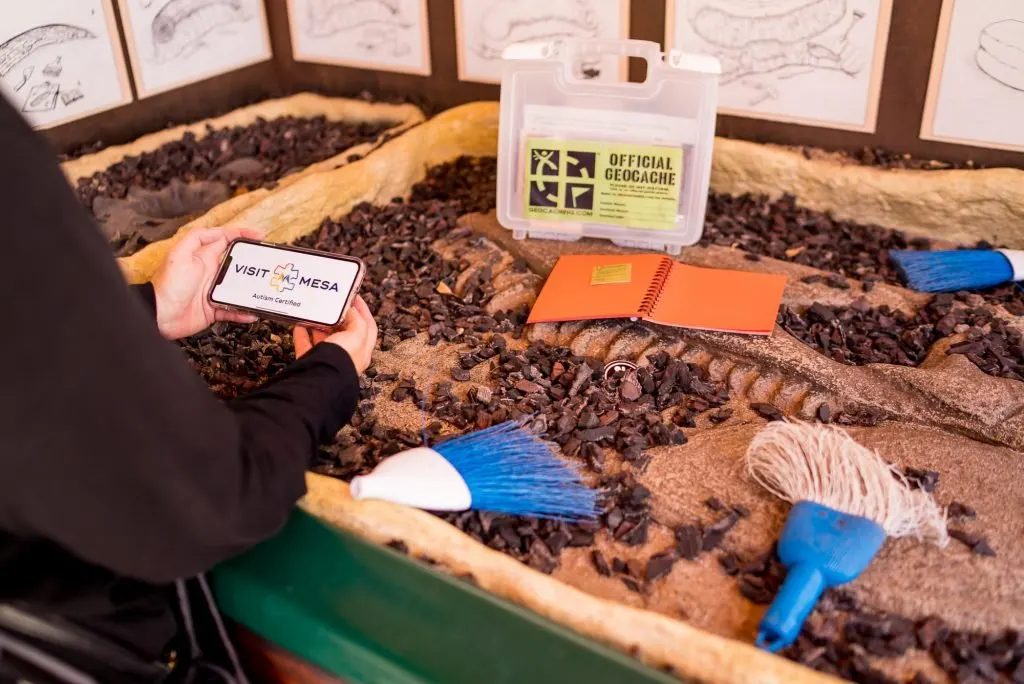 The Autism Travel GeoTour (GT48C) takes families through Mesa's Certified Autism Centers and city parks. Mesa actually claims the title of the first-ever Autism Certified City. This means that many businesses and organizations have completed autism training, as well as city and emergency personnel. Find at least 5 geocaches on this tour, stop by the Mesa Visitor Center (1 N. Macdonald, Mesa) for a special souvenir prize.
Families who try the Fresh Food Trail GeoTour (GT49A) discover agrotourism attractions and farms in Mesa and the surrounding areas. This tour is a fun way to find local, tasty cuisine, and see where it comes from. If you find and log all 10 geocaches, you can collect a "foodie-themed" souvenir from the Mesa Visitor Center.
New to Geocaching? Mesa has all the steps to get you started at VisitMesa.Com/Geocaching.
16. Stop and Smell the Roses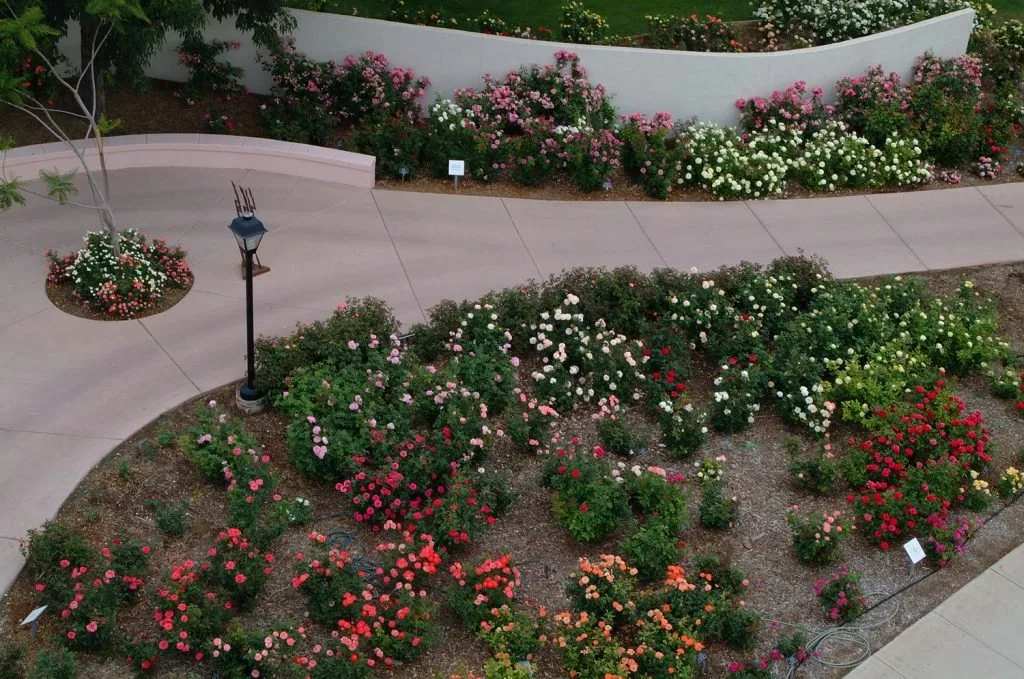 Bask in the beauty of the Rose Garden at Mesa Community College. Over 9000 rose bushes make the MCC Rose Garden the Desert Southwest's largest rose garden. Take a tour or just wander the paths inhaling the intoxicating aroma.
The historic Mesa Temple Grounds feature a variety of plants, flowers, and water features for peaceful walks and contemplation. It is also a stunning place to catch an Arizona Sunset.
The Temple itself is not open to visitors, but the free Mesa Temple Visitor Center explains the building's historic significance and even has fun, interactive exhibits for kids.
Both of these activities are free. Find more free activities with our article, 21 Free Things to do in Phoenix.
17. Visit a Working Farm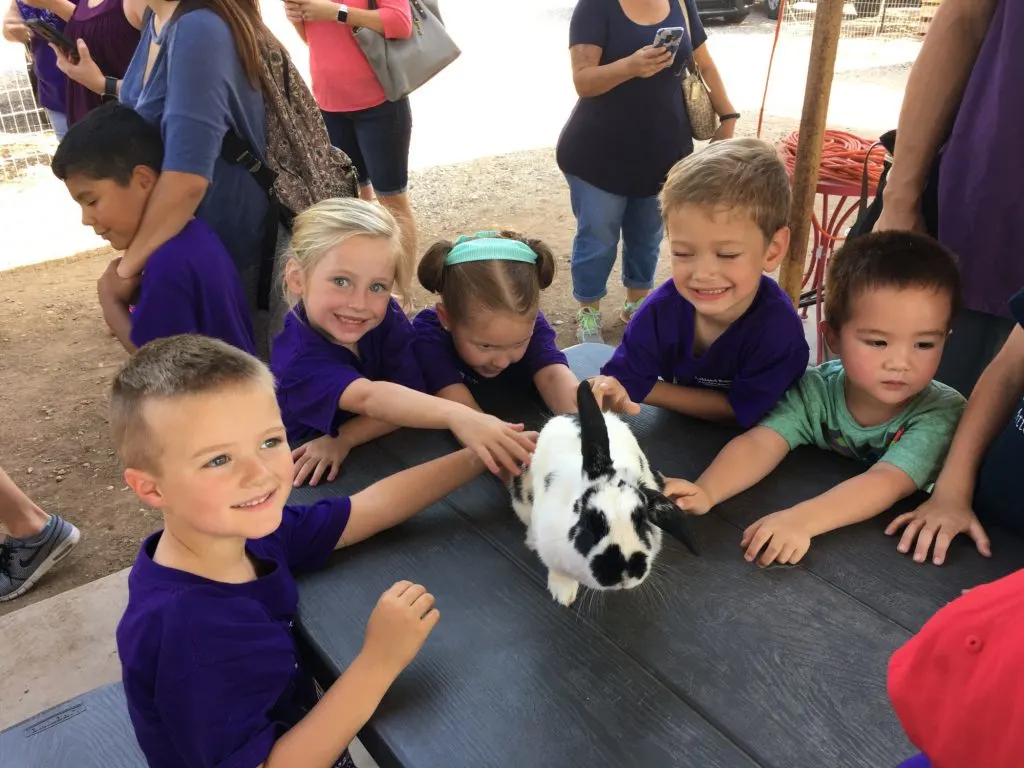 Before Mesa was a bustling city, farmland covered the area. A few still survive and welcome visitors for tours and events.
Superstition Farm introduces families to dairy life and teaches them what it takes to be a farmer through public tours. These tours start at the petting zoo where visitors can feed and pet the rescue animals that live here. Then hop aboard a hayride around the farm, stopping to meet some cows and tour the old milking barn.
The tour ends with fresh milk and locally made ice cream. Stop inside the little boutique to buy some locally made products and more ice cream.
18. Check Out the Seasonal Offerings at Vertuccio Farms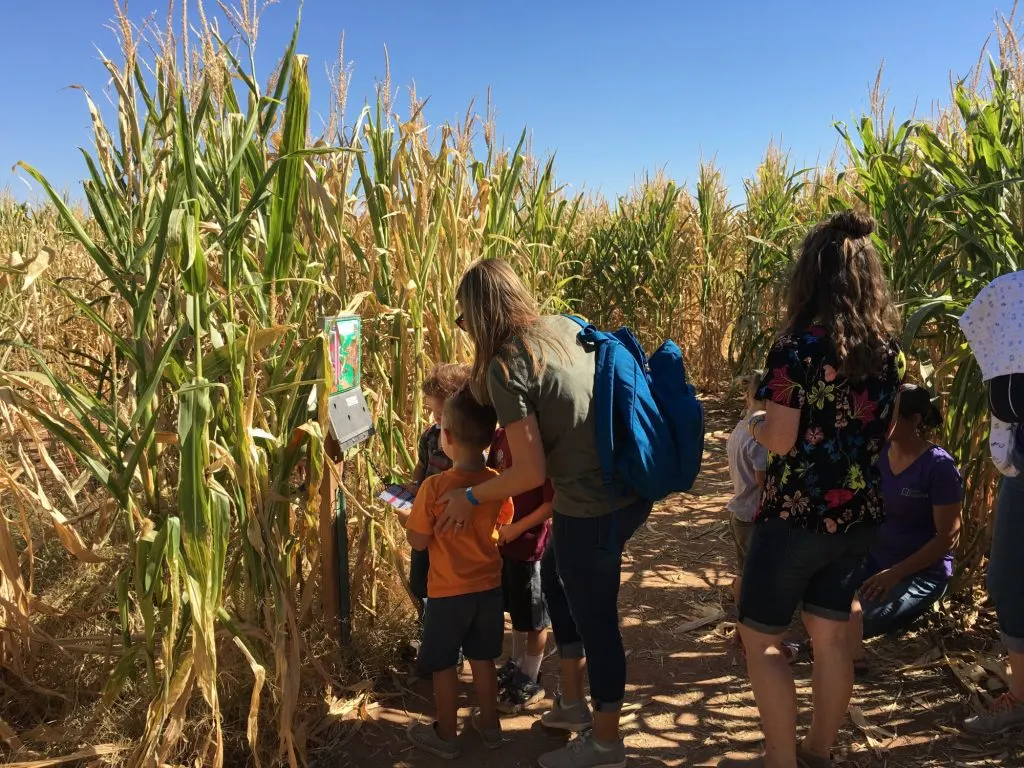 Vertuccio Farms hosts family fun events for every season. These include their corn maze & pumpkin patch in the fall, and egg hunts and peach picking in the spring.
On the farm, families enjoy farm-themed activities and rides like grain chute slides and barrel trains.
If you are visiting during the fall you won't want to miss our guide to the best pumpking patches in Arizona.
Where to Eat in Mesa, Arizona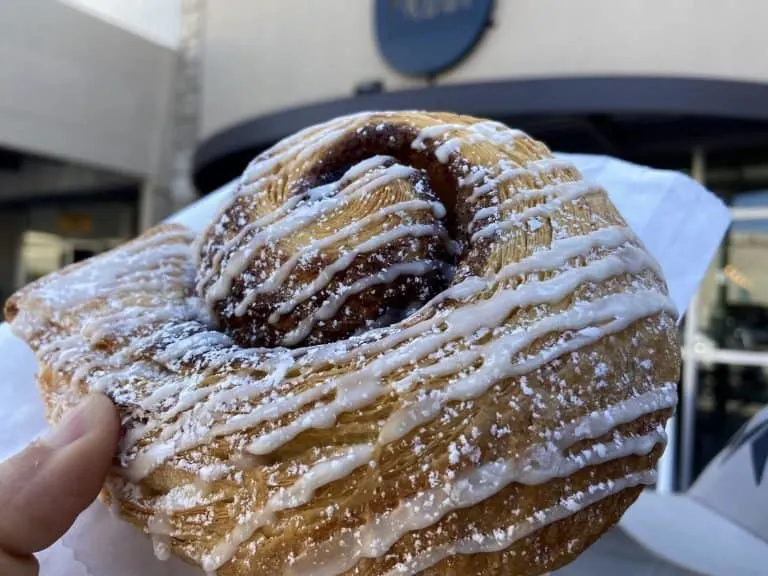 Proof Bread serves up old-world artisan sourdough. Try their sourdough pan de chocolat or a classic sourdough loaf. If you stay for a bit, you can watch the bakers doing their culinary magic in the open kitchen.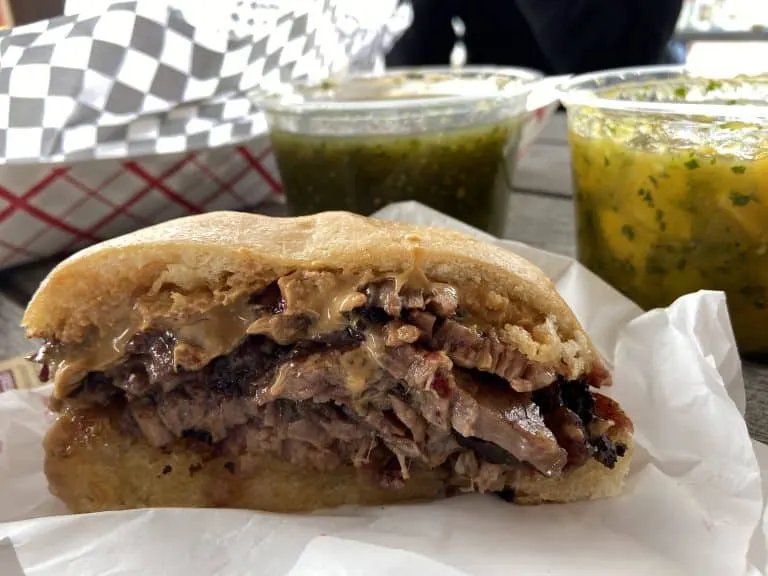 For the best BBQ in Arizona, head over to Jalapeño Bucks. Locals love the blend of Arizona-style barbeque and Mexican soul food. Be brave and try the PB&J Brisket Sandwich-you won't regret it! And make sure to order the fresh mango and sweet green salsas.
This cute walk-up joint is nestled in the orange groves of BB Citrus Farm. Pop in their shop for some fresh produce and local honey.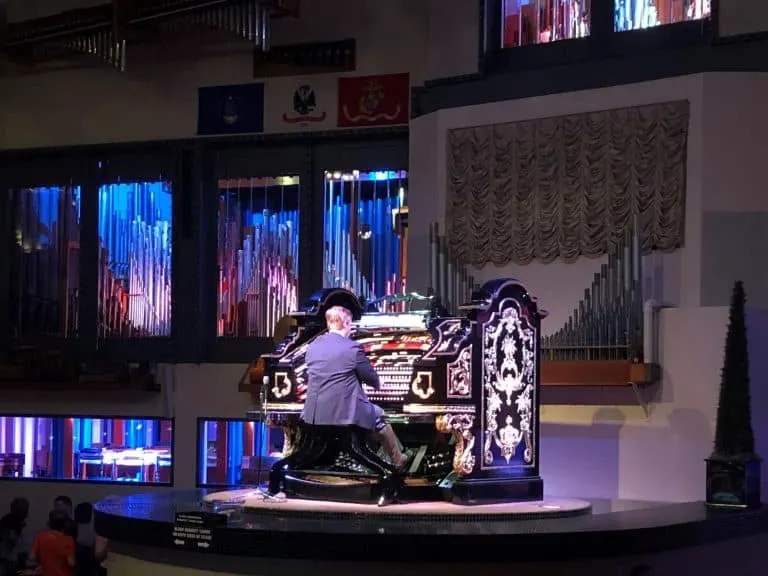 Want a show with dinner? Organ Stop Pizza has been entertaining guests with its wurlitzer organ for over 50 years. Order a delicious pizza, pasta, or sandwich at the counter (CASH or CHECK ONLY!!).
After ordering your food, find a good seat to watch a talented organist bring the drums, horns, and pipes around the restaurant to life.
The casual atmosphere invites kids to get up and move or sing along with their favorite songs. These performers know all the songs and take requests.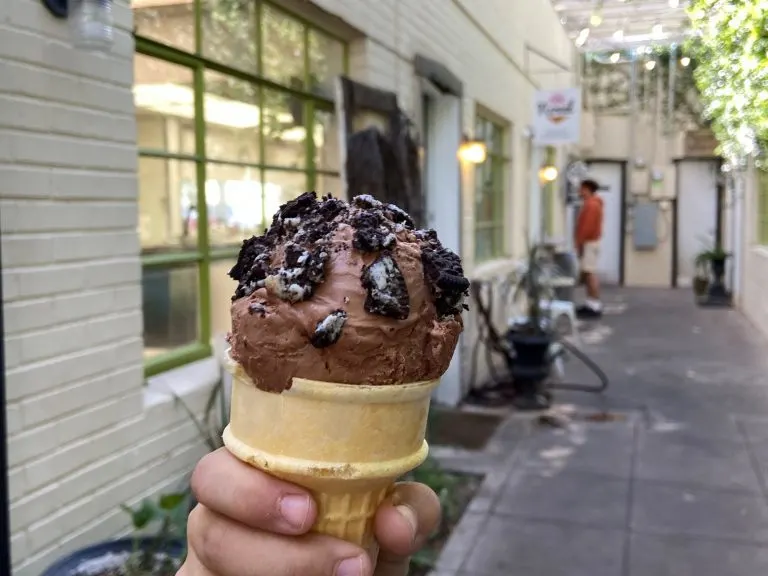 For dessert, check out Novel Ice Cream. Their artisan ice cream is prepared in small batches daily. It is best consumed in between a warm donut (Dough Melt) or waffle (The Leslie Knope).
The location is a little hidden, but you can find the storefront down the little alley of stores called "The Greenbelt."
If you're looking for great Mexican food, read our article, Best Mexican Restaurants in Phoenix.
Where to Stay in Mesa, AZ with Kids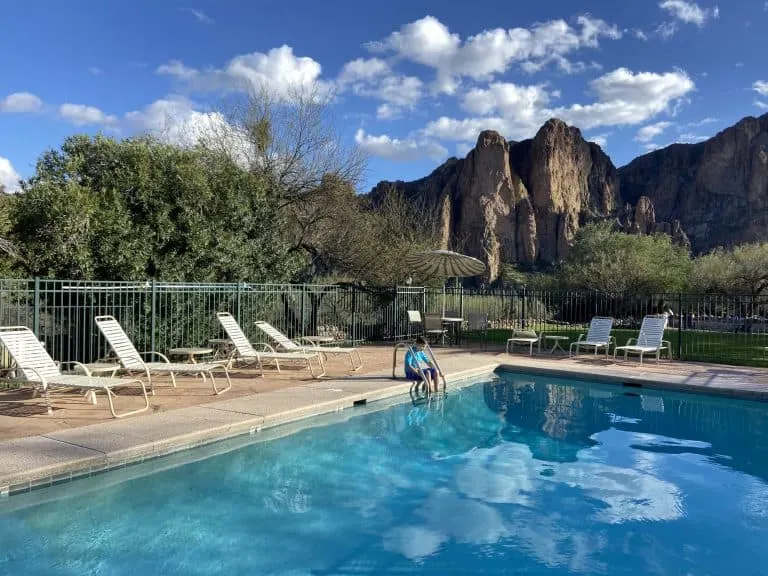 Saguaro Lake Guest Ranch provides the most unique Sonoran Desert experience in Mesa. Lodge in seclusion beside the Salt River in your own rustic cabin. These rooms originally provided housing for those working on the Stewart Mountain Dam.
The simple rooms provide comfortable beds and amenities, including air conditioning and heating. But they do not feature a TV, phone, or even a clock. This encourages guests to explore the on-site hiking trail to the petroglyphs or play a game in the main lodge.
Around the grounds, families also enjoy the heated pool and lawn games. And everyone loves the included "cowboy-style" breakfast.
For a more "in the action" hotel experience, stay at Sheraton Mesa Hotel at Wrigleyville West. The location right by Mesa's Riverview puts guests next door to amazings parks, entertainment, and dining.
In addition to Sheraton's usual comfortable rooms, families love the swimming pools, including a resort-style pool and a hot tub.
Love to swim? You'll want to try out Mesa's largest heated outdoor pool at Holiday Inn & Suites Phoenix-Mesa/Chandler. The location, just a few miles from downtown, makes it a great home base for exploring. Parents also appreciate that children eat free at the onsite restaurant.