Gardiner, Montana is a small Western town on the northern border of Yellowstone National Park. It serves as a gateway city for the park, but there are also lots of great things to do in Gardiner, MT that you won't want to miss. From hot springs to river rafting, here are our top picks for families.
Be sure to read our guide to over 25 amazing things to do in Yellowstone with kids as well!
The Best Things to do in Gardiner, MT
Soak in Yellowstone Hot Springs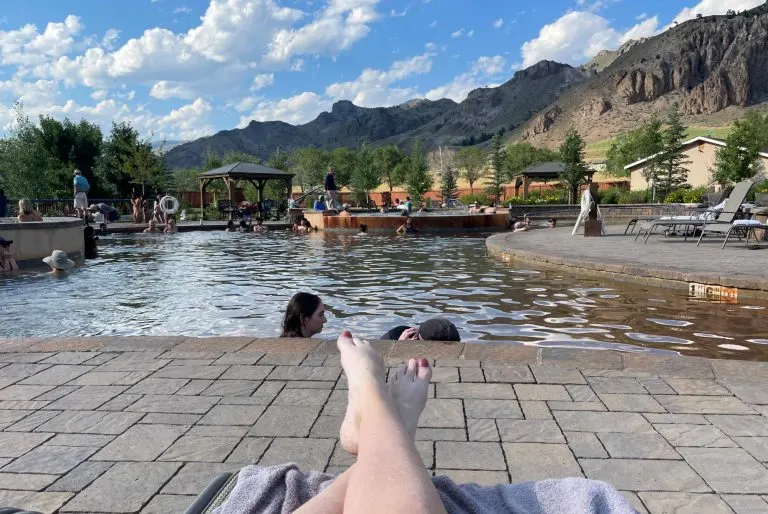 We first discovered Yellowstone Hot Springs in our quest to find real showers (since all the campground showers in Yellowstone National Park were closed in 2021) and ended up loving it so much that we spent several hours here.
The family that owns this hot springs pumps in mineral water from local springs without added chemicals so you can soak in the real thing. There is a large pool which is heated to around 98 degrees (which is perfect, in my opinion), a hot tub that is heated to about 103-105, and a cold plunge pool that hovers between 60 and 65.
They also have a shallow hot water walking path and cold water walking path with massaging pebbles underneath. You walk through the hot water and cold water in a loop a few times to get your circulation moving.
Then they suggest you head to the cold pool followed by the hot pool to really get things moving. There were people who kept doing this continuously because the swore their aches and pains were going away!
There is also a very nice patio with pergolas, lawns, and lawn games. Yellowstone Hot Springs also has a campground and cabin rentals that are right along the river. This is a great spot to use as a home base for exploring the national park and surrounding area.
See more of the state! Here are the best things to do in Montana with kids.
Visit the Roosevelt Arch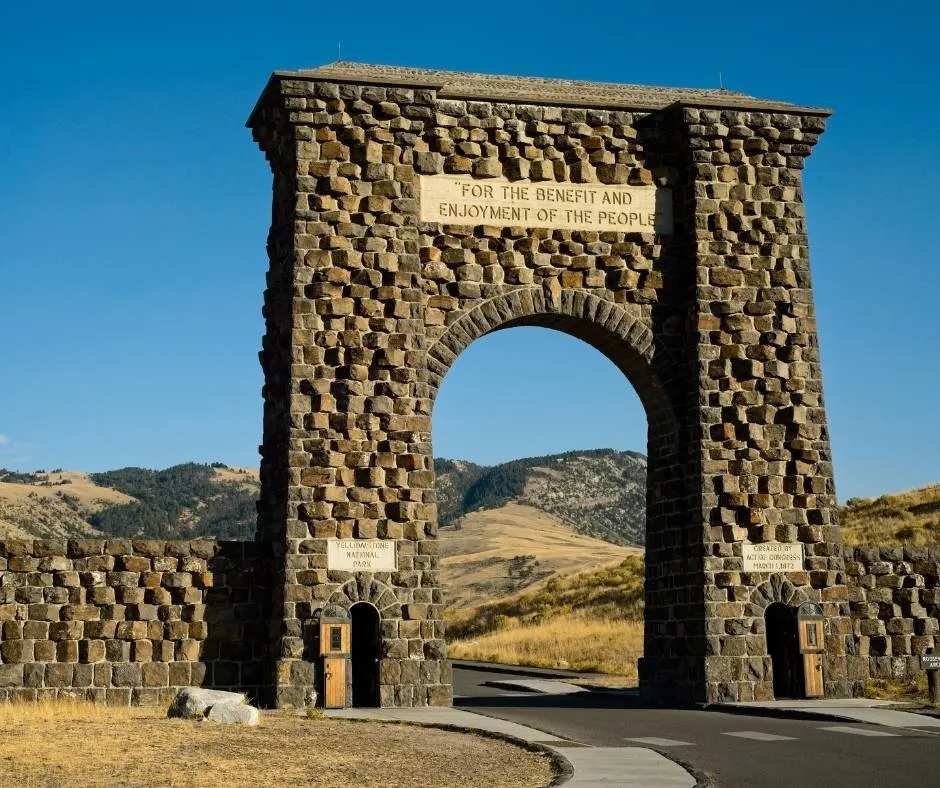 The Roosevelt Arch serves as the northern entrance to Yellowstone National Park and it is located in Gardiner just across from Park Street, the town's main drag. It stands at over 50 feet tall and is just beckoning families to take a picture next to it! It is certainly one of the most common things to to do in Gardiner, MT.
Named after Theodore Roosevelt, the Arch was originally built to welcome tourists coming by train to visit Yellowstone at the turn of the 20th century. It still welcomes hundreds of thousands of visitors to our nation's first national park every year.
Stay in town while you explore the park! As a Booking.com affiliate Trekaroo is thrilled to offer the lowest rates.
Yellowstone River Rafting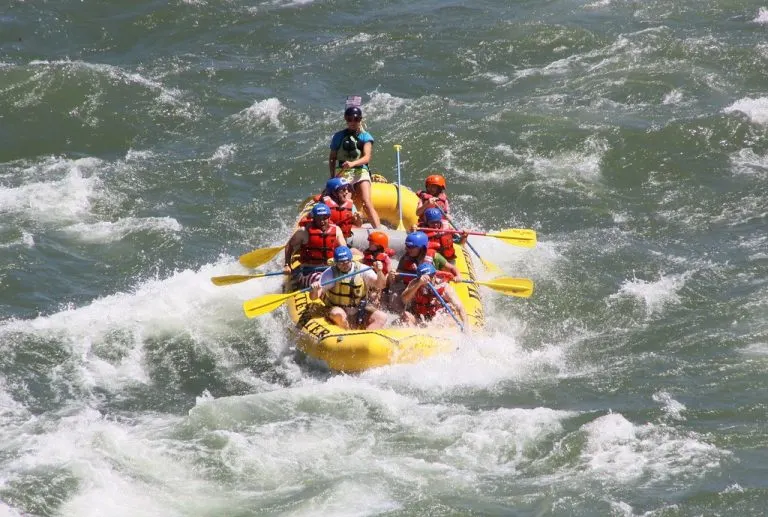 You can't raft the rivers inside of Yellowstone National Park, but you can raft the Yellowstone River just outside of the park's boundaries. Rafting is definitely one of the most popular things to do in Gardiner, MT, and there are several river rafting outfitters lining Park Street just outside the park's entrance.
If you are short on time, go for the half day trip which covers about eight river miles in about two hours. You will encounter some splashy rapids, but nothing too challenging.
Keep your eyes out for wildlife (pronghorn, elk, and bald eagles to name a few) along the way! This trip is open to kids as young as six.
If you are a family who loves white water (like mine!), opt for the full day trip. This trip cover 18 river miles in five hours with rapids as big as Class III. Lunch is included and kids as young as six can enjoy this trip as well.
If you are traveling with young children or folks not interested in getting wet, check out this scenic float on the Yellowstone River.
Zip Lining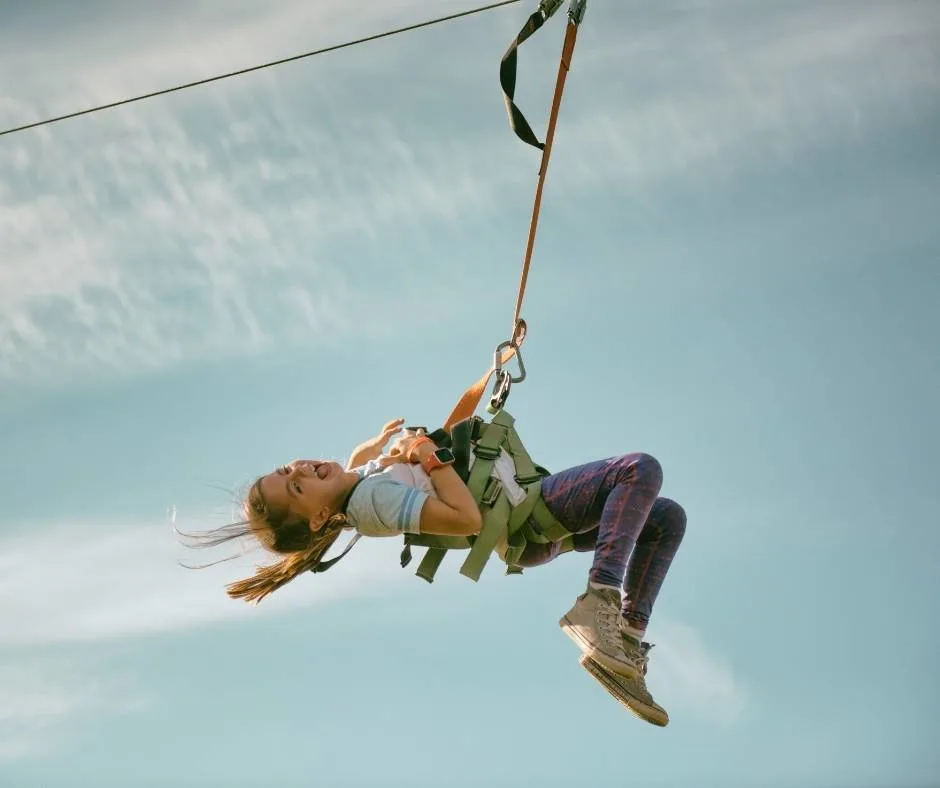 Want to see the Gardiner, MT landscape from above? Feel the need for speed? Montana Whitewater offers a zip line tour that is the closest to Yellowstone National Park.
This zip line is at the Stermitz Ranch in the Cinnabar Basin. You will be shuttled there from their Gardiner, MT shop. You will zip down mountainsides and learn about the Yellowstone region's ecosystem in between zips. Enjoy the scenery and learn a thing or two along the way!
Horseback Riding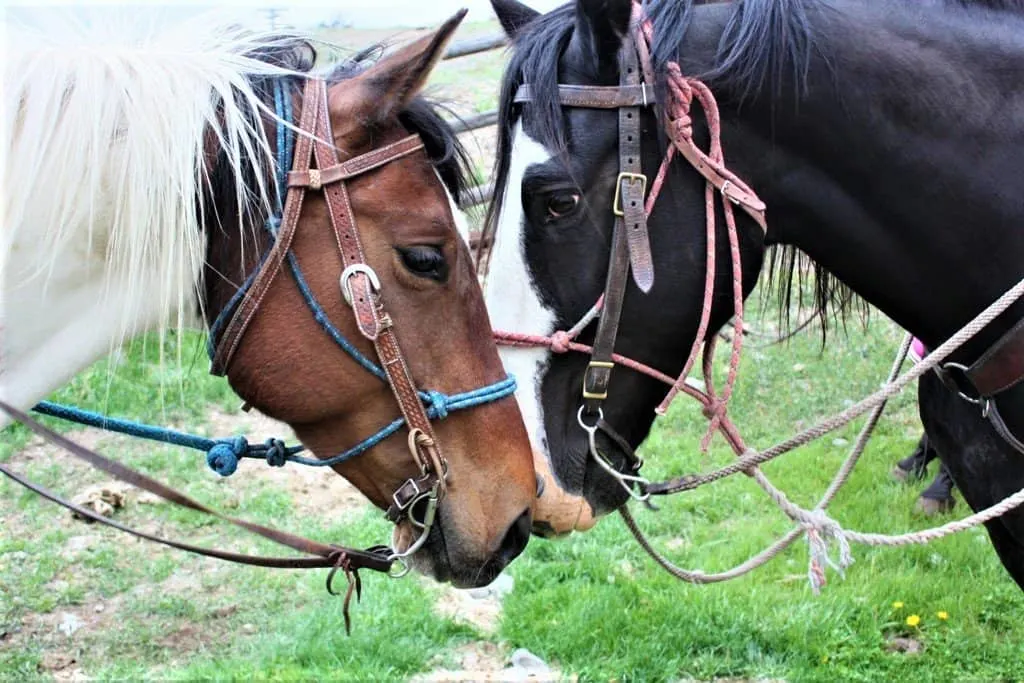 What better way to enjoy the classic Western landscape surrounding Yellowstone National Park and Gardiner, MT than on horseback?
Most horseback rides are open to kids ages seven and up. You can choose between one hour, two hour, half day, and even full day trips. There are various outfitters in town willing to take you out on the trails.
Paradise Rafting offers "saddle and paddle" trips which combine half-day river rafting trips with a two-hour horseback ride. They also have horseback rides to Old West cookouts.
Wyoming is just down the road and filled with fun. Here are our favorite things to do in Wyoming.
Go Fishing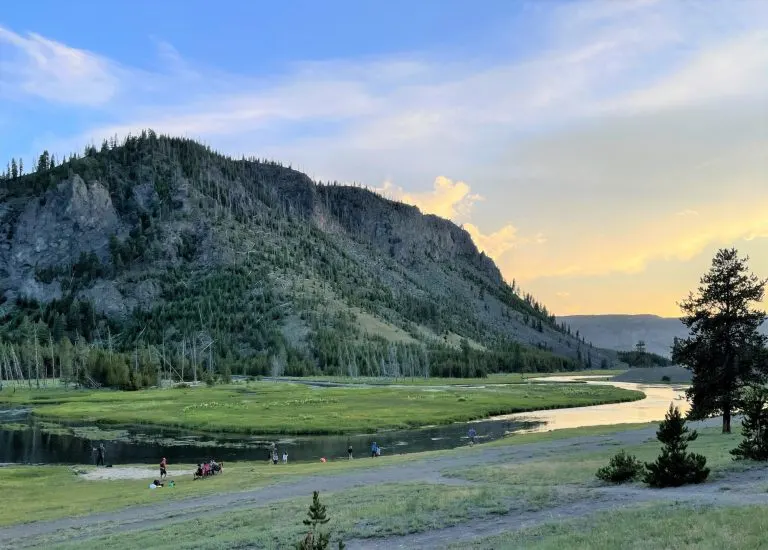 Fly fishing is kind of a big deal in the rivers near Gardiner, MT. As a matter of fact, the famed fly fishing movie, A River Runs Through It, was filmed nearby.
Yellowstone has some of the best trout fly fishing on the planet, so if you have always dreamed of learned to fly fish, this is the place to do it! Park's Fly Shop offers a wide variety of guided fly fishing trips, including beginner fly fishing trips.
They have wade trips and float trips, so it is really up to you to decide how you want to get out on the water and catch some fish! Once you learn to cast and reel, you can rent equipment and go it alone. Park's Fly Shop offers fishing reports on their blog to help keep you informed about what conditions are like in the area.
Wildlife Viewing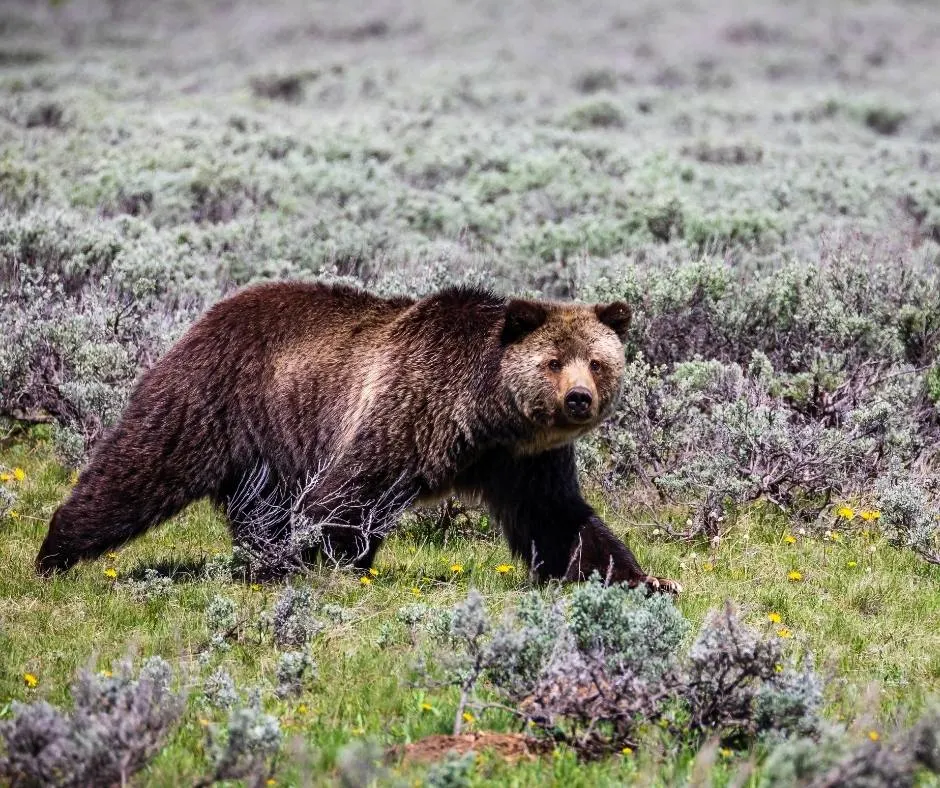 Yellowstone and wildlife go hand in hand so it is no surprise that there are some great wildlife guide services based in Gardiner, MT like Yellowstone Wild Tours.
If you really want to see animals like bears and wolves, go with these pros who know the places to best spot them. Of course there are no guarantees with wildlife, but you are definitely increasing your chances drastically.
Their family wildlife tour is private- just for your family- and tailored to the interests of children and families. In addition to seeing the wildlife, you will learn about the animals and the environment they live in from experienced guides who know their stuff.
These are full day tours (8 hours) and transportation, food, and binoculars and scopes for viewing are included. Wolves, bears, bison, pronghorn, elk, bald eagles, and mountain goats are some of the animals commonly seen on these tours.
Visit Yellowstone's sister park, Grand Teton. Here are the best things to do in Grand Teton National Park.
Take a Hike with a Llama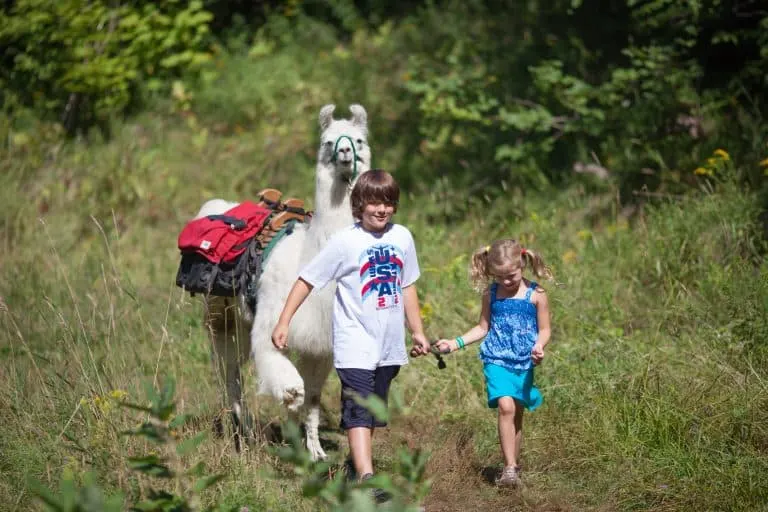 You haven't truly lived until you have hiked with a llama. My first llama hike experience was in Vail, CO and from then on I was hooked.
Yellowstone Llamas will take your family on an outdoor adventure you will never forget. Kids will love leading the llamas on the trail and the llamas will be happy to carry food, tables, and chairs to help you enjoy a picnic in the wilds of Yellowstone.
They also offer multi-day pack trips if you want to backpack but aren't up for carrying all your gear. These are typically three-day trips and a great way to see less visited parts of the park.
See Elk and Visit Mammoth Hot Springs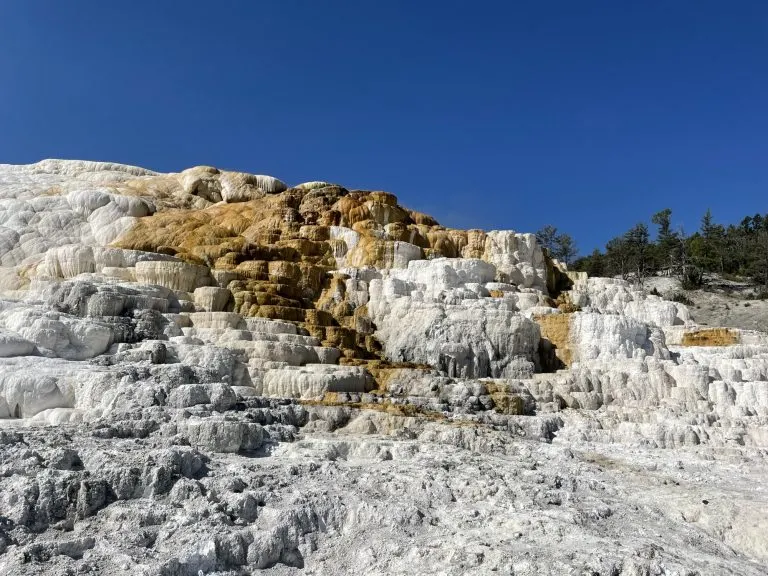 Elk love to hang out near the northwest entrance of Yellowstone National Park which just happens to be where Gardiner is located. There is a good chance you will see elk on the hills while standing on Park Street!
They also love hanging out by Mammoth Hot Springs, the big attraction inside the park just a few miles from Gardiner.
Mammoth Hot Springs are a beautiful set of travertine hot springs created by deposits of calcium carbonate that formed cascading columns.
There is a a boardwalk that will take you to the upper and lower portions of Mammoth Hot Springs. The entire loop is about 1.75 miles.
In additions to the hot springs, you will want to make time to check out the visitor center and Fort Yellowstone. The fort was used by the US Army when they were sent to protect the park from vandalism and poachers in the late 1800s.
Shop and Dine in Town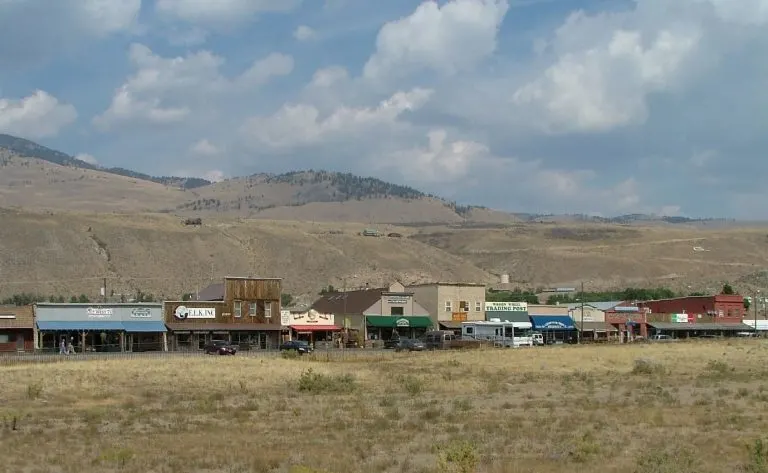 Gardiner may be tiny but it caters to Yellowstone tourists and has several souvenir shops and places to eat.
Yellowstone Wild Galleries is a great place to view (and possibly purchase) some beautiful wildlife photography.
Yellowstone Forever Institute offers classes in a wide variety of Yellowstone related subjects, from raptor identification to photography and painting classes. They also have a gift shop in town.
Restaurants tend to open later in Gardiner, probably because they expect most people to be exploring Yellowstone during the first half of the day and then return in the later afternoon or evening. There are a couple spots open for lunch but be sure to check hours ahead of time.
If you want to enjoy a meal with views of the river, head to Cowboy's Lodge and Grille. They have built an elevated outdoor patio to give patrons a more scenic dining experience. They have good burgers and barbecue and are open for lunch and dinner.
Yellowstone Pizza Company is another popular spot to eat, but it doesn't open until 3pm. In addition to classic toppings, they also offer wild game such as ground bison or elk. They also serve pasta and salads.