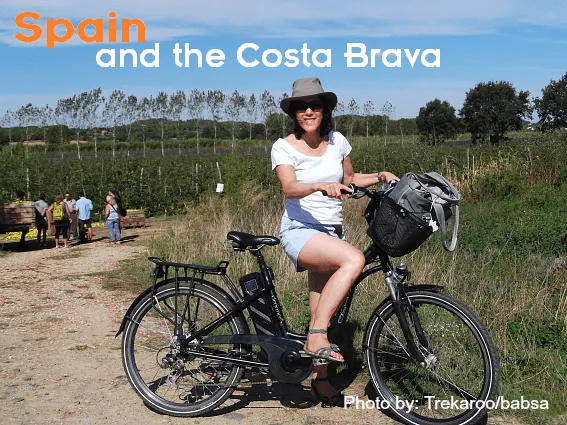 Within an one-hour drive of historic Girona lie pretty Mediterranean villages offering quiet sandy coves, family activities, excellent seafood, and a wealth of seafaring history. I was surprised by unspoilt nature of the coastline and how well the medieval villages had been restored. I had imagined coastal Spain to be full of overbuilt beaches and tacky towns, but this trip was a revelation. Here's a taste of what Costa Brava offers families and those eager to explore the area.
L'Estartit is the scuba capital of Spain, thanks to its location just opposite the Medes archipelago, a protected marine park rich in sea life and perfect for snorkeling and diving. Try a trip around the island on an old schooner, El Corsari Negre, or book a dive with one of the many scuba clubs that offer diving to children as young as age eight. I can't vouch for the snorkeling, as the wind was too strong to get into the water. You also might need a sea sick pill on the boat! After a swim off the beach, we lunched at La Sal just opposite the harbour and enjoyed some excellent food. The moules in pesto sauce were particularly good.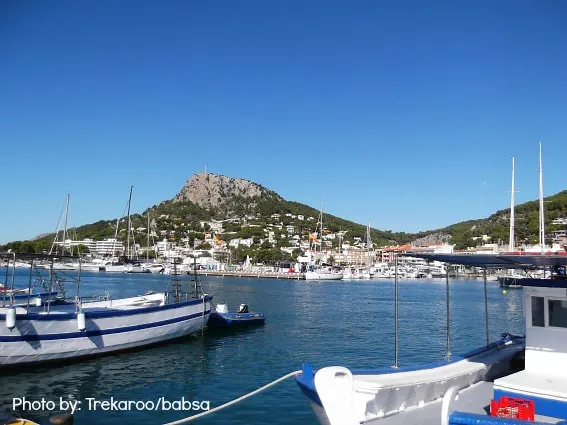 After a short drive to Begur, we climbed steep, cobbled streets to the ruins of a towering medieval castle with magnificent views towards the Medes Islands on one side and the Pyrenees on the other. Begur is unique in having "casa indianes," houses built by wealthy families who made their fortunes in Cuba and returned home to build beautiful homes, richly decorated with murals and ornate ceilings.
We stayed at the Hotel Aiguablava, which must surely be one of the best hotels on the Costa Brava. Nestled on a sandy, pine-fringed cove, it has been owned by the same family for four generations and has a well earned reputation for gastronomy. It's relaxed, has a sea water pool, and ping pong tables–not cheap but a great spot for a special occasion.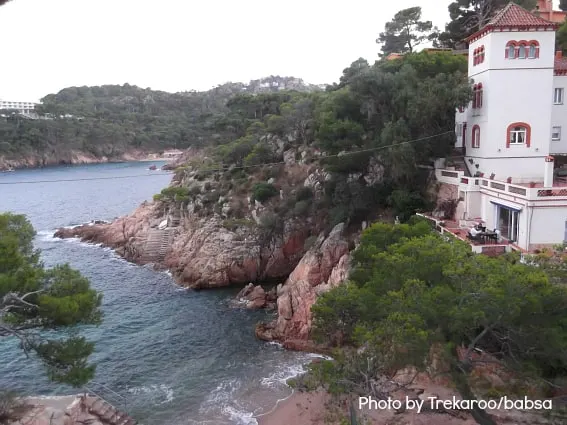 One of the many activities available in the area is an electric bike ride from the quaint village of Peratallada through country lanes and apple orchards. It's huge fun and perfect for covering the territory without getting too sweaty. My bike was a little overpowered and I hardly had to touch the pedals before it shot off down the road. Child seats and children's bikes are available from the charming proprietor, Roda Dor.
Stopping at a local mill, El Moli de Pals, we discovered that the area produces rice–somehow I think of Spain as too dry for paddy fields, but here in the river estuaries they are able to grow arròs (rice). A small museum at the mill shows how the rice is dried and husked. Working machines, baby goats, and hens added to the agricultural experience. At restaurant La Vila, we tried the local signature dish of arròs a la cassola (rice stew), which looks rather black and unappetizing, but it is actually a delicious seafood paella with squid, whole crab, prawns, and lobster.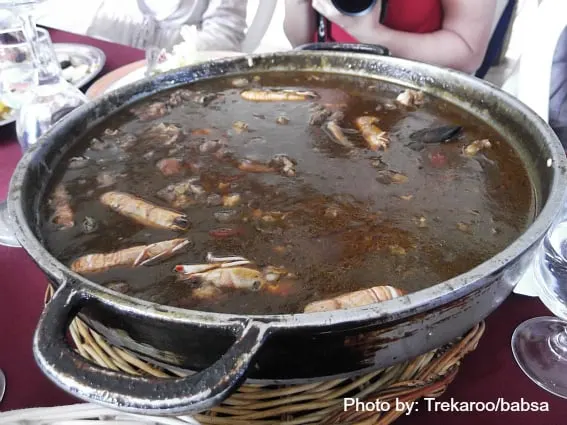 Further down the coast, the village of Palamos takes its fishing industry seriously. Alarmed by the decline of key species, such as tuna, it has opened a novel educational center aimed at promoting less popular fish and teaching new fish recipes. Above the impressive Museu de la Pesca fishing museum is a restaurant and demonstration kitchen where you can book a cooking lesson with the chef . More seafood experiences are available in the fish market where a huge range of sea products are displayed from scary cuttlefish and huge octopi to tiny sardines and shiny eels. This is the place to see a live fishing industry. On the docks in the afternoon, you can see the fishing boats return and men dressed in yellow oilskins sorting their catch into boxes.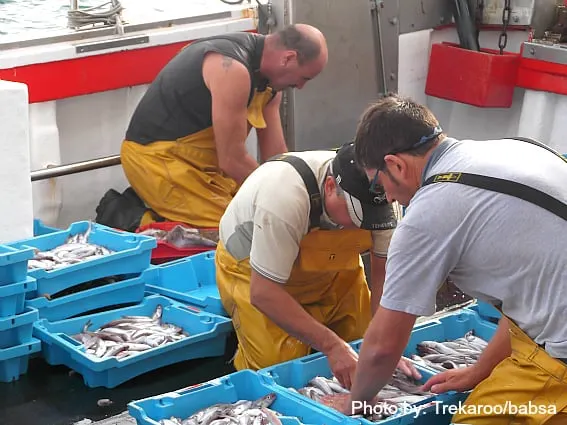 That evening, we took a fishermen's tapas tour to three bars which turned out to be a gastronomic marathon. It was a festival of canapés–a competition to see how many different flavors of local fish, meat, cheese, and vegetables could be piled onto one tiny round of bread. At 10:00pm, I tottered back to the hotel overwhelmed by the choice and quantity of food, and feeling sleepy from the sea air. Our rooms in the Hotel Trias were huge, comfortable, and overlooked the sweep of the bay.
A storm was brewing and I dreamed of the fishermen trawling for their livelihood far out in the Mediterranean.