An African safari vacation is a travel dream for many families. However, Africa is such a big place. It is difficult to know where to go on an African safari vacation with your family. A South African safari is a good option for families because it is a relatively easy and safe location for families to rent a car and explore on their own in addition to a stay at a South African safari lodge. There are also regions in South Africa that families can visit where anti-malarial medications are not necessary.
In addition to a South African safari, families can visit game reserves, national parks, farms, vineyards, and a variety of other attractions not too far from Cape Town. In the touristy areas of the Eastern and Western Cape, the national highways are well-maintained and marked frequently by modern gas stations offering food, ATMs, and even play equipment for children. A short stay at a safari lodge in the Eastern or Western Cape for a South African safari can easily be combined with other kid-friendly activities.
South African Safari For Families – Lalibela Game Reserve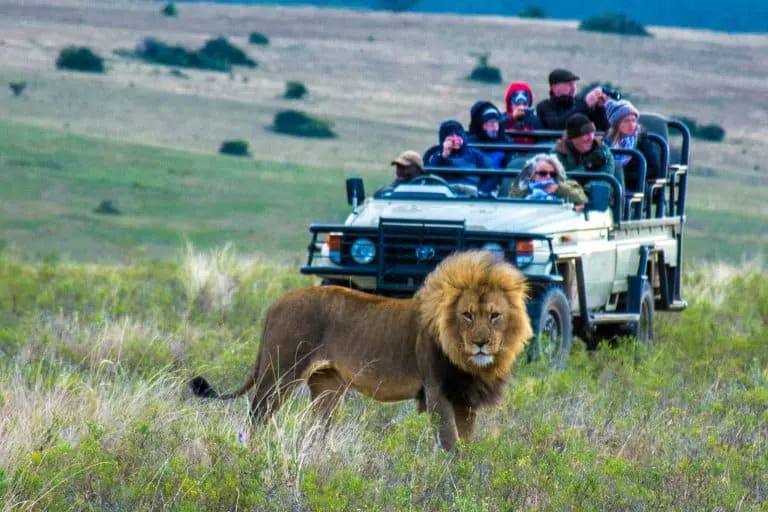 My family decided to spend three nights at Lalibela Game Reserve about an hour northeast of Port Elizabeth during our two-week stay in South Africa. Our South African safari was a multi-generational trip as we were traveling with my mother, my sister, and my two children aged 8 and 9.
Two Safaris a Day – Daily Schedule for a South African Safari for Families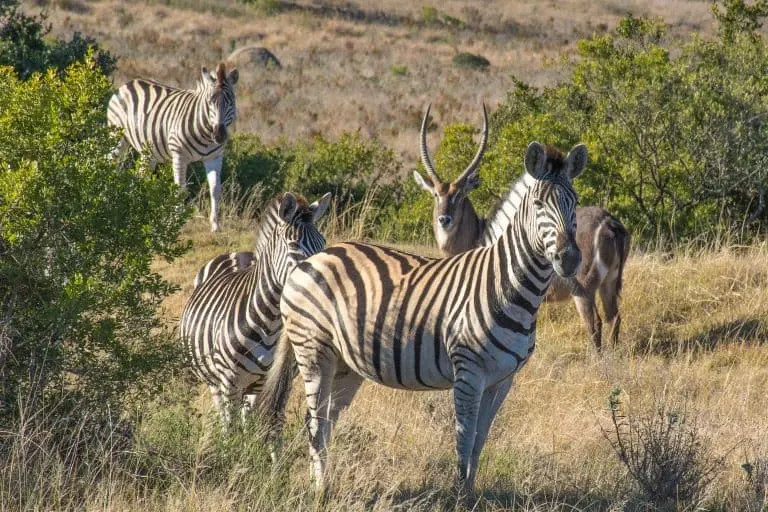 South African Safari – Morning Game Drive
As is common with many South African safari lodges, Lalibela Game Reserve offers two 3-hour safaris a day to its guests. Each day at Lalibela begins early with a friendly wake-up call from the staff about an hour before sunrise. Families are then welcome to go to the lodge to eat a small cold, continental breakfast snack before meeting their guides up at the safari vehicles.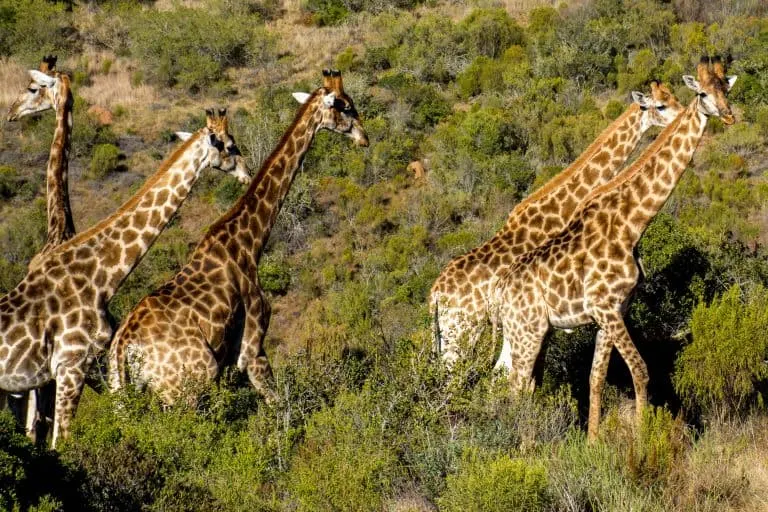 The first animal that we spotted almost every morning were giraffes. Nearly every morning we also found the lions. The young male lions that we saw many times during our stay at Lailbela were entertaining to watch as they were quite playful. Once we observed them digging out a tunnel, trying to capture a warthog. They pounced on each other repeatedly trying to get a prime location; however, the lions were ultimately unsuccessful at finding a warthog that morning.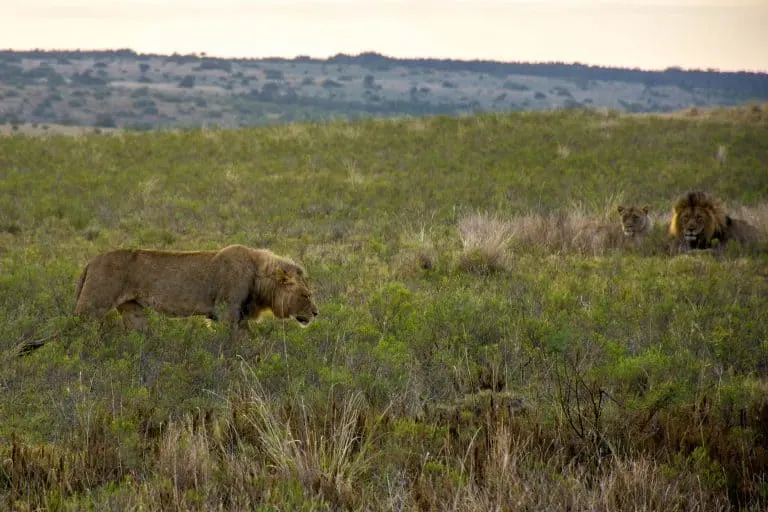 Every morning towards the end of the game drive, guests are treated to a break for coffee, tea, or hot chocolate in a scenic spot, generally on a hill with very little brush around to conceal hidden predators. On the chilliest winter mornings, we stayed huddled in the jeep under our blankets with our hot water bottles on our laps as our safari guide braved the wind and served us our drinks and cookies.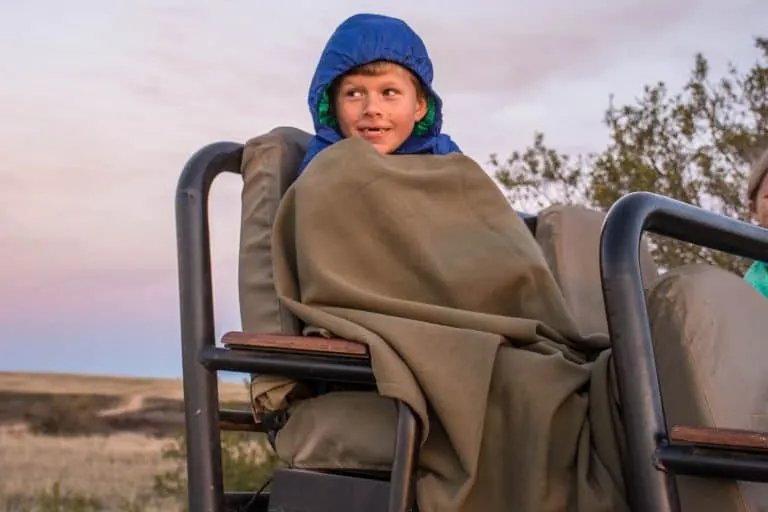 Breakfast
Upon returning from the morning game drive, all the guests at Mark's Camp gather for a buffet breakfast in the lodge. Everything was fresh, and even the bread was homemade. Our family found the service and food at Mark's Camp to be what we would expect from a luxury resort. Whenever I took a seat to use the Wi-Fi at the lodge, either by the upstairs or downstairs fire, staff would come by to ask me if I'd like a drink. Just what this mama needed from her true African safari vacation!
Afternoons at Camp
The pace is slow at Lalibela between meals and game drives. My children got so bored that they even braved the unheated pool in the middle of winter! There is a small hut with toys for preschoolers and tots, but children ages 5-10 need to exercise a bit of creativity to keep themselves busy during the short time between game drives and meals. The afternoon at Mark's Camp is interrupted by lunch with more fresh-cooked foods.
South African Safari – Evening Game Drive
Each family's South African safari at Lalibela Game Reserve begins with lunch followed by their first evening game drive. At lunch each day, guests make their beverage orders for our sundown drink for evening game drive. My son quickly learned that South Africa has their own brand of sickly-sweet cream soda. This cream soda comes in a green can and the liquid itself is green as well. The soda has the faintest taste of lime, bit mostly tastes intensely sweet.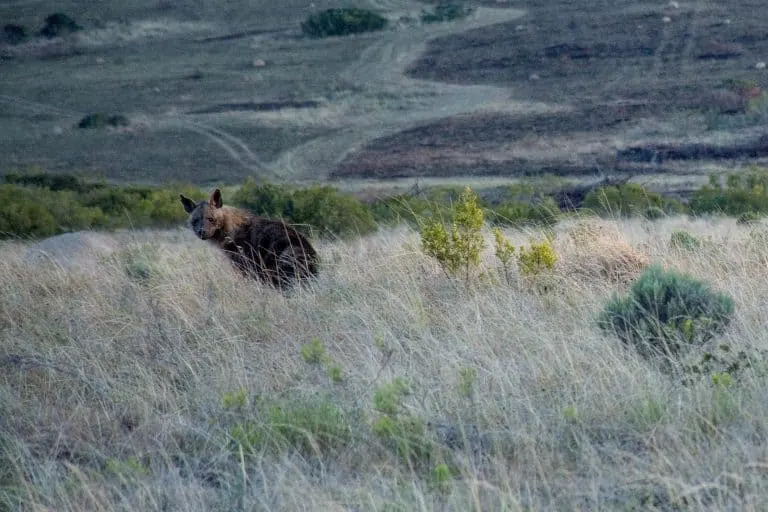 The evening game drive lasts until about 30-45 minutes after sunset. Two nights in a row we were treated to a brown hyena running across the road in front of our vehicle at dusk as we made our way back to camp. As the terrain grows pitch black guides use huge spot lights to illuminate the landscape around the vehicles both for safety and visibility.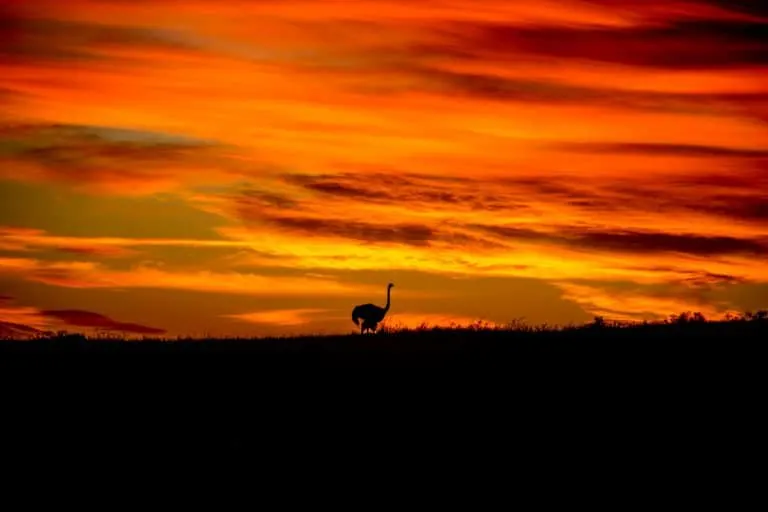 During our winter stay, we enjoyed many spectacular sunsets which were often punctuated by animal silhouettes on the horizon. As in the mornings, we clung tightly to our hot water bottles as the temperatures dropped and kept our ponchos handy in case of rain. Lalibela serves dinner 30-45 minutes after the first safari vehicle returns for the night.
The Big Five on South African Safari
In the end, our family viewed four out of the big five including the elephant, buffalo, lion, and rhino on our South African safari. We also spotted a cheetah, hyenas, giraffes, hippos, zebras, and many different species of antelope. With children in the vehicle, our guide was especially careful around the lions and larger animals. On occasion, my son would try to stand up to get a better view, and our guide would strictly remind him to sit back down for safety. I was thankful for this attention to safety, especially for the children on our African safari vacation.
Children at Lalibela Game Reserve – An African Safari Vacation with the Family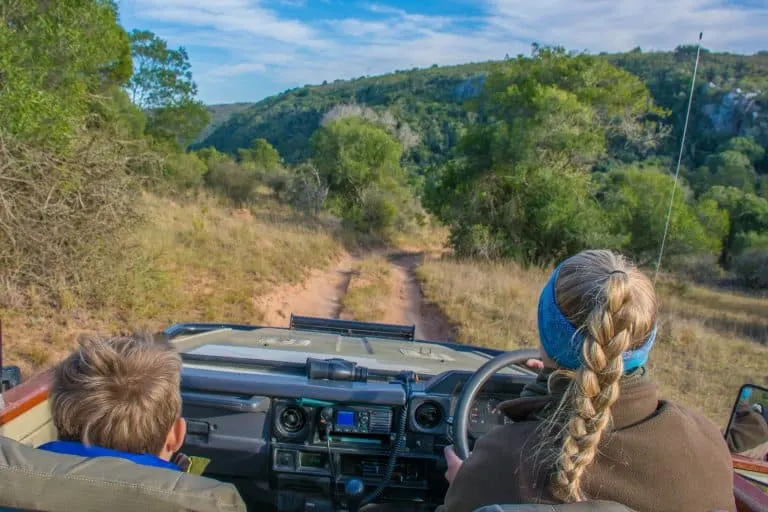 Looking for a kid-friendly safari camp for your African safari vacation? Children of all ages are welcome at Mark's Camp at Lalibela Game Reserve. Mark's Camp can house up to 26 guest in 8 separate huts. Children age 8 and up are allowed on all regular game drives, thus are not offered special children's game drives. Kids ages 3-7 are offered their own special children's game drives and programming. Children under three are welcome at Mark's Camp; it is best to contact the lodge directly about the specifics of childcare for babies and toddlers.
Accommodations at Lalibela Game Reserve
Lalibela Game Reserve has several small safari camps. Mark's Camp is the only one that welcomes children. Due to a recent change in ownership, Lalibela renovated many of its camps in 2018. We stayed at Mark's Camp just weeks after the renovation was complete. Their unique family suite has two bedrooms separated by a living area with two sofa beds. One of our two bathrooms had a shower while the other had a bathtub. A kettle with tea and coffee was available as well as cookies and trail mix. Our suite was spacious for five people and had ample space for storing all our things. It was really the perfect place for our African safari vacation.
Conservation Efforts at Lalibela Game Reserve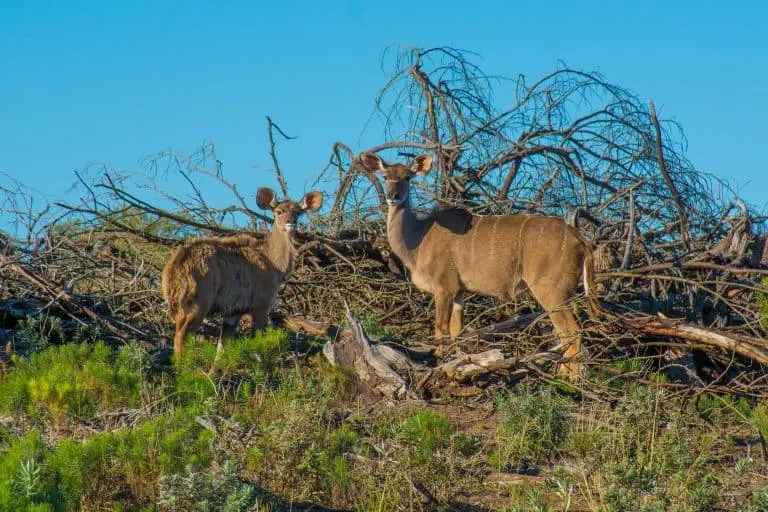 Under new ownership, conservation at Lalibela has taken on new meaning and much higher priority. Lalibela has undertaken the huge task of eliminating invasive vegetation from their entire reserve. The reserve is in the process of removing several species of trees so that they should not be able to return. The removal of these trees is unsightly, but it has created many jobs for locals. This makes Lalibela a great choice of a South African safari for families that want to show their kids the world but also travel responsibly at the same time.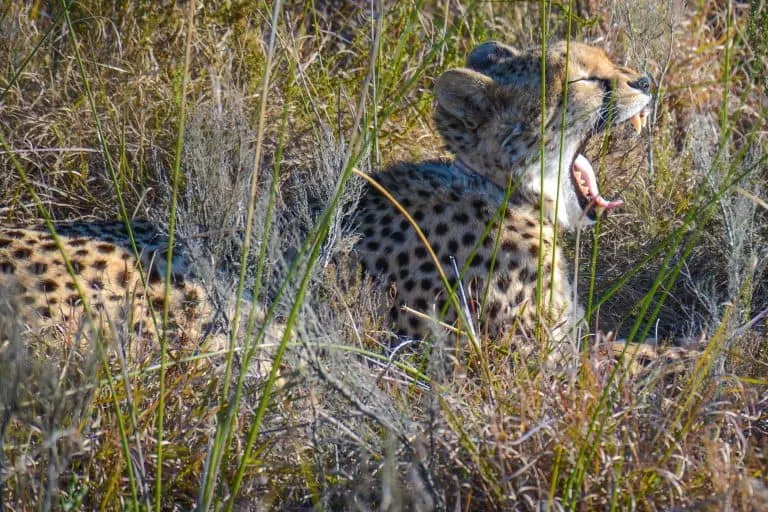 Like many game reserves in South Africa, Lalibela is a huge fenced area where the large mammals are managed to a certain degree to enhance the genetic diversity of the species. Lions are traded among similar reserves all over Africa for the benefit of species conservation.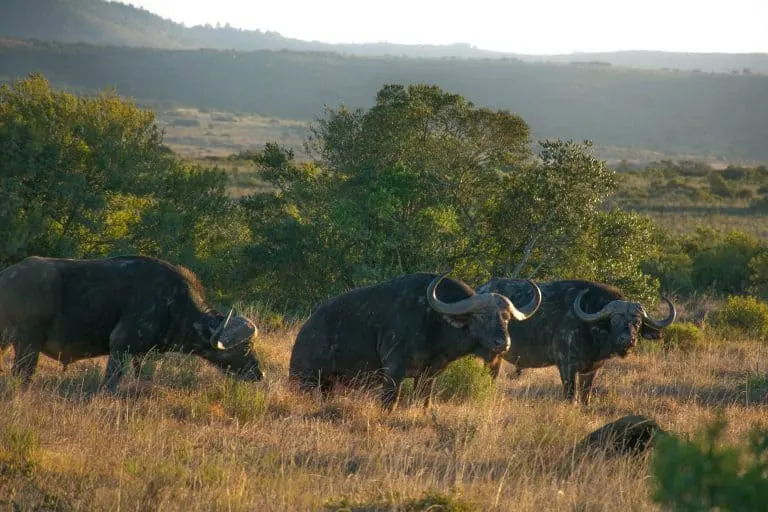 During our visit, we watched a cape buffalo that had been fatally injured by two young lions. All morning safari groups, one or two at a time, watched from a distance as lions attacked and the buffalo herd eventually came back in to protect the injured animal. While the rangers did let nature take its due course without any intervention, the head game keeper was called in to observe the situation. We also spotted a newly procured cheetah wearing a radio collar on one occasion, but only the head game keeper had the means to track it.
Animal Experiences across the Eastern and Western Cape
Smaller Game Reserves – Giraffe View Safari Camp in Plettenburg Bay on the Garden Route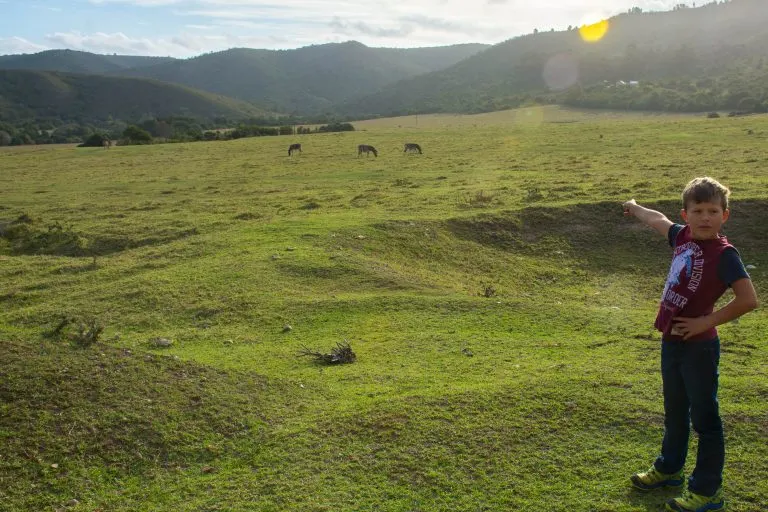 Before arriving at Lalibela for our South African safari, my family spent a night at Giraffe View Safari Camp. Like many similar small reserves in the region, this reserve does not have the ability to support large predators. This reserve offers a few cabins of various sizes, safaris, and a great location just outside of Plettenburg Bay. It's a great stopover location for families driving the Garden Route as part of their African safari vacation.
Read my Garden Route South Africa itinerary.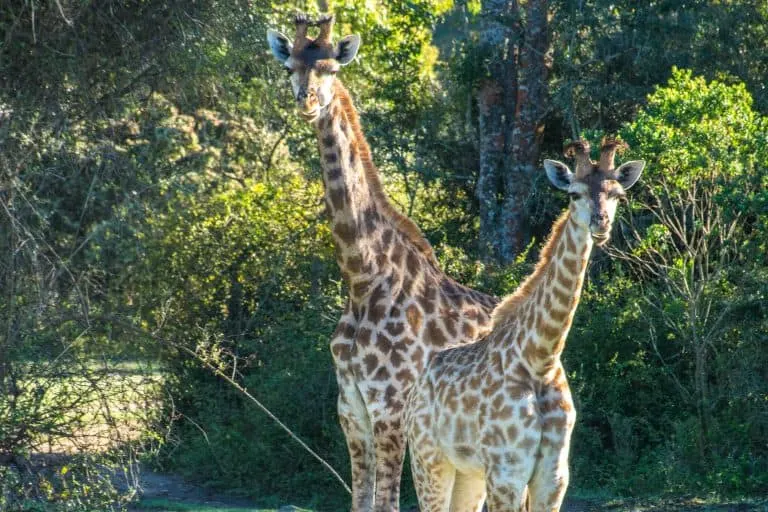 The highlight of a visit to Giraffe View Safari Camp is, of course, spotting their resident giraffes. The owners of the property lead most safaris themselves and know their animals well. Each evening safari ends with a snack and drinks atop the hill overlooking the camp. While you can see many of the same antelope during a South African safari vacation at any of the bigger reserves, a small reserve allows visitors to meet and chat with the locals who lead the safaris.
Meerkat Safaris in Oudshoorn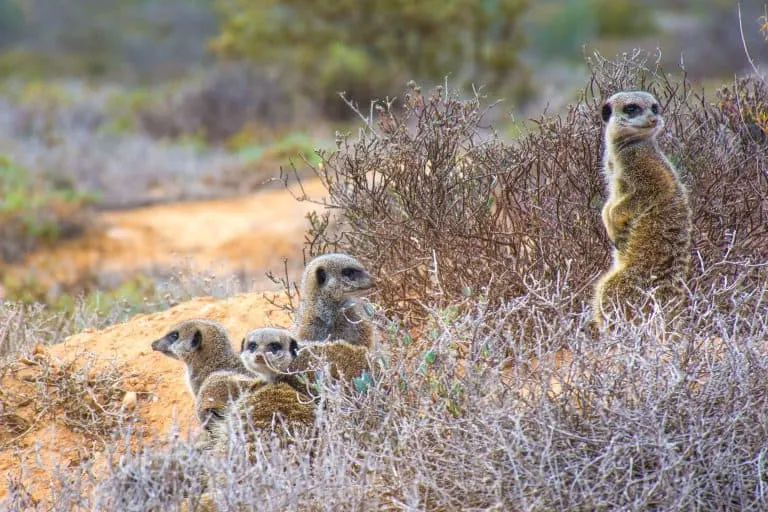 One of the unique experiences that families with older kids can have in Oudshoorn is watching the meerkats emerge from their burrows at sunrise. There are several families of meerkats in the Oudshoorn that have become acclimated to having visits from humans. Generally, meerkat tours provide folding camp chairs. After a hot drink, guests are guided out to the burrow where the meerkats were last spotted the night before.
The meerkats emerge at a different time every morning based on the weather conditions. Some groups need to wait minutes, others wait hours before the meerkats emerge. Spectators are invited to observe the meerkats for an hour or so as they go about their daily routine. Then rather suddenly the meerkats leave their burrow running off to hunt for the day. A morning watching the meerkats as they wake up and explore is a great addition to any African safari vacation.
We stayed at AfriCamps Klein Karoo during our time in Oudshoorn. We loved the family-friendly atmosphere there.
Ostrich Farms – Skeiding Guest Farm the Perfect Stopover Between Cape Town and the Garden Route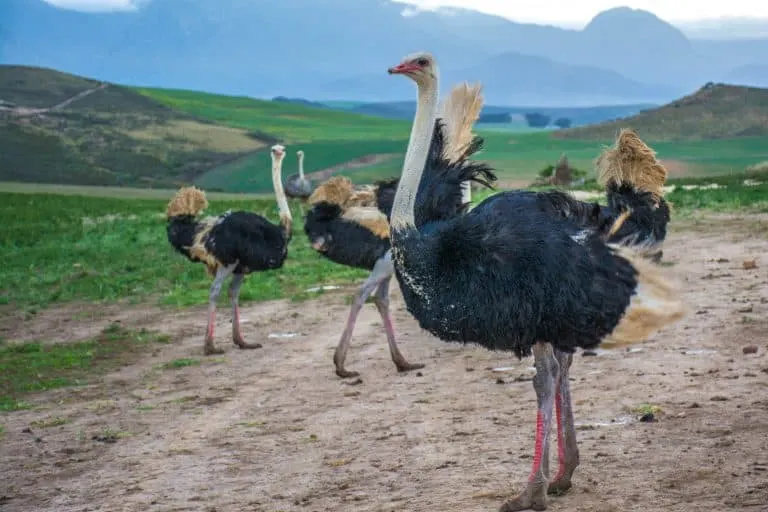 On our first night outside of Cape Town, we spent the night at an operational ostrich farm. Skeiding Guest Farm raises sheep and ostriches as livestock and offered tours of their operations every morning for overnight guests. Our family found many unique lodging arrangements in South Africa. The Skeiding Guest Farm was one of our favorites.
The guest farm offers a traditional South African braai for dinner. Guests can choose from fresh ostrich steaks, chicken or beef grilled to perfection. On our farm tour, we saw several pens of sheep and lambs. Then our wagon took us out to two separate groups of ostriches. The ostriches had been raised by humans so we could get quite close to them as they were eating their morning meal. Another treat for the kids was gathering ostrich eggs and seeing how big they really are.
Monkeyland Primate Sanctuary in Plettenburg Bay on the Garden Route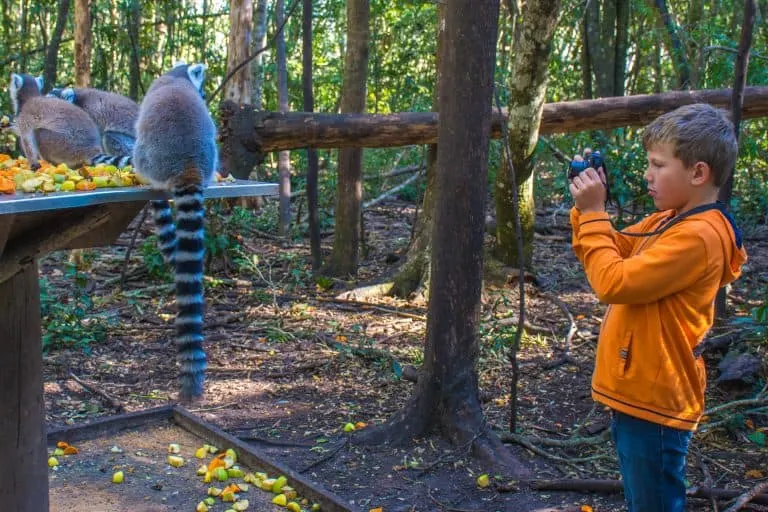 Admittedly, our visit to Monkeyland in Plettenberg Bay was not our most authentic animal experience in South Africa. Most of the monkeys at the sanctuary are not native to South Africa. Monkeyland is the world's first free-roaming multi-species primate sanctuary. Visitors to the sanctuary must join one of the regularly scheduled guided tours to see the monkeys. The tours at Monkeyland are great for kids. Guides educate visitors on conservation efforts for each of the species found in the sanctuary. Of course, children love that they can observe the animals close up while the primates snack on their favorite fruits.
Visiting the Penguins at Boulders Beach – Part of a Cape Town Day Trip to the Cape of Good Hope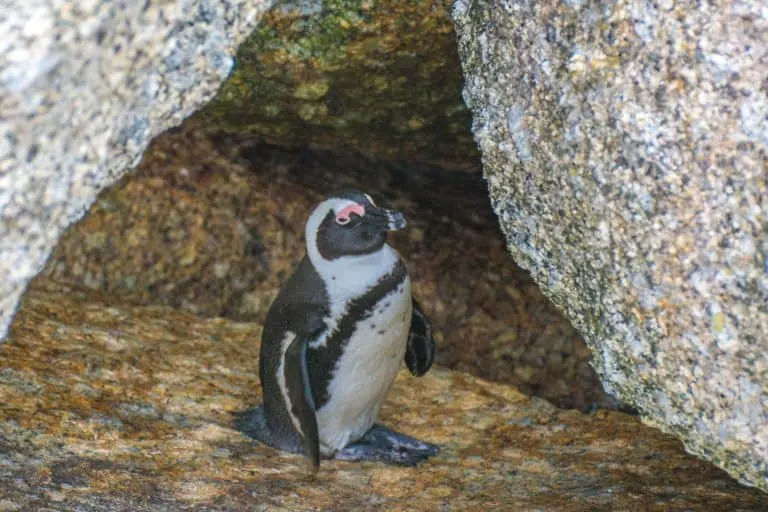 Visiting the penguins at Boulders Beach is a very popular Cape Town day trip. We found the boardwalks packed with people even on a rainy day in winter. Seeing real live penguins in the wild is truly a buck-list item for many families.
Especially with kids, it is important to both walk the boardwalk with the crowds to see the penguins playing in the surf, but also walk further down the coast to the actual beach. There are not nearly as many penguins on the beach where people can walk. There were a few birds out climbing the rocks when we visited. Even without the penguins, kids will love playing on and around the big boulders for which the beach is named. Spotting the random penguin or two is just a bonus.
Comments on Animal Ethics and Conservation in South Africa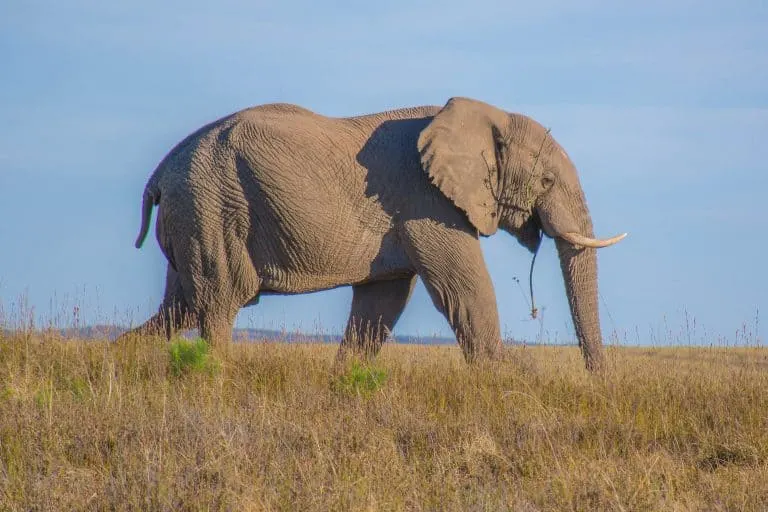 As I was researching our South African safari vacation options, I made an effort to include places on our itinerary that kept a high standard of ethics regarding human interaction with animals. There are so many places to choose from in South Africa with a wide range of ethical standards. If conservation efforts are important to your family, there is no need to spend your time and money on your African safari vacation at places that do not adhere to high standards. We tried to spend our money in places that were actively pursuing conservation of various African species and did not allow human interaction with wild animals.
Looking for somewhere closer to home to observe animals in the wild? Trekaroo families love spotting wildlife in Costa Rica! Here are 20 Unforgettable Costa Rica Family Vacation Experiences.
All photos by Melissa Moore unless otherwise credited.