The world's largest cruise ship, Royal Caribbean's Symphony of the Seas, now sails from Miami. Trekaroo had a sneak peek and we are thrilled to confirm that it is most certainly kid-approved!
Fun fact for the kids: the ship is almost as long as the Empire State Building is tall! (And yes, it is way bigger than the Titanic.)
Symphony of the Seas is a brand new ship, literally sparkling from top to bottom. It offers state-of-the-art amenities geared toward the multi-generational, vacationing family. From slides and surf to spectacular nightly shows, the entertainment options seem to be endless. The ship truly offers enough fun to be considered its own destination. It just happens to be a destination that transports you through the warm, turquoise waters of the Caribbean to some of the most highly sought after island destinations in the world.
Check out Trekaroo's very favorite offerings for families aboard the Royal Caribbean Symphony of the Seas!
All Ages Can Play Together!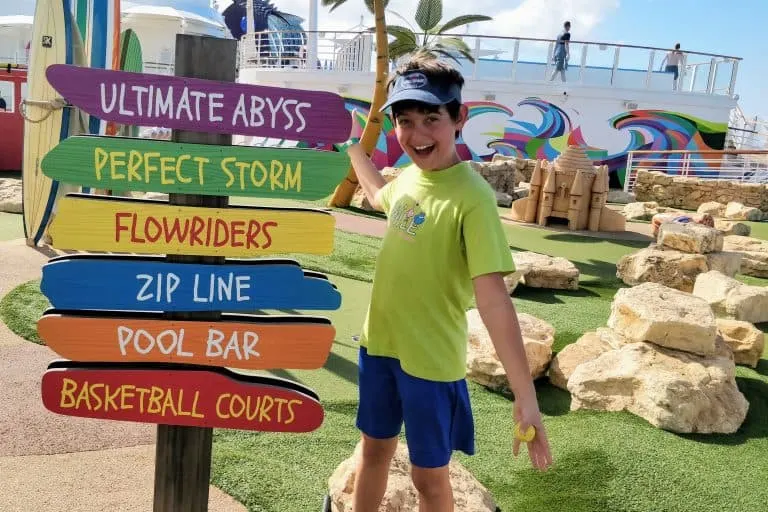 All ages can play a round of mini-golf on the adorable, nautically-themed mini-golf course. It's out in the fresh air and sunshine, with glorious views all around. What's not to love? Ping pong tables are in the shade right next to the course, and the basketball courts aren't too far away either, so naturally, a little friendly competition is in store if you've got the chops. Still got some juice? Next up, laser tag! Seriously, between all of this and the running track, you could train for a marathon aboard this ship!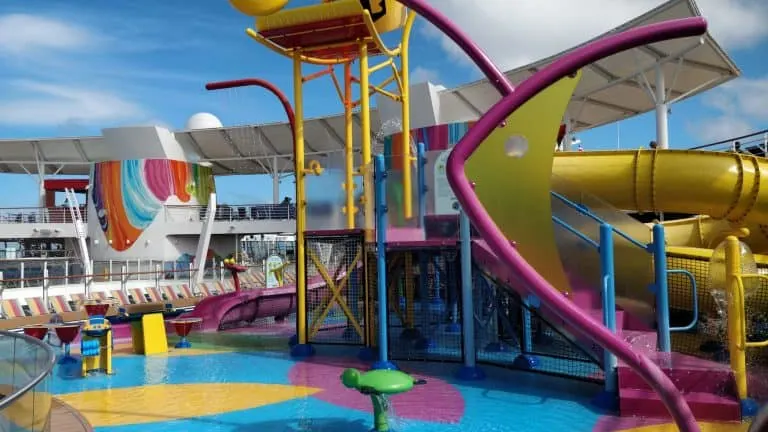 Of course, there is water play for every age as well. Two pools, a splash zone for littles, plenty of loungers and hot tubs sprinkled about, and three huge water slides will cool you off anytime you need a refreshing dip. The best part? When the adults need a break, they can directly supervise the splash zone and the water slides from the soothing comfort of a hot tub. Win-win!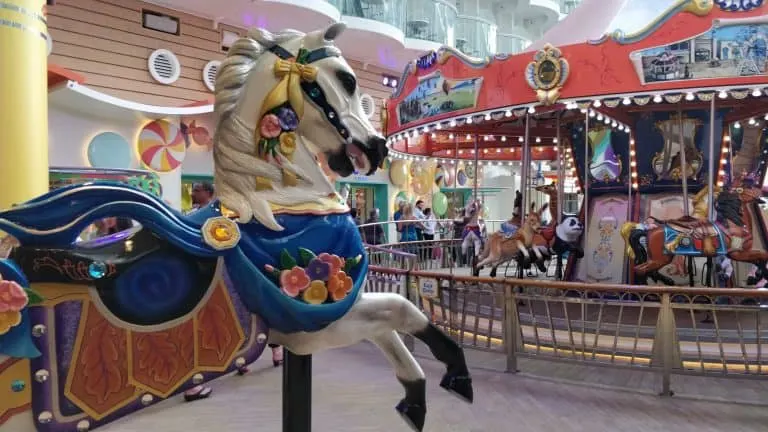 When you need to recharge but you're not quite ready to give up the fun, the Boardwalk fits the bill. Grab a hot dog, get your tiniest tot on the carousel, and play at the arcade. This arcade is not a huge space (there's another bigger one upstairs), but it is perfectly laid out so that grandparents, parents, and kids of all ages can stick together. Go ahead, challenge someone to a game of skeeball. Not your ball? No problem. There is a full bar and plenty of comfy seating right in the arcade for those that would rather remain a spectator.
Thrills for Bigger Kids and Beyond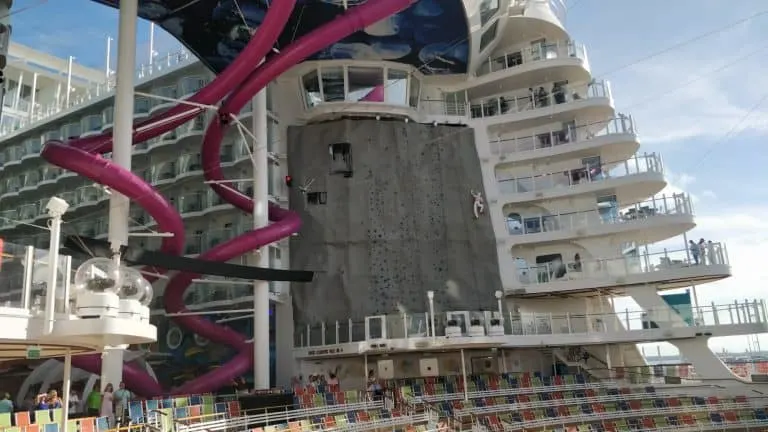 Three major attractions should keep your thrill-seeking family members busy for quite a while! Catch a wave on one of two surf simulators (Flowrider), conquer new heights on the enormous rock walls and zip line, and zoom down the ten-story slide (the Ultimate Abyss) as many times as your heart desires.
If you have kids ages 12 and up, you simply can't skip Escape the Rubicon! It is an extremely well-done escape room and a one-of-a-kind experience for the family. Put your thinking caps on and work together to accomplish your mission. It's amazing to see how the puzzle unfolds while you discover secret talents amidst your crew. Only 20% of groups that attempt this challenge actually succeed!
Entertainment on Royal Caribbean Symphony of the Seas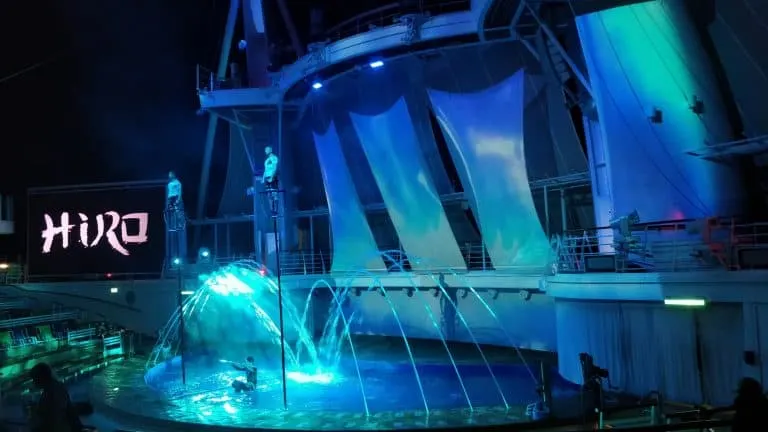 The excitement does not end when the sun goes down. Royal Caribbean takes its mission to entertain the whole family very seriously and we think everyone in the family should see at least one show! All of the shows feature fist-pumping music, outstanding costumes, awe-inspiring technology, and most importantly, world-class talent.
If you are concerned about your little squirmers making it through a show, the outdoor venue and energetic nature of Hiro makes it your best bet. Every kid who has ever jumped off a diving board or messed around on a zipline will be absolutely enthralled with this show. Some may even walk away with some new dreams!
The show that packs the biggest educational punch is Flight. It tells the story of humankind's ability to fly, from Kitty Hawk to Mars. The storytelling and technology are incredible, but the very coolest part is that Royal Caribbean consulted with astronaut Clayton Anderson when creating the show. Mr. Anderson spent five months on the International Space Station and has written children's books about life as an astronaut. He was on board the inaugural sailing of Symphony of the Seas and said he got a lump in his throat the first time he saw Symphony's production of Flight.
Family Accommodations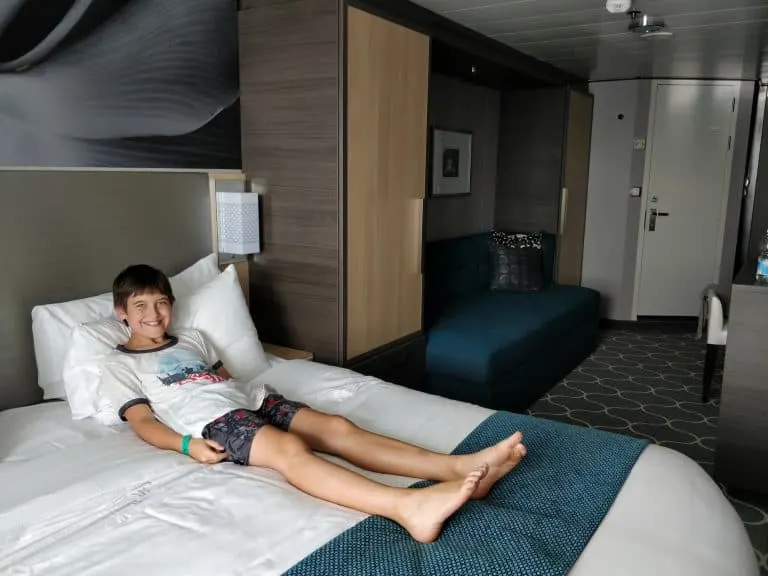 The cabins with ocean-view balconies are roomy, comfortable, quiet, and have an excellent layout. Even the balcony is spacious and furnished with great loungers. These rooms claim to sleep four, with two sleeping on a sofa-bed. We think a family of 4-6 would be happier with two rooms instead.
For a special occasion, consider a multi-bedroom suite or the Ultimate Family Suite featuring two stories, a slide, ping-pong, a movie room, and more. The suites come with a hefty price-tag, but if you can swing it, they will not disappoint you! The common spaces are incredibly beautiful and functional, and some suites even have private hot-tubs on the balcony.
Family Dining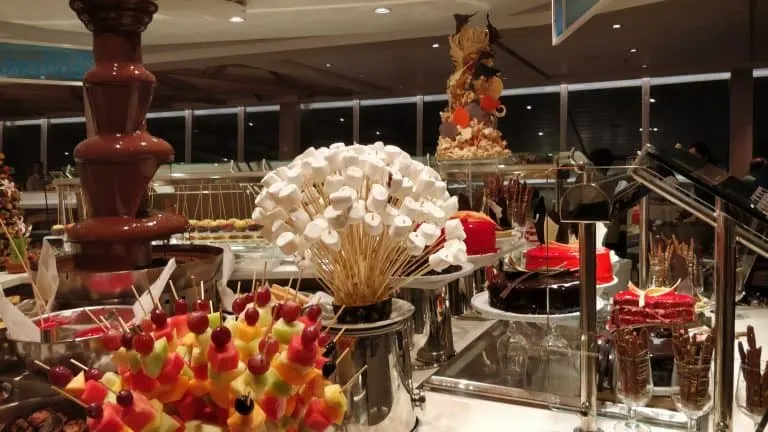 While the vast majority of the complimentary restaurants are family-friendly, the Main Dining Room is perhaps the exception. You can quickly grab hot dogs, wings, pizza, sandwiches, burgers, tacos and quesadillas, salads, smoothies, and ice cream at just about any time you like. These restaurants are very easy to access, located throughout the Promenade, Boardwalk, and Central Park areas. The Main Dining Room is open for all three meal times and they do offer a kids menu, but the look and feel of the place are pretty formal. It's a nice option for a fancy family dinner though. Specialty restaurants on the ship are not included with the cruise price, but offer high-end dining options for the family or as a special adults-only night out.
Windjammers, a complimentary buffet, is probably the most practical family dining restaurant on the ship. The restaurant stays open for all three meals a day and offers a huge variety of delicious food. While there, don't miss the chocolate bar during dinner, we have never seen anything like it!
2019 Destinations and Routes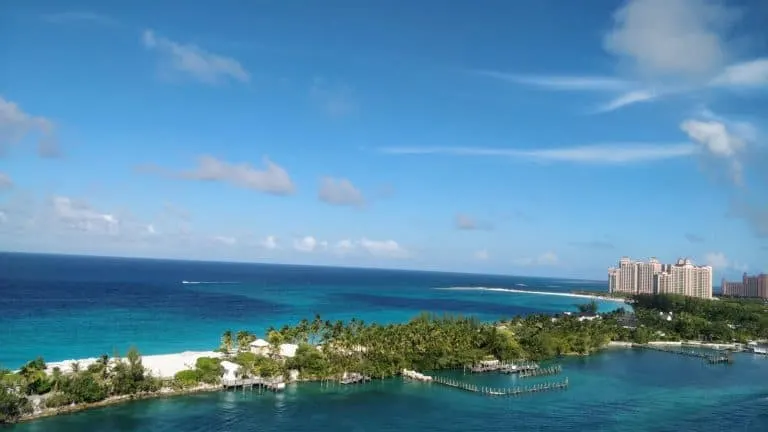 The Royal Caribbean Symphony of the Seas will be sailing on three and four-night cruises to the Bahamas and Royal Caribbean's new private island, Perfect Day at CocoCay. It is also sailing on seven-night cruises to both the Eastern and Western Caribbean, including stops in St. Kitts, Mexico, and Puerto Rico.
Is this your family's first cruise? Check out our must-dos, tips, and tricks for first-time cruisers.
Practical Tips for Enjoying the Symphony of the Seas with Kids
Overall, we think the Royal Caribbean Symphony of the Seas is a great choice for a family vacation. Follow our insider tips and you can expect to make the best of your cruise!
Mentally prepare for lines. Embarkment can take a while due to luggage and passport security checkpoints. After you make it on board, there is a mandatory safety meeting on the first afternoon of your cruise. Try to warn the family about this in advance, but assure them that the cruise will be well worth the wait.

Pack light! You can skip large portions of the security line to get on the boat if you have a small suitcase. Plus, there is limited storage space in the cabins for large suitcases.

The extra money for an ocean-facing balcony is worth every penny, especially for people that may suffer from sensory overload in all of the public spaces on this ship. The private balconies are the perfect quiet place to relax and recharge.

The kids must wear a bracelet during the entire cruise. It is color coded to your room so they can be escorted to the proper location in case of emergency.

Mid-ship rooms are slightly more expensive but are steadier than the rooms on either end. It is a good idea to bring motion sickness medicine just in case, although generally, the Caribbean is very smooth. For an all-natural option (without the drowsiness), we've had great luck with Sea-Band Anti-Nausea Ginger Gum.

Royal Caribbean has taken germ control to a whole new level on this ship. There is a huge sink station at the entrance of Windjammers, Purell stations all over the place (some mandatory), and touch-free doors for most bathrooms.
If you are someone who likes to be extra prepared, here are tips for the first day of a cruise.
Watch More of the Royal Caribbean Symphony of the Seas:
All Photos by Tarlie Harris
Disclosure: This writer was hosted by Royal Caribbean to experience the Symphony of the Seas for Trekaroo readers. The writer was not compensated in any other way for these opinions.