If you don't know where the country of Slovenia is, don't feel bad. When I first began planning my vacation, I didn't either! This small country is located in central Europe, bordered by Austria, Hungary, Italy and Croatia. People who visit Slovenia travel to a nation that is green, uncrowded, and filled with fun. Here are some can't miss activities for your first trip to Slovenia.
Slovenia Travel: Walk Around Old Town Ljubljana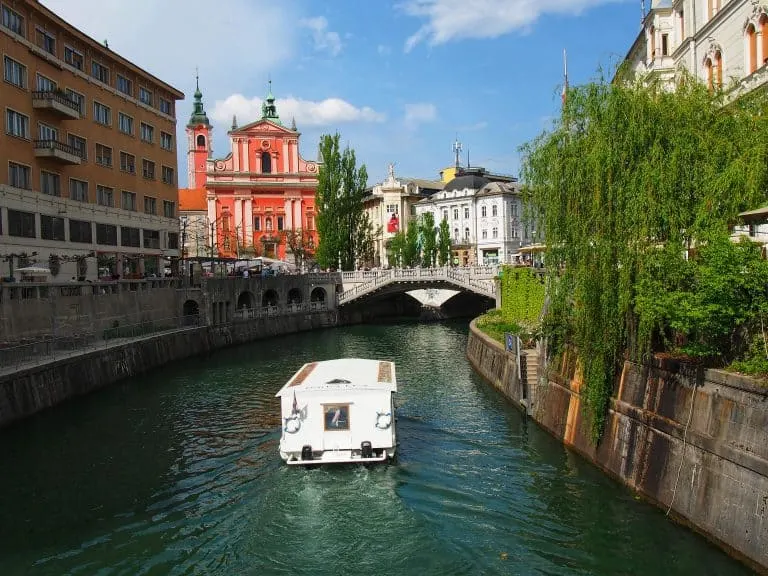 Photo by: Sharon Rigney
Visiting Slovenia usually involves visiting the capital city of Ljubljana. Old Town Ljubljana is located along the Ljubljanica River. Here you can park your car and walk, admiring the pretty sights as you go. It really looks like an ancient town, with an old castle perched high atop a hill overlooking things. Visit the famous bridges that span the river, the Triple Bridge and Dragon Bridge, each named for a distinct feature. The Triple Bridge offers three sections to walk across and the Dragon Bridge is framed by the famous dragons that Slovenia claims as its national mascot. Take in some shopping in Old Town, grab a bit to eat or drink, and take in the views from several scenic promenades. Head to the river for a completely different view of the area. Stand up paddle boarding, rowing trips, and tourists boats are some fun ways to enjoy the water.
Slovenia Travel: Spend the Day at a Lake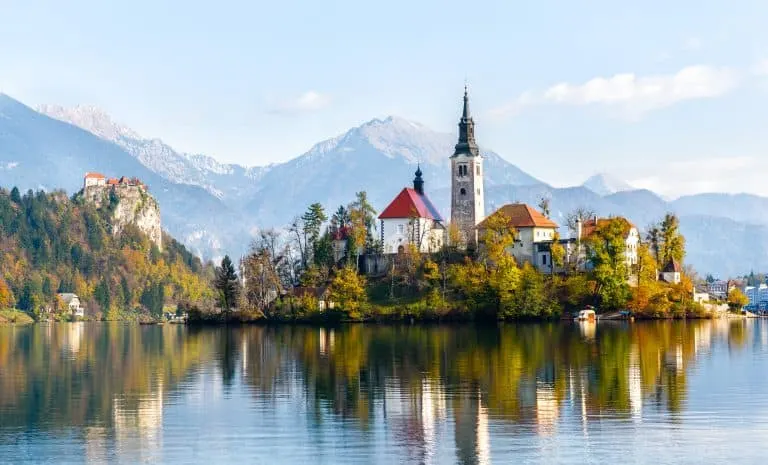 Photo by: Bigstock/_jure
Slovenia has no shortage of lakes. Some are more well known than others, but all offer a scenic and active way to spend some outdoor time with the family. Should you want the opportunity to do some water sports, be sure to visit Bohinj Lake. This lake is great for boating, swimming, stand-up paddleboarding, hiking, cycling, picnicking, taking pictures, and spending time with friends and family. There's a waterfall you can visit here as well.
The other lake you'll want to include in your Slovenia travel is Lake Bled. For many people, photographs of Lake Bled are the only associations they have with the country of Slovenia. Many people come here to be seen, visit the high-end shops, have lunch, and to visit the castle above the lake. You can also camp, bike, and take a boat out to the famous church on the island in the lake. No matter what you do, its evident here why there is a draw to this beautiful place.
Slovenia Travel: Visit A Cave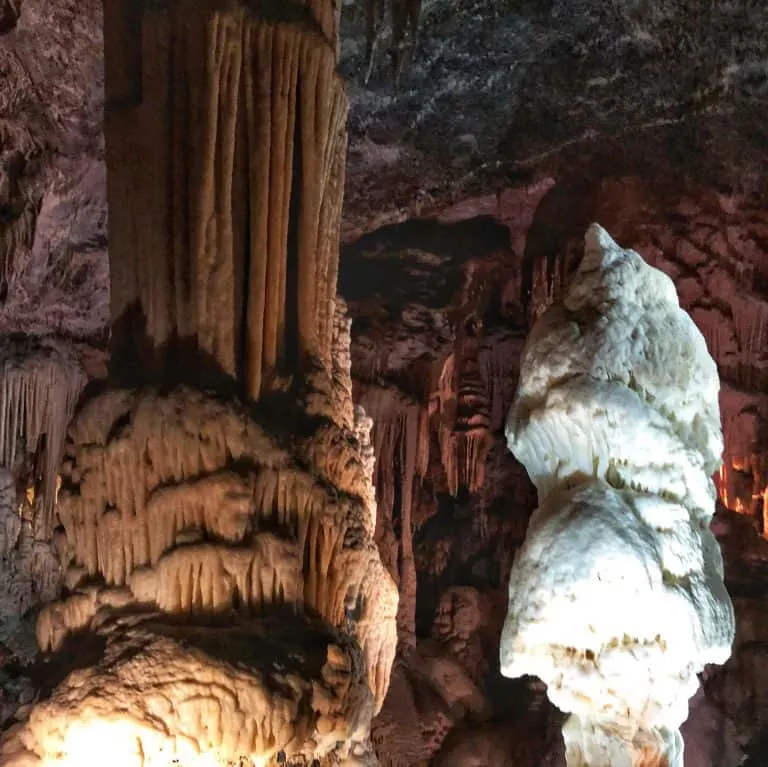 Photo by: Sharon Rigney
Slovenia is home to many caves. Throughout history, the caves have served an important purpose in the military. They are also beautiful natural wonders that we can still enjoy today. One of the most visited caves is Postojnska Cave. Parking is easy, and there are places to eat, drink, shop, and use the bathroom. Wear a jacket, as the temperature in the cave is a cool and moist 48-50 degrees. Comfortable and closed-toed walking shoes are also recommended.
When you first enter Postojnska Cave, you see that the beginning of the cave experienced a fire and is not very scenic. For that reason, you'll hop on a fast-moving train and head far inside the cave to see the "good parts". The train ride itself is quite fun and kids will love having this as a part of the experience. Once inside, you'll be able to see the many formations that have taken thousands and even millions of years to form. There are creatures here, too, and the highlight for many kids is to see the "human fish" at the end to the tour. Folks believe it is an evolution of a salamander that has adapted to life in darkness with little food and movement.
Slovenia Travel: Go White Water Rafting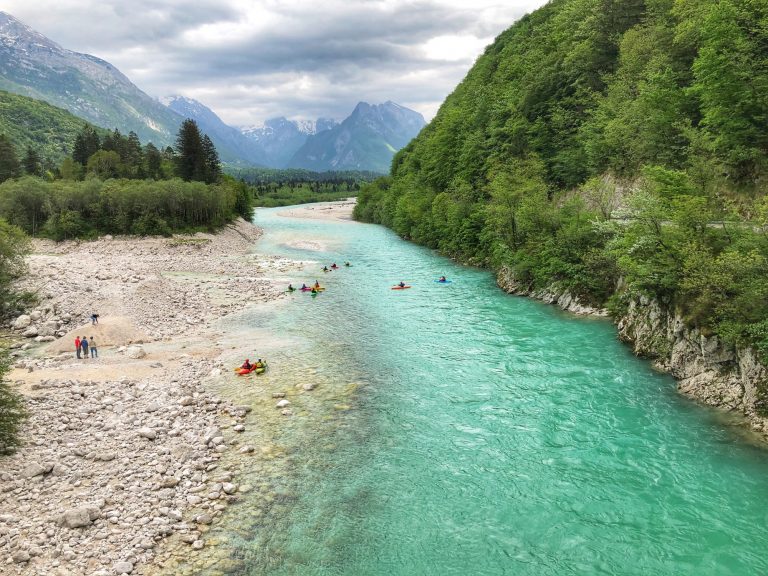 Photo by: Sharon Rigney
White water rafting is not typically my favorite experience, but the rafting trip I took in Slovenia was my favorite part of my Slovenia travel. I rafted down the Soca River in Bovec which was cold, but offered scenic views that were simply drop-dead gorgeous. Your guide instructs you when to paddle, when to lean to one side or the other, and when to stop and enjoy the views. There are wetsuits and helmets provided, no experience is necessary, and this is a memory-making activity you'll not soon forget. I was in awe of the beauty that I saw as we traveled down the river. The river is a sight with its crystal clear light green color framed by the darker green foliage and flowers along its banks.
Slovenia Travel: See the Famous White Horses of Lipica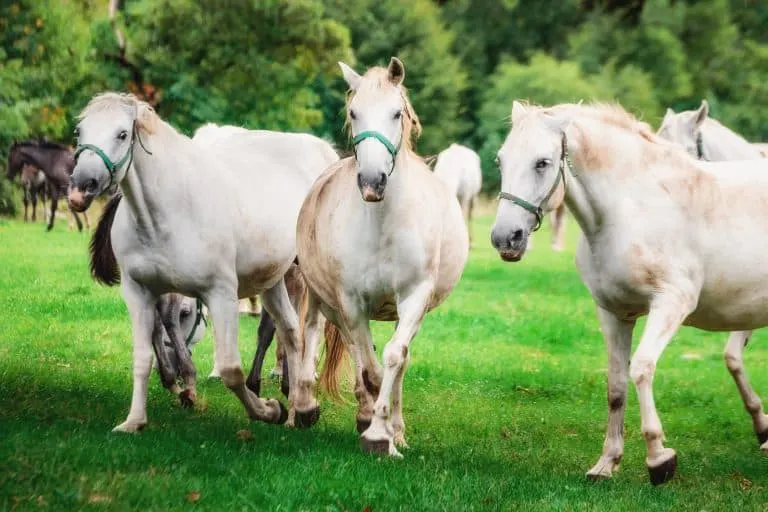 Photo by: Bigstock/RuslanKPhoto
For centuries, the beautiful white horses of Lipica have fascinated both Slovenians and foreigners. You can visit a stud farm in Lipica where they still breed the horses. Take a tour, ride a carriage, or attend a special event and see the Lipizzan horses perform. Generations have proudly rode these horses and kept the breed alive and thriving. Nothing prepares you for how beautiful they look against the green pastures. There's a hotel here should you decide to stay on site.
Slovenia Travel: Explore the Castles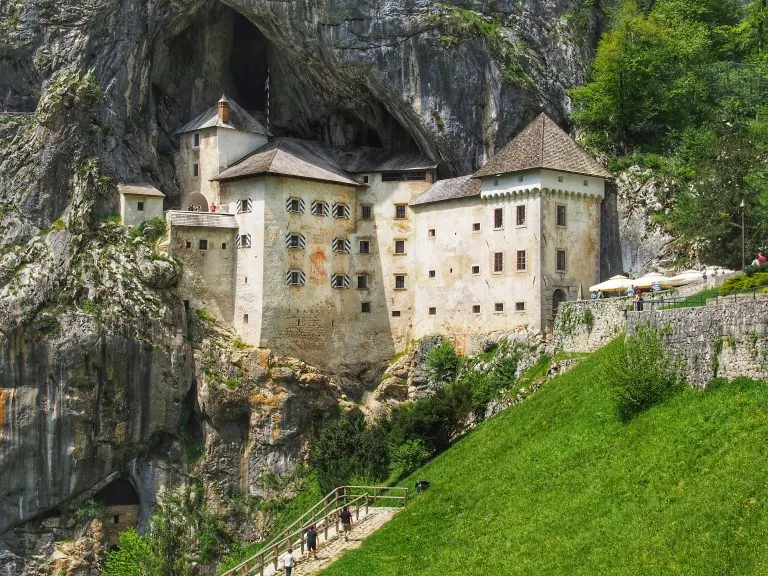 Photo by: Sharon Rigney
Many people describe Slovenia as being like something taken from a fairy tale. The castles that dot the countryside and stand proudly atop the cities help contribute to this image. There are over 500 castles in Slovenia, so visiting one is not a difficult task. Ljubljana Castle stands above the old town, and makes for a great stop when you're in that area. Take a funicular to the top of the mountain then join a tour or simply take in the views from the top. It is beautiful to gaze down on the city from up there.
Other castles worth the trek include Predjama (built into the mouth of a cave!), Bled (where you'll get the best views of the lake and the island church), Ptuj, Bogensperk, and Celje. Of course you may find a few on your journey to explore that make stopping worthwhile, so don't be afraid to see more of these great structures.
Slovenia Travel: Take A Bike Ride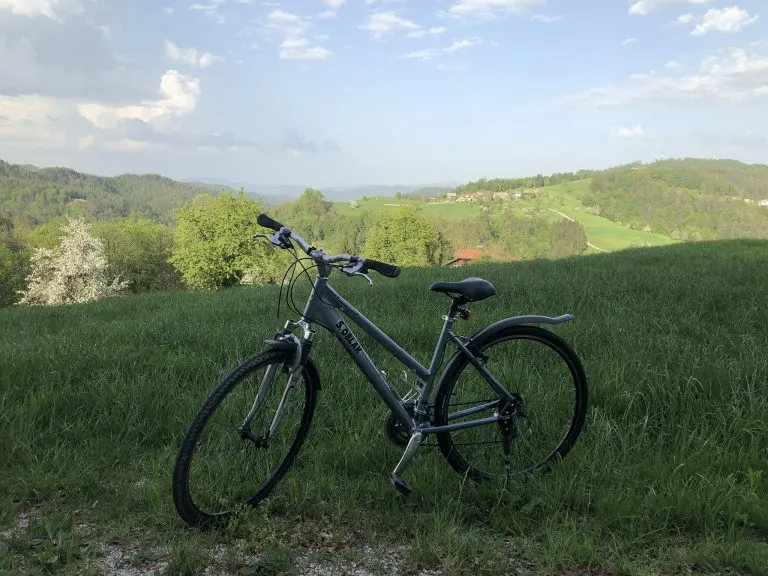 Photo by: Sharon Rigney
Biking in many parts of Slovenia is wonderful, as it can be quite flat. You can rent a bike and ride on your own or take a bike tour and stay active while learning about the country. Tour companies like LB&T Vegov hram offers prearranged or custom trips that center around culinary experiences, wine routes, scenic experiences, trips to the river, to Postojna Cave, and more. Most are easy trips with not a lot of cycling experience necessary. They also have smaller bikes for children, which can make for a nice day with the whole clan!
Overall, a visit to Slovenia is one filled with natural beauty, history, and wonder. You'll leave with a renewed sense of appreciation for why the people of this country love it so much. It really is a scenic playground, a fairy tale land filled with beauty and simple pleasures.
Disclosure: I was hosted by the Tourist Board of Slovenia for the purpose of this article. No other compensation was provided and the opinions stated herein are my own.
Lead Image by Bigstock: Photoroman