Don't you just love when Disney opens up a newly-imagined portion of the Disneyland Resort? Yes, there is always hesitation and fear of change, but luckily Disney doesn't disappoint. Pixar Pier is open! There is so much to get excited about in this newly imagined land. Toy Story Mania serves as the elder statesman in this otherwise upgraded portion of Disney California Adventure. Joining it are new attractions, several new eateries, and a shopping destination for Pixar fans. Here are 8 experiences you won't want to miss at Pixar Pier.
1. Catch the views from atop the Pixar Pal-A-Round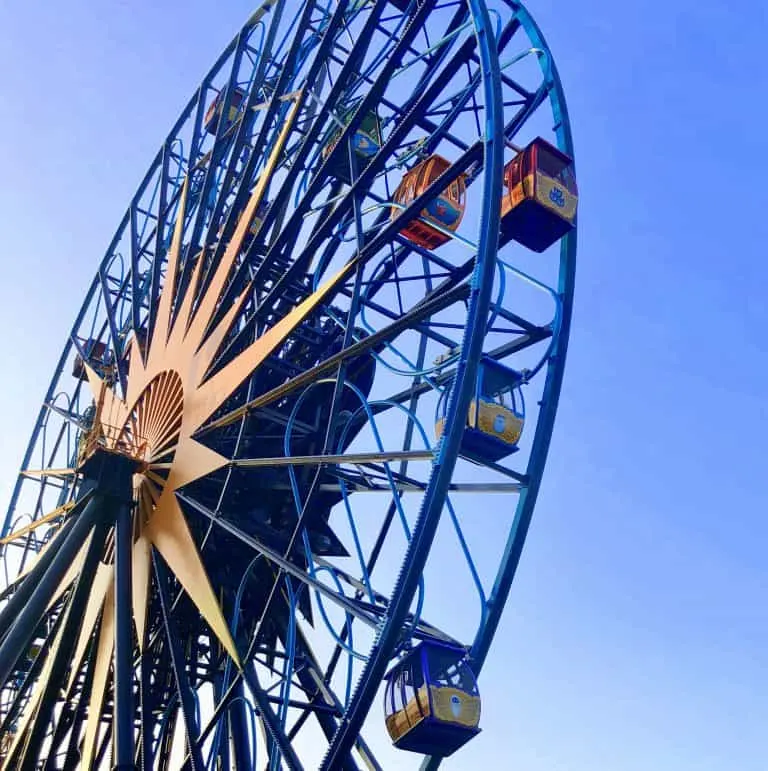 Mickey's Fun Wheel has been revamped to celebrate classic Pixar film characters we all know and love. Each of the 23 gondolas -yes, some still slide forward- feature a different familiar face, from Lightening McQueen to Sully to Wall-E's girlfriend Eve. The views from atop Pixar Pal-A-Round are sweeping. Embrace the friendship theme and take a sunset ride with your favorite pal.
2. Sample something spicy at Angry Dogs and Senor Buzz Churros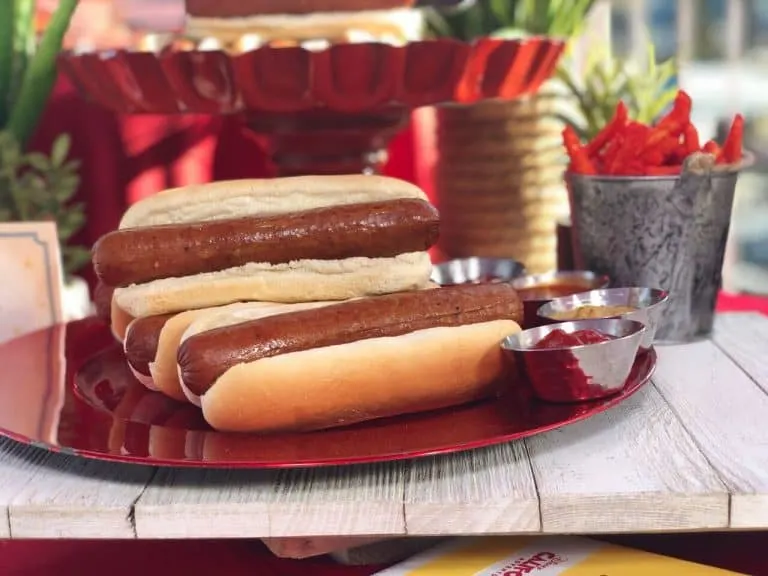 Things are heating up on Pixar Pier, and I'm not just talking about the temps on a summer day. Angry Dogs is a grab-and-go food stand hosted by Inside Out's resident hot head, Anger. The spicy all beef Angry Dog reminds me of a hot link (it definitely has a great kick) and is served with "flamin' hot" chips. Those looking for something more traditional should opt for the "Slightly Annoyed Dog," which is served with potato chips. Senor Buzz Churros stand has Disney's famous churros as well as a spicy red Caliente Churro that is reminiscent of the sweet heat of a Red Hot. Still hungry? Grab a smoked turkey leg, chicken drumsticks, or buttery corn on the cob from Poultry Palace.
3. Try to score a Pixar plush at the Games of Pixar Pier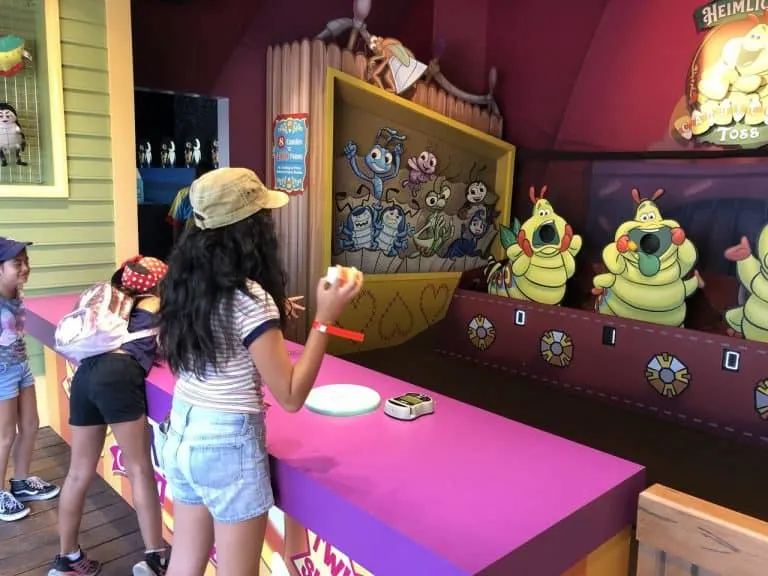 You know Disney can't resist a theme, so it is no surprise that they have redone their pay-per-play game booths on the pier to reflect the Pixar motif. There are four midway classics where guests can try to win an adorable Pixar plush toy. At Bullseye Stallion Stampede, roll balls up into holes of different point values to make your horse gallop forward to win the race. At Wall-E Space Race, shoot the water gun at the target to make you Wall-E character move up towards the goal. Heimlich's Candy Corn Toss is perfect for baseball players who are great at hitting targets. La Luna Star Catcher is the saving grace for parents who know their little ones will have a meltdown if they walk away without a prize. During this simple fishing game, everybody wins!
4. Cool off with a Pixar Pier Frozen Parfait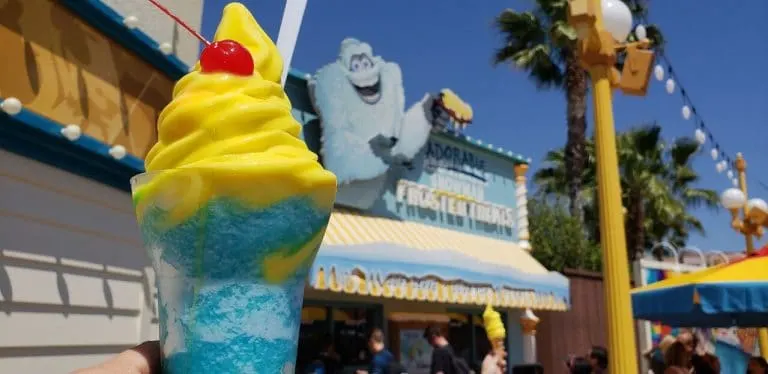 Photo by: Katie Bodell
There are several cool treats for sale at Adorable Snowman Frosted Treats, but I bet the Pixar Pier Frozen Parfait is going to be the most popular. This frozen treat is the marriage of a frozen lemonade (in ice cream form) combined with a blue raspberry Icee. Soft serve is available in vanilla, chocolate, and lemon, and those flavors can be combined with a fountain drink to make them a float. Trust us, it's lemon. 🙂
5. Shop 'til you drop for Pixar-themed gear at Knick's Knacks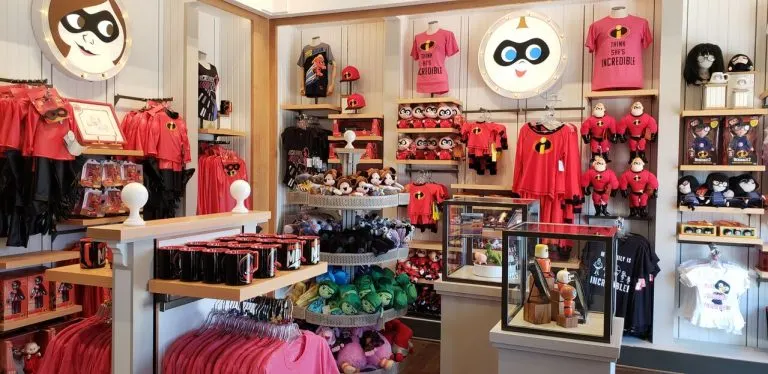 Photo by: Katie Bodell
It is hard to choose my favorite item for sale in Knick's Knacks. I am definitely in love with the Wall-E ears and the Edna Mode purse is pretty fabulous. The Incredibles jumpsuits will certainly make for epic family costumes this Halloween. The slinky dog bracelet is too adorable for words and the giant Sully tail is just plain fun!
Check out some of our favorite knick knacks at Knick Knacks on Instagram TV.
6. Enjoy a meal (and a few drinks!) at the new Lamplight Lounge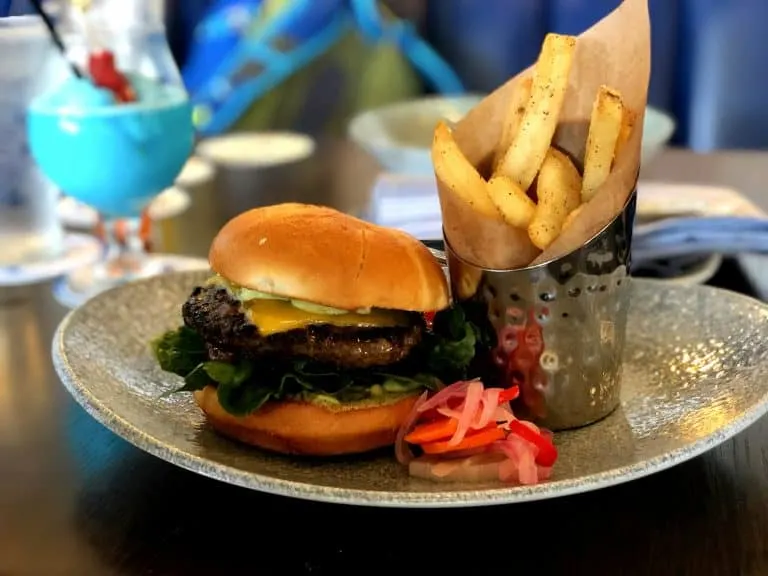 I was bummed when I discovered the Cove Bar and Ariel's Grotto closed. But I fell in love with the Lamplight Lounge. The stylish and chic gastropub features waterfront dining, an extensive bar menu, and some great food. I loved the tuna poke, which is served with a rice "bowl; break this to make chips. This yellowfin tuna poke mix includes avocado, edamame, and compressed watermelon which are a welcome and refreshing addition to the mix. The cheddar burger is also special. The chef uses a custom grind of beef to form his patty and tops it with Tillamook cheddar, roasted plum tomatoes, and an avocado ranch sauce.
Thankfully, the Cove Bar's beloved lobster nachos are still on the menu and are as tasty as ever. Other menu highlights include the carne asada roll, salmon PLT sandwich, and donuts with dipping sauces.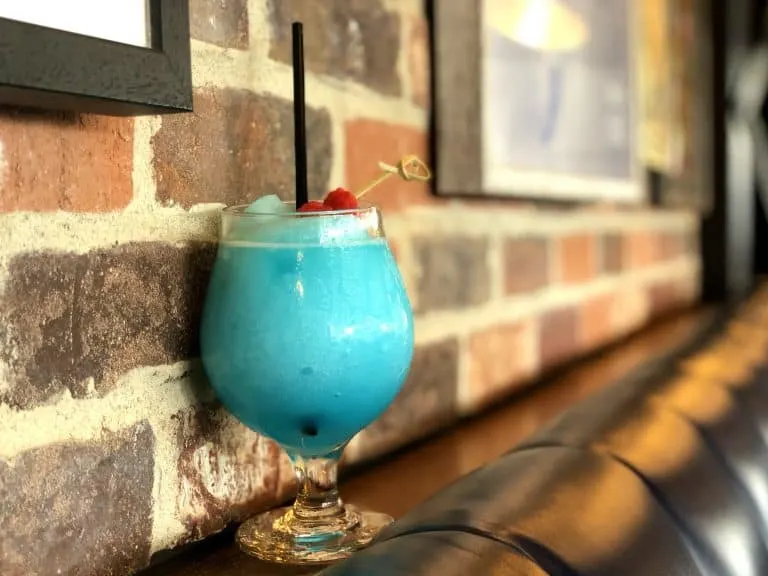 The drink menu is filled with all sorts of fun signature drinks. Bubbling cocktails such as The Sequel (citron vodka, rum, passion fruit, lime juice, and agave nectar) and Server Room Chill (gin, aperol, agave nectar, ruby red grapefruit juice) add a fun mad scientist vibe to your alcohol consumption. Another showstopper is Open Ocean, a vibrant blue frozen cocktail made with raspberry rum, blue Curacao, agave nectar and lime juice. The drink menu is extensive, and includes several other crafted cocktails, wines, and local beers.
Explore all the new food & beverage offerings as we interview Disney Chef Jeremiah:
7. Chase Jack Jack through the Incredicoaster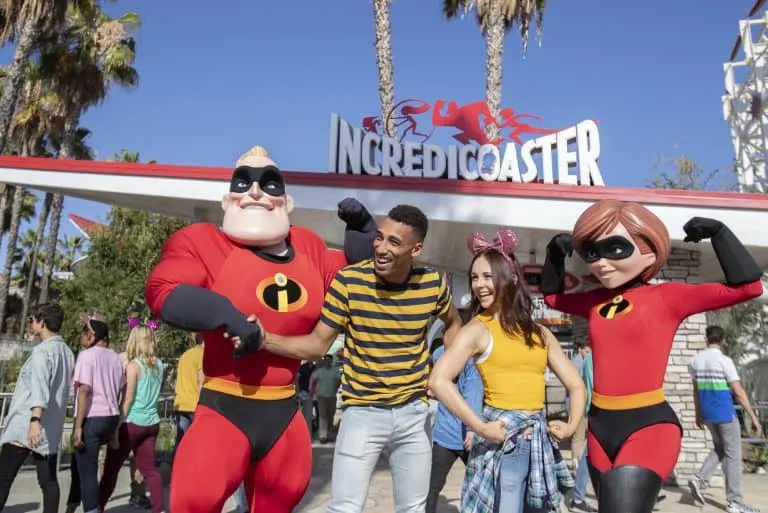 Photo by: Disney Parks
The most anticipated attraction on Pixar Pier is the new Incredicoaster. This ride is centered around the story of the Parr family and their chase after the most mischievous and elusive member of the super-powered family, baby Jack-Jack. The queue has a fun, mid-century modern vibe and the murals are all hand-painted (look for hidden Mickeys!). The ride has great sounds effects and plenty of thrills along the way. Coaster tunnels come to life with scenes featuring the Incredibles in action. Breathe deeply as you pass through the second tunnel to catch a sweet whiff of Jack-Jack's beloved chocolate chip cookies. There is so much speed and action on this coaster that you will have to ride the ride multiple times to catch it all!
Watch our Incredicoaster POV & Interview video:
8. Scarf down a warm chocolate chip cookie from Jack-Jack Cookie Num Nums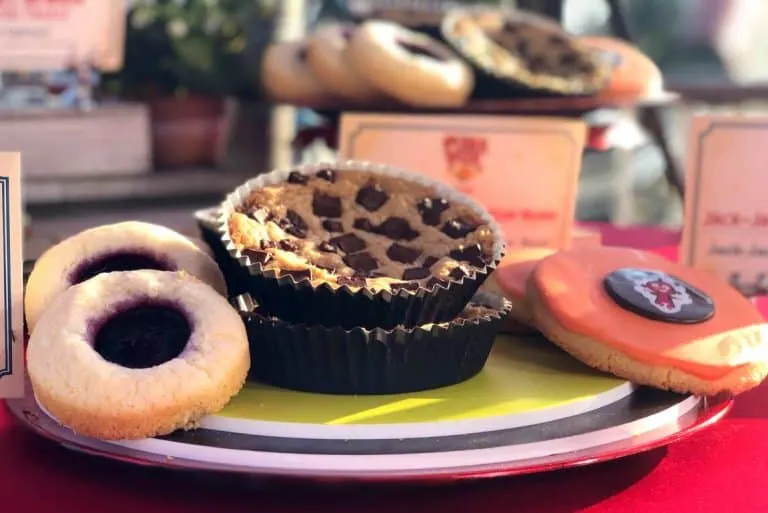 Celebrate a ride on the Incredicoaster with a warm chocolate chip cookie from Jack-Jack Cookie Nums Nums stand. These cookies are sinfully good and big enough to share. Shortbread cookies, the gluten-free IncrediCookie, and flavored milks are also available for purchase.
But wait, there's more!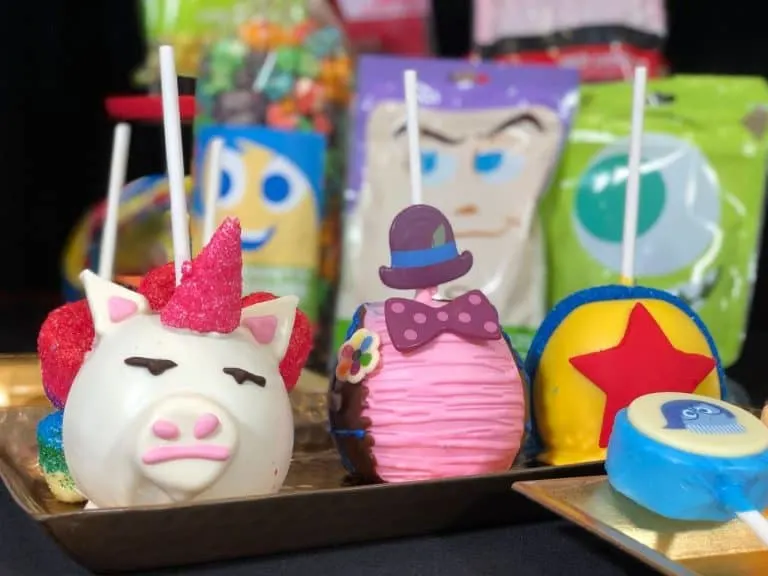 Bing Bong's Sweet Stuff will open up later this summer and serve up beautiful and delectable sweet treats. Jessie's Critter Carousel and Inside Out Headquarters will be joining Pixar Pier in 2019.
Check out 10 Things You Must do at Pixar Fest in Disneyland Resort for more Pixar-themed fun include parades, fireworks shows, and plenty of food.
All photos by Sharlene Earnshaw unless otherwise noted.
Disclosure: The author was invited by Disneyland Resort to cover a media preview of Pixar Pier. All opinions are her own.