On an Alaskan Dream Cruise through SE Alaska, you can leave the iPad, gaming devices, and DVDs at home. Ditto even for novels, activity books, or educational material you may be tempted to pack for your kids. During our 10 days and nine nights aboard Alaskan Dream Cruises' Baranof Dream, we were kept busy every day from our 7 am wake-up call to our Alaskan Native bedtime story well past 9 pm as we experienced their family small ship cruise itinerary. Never have we enjoyed such a hands-on, educational, and adventurous trip; while we never cracked a book, we learned more in 10 days on our family friendly Alaskan cruise than we could have possibly studied in a month.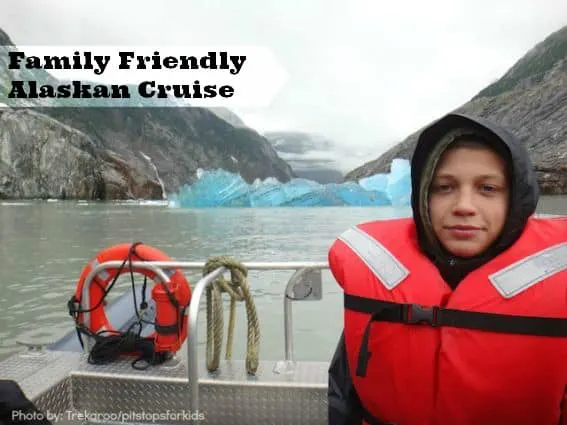 The Baranof Dream holds 49 passengers (quite the departure from large cruise ships' 1000+), but Alaskan Native-owned Alaskan Dream still deems this a crowd; during their family cruises, the number is capped at around 30. Our cruise of 28 (10 of which were kids 14 and under) departed from Sitka, Alaska in July 2013 with seven ports-of-call planned…only two of which could be accessed by large ships.
Day 1: Sitka
Our Alaskan Dream Cruise started on land, with an introduction to the cruise line's home town of Sitka. Led by our Expedition Leader Emily (who participated in our entire trip), we met rehabilitating bald eagles at Sitka's Alaska Raptor Center, walked through rain forest trails to Tlingit totems in Sitka National Historic Park, and felt slimy sea slugs in Sitka Sound Science Center. We ate lunch aboard an Allen Marine (Alaskan Dream Cruises' sister company) Sea Otter and Wildlife Quest vessel, and set out for a tour of Sitka Sound, finding seals, sea otters, brown bears, and sea birds. We met up with the Baranof Dream before the dinner hour, excitedly embarking in a quiet cove protected by a small Inside Passage island.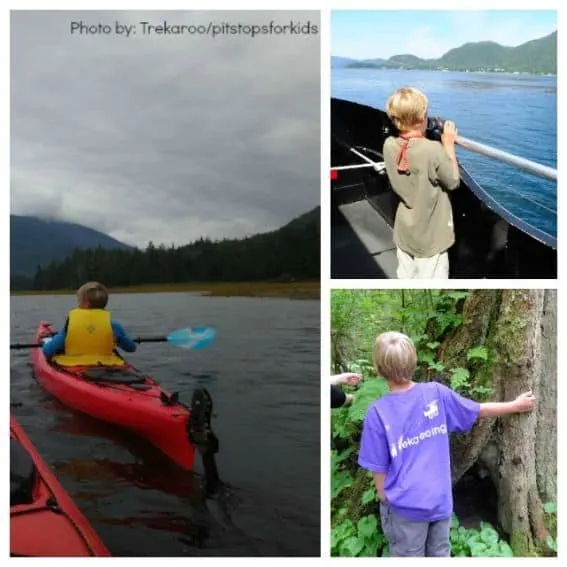 Day 2: Sitka to Juneau
On-board our home for the next nine days, we met our crew, found our cabins (cozy but comfy), and got to know our fellow passengers, which consisted of just six families with members ranging from grandparents to a child as young as six. We set off for Juneau as the sun began its lengthy display of setting. We traveled all night, and awoke to our first breakfast on-board (early risers also enjoy a pre-breakfast courtesy of the on-board pastry chef). We quickly discovered how casual life aboard a small ship can be. Our kids (ages 8, 12, and 14) loved the 'open bridge policy' set by Captain Stu; at any time, the kids could join him at the wheel, learn nautical mapping, or study knot tying with his crew. A few decks below, the kids could request smoothies and sodas from the bartender, assist the steward crew, or follow our progress on the interactive GPS-enabled map.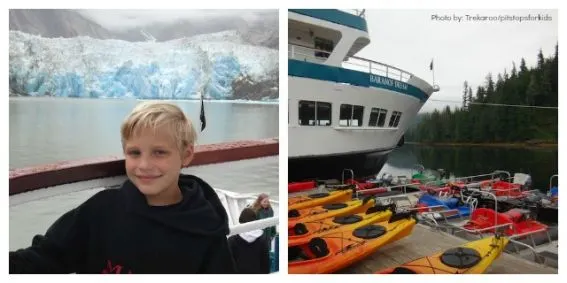 Day 3: Juneau to Orca Point Lodge:
Early on during our trip, we docked in our first terminal port-of-call at Juneau. Dwarfed by the mega cruise ships surrounding us, our 144-foot Baranof Dream slipped into a small dock and we disembarked quickly and easily to explore Mendenhall Glacier, the Mt. Roberts Tramway, and downtown Juneau. Already used to our small passenger count, the masses at the Juneau terminal overwhelmed us, and we were glad to escape to the hiking trails of Mt. Roberts before being whisked away to a last-minute addition to our itinerary: a visit to Juneau's Sled Dog Discovery and Musher's Camp deep in the Tongass National Forest. We rode on a summer sled pulled by 16 Alaskan huskies, then cuddled eight-week-old puppies by a crackling bonfire.
We departed Juneau for the sanctuary of Alaskan Dream Cruises' own Orca Point Lodge, set solo on a rocky point of a nearby island 45 minutes from Juneau. The kids played on the beach, explored a touch tank, and collected intertidal zone treasures with their youth guides before we all feasted on a king crab dinner. The evening ended in a bonfire with stories and drumbeat provided by our cultural expedition leader (and Tlingit native) Koo Hook. (Scientific and cultural expedition leaders accompany every Alaskan Dream Cruise.)
Days 4 and 5: Hobart Bay
After sharing space with other ships in Juneau, it was a treat to find ourselves harbored alone in Hobart Bay, owned and protected by the Tlingit people. With no other ship allowed to access the waters, Hobart Bay became our personal playground for the next two days. The families took turns at the helms of Zegos (personal watercraft), ATVs, and kayaks, exploring the calm waters, logging roads, and inlets of the area. When we saw our first black bear searching for salmon at the edge of the water, we started keeping count…then quickly lost count somewhere around a dozen. We shared our kayak space with a Stellar sea lion, watched salmon spawning, tracked bald eagles' flights, and spied seals. Those who wanted to brave the 38 degree water went for a dip off the dock (earning a coveted 'Killer Whale Club' certificate).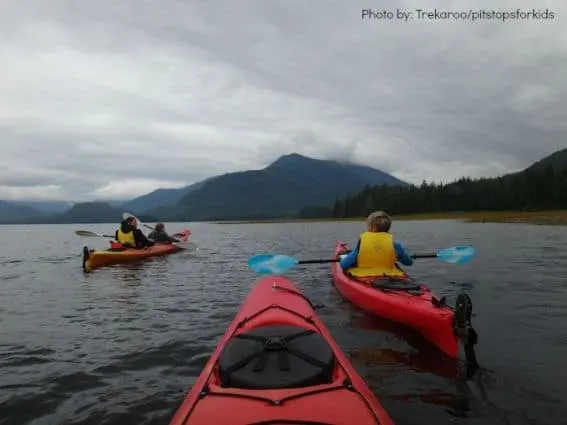 Day 6: Tracy Arm
While it was hard to leave Hobart Bay behind, it didn't hurt to be en route to Tracy Arm and its glorious Sawyer Glacier. Along the way, we stopped for humpback whales, pausing for hours mere feet from the huge creatures while smaller groups departed the ship via DIBS (inflatable zodiac boat) for an even closer look. Small ships such as the Baranof Dream are the only vessels able to penetrate the narrow fjords of Tracy Arm, and we found ourselves just yards from the multi-storied grandeur of Sawyer Glacier. Still, much like our whale viewing, this was not good enough; we once again departed in the DIBS to arrive within feet of the calving glacier, reaching out to touch passing icebergs (our eight-year-old developed a taste for licking the saltiness of the chucks our crew procured). Though our day in Tracy Arm was by far our chilliest, we remained on the sun deck for hours at a time, unable to tear ourselves away from the beauty around us.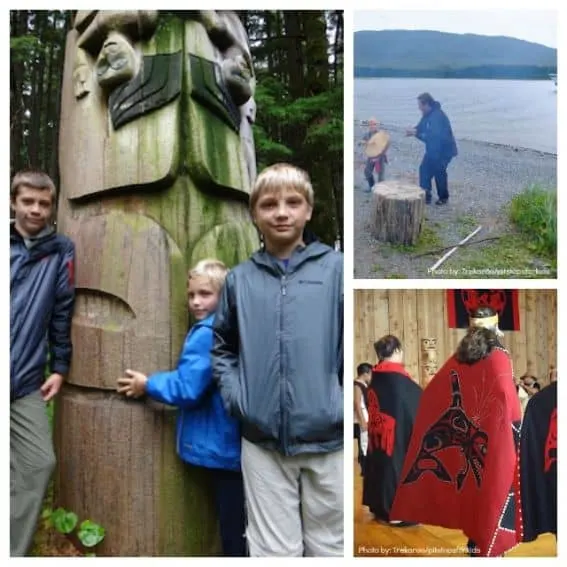 Day 7: Petersburg
Much like Tracy Arm and Hobart Bay, the Norwegian fishing village of Petersburg cannot accommodate large cruise ships. We found ourselves flanked by only small fishing vessels in Petersburg, where we had the day to view local children perform Norwegian dances, ride bikes, and bog walk. The kids enjoyed their own programming of geocaching for part of the day, and we all got a kick out of spying one of the notorious ships of the Deadliest Catch. We dined en route south through the Inside Passage, and went to sleep after watching porpoises from the bow.
Day 8: Kasaan
Though it's very hard to pick just one favorite day, Kasaan may have been ours. We arrived at this Haida community just after breakfast, and were met at the small dock by a local Haida member and local, who guided us through lush rain forest to a totem park and the oldest Haida big house, the Sun I Hat Whaling House. The walk and the surroundings contained a mythical ambiance in the low-lying fog and chilly air, and after standing inside the whaling house, we visited a master carver at work on a wooden canoe, then stopped in at the tiny coffee house to buy local crafts which would help to fund the whaling house restoration.
We sailed on through the afternoon with plenty to do on board ship: the kids had an intense game of cards going (at one point, they used goldfish crackers as poker chips) and the adults enjoyed conversation, books, and puzzles. The Baranof Dream is stocked with naturalist and cultural books on SE Alaska, from wildflower guides to Alaskan Native accounts, so there's no need to bring lengthy volumes of your own.
Day 9: Misty Fjords and Metlakatla
We neared the end of our trip sailing through Misty Fjords, which lived up to their name. Despite the low light and fog, I rose early to be on the 'sun' deck in time to take photos of our entrance to the fjords, which maintained a quiet, if muted, beauty. We continued on to the Tsimshian reservation of Metlakatla on remote Annette Island; a rare port-of-call even for Alaskan Dream Cruises. On shore, we hiked and toured historical sites before being led to the community hall, where we learned how to make Tsimshian drums and watched (then participated in) a Tsimshian dance performance.
Day 10: Ketchikan
In Ketchikan, we found ourselves once again amid the mega cruise ships and busy terminals (and all the souvenir shops that go along with them), but spent our last few hours in Alaska touring the SE Alaska Discovery Center. Although very well designed, we didn't linger long. As our kids pointed out, we'd already seen all the museum had to offer in the 'real' SE Alaska.
This was true, though while the destinations we visited via the Baranof Dream were exceptional in themselves, the Alaskan Dream experience was a 24/7 affair, never confined to ports-of-call. The magic was made on-board: in the friendly availability of the entire crew, the flexibility of the captain and his team, the educational (and entertaining) programming of the scientific and cultural expedition leaders, and the fun-loving spirit and guidance of the youth leaders. No matter where our small ship sailed en route, our family could learn, play, eat, and learn on-board.
Check out a video of our Alaskan Dream Cruise experience from Pit Stops for Kids:
Disclosure: Our family experienced Alaskan Dream Cruises as guests of the cruise line, for the purpose of review.