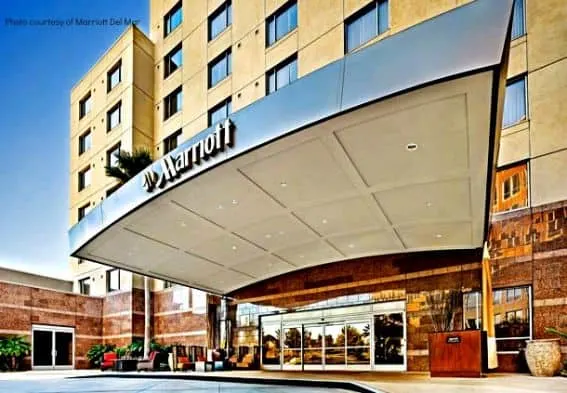 I sat relaxing in Marriott Del Mar's comfortable concierge lounge while watching busy men and women dressed in crisp suits preparing for their important meetings. All of these industrious folks were either tapping away on open laptops, schmoozing superiors, or networking with their colleagues. I felt lucky. You see, my suit that day consisted of comfortable khaki capris, I was busy preparing for my latest great adventure in Southern California, and I was actively networking with and schmoozing my family.
Business Class for the Family Class
I call it "business class for the family class" – those accommodations with amenities that business travelers demand and family travelers relish. A complimentary breakfast buffet that is ideal for that business woman rushing off to make that successful sales pitch is the same buffet that offers Fruit Loops for the picky two-year-old and fresh scrambled eggs for the famished teenager. That computer and printer used to follow up on important emails from superiors and print last minute changes to an important presentation is the same computer and printer conveniently available for mommies who want to surprise the kiddos with e-tickets to SeaWorld. Evening hors d'oeuvres that promote the ideal atmosphere for networking with associates also provides snack-happy kiddos with a smorgasbord of mommy-approved refreshments. Top all these business class amenities off with a palm tree and fire pit lined pool area and you've got a formula for some good old kid-friendly fun.
Central Location
The Marriott Del Mar is centrally located near all of Southern California's most popular family-friendly venues. Head south for SeaWorld, venture north for LEGOLAND, then proceed due west for the Pacific Ocean. No matter which direction you decide to go, Marriot Del Mar has packaged family fun into some affordable options. Check out their San Diego SeaWorld Adventure Package which includes accommodations for two nights and tickets to SeaWorld, or if LEGO is more your family's travel style, consider the Marriott Del Mar's LEGOLAND Park and Sea Life Adventure package which includes accommodations and tickets to this fabulous venue. Budget minded families may want to opt for the Family Dollar Days Savings package, which offers up to 30 percent off in savings including dollar-stretching amenities like $1 parking, $1 breakfast, $1 in-room movie, and $1 internet. Pick a package that suits your family's travel style and enjoy these nearby attractions: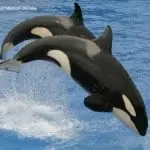 15 miles south: SeaWorld celebrates its 50th anniversary and invites visitors to join in on the fun and a few surprises during this season of celebration. Be sure to check out the new Explorer's Reef Exhibit located right at the park's entrance. Here kids are invited to get their hands wet and touch the creature that lurk beneath the water.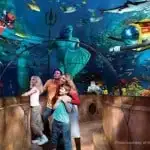 15 miles north: Families with younger kids should schedule a day at LEGOLAND where rides are geared to the younger thrill-seeking crowd. Don't miss the new LEGO Legends of Chima Water Park including the Lion Temple Wave Pool where Mount Cavora releases 400 gallons of water every minute.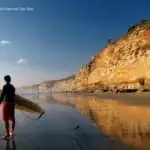 3 miles west: Explore Torrey Pines State Reserve and get back to nature while admiring the rare Torrey Pine trees that dot the area. Kids will especially love exploring the trails that meander along the ocean cliffs and down to the secluded beaches below.
It's Time to Network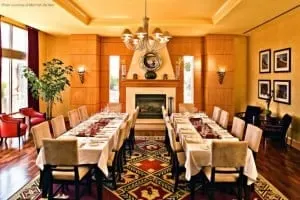 After a day carousing around and enjoying the sites and sounds of Southern California, your family will love returning home to the Marriott Del Mar where you can kick up your feet and relax in the concierge lounge with the business men and women who've traded those crisp business suits for a pair of comfortably khakis. But there's no rest for the weary here. When you're in the concierge lounge it's time to network – so schmooze those kiddos and hubby and enjoy your time together.
If your looking for more family fun while staying at the Marriott Del Mar be sure to check out Trekaroo's top 10 things for families to do in San Diego.