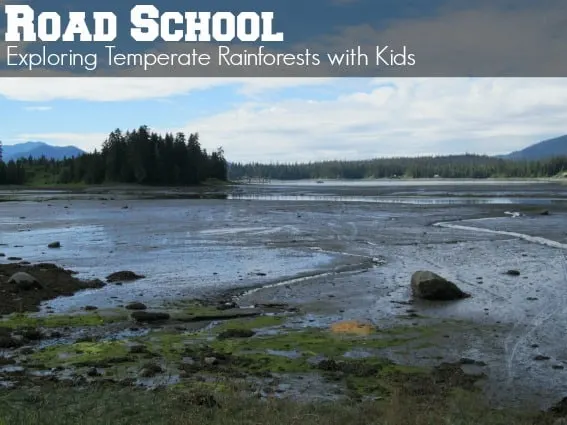 Just over a month ago, my small family set out with a specific task in mind: to show our son the wonders of the inter-tidal zones found near the temperate rainforests of coastal British Columbia and Southeast Alaska. What others said was crazy, unthinkable, or even masochistic–traveling around 6,000 miles in a van with a preschooler and a pregnant mama– for us turned out to be a very profound and important learning opportunity for our son and as a family. Having returned to our muggy, buggy home with fresh memories of our excursion, we are easily able to see the impacts already as our son plays make-believe with eagles, whales, and salmon or pretends to "set crab pots" out of his boat. Join us vicariously through our family field trip to North America's temperate rainforest as we divulge the highlights so that your family too can experience the smell of low tide on the morning breeze and the sound of Bubble Kelp snapping under rubber-boot clad kiddo feet!
What is a temperate rainforest?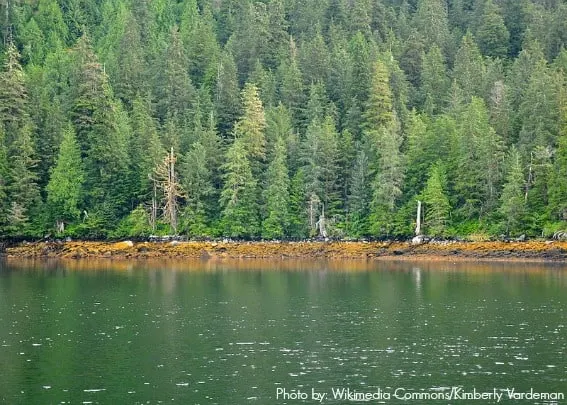 Prepare your children for the adventure by first educating yourself–or better yet, learn and prepare together! A temperate rainforest is a unique ecosystem found here in North America usually distinguished by mild climate, heavy rainfall and a dominant tree species. These forests are common along coastal areas where the ocean helps to regulate fluctuation in the climate. In fact, they are sometimes referred to as "ocean born" forests — occurring from southern Oregon to southeast Alaska, and even having pockets of the same type of forest in Chile, New Zealand and parts of Australia. Some creatures and plants ONLY live in this particular environment, making the existence of these literally cool forests paramount to their existence! Here is a helpful list of species you can expect to find (this can be turned into a field-guide scavenger hunt):
Sitka Spruce | Western Hemlock | Skunk Cabbage | Devil's Club | Salmonberry
Check out this list of places to experience coastal forests, temperate rainforests and the inter-tidal transition zone!
Learning on the way to Alaskan Temperate Rainforests
Drive aboard a floating classroom in the form of the Alaska Marine Highway System–better known to locals of the Pacific Northwest and Southeast Alaska as "the State Ferry" or jovially as "the Poor Man's Cruise," and enjoy the benefits of traveling via ocean but having the flexibility to drive and explore as you make your way from port to port.
You can take the more direct route and fly into the major cities that are hidden among the fjords and islands of the Inside Passage, but the ability to experience sea creatures like whales, birds, seals, and porpoises is pretty amazing while aboard the ferry. There are also opportunities for naturalist talks (USDA Forest Service professionals have programming on summer routes) and learning about your surroundings by matching and comparing informative placards (found often times on tables in the cafeteria or walls in the kids area) to what you are seeing as your cruise on by the scenery.
Tips: Bring baselayers and synthetic clothing for outdoor fun! Cotton really has no place in the outdoor world here and your kids will be much more comfortable if you plan for cool, misty, raining weather and little sun!
Slugs and Skunk Cabbage – Flora and Fauna of Temperate Rainforests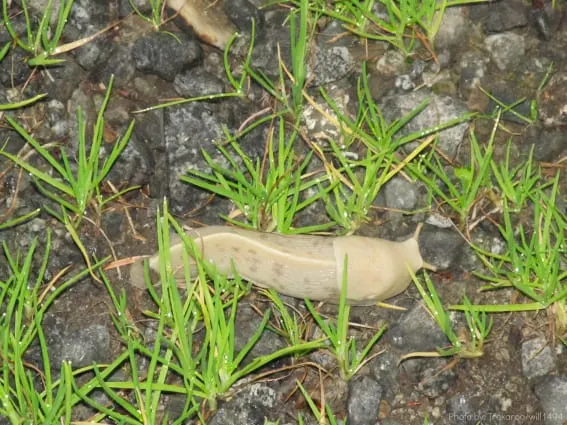 Ketchikan is a wonderful starting point in a temperate rainforest adventure–especially if you missed the inter-tidal introduction to the ecosystem if you did not board a state ferry in Prince Rupert, British Columbia, where the landscape takes a drastic change from that which most are accustomed to near their own homes!
The island community welcomes many large cruise ships in the summer season, but if you can get away from the hustle and bustle of town there are many mini-escapades to venture around the temperate rainforest and get up-close and personal with many of the unique inhabitants there. We were able to make a short drive (or bus trip) to Saxman Village, just a few miles outside of Ketchikan proper and find a plethora of drab to downright glamorous Banana Slugs on display, sliming thier way to the next Salmonberry bush! These critters are unique to the temperate rainforests because of the fabulously humid (at many times pouring rain) conditions that keep them moist and happy. Fun for kids and adults, these guys stay still long enough for ample time to study, photograph, and even touch with a gentle hand.
In the same neighborhood kids can discover and smell the odious Skunk Cabbage (which is a favorite of many kiddos and one that I feel they should make a candle to emulate!) and actually does smell a bit like skunk if you step on it, releasing the liquid and pulp inside which carries the smell. The Devil's Club is another intriguing plant: one thorn can linger in your skin for an entire vacation! The threat of that gnarly needle-ridden plant is enough to fascinate young minds and emblazon the new species into their growing minds well!
Tips: Bring, borrow, or purchase a field guide that outlines, describes, and pictures the plant communities of Southeast Alaska or Temperate Rainforests. This can be turned into a fun game for kids to search out and identify what they see within the pages–a science scavenger hunt! Maybe your could even put a little wager on the fun — a stipend won for souvenirs for each great find!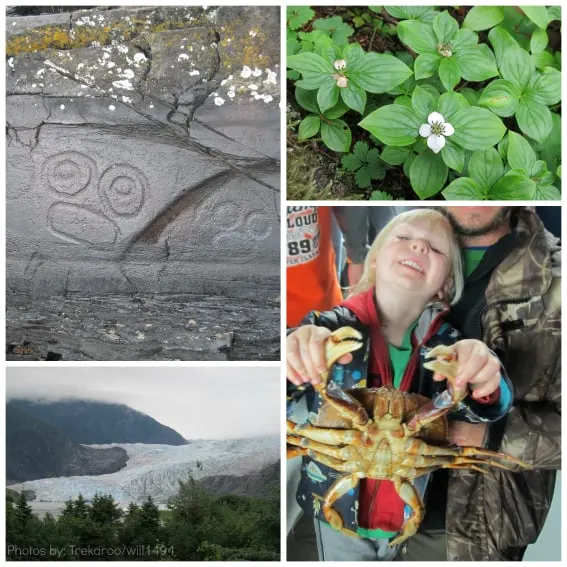 Totem Bight State Park is another short journey by road in the opposite direction and offers quiet hiking trails along the shores of the ocean. Kids will find many of the same creatures they discovered in Saxman Village but will have the additional delight of the shoreline which is highly accessible and safe, especially at low tide. A nice primer for this trip is to stop in any sporting goods store, gas station, or drug store (almost every establishment carries a copy) and get a tide book. This handy calendar-like tool gives dates and the daily fluctuation of each tide. Kids will learn about high tide, low tide, and even slack tide and how it affects people and animals, terrestrial and marine alike. Let the youngsters figure out the best time to go down to the beach for beach-combing and exploration and compare the fluctuations throughout your field trip adventures. The bonus factor of each of these temperate rainforest locations is that they come with an additional cultural and historical element to learn about, since both places do harbor several totem poles and a rich history in tow.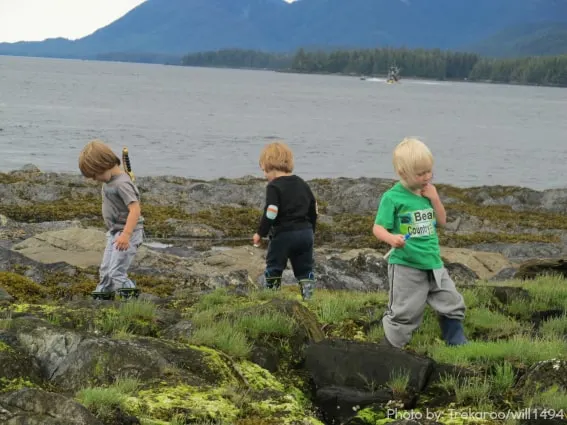 There is a really neat anomaly that comes with exploring temperate rainforests — an addition to your itinerary that happens naturally–and that is tide pools and sea creature interaction! Because most temperate rainforests occur near a saltwater tidal zone along the coasts, you get an extra cool bonus for your field trip — exploring another totally unique and inter-related environment close to the temperate rainforests. You can actually step from the security of a dense stand of Sitka Spruce right onto the black and rugged rocks along the shore of the Pacific Ocean at low tide and find this new ecosystem a delight for kids and adults alike!
Tidal Pool Exploration & Sea Creatures – Hands-on Interaction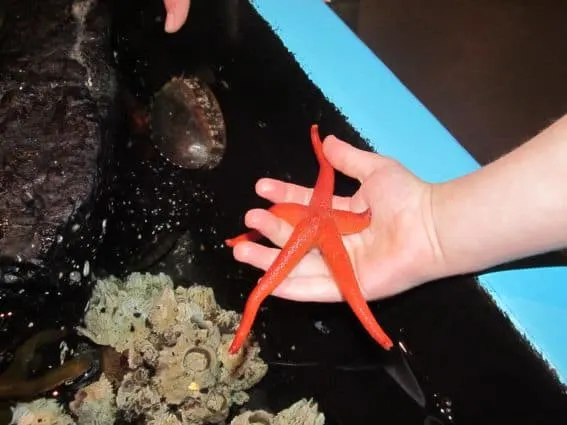 The temperate rainforests of Southeast Alaska have natural classrooms in the form of the tidal pools — which are just puddles of salt water left behind in the rocks and shoreline of the ebbing ocean tide. These areas are safe to explore up close and often harbor many fun creatures to learn about and investigate. Bi-valves like clams and mussels, limpets, and starfishes, even small crabs and jellyfish can be experienced in the aquatic environments left each day by the bountiful ocean as it recedes. These creatures pose little or no threat to kids and can be carefully handled.
Read tips on exploring tide pools safely with kids or check out some of our great tide pool resources.
A favorite along our entire journey and a memory that still makes me smile is the fondness our son had for consuming "Goose Tongue," which is a edible plant found at low tides, and the irony that it is much like asparagus which he detests. Even at three-and-a-half years old, he became proficient at identifying four to five plants that were new on this trip and Goose Tongue topped the list. Bubble Kelp is another contender for the coolest plant in the pools – it sounds a lot like bubble wrap when it is squished, making walking the flats an aural adventure as well! Rotary Beach is another Ketchikan location that will provide fun, educational exploration for as long as the tides allow! We enjoyed a morning of beach combing adventure and a picnic lunch with a beach side fire with a few friends — we had the happiest young boys in town that day!
If you're near Ketchikan, Juneau or Sitka, those communities offer centers for educational experiences and "touch pools" for handling some of the creatures you may not have encountered in their natural settings. Check out the Sitka Sound Science Center and the Southeast Alaska Discovery Center for a chance to let the kids roll up their sleeves and touch some of the seas' odd, colorful, comical, and crazy creatures. Our son adored the sea urchins with their "hugs" and gently prodding the sea cucumber. For younger kids, the vast sensory differences in things like starfish, anemones, and other critters can be beneficial — from squishy to sandpaper to sticky, the ocean can provide a sensory smorgasbord for preschoolers!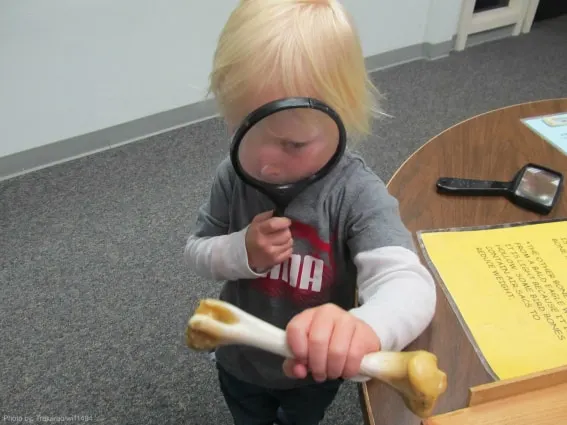 Tips: Wear sturdy rubber boots and bring gloves! Barnacles can make walking slow and will tear at shoes as they are often very hard and sharp. Rocks can be slippery from wet vegetation and algae, so it's nice to have good footwear! Have a tide book handy, it comes back in fast!
Inland Forests and Tour Excursions for Family Learning Fun
The everpresent influence of the tourism industry and the cruise lines creates busy towns but also great potential for action-packed, exciting, information-filled "shore excursions" that if planned in advance, the independently traveling family can take advantage of as well.
We hit the information gold mine in the start of gold country in Haines, Alaska with a guided hiking tour of the transitional forest that the northern reaches of Southeast Alaska calls home. Alaska Nature Tours offers several options perfect for any family and they provide great kid-friendly spotting scopes, information geared toward age and background knowledge, and even custom kid-sized hiking sticks! We were incredibly impressed with how much knowledge and fun was packed into our customized short two-hour tour. Our son (who holds the binoculars backwards and never gets to see much of the bird life that we see) was able to see eaglets in an active American Bald Eagle nest thanks to the short stature and expert placement of the scopes that owner Dan set up for him. This was a thrilling experience for him to have and for us to witness! This forest is very different than that which we experienced in Ketchikan and Sitka, so it adds a third dimension to your rainforest experience as you move from an area that receives about 120 inches of precipitation a year to an area that gets a little over 30 inches annually.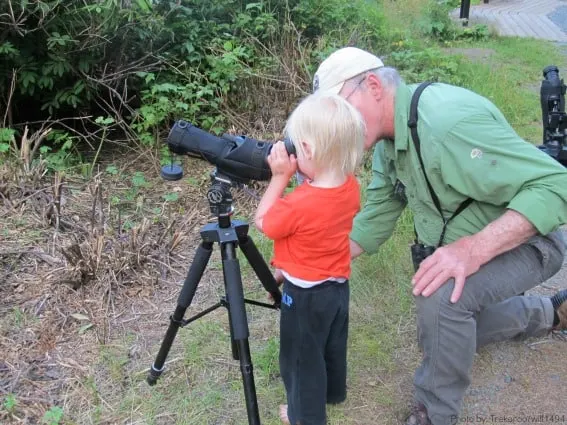 If you want to discover sub-alpine communities, muskegs, and stunted trees along with other plant communities, you might consider taking the Mt. Roberts Tramway in the capitol city of Juneau. It takes over a thousand feet and a lot of sweat off the trip to the top of the mountain! From the platform you can hike a mile or so and see the area from the perspective of an eagle. We didn't make the summit when we trekked up, due to rain and lack of preparing the necessary water and clothing for the impromptu climb, but we did get into the clouds and the alpine area long enough to explore and learn! It's a great family hike and one you should add to your check list for your family rainforest curriculum the next trip you plan!
Other excursions that can spark interest in adventurous children with disguised educational benefits are things like zipline tours of the canopy offering expansive views and new angles, spelunking tours of local caves, river rafting, and a slough of other fun trips that provide entertainment and education.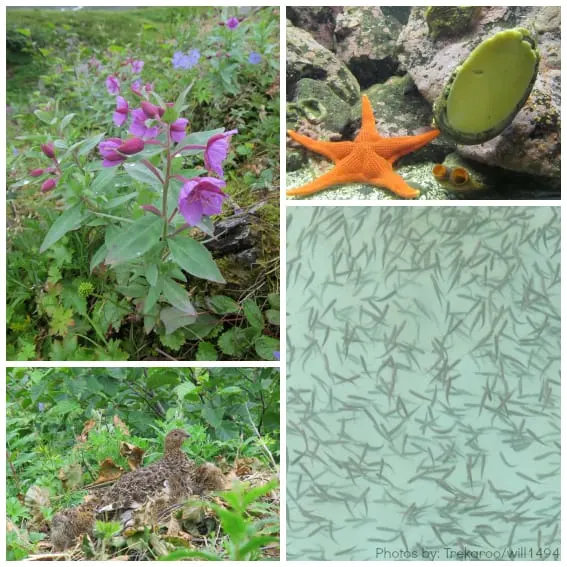 While our son being so young may not remember all of the cherished moments from our trip touring the temperate rainforests, I do believe he will have a better foundation for learning about biological functions, ecosystems, and several other aspects of life including culture and history. His little brain may have a few more folds due to the hikes and forays we found our family on in the rainforests and from those building blocks we might have a budding scientist someday! No matter the end results, for our family the logic behind taking family field trips to encourage enrichment and supplementing of a traditional educational learning institution is clear: if you get out there and SEE the world together you never know what you may learn as a family!
Preparing Your Children for Encountering Science
Its always helpful to have introduced some of the science to your children first before visiting these sites. Preparing them will give them a context, increasing the chances they'll connect with what they are seeing. Children Elementary-aged and older will benefit most from a science-themed travel excursion but younger ones can always be engaged if there are outdoor spaces to run about in and activities to do.
Resources for Learning about Different Forest Habitats
Check out of Pinterest board for Learning about Different Forest Habitats
Follow Trekaroo Family Travel's board Road School: Forests Habitats on Pinterest.

Elementary School
Middle School and High School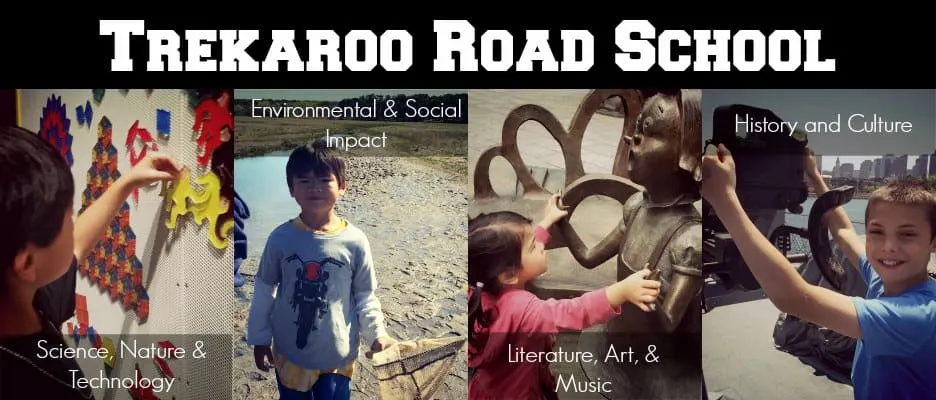 Looking for more Road School Guides? Check out our landing page where we keep all our latest tips, tricks, and educationally approved guides.
Disclosure: My family experienced complimentary or discounted admission to many of those activities and attractions listed in this article. We were guests aboard the Alaska Marine Highway System as well. This in no way sways our opinions and these thoughts are our honest words.