The Saddle Baby Backpack is my husband's new best friend. Since the time our son could sit up on his own, he was dad's little sidekick. And, since my husband is an extremely energetic man (some might say a workaholic) he never let a toddler slow him down. Up onto his shoulders our son went. The trouble with this transit system is that it totally fries moms' nerves and makes grandparents anxious as well. There were some bumps and bruises along the way from dad misjudging ceiling heights. We definitely used backpack carriers, but for meandering around the yard and just the quick fix for the "uppy" request, it was the shoulder carry.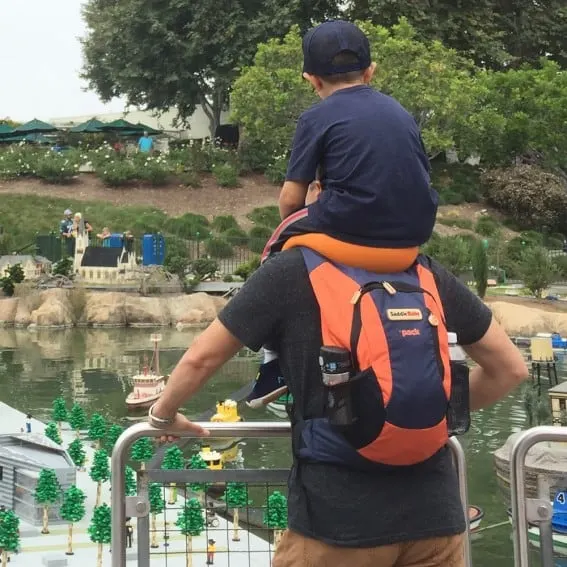 Photo by: Saddle Baby
So, when I saw the Saddle Baby Original (and the Saddle Baby *Pack) I knew this would be something my husband would adore. I wasn't surprised to see many smiling dads on the Saddle Baby site. So, as soon as the weather wasn't frigid, we snuck outside to try the contraption with our preschool-aged son. It was an instant hit!
My husband loves that his hands are free from dangling ankles so that he can complete other tasks – true, he still gets a workout doing what we call "baby squats" – so as to not dump the rider off, but he can at least get his work done – even hauling firewood!
He also said that from an ergonomic standpoint, hauling our child without the Saddle is harder on his back. The ankle cuffs allow my nerves to calm a bit, and as if my child knew he needed a new way to get a rise out of mom, he decided to REALLY test the safety measures of the Saddle Baby and he flipped over Cirque de Soleil style so that he was hanging upside down, strapped in by the harness. It kept him totally secured for the 20 seconds that I allowed the acrobatics to continue! I was pretty impressed to say the least—with the innovative, safe carrier and with my brave son!
We are absolutely fans of the Saddle Baby and we are super excited to take on some trails with one baby being carried by mama and the other not-so-small baby able to be toted by dad without the worry of injury to either party! If you're an active family with preschool-aged children, this is an asset to your adventures!
Author: if there is not author
The only con is if you are a minimalist, it's more gear to carry. The positive side is that the gear of the Saddle Baby consists of the lightweight saddle and a highly packable bag (if you're using the *Pack) and some straps. The whole system fits into about the space of a carry-on bag, if not a little smaller.
This is perfect for parades and urban settings that are busy, when it is ideal for your child to be up and out of the way, a safer ride than walking might provide. It's also quite good on trails that are wide and well-maintained. It's not a great option for primitive trail systems as they typically have a lot of topography and overhanging branches.
The Saddle Baby Original retails for $89.00 and the awesome *Pack which is basically the burley version of the Original, to accommodate day hikes and carrying a load in addition to your child with an attached pack, retails for $119.00. When you have a preschooler that refuses to walk at times, to save your own body and to defuse a ticking tantrum bomb, this is a fantastic tool.
Disclosure:
"Note: This article contains affiliate amazon links."