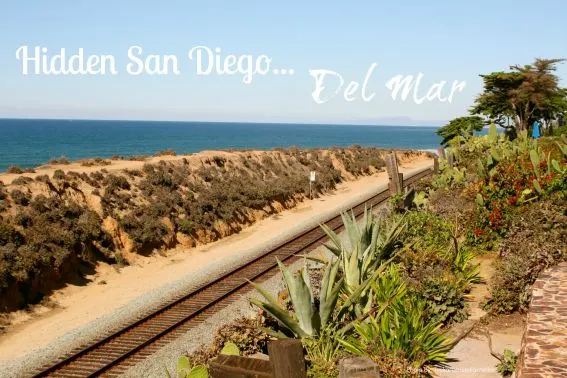 When researching our trip, most articles I found on Del Mar began with "Del Mar is more than it's racetrack or fairgrounds…" But when I arrived in the Village of Del Mar after cresting over Del Mar Heights Road, revealing the sweeping blue vistas of the stunning sea, tracks and fairs were the farthest thing from my mind. The Pacific Ocean took center stage and remained the showstopper throughout our weekend getaway.
Known as the Village By the Sea, Del Mar has a French Riviera-feel with its walkable town, friendly shop owners, and a sight of the ocean wherever one roams. The farmer's market pops up every Saturday from 1 to 4, and the beaches become a meeting place for the whole town with events such as weddings, community picnics, and doggie dates (there's a beach called Dog Beach, for goodness sake!). Nestled between the upscale La Jolla to the south and fun surf towns like Solano Beach and Carlsbad to the North, Del Mar is a family-friendly town that is a hidden jewel of San Diego.
What to Experience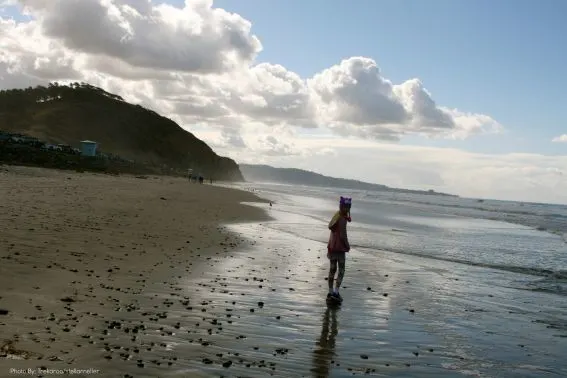 The main highlight of our stay in Del mar was the beaches of course. Torrey Pines State Beach and Reserve, located a few miles south of town, is magnificent. With accessible hikes for most ages (even if my 6-year-old complained a little), this reserve is a must-do. Park at the top, peruse the Lodge/Ranger Station (be sure to talk to the helpful docents about the area), stroll a couple of hikes at the top that have a panoramic view of the ocean the entire time, and take the stairs down to the beach at Flat Rock to end your time by dipping toes in the refreshing water.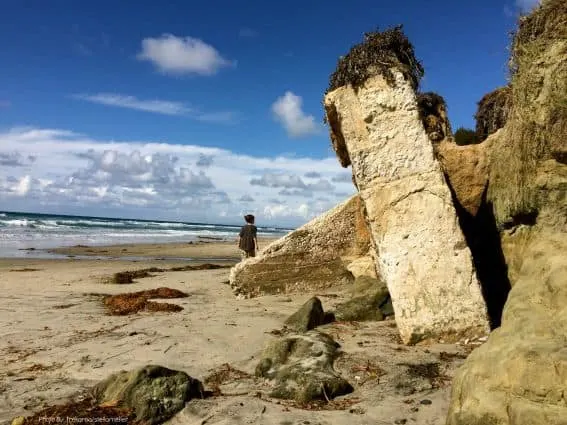 We also hit Powerhouse Park a couple of times in Del Mar that has both a park structure and access to the beach where my son found old cement remnants to turn into "forts." North of Powerhouse is Del Mar City Beach that has a lifeguard station and is good sand for castle building. Dog Beach (also known as North Beach), is where your furry friend can go to play off leash and with tons of other energetic canines running in and out of the ocean. The 10th Annual Surf Dog Surf-A-Thon takes place later this year with over 80 dogs competing for the best wave.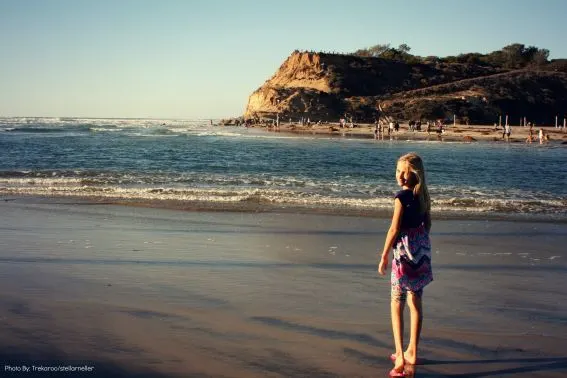 A new feature to the village is the historic walking tour through town. With a smart phone or tablet, pedestrians can scan codes on plaques located on buildings such as the Del Mar Library or L'Auberge Del Mar, and learn about prominent early residents including "I Love Lucy's" Lucille Ball.
Del Mar Fairgrounds
Since the Del Mar Fairgrounds are notorious, I'd be remiss to not include all that is happening there (and boy, is there a lot going on!). Trekaroo families rave about the San Diego County Fair (formerly known as the Del Mar Fair), with their old-school fair attractions such as livestock, rides, carnival games, and of course, fair food. This fair is the fourth-largest fair in North America, and takes place June 5-July 5, 2015. This year's theme is "A Fair to Remember," and it "commemorates the centennial anniversary of the 1915 Panama-California Exposition held in San Diego and the great historical traditions of World's Fairs."
Happening in September, the Kaaboo Del Mar is a concert with more than 100 musical acts on seven stages. This year headlining? No Doubt! Isn't it time we introduce our kids to the group that got many of us through college?
Where to Stay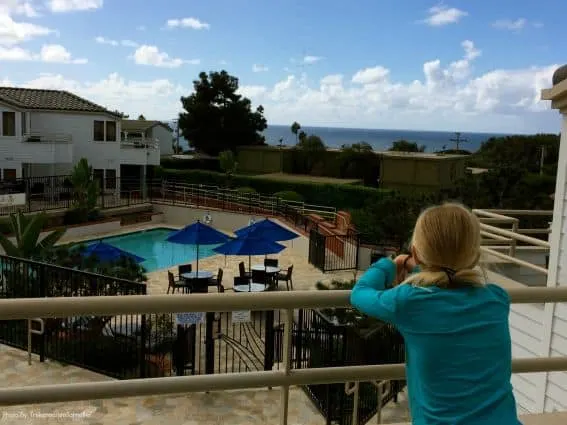 Located just a ten-minute walk from the center of town, Hotel Indigo is a fun, family-friendly hotel that takes full advantage of its prime view location. Their twi Queen beds, ocean view room comes complete with a two-burner stove, sink, mini fridge, and microwave. Our room overlooked one of the two pools on location and I found every reason to sit out on our balcony and stare at the sparkling sea until my kids pulled me down to the pool. There is the Ocean View Bar and Grill located in the lobby, so after a full day in the sun, if going out seems too much, stay in and dine steps away.
Where to Eat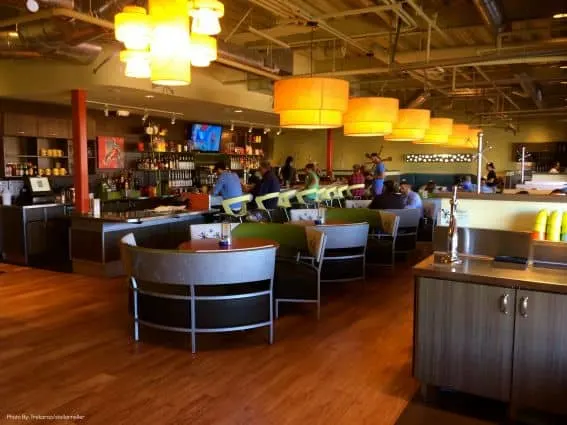 There are quite a few delicious places to eat in Del Mar. We are a big breakfast food family, so for our first morning in town, we tried the (relatively) new Americana Restaurant. The coffee was delicious and abundant (these things are important to me), the server worked around my picky kid's order, and even the owner/chef came out to talk to us (always a plus in my book). For lunch or dinner, Smashburger in the Del Mar Plaza fits the bill for beach-exhausted, kid-friendly fare. Also for breakfast, Snooze in the Del Mar Highlands Town Center is a delight. Hipsterish and inventive, this AM eatery has board games at the ready and a creative kid's menu.
Great Attractions and Activities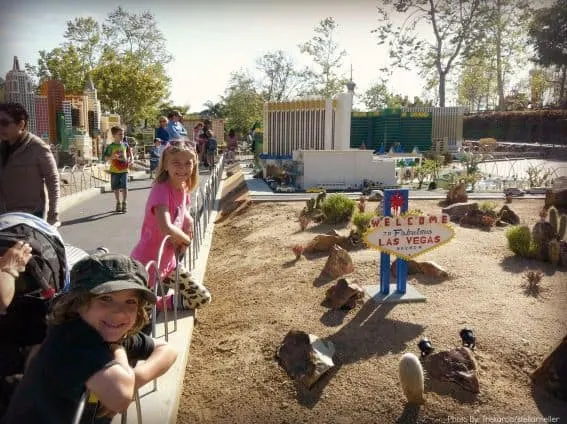 Del Mar is located close enough to Carlsbad off the 5, that it would be a good landing-place if LEGOLAND is on your itinerary. There are also The Flower Fields at Carlsbad Ranch nearby (open seasonally), and for your aquatic adventurer, surf lessons may be a great addition to a weekend at the beach. We thoroughly enjoyed an afternoon in Solana Beach the same weekend. There's Fletcher Cove Beach Park, a fun park overlooking the ocean with walk down access to the beach, the original Pizza Port for lunch, and my tweener loved the shops in the Leaping Lotus Market on Cedros Ave.
Watch a video of our stay in Del Mar:

Disclosure: We were invited guests of Hotel Indigo. All opinions are my own.