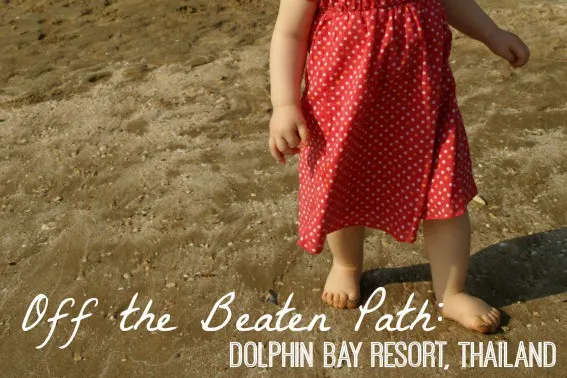 Thailand may be a bit off the travel radar for the average American family. It's far away (most flights are least 20 hours from Los Angeles). It's expensive to get there. The culture is unfamiliar.
But it shouldn't be.
Before kids, it was easy to explore and see the sights of tropical Thailand, but since having kids our focus has narrowed: find a comfortable, quiet, easily accessible, affordable, kid-friendly place to stay near the beach.
Unfortunately, as we'd discovered in previous travels, that's a difficult checklist to fill.
Many of Thailand's beaches cater to Europeans or backpackers. Nude sunbathing, prostitution, and endless noisy bars far outnumber family fare at famous beaches like Phuket or Pattaya.
Enter Dolphin Bay Resort.
Pristine, empty beach? Check. Accessible within a half day upon arrival in-country? Check. A variety of fun activities to entertain the kids? Check. No nude sunbathers? Check.
Beachfront Location

Dolphin Bay Beachfront Resort, in Sam Roi Yot — near Pranburi — lives up to its website's billing as "The Family Resort." It's also one of the most affordable with options ranging from 1690 bhat ($51.90) per night during peak season.
The first thing you notice at the resort is its proximity to the water. It's directly across a small, uncrowded, two-lane road from the ocean, which boasts an unspoiled 5 km-long sandy beach with views of a pair of distinctive islands. At high-tide, the water was maybe 50 yards away from our room, right at the front of the resort. At low-tide, the water recedes several hundred yards on the nearly flat shoreline. We breathed in the fresh beach air and dipped our toes in the water as soon as we were done bringing our luggage to our room.
Getting Here: From Bangkok International Suvarnabhumi Airport, it's a three and a half hour van ride to the resort, situated in a quiet bay in the Gulf of Thailand. My parents flew in from California to meet us at the Bangkok airport. We hired a driver from the resort, who met us in Bangkok and brought us to Dolphin Bay for 3,500 bhat ($107). Other guests saved money by taking the Bangkok Airport Rail Link to the Bangkok MTS subway, then took a 4-hour train ride to Hua Hin, and finally a 20-minute van ride to the resort.
Onsite Amenities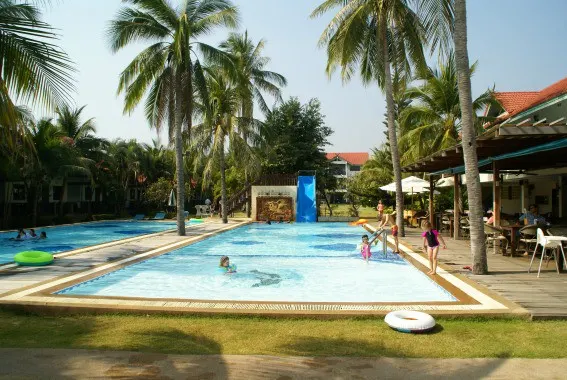 When we arrived in the early afternoon, there were a handful of kids in the two saltwater swimming pools. Later, dozens were playing. One pool has a shallow area, just deep enough for our one-year old to wade across. The wading area is separated from a deeper section that would have been perfect for our four-year old, had she gotten over her fear of water. At the deeper end is a water-slide. The other pool ranged from 1.4 to 1.6 meters deep, making it suitable for older kids and their parents. Because temperatures dip into the 70s at night, the pools were a bit chilly, but that didn't stop any of the kids.
Our girls loved the wooden playground equipment in the center of a grassy garden area in the middle of the resort. It got a bit hot in the middle of the day, when temperatures climbed into the high 80s, but the early morning was a perfect time to play. Both girls loved the swing set and a small play house filled with beach sand. When it got hotter, we took naps, headed to the pool or walked across the tiny road separating the resort from a quiet sandy beach. There are only a handful of small resorts in this picturesque bay, so other than Dolphin Bay guests, there were usually few people on the beach. A smattering of fishing boats dot the shoreline, ready to bring tourists across the bay to Colum Island (aka Monkey Island), where they can feed wild monkeys. Kayaks are also available for rent. We tried taking our 4-year-old kayaking, but turned back after she spent the first 10 minutes panicking. So Monkey Island will have to wait until next time around. For older, more adventurous guests, kite boarding classes are also available.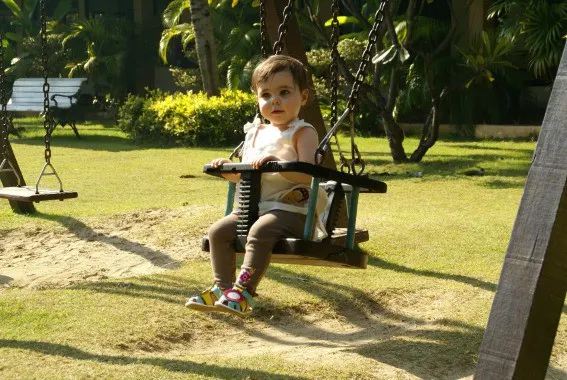 In the afternoon heat, another favorite destination was a cozy children's playroom. Though it's a bit under-stocked with toys for young kids it's cool inside and offers TV with a list of movies that the staff can set up for the kids. It also offers a handful of children's books in various languages, a nod to the resorts international clientele. During our week in Dolphin Bay, we met many expat Americans living in Asia, as well as British, Australian, French, German, Dutch, and Korean guests. Probably 80 percent of the guests were families. We and our 4-year-old made dozens of new friends from all over the world.
Tip: The resort also offers an inexpensive babysitting service. For 300 bhat (about $9.20), staffers will babysit two kids for two hours. Add 150 bhat per hour after that. Had we not been traveling with my parents, who hadn't seen their grand-kids in a year, we probably would have taken advantage of this, perhaps with a Thai massage at the resort's day spa (which even offers kids massages).
Dining

The kids loved the food at Cafe Loma, the resort's poolside restaurant. Since we stayed for more than five nights, two guests per room got a free breakfast buffet. Meals for children 2 and under are free. Meals for kids ages 3-12 cost 100 bhat per day. For breakfast, we enjoyed omelets, bacon, fresh fruit, and toast with delicious homemade jam. The watermelon with basil and chili jam was a uniquely tasty option, as was pineapple with mint and chili. Breakfast service began at 7:30 a.m.. By 8:00 a.m., the dining area was filled with families.
For lunch and dinner, the kids enjoyed a variety of items from the kids menu, from grilled cheese and chicken nuggets to fish sticks and steamed broccoli. For the adults, the fare was a bit more mixed. The bacon cheeseburger was excellent — the best burger we'd eaten since we were in the States a year ago. The coconut milkshake was a winner, as was the tuna salad sandwich and pasta carbonara. But the pizza was a disappointment — the sauce was too sweet. Thai dishes like pad thai and pepper and garlic chicken were OK, but not as good as cheaper offerings from nearby restaurants. Best of all, in the restaurant area, there is a small child-sized bus. We looked for a table near the bus so the kids could climb on it and play with other kids while we waited for our food to arrive.
Because the beach hasn't yet become a prime tourist destination, there are only a handful of small restaurants, in addition to several mostly empty resorts dotting the beach. We loved eating at the Dao Bar, about a 3-minute walk from the resort. It has a handful of tables on the sand, so we brought a few sand toys and let the girls dig while we waited for the food to be prepared. Then we savored delicious cashew shrimp, cashew chicken, garlic and pepper pork and slightly sweet massaman curry (the last dish isn't on the English menu, but if you ask for it, they'll make it). The kids loved the fried rice, pad thai, and grilled cheese sandwiches.
Down the road a bit further, the Thai Thai Restaurant also has excellent massaman curry and pad thai, but you don't get to sit in the sand.
Accommodations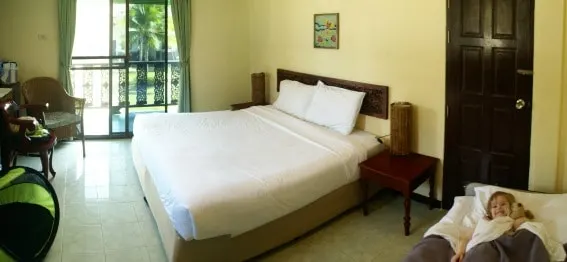 Our room at Dolphin Bay Resort was comfortable and cozy. Since we were traveling with my parents, we requested connecting rooms and were given the room at the front of the resort. This gave us a great view of the morning sunrise and also meant that our baby monitor reached to the beach, so my wife and I felt comfortable sitting on the beach for awhile after the kids went down for the night. The small road separating the resort from the beach generally had less than one car drive by per minute, but sometimes motorcycles or tourist buses rumbled by, making the white noise app on our phones essential for sleep. It also helped drown out loud music that flowed from a nearby stage offering traditional Thai dramatic performances a couple nights a week. We appreciated the large refrigerator and small touches like a children's step-stool in our bathroom. Our double bed was comfortable and our four-year-old was pleased with the roll-away bed tucked into the corner of the room. The baby slept fine in her Peapod tent. Unfortunately one detail that has been overlooked — particularly since so many families stay at the resort — is the railing on the balcony connecting our room with the one next door. The decorative slats are just wide enough for our 1-year-old to fall through, which meant we couldn't let her wander out on the balcony alone.
Packing Tips & Nearby Getaways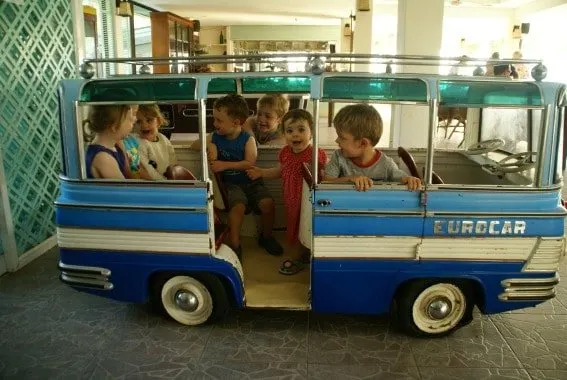 Be sure to bring lots of sunscreen and some kid-friendly bug spray. In the morning and evening, the mosquitoes come out to feed. Also be sure to look out for jellyfish. We never encountered any in the water, but one of the other guests got stung. Thankfully the staff gave him an herbal treatment that took the sting away quickly. Several times we saw big jellyfish washed up on the shore, so we were always on the lookout.
Another tip, there aren't many shopping options in Dolphin Bay, so we followed some other guest's advice and had our driver stop at a giant Wal-Mart like Tesco-Lotus in Pranburi, where we bought several jugs of water, bread and peanut butter, diapers, and snacks. At the resort, there is a small shop selling Thai trinkets, some snacks, and drinks, but the prices are much higher than what you'll pay at Tesco-Lotus.
Other guests recommended the Hua Hin Safai Adventure Park for elephant rides or renting bicycles with children's seats from the resort, but our kids were content to stay at the beach so we made plans to save the elephant rides for our next stop in Chiang Mai. The Vana Nava Water Park, some 40 km away in Hua Hin also looks like a draw for families with older kids. We also decided to save a trip to the nearby caves and national park for our next visit, when the girls get a bit bigger.
We highly recommend the Dolphin Bay Resort for families with kids. It's affordable, easy to reach and filled with things to interest the kids. What's not to like? We plan to return.
Disclosure: The author's family received a discounted media rate during their stay at Dolphin Bay Resort. They were not required to state any particular view; all opinions are his own.