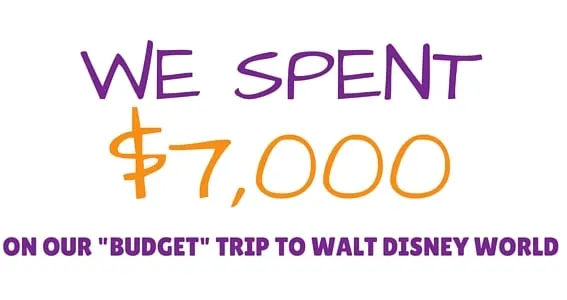 I am a planner. I like to organize and think things through before diving in head first. Our past three trips to Disney World have been exacted and enacted like a war battle planned eight to nine months in advance. Everything worked like clockwork, and we did it all: dinner shows, character breakfasts, meals with the princesses, beauty trips to the Bibbidi Bobbidi Boutique, cart rentals, and more.
Recently, we booked another trip to Disney, but this time, on a whim. This trip was paid for and planned exactly five weeks before our departure, but our trip to Disney this time was different. Obviously, it was not our first rodeo and the kids were eight years older than our first (exhausting) trip. We knew what we wanted to see and do. When we visit Disney we call it "pounding the parks." We are up at the park around rope drop and stay until way past our bedtimes. My thought was we could do it as inexpensively as possible and enjoy every minute. Exactly $7700 later I realized at least the financial part of this equation was probably not possible.
Let's face it most people know a trip to see Mickey on his home turf is going to cost a pretty penny. Obviously everyone's idea of bare bones is different. Some would never dream of staying in a value resort, eating counter service, flying coach, or others even flying at all. However that is what we decided to do. I never dreamed that paring it down as much as we did over our previous trips would still hit our wallets so hard. Here's what to expect when planning a Walt Disney World vacation on a budget, even if that "budget" seems very high.
Getting to Walt Disney World: $1000
Photo by: Michelle Brennan
I drove to Orlando ONCE from New England when I was 19 years old. It was my first and last time. It is not worth it to me to spend so much time in a car when I have a destination to get to. We are lucky to have a local airport that flies Southwest direct to Orlando. During off times (read early morning departures and even earlier morning arrivals), we can typically book flights for about $200 round trip. Additionally, as we tend to love Southwest and fly them as often as possible we can sometimes use points. As our trip was planned late and coincided with Easter that was not possible for this flight, but we were able to score $198 "wanna get away' flights with Southwest. As a family of five we had just spent our first $1000 of the trip.
We also opted for the complimentary Magic Express through Disney. This service brings you and your luggage directly to your hotel. When we have ridden in the past, we have arrived at the airport early enough to hop on our resort bus and have our luggage delivered later. As our flight arrived at 11pm the porter part of the service was finished for the day so we had to get our own luggage off the belt and lug it to the Express line. Our family of five is working on traveling light. This was a burden.
Where to Stay in Walt Disney World: $2,000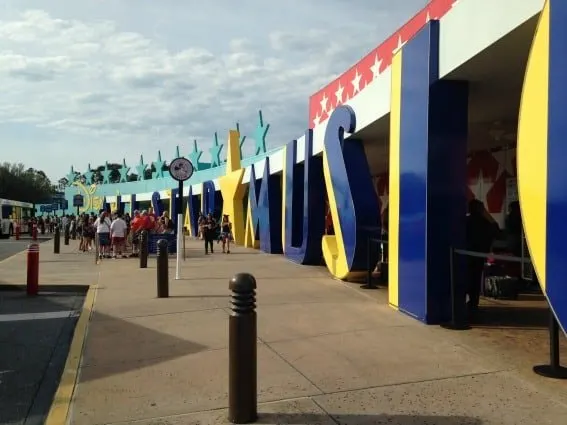 Photo by Michelle Brennan
Finding a room to fit a family of five is sometimes an issue, but there are specific resorts at WDW that accommodate larger parties. In the past, we have stayed in the cabins at Fort Wilderness, which is considered a moderate resort, and also at a two-bedroom luxury resort, Disney Vacation Club property Bay Lake Towers. While we loved both of those properties and would never trade our time or memories there, we also discovered that it really didn't matter where we stayed. We spent very little time in the room and most of our time was spent in the park or the pool. We decided to get the cheapest room that would accommodate our family. Since we spent most of our time in the parks, we chose to make sure we battened down the hatches with the best tickets we could get for our money.
RELATED: Determine which Disney World Resort is right for your family.
As we have visited WDW before and I did so much research I was already familiar with the variety and types of accommodations available. I looked at all of the rooms available that could accommodate our party of five with the notion of choosing the cheapest available. While on the website a staff member in the guise of the fairy godmother might sometimes appear ready to chat. Twice now I have been offered special deals just by chatting with them. Just when I had decided to cram our family into the Caribbean Beach Resort for $275/night, while I was booking I was offered a late spring promotion to stay at the value resort All Star Music Family Suites for $295/night. I decided to book the All Star Music family suite as there were 2 bathrooms, 2 televisions, and a small kitchenette area. We are used to spreading out. We just spent another $2000.
Editor's Note: Discount accommodation and ticket packages are often available for families looking to stay offsite, although staying in-park allows for perks including pre-booking your dining and FASTPASS+ reservations, easy connections to parks, and more.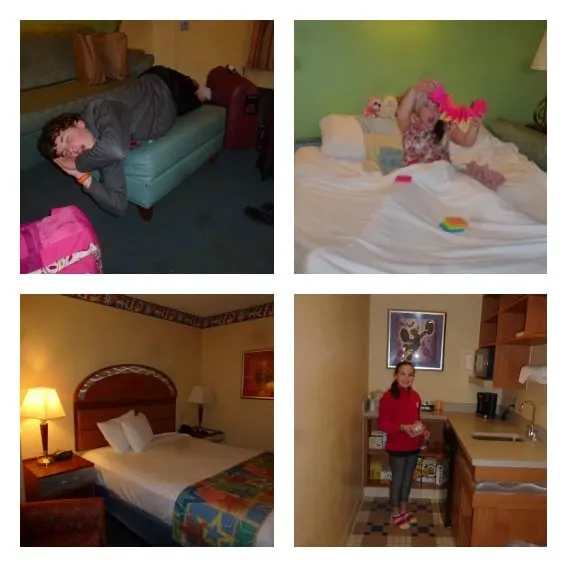 Photo by: Michelle Brennan
The Family Suite at the All Start Music Resort definitely fit the bill as a value resort. The walls were made of cinderblocks, the décor dated, and the linens and carpet frayed. Additionally there was really only one bed and the other three were pull out sofas or ottomans. However, it did fit our needs. We really did only sleep there and swim there. Our adult bed was comfortable and made up each night. While the rest of the housekeeping standards were not really what I was used to by Disney standards, which in all actuality aren't super high to begin with; we were comfortable, had room to spread out, and were actually pretty impressed with the sound proofing in such a large, busy motel type room. We were also happy that the family suites were nearby the main pool of the property, but disappointed that there was no spa on the grounds. That was something I had not researched and was sad that I would not have a place to soak my tired body after a long day of walking while the kids went swimming at the pool at night.
Additionally it is worth noting that staying at the Value Resort will get you "value" treatment for riding Disney buses. In previous stays at other resorts our resort buses were dedicated by resort and the bus stops were close to park exits. Not so with the value resorts. These buses are shared by at least 3 resorts, and the bus stops are typically the furthest away from the park exits. Not much fun when you have spent the day 'pounding the parks.'
Purchasing Park Tickets: $3,000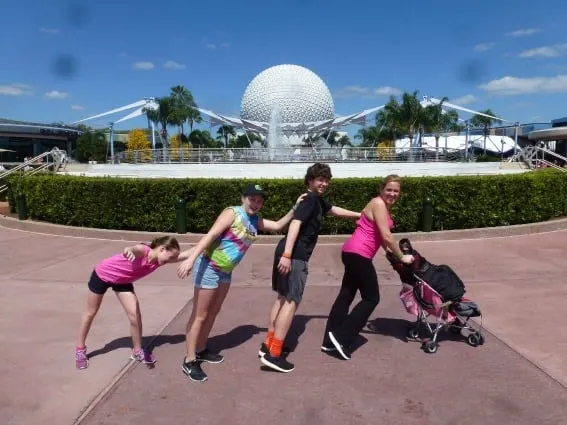 Photo By John Brennan
Our kids were young on our first trip to WDW eight years ago and we were planning virgins. I bought the park hopper passes for each of us and we NEVER used them. We learned our lesson for subsequent trips and skipped the park hopper. Now that the kids were older and had more stamina (while we are losing ours) we decided once again to get the park hopper so we could meander from park to park if we decided.
In the end, we bought a 7-day ticket with a park hopper option and water parks for each of us which added about $100/day. This by far is surprisingly the most expensive part of our trip. Fees to enter the park for our trip doubled what we had already spent. We just spent another $3000. Going to the parks was the reason for our visit, so we knew a significant portion of our budget would be spent on park tickets.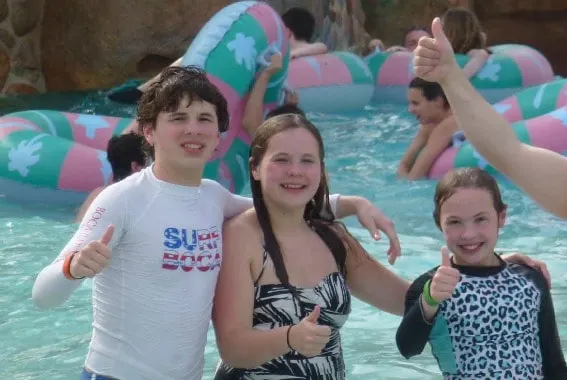 Photo by Michelle Brennan
Of course we visited the theme parks every day so the tickets got good use. We also picked the best weather day to play at Blizzard beach and use the water parks part of our ticket. The park hopper came into good use when we needed to split up for a variety of reasons during this trip. It was definitely of value to us to have the option to go our separate ways on a couple of occasions. I still think it is unnecessary for younger visitors who may tire of parks early or who can go back to their rooms for a mid-afternoon nap then go back to the same park they started in later in the day.
Buying a Meal Plan: $1,700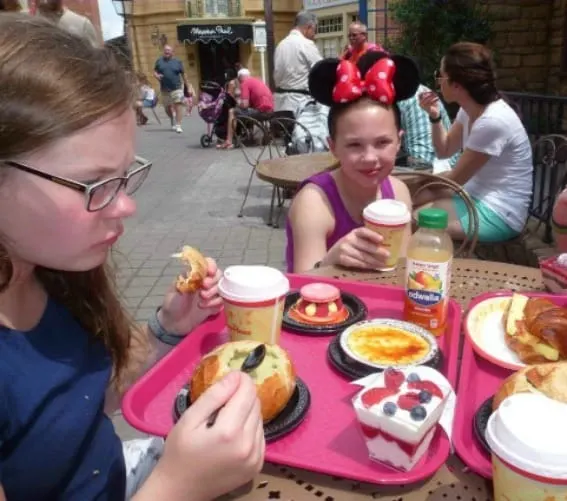 Photo by: John Brennan
I might be considered by a few to be a bit finicky when it comes to food and always turned my nose up at the Disney Meal Plan. Our past jaunts to the World have always included pre-planned 'special' meals with Mickey and Cinderella with homemade breakfast in our en-suite kitchen, a packed lunch, and other dinners in our room. Using Garden Grocer this has added another quick $700 to our costs on top of the costs for the special Disney meals. Since we were short in time I couldn't make our typical reservations for the shows and character meals. With trepidation we decided to check out the meal plans. We explored the options and chose the Quick Service Plan that allowed us two counter service meals and one snack per day at a cost of $300/per person for a total cost of $1500. This is the lowest tier plan.
RELATED: Check out the details on Character Meals at Walt Disney World
Since I was really already familiar with the rides and attractions at the park, I spent the few weeks I had researching food options on this plan and trying to get an idea how to best maximize our daily snack credit. My concerns were centered on the quality and healthiness of the foods we would be able to eat as well as the quantity of food as I have one voracious and growing 14-year-old boy who eats to live! I never really found the answers I was looking for prior to our arrival so I decided to go with my old standby Garden Grocer and had some staples delivered to our room with our small efficiency refrigerator. After ordering cereal, milk, oatmeal, granola bars, fruit, yogurt, and various other snacks I spent $200 on food in addition to the cost of the dining plan.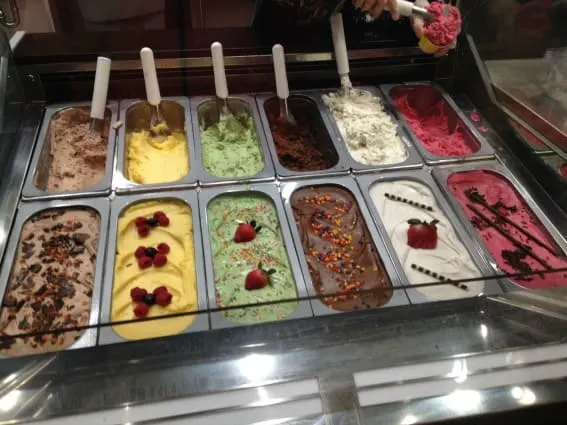 Photo by: Michelle Brennan
We discovered that there was really no reason to be concerned with the food quality or quantity at the quick service restaurants. We used the My Disney App daily to determine where we would eat as the menus are listed on the site. The counter service meals include a drink, entrée, side, and dessert at many locations. The food was so plentiful that many days I feel like I forced down a dinner and at the end of our day; we also had so many snack credits left that the kids were able to trade them in for snacks to take on the plane home.
Although the Quick Service Plan for Disney Dining was the most concerning part of our planning, it ended up being the biggest win. We loved that we could eat when we wanted and didn't need to have Disney reservations. I can't imagine the amount of food you would need to eat with higher tier plans.
Tip: Free dining promotions are offered by WDW at various times. Waiting for one of these promotions could save a ton of money!
So, was it worth $7,000?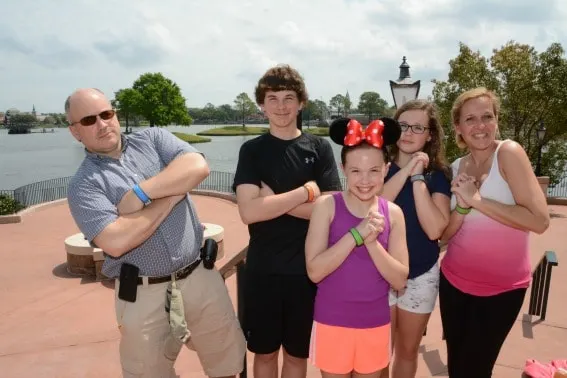 Photo by Disney Memory Maker owned by the Brennans
As a family who has been to Walt Disney World many times, I'm not sure we will be going back to any time soon. But we do love our Disney vacations. We have made so many great memories there with our children at various ages throughout the years. They may not have outgrown it yet, and while we have so many good feelings about our stays, we feel that our money would be better spent seeing other parts of the country, especially when you compare this vacation dollar for dollar with other options.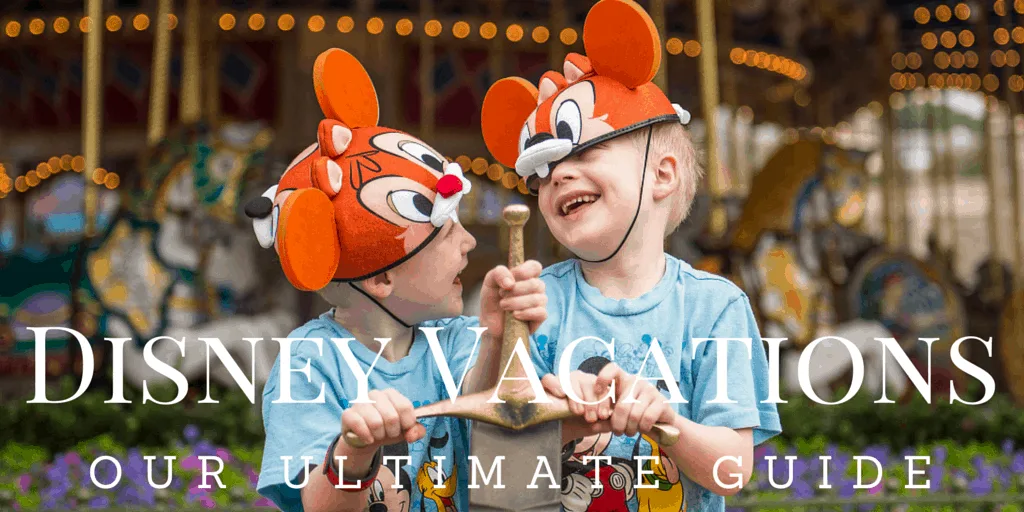 Looking for more Disney tips? Be sure to check out Trekaroo's Ultimate Disney Vacation Guide for Families!
Does $7,000 seem like a budget vacation to you? Do you think Walt Disney World is worth the price tag? Share with us in the comments.
Featured photo by: Bigstock/designer491