Walt Disney World in Orlando, Florida is a fast-paced, highly-active, and people-packed place where family dreams come true. There is just something about this theme park that creates a truly magical experience. For a more intense Disney experience, I always recommend that people find accommodations in the park. For us, with an 8-year-old child in tow, this means being in close proximity to the Magic Kingdom. What many don't know is that Walt Disney World has a resort close to the Magic Kingdom which is a destination in itself: Disney's Fort Wilderness Resort.
We recently returned to Fort Wilderness for a second time, because it has everything we need to provide respite from days at the theme parks and it's just a boat ride away from the Magic Kingdom. The location feels so remote it's hard to believe that you are actually so near the action.
Fort Wilderness is not just for campers or outdoor enthusiasts. Families seeking a reprieve from the buzzing world of Disney will enjoy staying there as well.
Relax in a Homey Disney Cabin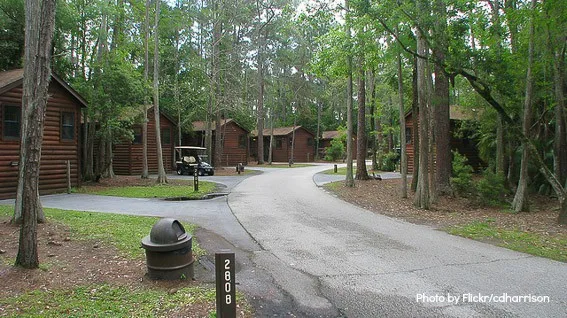 Why would I stay at a campground when I go to Walt Disney World Resort? I'm sure this is a common thought. For a family of adventurers that rise with a sunny wake-up call from Mickey then go to bed after the last firework has lit up the night sky at Cinderella's castle, Fort Wilderness is the best place to call it a day. We have stayed in the cabins at Fort Wilderness twice. The cabins are not the cob-webbed, musty variety many camping families have come to know at other campgrounds. The Disney variety brings a modern spin with amenities and air conditioning.
In Disney jargon, the cabins are considered a moderate resort in terms of price. They may cost a bit more than the value resort, but the cabins are a home away from home. They offer 2 separate sleeping areas (one bedroom and one living area with a Murphy bed), a large bathroom, full kitchen with room for 6 at the table, a deck, outdoor grill, and a picnic table. This makes the cabin option perfect for large or multi-generational families. Grammy always comes with us to Disney and we wouldn't have it any other way.
Of course, there are less costly options for staying at Fort Wilderness. Those with a camper or RV can find a great spot here or tent sites are available of the camping purists.
Dining
The cabins are cleaned daily like other Disney resorts. They even straighten up and do the dishes! The cleaning staff also goes out of the way to help theme the room by leaving towel animal replicas of our stuffed animals and inserting a Disney feel to the cabin.
We always enjoy a Disney meal now and then, but for ease we also like to eat breakfast and dinner in the cabin or outside at the picnic table. Packing lunches and making dinners while kids run around outside makes for a stress-free dining experience because we can eat at our leisure while the kids burn off some energy.
Have groceries delivered to your room via Garden Grocer, an online grocery store that we have used many times. Groceries are left at your cabin with refrigerated items stowed in your full-sized refrigerator and freezer for use upon your arrival.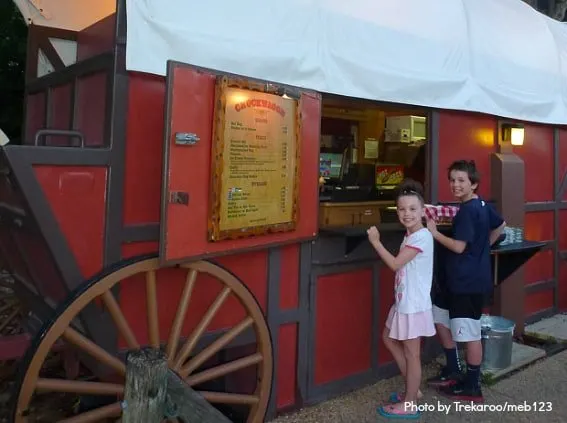 Dining options are available at Fort Wilderness for those who don't want to cook. In additional to the snack bars, the Trails End restaurant offers a bountiful buffet.
Getting Around the Wild West at Fort Wilderness
Being that this is a campground, most of the fun revolves around the outdoors. The 700-acre area is beautifully-landscaped and well-tended. Roads are paved, sidewalks are wide, comfort stations are many, and the landscape lush. Although Fort Wilderness is a campground, it is still Disney. Like all Disney resorts, Fort Wilderness is themed. Here, feel like you are part of the old-time Wild West, because it's like an extension of Frontierland in the Magic Kingdom.
There is an extensive transportation system at Fort Wilderness. Although a boat brings you from the shores of Lake Buena Vista at Fort Wilderness to the Magic Kingdom, most other parks are accessed through the Disney transportation system. As the resort is so large, an internal bus system loops around the campground and transports guests to various hubs either within the resort, like the pools, or to the station for the park links.
While I am sure the bus works well, we opted for the onsite golf cart rental. Our cart took all 6 of us to places within the resort in record time and, of course, it's fun to zip around the resort in a cart! There are parking and charging stations at key areas including the cabins, bus stop, and boat launch. The wafting smell of gardenias as we drove thought the park in our cart is one of my best trip memories.
So Much to Do: You may Never Leave the Resort
Activities at Fort Wilderness run the gamut of playgrounds and pools to organized activities like shows or boat rentals. In the 2+ weeks we have stayed at Fort Wilderness, we have still not experienced everything there is to offer. Each time we boarded a bus to one of the theme parks we were reminded of the stables available for horseback rides or family wagon rides that we had yet to tackle. There are also Segway tours, tennis, playgrounds, fishing, and arcades.
Our favorite activities are the unorganized ones. Our kids love to play outdoors, hike, and discover nature. Fort Wilderness allows them to do this right in Walt Disney World. While we made meals, the kids spent their time playing basketball, playing tag, or spotting wildlife. They spent hours searching for and catching lizards. We spied deer, armadillos, and even an owl perched atop the tennis court fence. He almost seemed to have been planted there.
Fort Wilderness has 2 pools. One is quiet with a hot tub and laundry facilities. The Meadow Swimming Pool is a busier kid haven with a tot-themed sprinkle park, wading pool, and big-kid water slide in addition to a snack bar. There are daily crafts, games like dodge ball, a dance party Disney trivia, and more.
You might also want to spend some time relaxing in a beach chair by the lake. Although there is no swimming allowed in Lake Buena Vista, our kids played tether ball and built a sand castle while we watched the sunset! Where else might you spy a princess playing tetherball on the beach other than Disney? You may just want to spend your whole vacation at Fort Wilderness!
Evening Singing and Dancing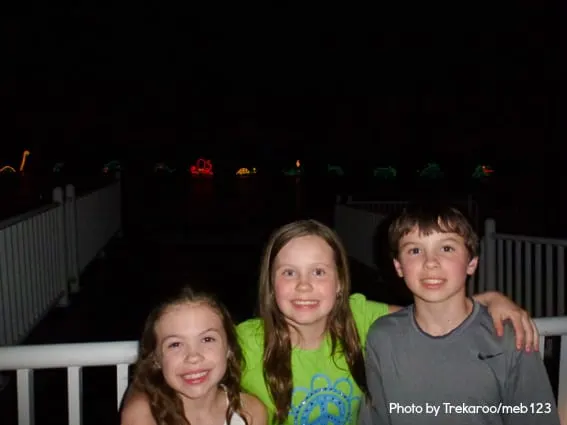 Fort Wilderness is home to the free Campfire program with Chip and Dale. Nightly at 7:30pm, the campfires are lit and the marshmallow roasting begins. Shortly thereafter, a local cowboy crooner takes the stage and gets the crowd to sing along to tunes such as She'll be Coming 'Round the Mountain. Then Chip and Dale show up for some meetin', greetin', and dancin'. When the sun sets, it is time for a Disney classic movie (usually G-rated) to be screened. The kids literally eat this up.
Fort Wilderness also hosts two iconic Disney shows. Mickey's Backyard BBQ is held here nightly with prepaid reservations. This event takes place rain or shine with a cast of favorite Disney characters. It features picnic fare, line dancing and more.
The other show is the corny but fun Hoop-Dee Doo Review. This is a Wild West hoe-down with southern comfort fare. We have gone every time we have visited Disney, because the kids love the silly humor, slapstick reverie, singing and audience participation. They look forward to the parade with washboard instruments toward the end of the show, but this year got special surprise when Mom was asked to be part of the show. I have never been one with dreams of big lights, but something about being a Can-Can dancer made me lose all fear. It was a blast.
After evening entertainment, a stroll down the beach is in order. The nightly electric water parade can be seen from the shore and followed by fireworks from the Magic Kingdom. All of this will make the little ones tired and ready for bed so put the golf cart in gear and head back to the cabin to rest up for another day of fun!
Featured photo by: Walt Disney World Resort