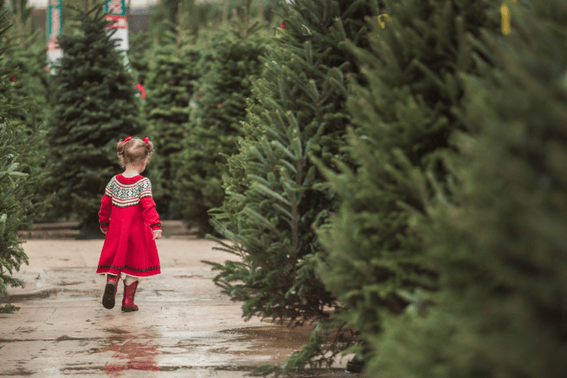 Photo Courtesy of BigStock/urbanlight
When we moved to the San Francisco Bay Area and into the home that we've lived in for 8 years, I was determined that for Christmas we would get a tree that would reach to the top of our 22 foot high ceiling. We found a huge and perfect tree at Four Winds Ranch. The tree was so heavy,  we could barely lift it up the stairs to our second floor living room.   We also chose to bring the tree in tip first. Big mistake! We hadn't even cleared the first landing and the tree was unraveling in the stairway. For the next two hours, the tree remained stuck in our stairwell.
The huge tree would only stand up if we cut an additional three feet off the bottom. Despite our fiasco, every year without fail, our family continues the tradition of visiting a Christmas tree farm. There is something about the chilly air, filled with the smell of fresh pine and the sound of happy children running from tree to tree saying "Ooooh! What about this tree?" that make a perfect beginning to Christmas. After eight years of trial and error, here are some hard-earned tips we offer you: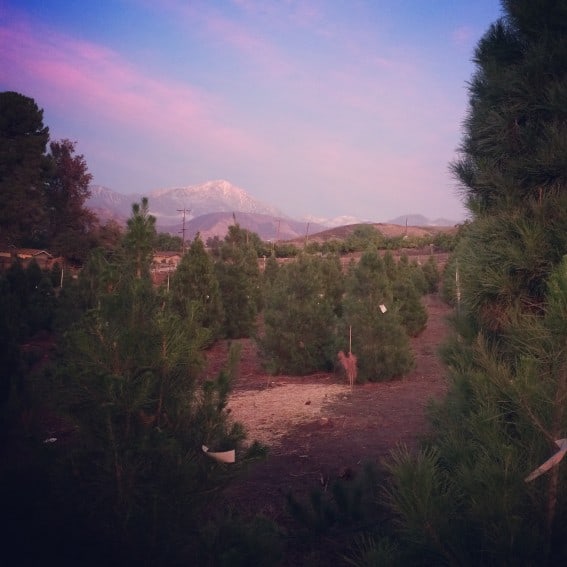 Top 10 tips for a family visit to the Christmas Tree Farm
1. Bring cash. A lot of farms don't take credit cards or checks and you don't want to drive into the hills and have to turn back without a tree.

2. Trees look smaller in the open than when you bring it into the house. So don't be overly enthusiastic for a large tree.
3. Bring a picnic lunch if the weather is nice; it's fun to make a day trip out of it. Mountain air also has a way of working up an appetite in kids. Some farms like Rancho Siempre Verde near Pescadero have a fire pit where you can warm up and roast hotdogs or marshmallows on a stick.
4. When cutting down a tree, cut it 3-4 feet from the base, leaving about 5 branches, so that it will grow back again. Get your tree shaken! It's worth every penny. It will save that carpet or living room rug once you get the tree into the house.
5. Tie the tree to your car with the bottom to the front of the car and the top at the back.  Having a sail on the roof of your car can make the trip home unnerving.
6. Have a sharp saw at home that you can use to trim (1/2 inch) the base just before immersing it in water. A clean cut is essential for helping preserve your tree.
7. Keep your tree tied up with string until it's set in the stand and always carry a tree into the house leading with the base so that the branches don't get caught in the hallway
8. Pine sap is hard to get off. PAM cooking spray gets it off quickly.
9. Pine needles and vacuum cleaners don't mix. Use a stiff broom head and dust pan to get pine needles off the carpet.
10. Place the Christmas Tree in a location away from direct sunlight and away from heat sources for safety and to prevent the tree from drying out.
Find a U-Cut Christmas Tree Farm
California: Apple Hill | Central Coast | Central Valley | Los Angeles | Sacramento | San Diego | San Francisco | Southern California
Connecticut | Dallas Fort Worth | Denver | Florida | Illinois | New Jersey | New York | Piedmont Area of North Carolina | Philadelphia | Seattle & Portland | Utah's Wasatch Front
Do you live somewhere else?  Find a u-cut Christmas Tree farm in your area on http://www.pickyourown.org or by searching for your state's Christmas Tree Farm Association.

What are your favorite Christmas Tree Farms in your area?  Go to www.trekaroo.com to share about your favorite Christmas Tree Farms.
Comments
comments