Tarryall River Ranch has been voted Trekaroo's 2013 Best Ranch for Hospitality. Want to know about other ranches that made the cut? Check out our

2013 Family Dude Ranch Vacation Roundup
.


"Let's live at Tarryall River Ranch, Mommy!" our 6 and 9 year old boys declared at the end of our stay.
That pretty much says it all. Tarryall River Ranch was truly chicken soup for our souls.
A stay at Tarryall River Ranch is more than a vacation. It's a place that melts away all the noise of city life allowing you to disconnect so that you can reconnect as a family. Unlike a zen spa where you empty yourself, at Tarryall, you come to be filled with the simple life, soak in nature, and be surrounded by wonderful people.



Warmest Hospitality
At this small family-run dude ranch, the Tesch family welcomes guests with big hearts like you're family. Their hospitality is simply irresistible – warm, inviting, and genuine. Joy and warmth encompass the entire staff, including the student interns working at the ranch for the summer. More than anything, it is this warmth that sets Tarryall apart. Like many ranch stays, the accommodations are comfortable but rustic and you pay for an all-inclusive stay. However, the intimacy of a 25 person guest ranch means staff is willing to cater to your family's specific needs. As a mom, I felt that each member of our family was so well taken care of that I could just kick back and really savor my beautiful family. I felt so pampered.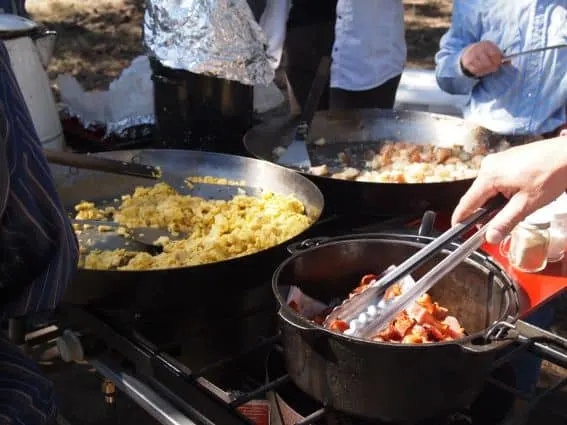 Cowboy Breakfast at Tarryall River Ranch
Beyond a Vacation, Tarryall is an Experience
Life at Tarryall is good!
Like most dude ranches, Tarryall offers two riding sessions per day, yet they seem to find ways to offer a wide variety of experiences. There are of course regular trail rides but you could also really cowboy up and try your skills at rounding up some cows in team penning. Want to sleep under the stars, choose an overnight ride. On Saturday, we all grabbed a small breakfast snack then saddled up our horses for a ride out into the hills for a real cowboy breakfast cookout complete with bacon, eggs, and grilled potatoes. Now that's my kind of ride. Kids are always welcome to join mom and dad on family rides, but they may have even more fun with the other kids on the kid rides. I snuck onto the kids' PBJ ride. Half way through the ride, we stopped by a creek, climbed up some rocks, and ate PBJ sandwiches together. We played some games, made up stories, then found our way back to the ranch. My shy 6 and 9 year old boys quickly became friends with the other kids visiting the ranch that day.
In addition to riding, there are lots of other activities at the Ranch to give you the full cowboy experience. You can sign up for trap shooting, fly fishing, whitewater rafting, or river tubing. You can also play a game of horseshoes, participate in a wheel barrel race, shoot some hoops, cool off in the swimming pool, or pet the goats and bunnies in the petting zoo. In the evenings, enjoy a cookout or some barn dancing. The barn dancing was a huge highlight for me. At Tarryall, the staff joins in the dances and they know the steps really well. It's great that half the room knew what they were doing and could lead the way. It was a blast!
Needless to say, while life at Tarryall is delightfully relaxed, it sure ain't boring.
Catering to Anyone of Any Age, Including Babies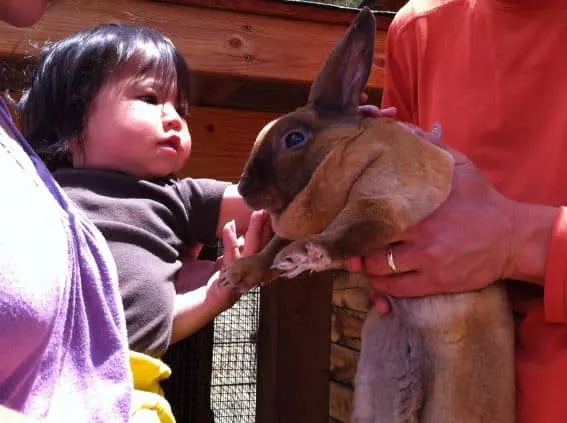 Meet the Bunnies at the Petting Zoo
Some ranches will not cater to babies at all. At Tarryall, they will accommodate the needs of anyone of any age. We had our 11 month old with us. When we went on a trail ride, one of the ranch hands babysat her. All staff members have been background checked and CPR certified. On Thursday nights, adults have a fancy dinner while kids have a special hot dog roast and play games. The ranch provided a babysitter again, which allowed my husband and I to enjoy the evening together. Little ones under 6 also have a special program where they do pony rides and other craft activities while mom and dad enjoy rides during the day. Teens also have a special teen program if they wish to participate.
Thank you Tesch Family for giving our family the warmest and fondest memories to treasures from our stay at Tarryall River Ranch. To Jedd, Rocky, Bandid and Brett, we miss you dearly.
Read my full review of Tarryall River Ranch
Related:
Disclosure: Tarryall River Ranch hosted our family for a complimentary stay. However, these opinions as always are entirely my own.

---
LiLing Pang is Trekaroo's Founder, a wife, & a mom to two active boys and a 8 month old baby girl.
Travel with kids to: CA |CO | DC| FL | HI | IL |MA | NC | NJ | NY | OR| PA| TN | TX | UT | VA | WA