For years, your kids have been begging for a Cedar Point vacation. They have conquered every coaster at the local amusement park, and they believe that they are ready to take on the "Roller Coaster Capital of the World." But, where exactly is Cedar Point, Ohio? And, what else is there to do on the shores of Lake Erie in Ohio for those family members who aren't quite as daring? Cedar Point, Ohio is located about 5 hours from Chicago and 8 hours from New York City on Lake Erie. After a visit to Cedar Point Amusement Park, families can explore the Lake Erie Islands in Ohio. Here's a two day itinerary that includes Cedar Point and Put-In-Bay, Ohio.

Find deals on the top family-friendly hotels near Cedar Point
We're an affiliate of Booking.com. When you book with us, it helps us feed our kangaroos at no additional cost to you. Thanks for helping to keep Trekaroo free.
Lake Erie Islands in Ohio and Cedar Point – 2 Day Summer Itinerary with Kids
Day 1 — Sandusky and Cedar Point, Ohio
Things to Do in Sandusky, Ohio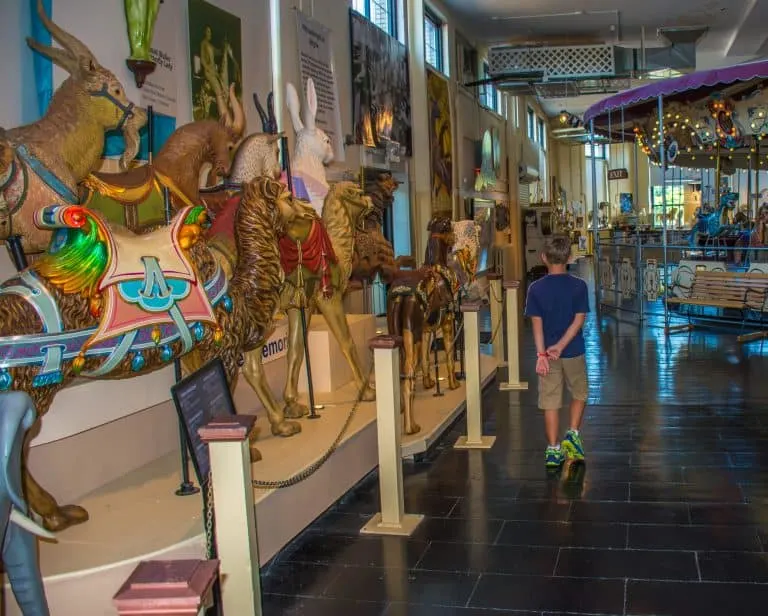 If you're not looking to pack in as much time at Cedar Point as possible, consider starting your day with a visit to Sandusky's Merry-Go-Round Museum. Upon walking into the museum you'll be surrounded by dozens of wooden, hand-carved merry-go-round horses and animals. It's fun to pick your favorite of each group and then look more closely to read the details of where it was made and how old it is. In a corner of the museum, there is also a mini workshop where you might just catch a volunteer carving a new horse or character. Finish off your visit to the museum with a spin on the museum's own merry-go-round, included in the price of admission. The museum opens at 10 AM in the summer season and the average visit takes 30-45 minutes.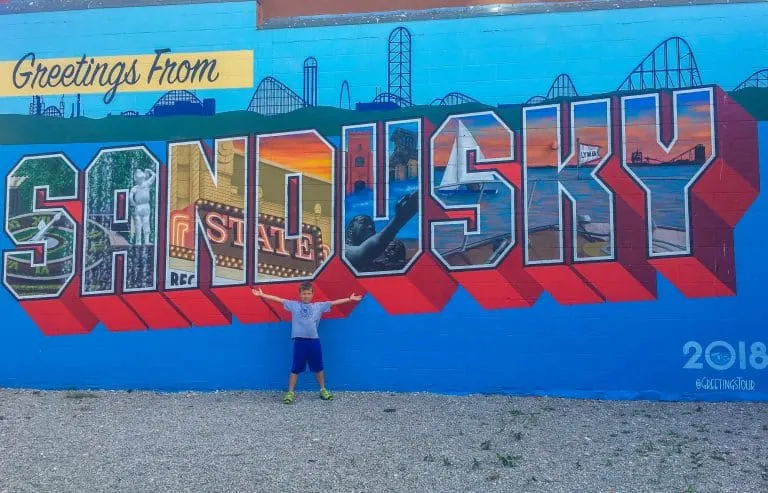 While you're in the city of Sandusky, don't miss the opportunity to take a walk around downtown- the parks and green spaces are beautiful. There's even a flower clock that has both the date and time! Be sure to take advantage of some of the photo-ops, like the giant "Greetings from Sandusky" mural. We also found several playgrounds in Sandusky; there's always a place for the little ones to play in Sandusky.
Leaving Sandusky by Boat
While most families will choose to drive to Cedar Point, there is another option. Families can take Jet Express from Sandusky over to the amusement park. The boat leaves from the pier at the center of downtown Sandusky, and parking is free. The boat ride to Cedar Point is only about 5 minutes because this boat speeds across the water at up to 40 miles per hour. Jet Express continues from Cedar Point to Kelly's Island and from Kelly's Island on to downtown Put-In-Bay.
Cedar Point Amusement Park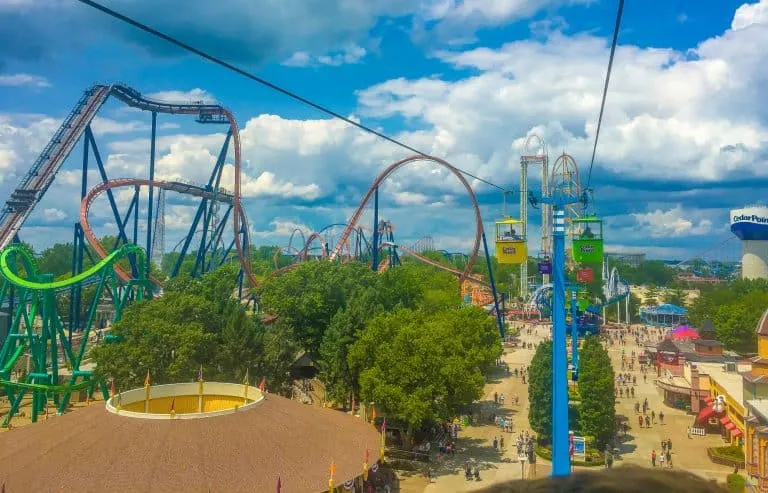 Whether you have teens that have come to Cedar Point, Ohio to ride Top Thrill Dragster or tots that will spend their day hopping from ride to ride in Camp Snoopy, there really is something for everyone at Cedar Point Amusement Park. Families can arrive first thing in the morning at rope drop and spend upwards of twelve hours in the park on a summer's day. Cedar Point has been in operation since 1870, making it the second oldest amusement park in the United States. It earns its nickname of "America's Roller Coast" by being located right on the shores of Lake Erie. The park even has its own beach! With 17 roller coasters it is second to only California's Six Flags Magic Mountain in the coaster count.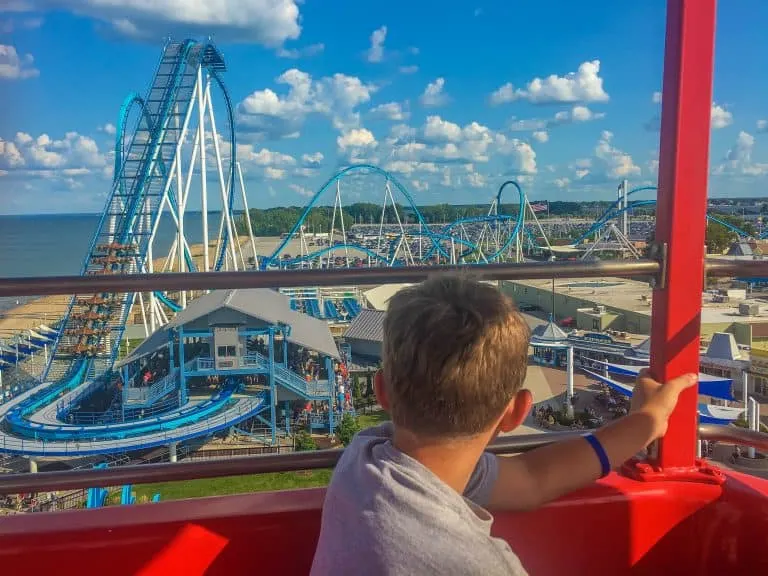 I'm happy to report that you don't have to be a hard-core thrill seekers to enjoy a day at Cedar Point. I was concerned that with all of Cedar Point's record-breaking coasters, my somewhat timid 8-year-old son might leave Cedar Point without having braved a single coaster. Fortunately, there are coasters for kids of all ages and temperaments. We happily rode the 1964 Blue Streak wooden coaster again and again as well as the sky ride, Ferris wheel, and countless carnival type rides. I was still negotiating "just one more ride" with my 8 year old after spending a full 8 hours in the park.
Cedar Point makes Trekaroo's list of one of the Top 10 Things to Do in Ohio with Kids!
Where to Stay in Sandusky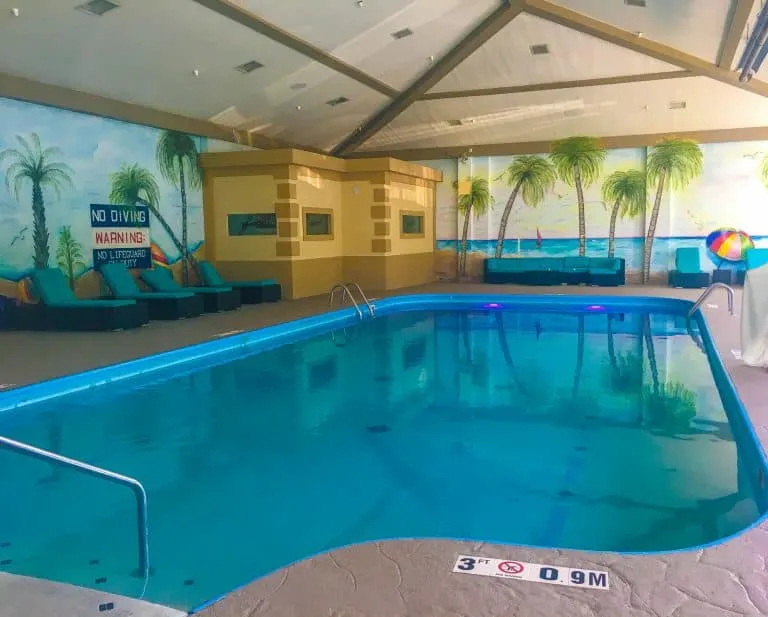 There are plenty of hotels in Sandusky for every family's needs and budget. Looking for a special splurge-worthy experience? Stay at the Great Wolf Lodge in Sandusky. Want to make the most of your visit to Cedar Point? Stay in one of their affiliated hotels at Cedar Point Castaway Bay Indoor Water Park or Cedar Point Hotel Breakers.
Looking for a budget-friendly family hotel option in Sandusky? We stayed at the Comfort Inn Sandusky. The Comfort Inn offers a hearty continental breakfast and a fun indoor/outdoor pool complex.
➟ Find the best deals on hotels near Cedar Point
Day 2 Port Clinton and Put-In-Bay
Port Clinton is a quiet city on the shores of Lake Erie well known by Ohioans as a vacation destination for fishing. The town is also a gateway to the Lake Erie Islands via Miller Ferry, which provides car ferry service to South Bass and Middle Bass Islands.
Port Clinton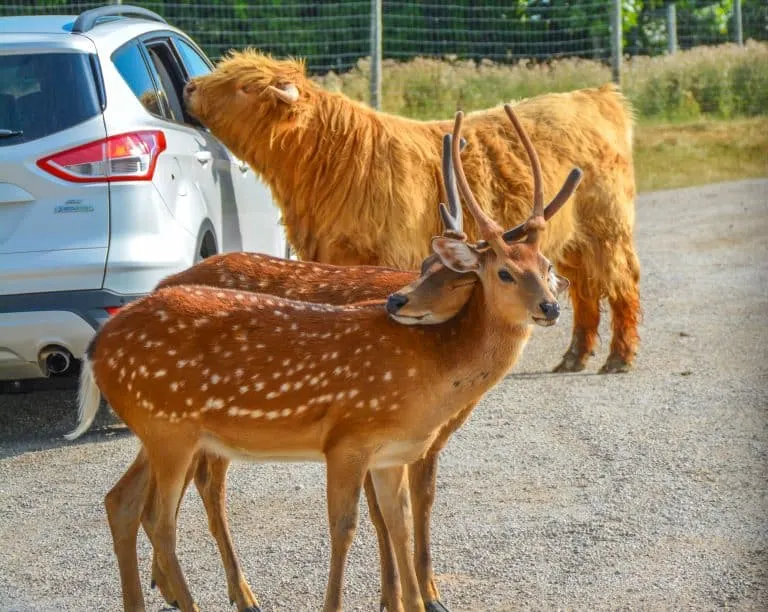 If you have a little animal lover in your family, you'll want to start your day in Port Clinton at the African Safari Wildlife Park. The wildlife park features a small walk through zoo featuring an aviary, gibbons, kangaroos, and other small animals. Additionally, there is a drive through area where families can feed deer, alpaca, bison and giraffes from their cars. The African Safari Wildlife Park is a place where kids can feed and interact with a variety of animals; it is also an AZA accredited zoo.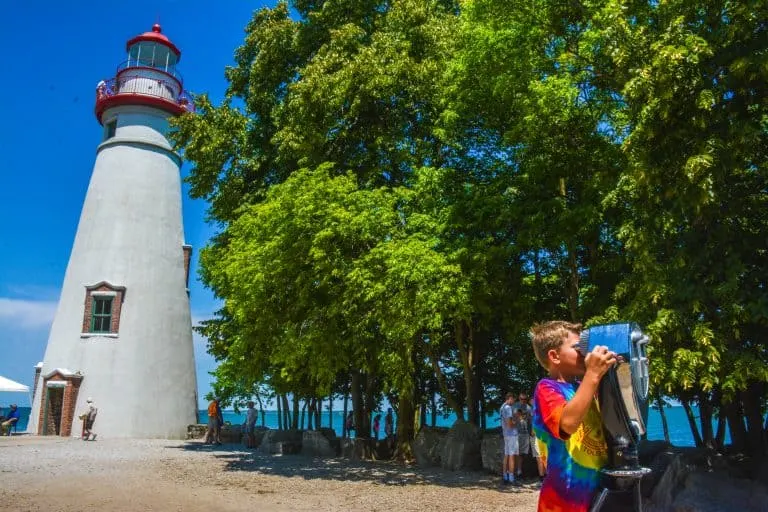 Another way to begin your day in Port Clinton is a visit to the Marblehead Lighthouse, the oldest continuously operational lighthouse on the Great Lakes. The lighthouse is so old that its lamps were powered by whale oil for decades before a switch to kerosene was made in 1858. Now it is one of the most photographed locations in all of Ohio.
In the afternoons during the summer months, it is possible to purchase tickets to climb to the top of the lighthouse. From the top, many Lake Erie Islands are visible including South Bass Island and Perry's Monument in Put-In-Bay. We were happily surprised to discover that on a clear day it is possible to spot the roller coasters of Cedar Point across the water both from the top of the lighthouse and from the ground nearby.
South Bass Island and Put-In-Bay
From Port Clinton, the easiest way to reach South Bass Island is on the Miller Ferry. Families have been spending their summers at Lake Erie's Islands for over a hundred years. Since the early 20th century the Miller name has been associated with boats ferrying people between the islands and the mainland. Today the Miller Ferry is the biggest ferry service on Lake Erie. They operate a simple, but efficient, ferry service to and from South Bass Island. There is room on each boat for vehicles, but the majority of the passengers walk-on and traverse the island via golf cart or bike.
Biking the Island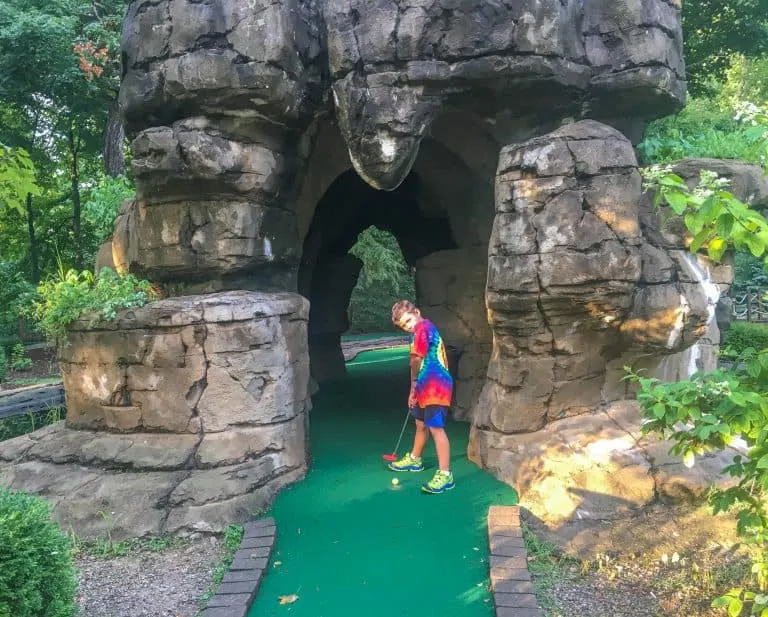 My son and I took our bikes with us on the ferry and used them to get around the island. South Bass Island is relatively flat and just only about four miles end to end. The closest spot of interest for families is Perry's Cave Family Fun Center located less than 10 minutes from the Miller Ferry dock by bike. The Family Fun Center offers cave tours, a butterfly house, a rock wall, antique car museum, a fort-themed maze and miniature golf. There's really something for everyone in the family at Perry's Cave Family Fun Center. My son had been begging all summer to play mini golf so that's what we did. And, he got his first ever hole-in-one!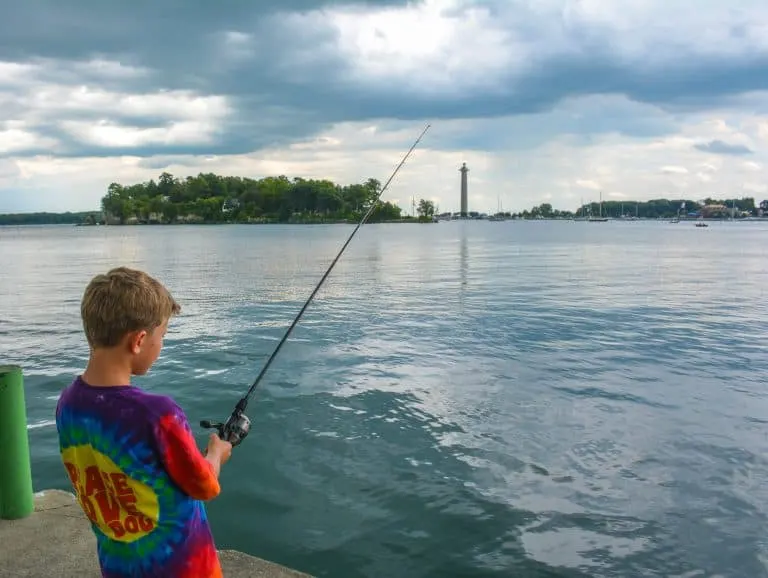 Another must-do for families on South Bass Island is a visit to the Aquatic Visitors Center just about a half mile outside of Put-In-Bay, Ohio. The visitor center is operated by Ohio State University's Ohio Sea Grant. At the center, university students introduce families to the animals and plants of Lake Erie. The afternoon we visited, kids under age 16 were given the opportunity to fish off the dock. My son was so excited to get the opportunity to fish, then it began storming just minutes later.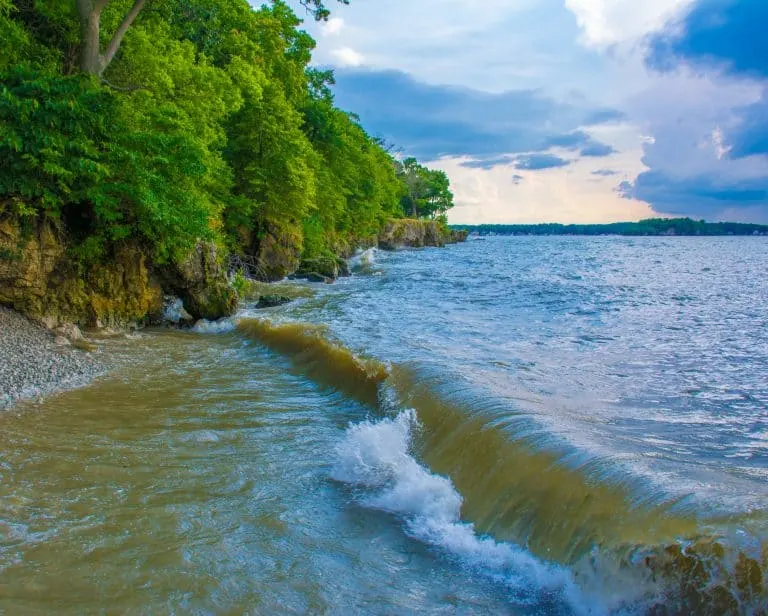 Those families exploring the island via bike will also want to take a ride out to East Point beyond Perry's Monument to explore the short hiking trails to Massie's Cliffs and Scheff Preserve. Both preserves have access to the lake and are beautiful places to appreciate the natural coastline of the island.
Put-In-Bay, Ohio
While the town of Put-In-Bay, Ohio only has 150 full-time residents, it is certainly hopping in the summertime! During the summer months, Put-In-Bay hosts all sorts of visitors in its bars, restaurants, shops, hotels and parks. Yes, the drinks are certainly flowing freely at many of the open air bars around town. However, we also spotted many families driving around town in golf carts and tots playing at the playground in the center of town.
Looking for a place to eat with the kids in Put-In-Bay, Ohio? There are lots of restaurants, but it's hard to know which ones are a good fit for families with kids. We ate at The Old Forge Café. It features savory and dessert crepes and has a small kids' menu.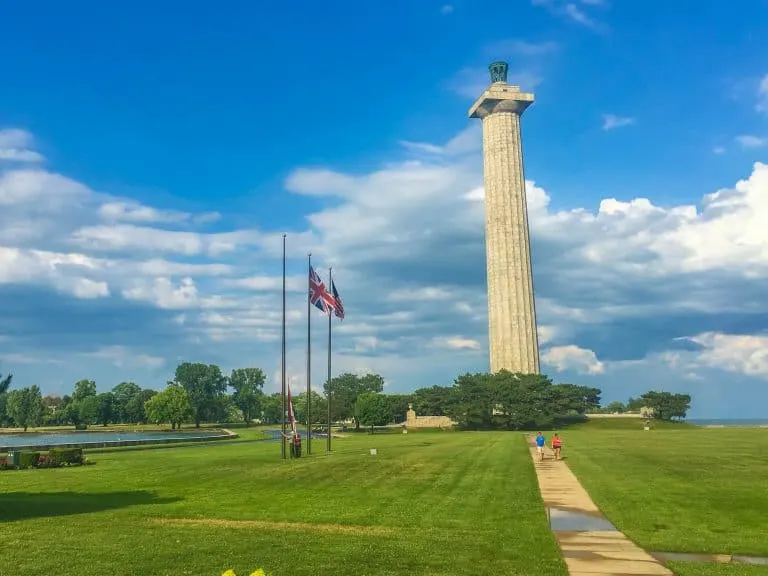 It's hard to miss Perry's Monument, a large pillar commemorating naval commander Oliver Hazard Perry's victory in the War of 1812. The monument is within easy walking distance of the restaurants of Put-In-Bay, Ohio. Now it also serves as a reminder of international peace between the United States and Canada. There is a small visitor center at the monument managed by the National Park Service that has exhibits and a video introducing visitors to the Battle of Lake Erie. There is a junior ranger booklet available. Don't miss the opportunity to go up to the top of the monument for a stunning view reaching to Canada.
Where to Stay in Port Clinton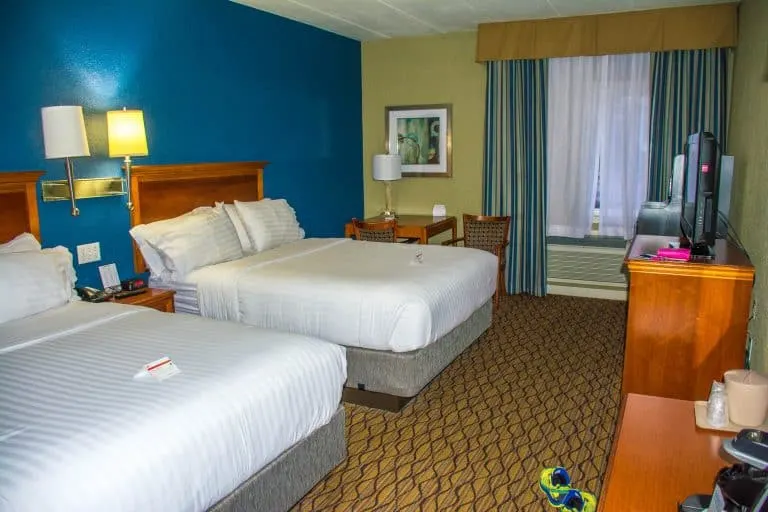 Unlike Sandusky, hotel choices are more limited in Port Clinton. We stayed at the Holiday Inn Express Hotel and Suites. It is conveniently located less than 10 minutes from Miller Ferry to South Bass Island and Put-In-Bay, Ohio. Also, it's only 15 minutes from the scenic views of Marblehead Lighthouse.
All photos by Melissa Moore.
Disclosure: My son and I were hosted by Ohio's Lake Erie Shores and Islands. All opinions are my own.