Like most moms, my mornings typically start with the same activities; getting the kids up and dressed, making sure everyone eats breakfast, and discussing whether or not we're running late for school drop off. (The answer to that last question is inevitably "yes.") Recently though, 7am found me not in my kitchen, but instead floating 4,500 feet above California's beautiful Temecula Valley in a hot air balloon!
Hot Air Ballooning over the Valley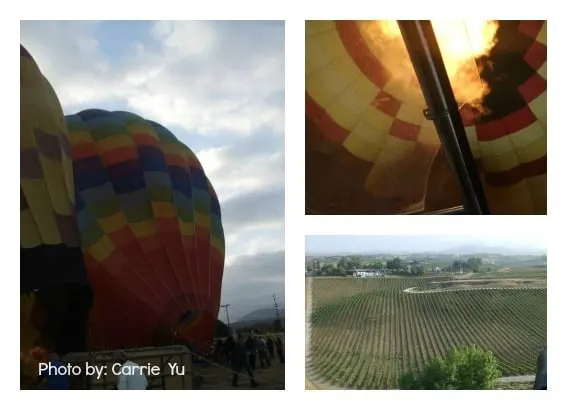 Our morning began very early, since balloon launches take place near sunrise. After meeting up with our ballooning guides from A Grape Escape, we were whisked off by van to check out a couple of potential launch spots before the perfect conditions were found. It's a real science just finding a good launch spot! When the perfect spot was located, it was just a few minutes until the balloons were unloaded and filled with air and we were up, up and away!
When you're in a balloon, you go where the wind takes you. Sometimes we were above the clouds and other times we were low enough to talk to a group of runners on the road below us. No matter how high or low we drifted, the views of gorgeous Temecula and its vineyards, wineries, and citrus groves stretched below us in every direction. It was a wonderful way to get to know the region. Families are welcome on these balloon rides, but the pilot informed us that most kids don't have fun until they're at least 8 years old. The sides of the basket are fairly high. At 5 feet tall, the sides came up to just below my shoulders, so it would be hard for a little one to see out without being lifted up. The ride itself is pretty exciting at takeoff and landing, but the rest of the time is pretty much taken up with enjoying the scenery, which littler aeronauts might not appreciate. But when your family is old enough to appreciate flight outside of an airplane, this is definitely a do not miss experience.
Old Town Temecula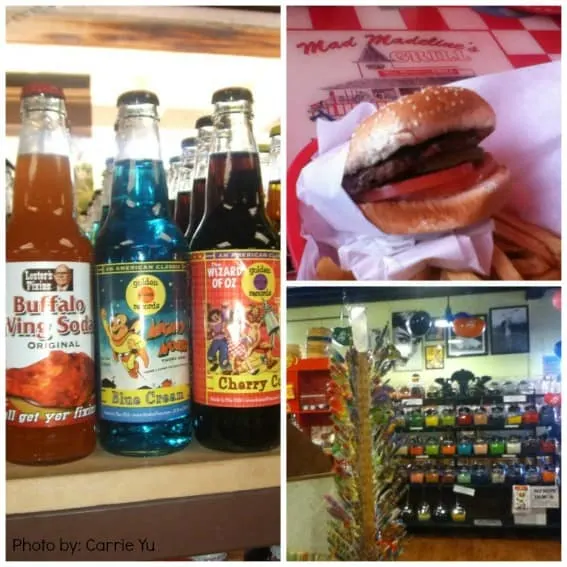 Temecula is not just a great place to go hot air ballooning, but a town with lots of family friendly activities to offer. Old Town Temecula is a charming and walkable area with great shops and restaurants. If you're in the mood for great burgers and fries, don't miss Mad Madeline's for large servings of yummy food. I ordered the classic burger and fries and am still thinking about that delicious lunch. If you're in a hurry and can't wait for a table, grab your food from the to-go window and make a picnic out of it. I was able to reminisce at the Old Town Sweet Shop while perusing many varieties of candy that I hadn't seen since my childhood, along with great ice cream and fudge. Known for making their own root beer, Old Town Root Beer, is not to be missed; especially their root beer floats. They also stock every imaginable flavor of soda pop and we enjoyed looking through the racks of soda and trying to find the craziest flavor. My vote was for Buffalo Wing as the craziest one!
Discover places to eat in Temecula, California.
Children's Museum for all ages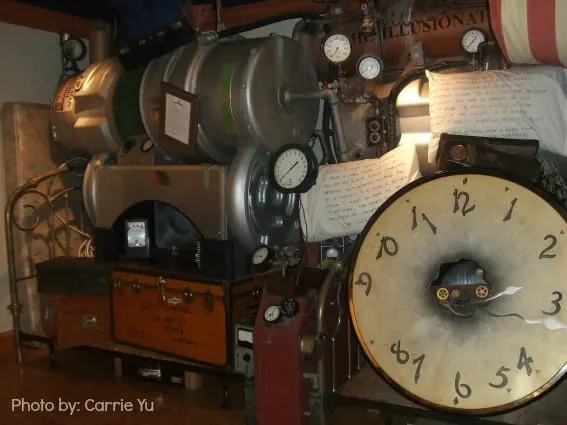 Temecula is also home to an excellent children's museum called Professor Pennypickle's Workshop. This museum has a running theme of science and experimentation and has won awards for excellence. When you walk in the front door you're not in a museum anymore, but rather in the Professor's house, which is stuffed full of hands-on and interactive fun. Kids and grown-ups alike can have a great time exploring the museum's black light room, taking a ride in the time machine, and climbing through the hidden passage. I've been to a lot of children's museums, and this museum is one of the few that really appeals to younger children and older children alike.
Temecula Wine Country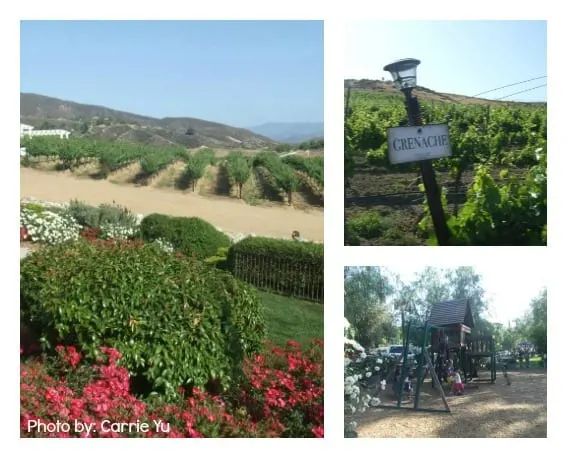 In addition to attractions in the heart of Old Town, the Temecula Valley also has a thriving community of nearby wineries. Kids can't sample the wine of course, but they will enjoy running around grassy lawns, exploring vineyards, and even playing on playgrounds that some of the wineries have on their grounds. Grownups will enjoy stopping in the tasting room and sampling the many wonderful varieties of wine that are produced in this region, as well as enjoying some of the most beautiful scenery that I've seen in a while.
Whether you're enjoying time in the air, at a winery, or in Old Town Temecula, you will be sure to find something for the whole family to enjoy. I can't wait to return and continue exploring this beautiful region!
Explore places to stay in Temecula, California.
Disclosure: I was hosted on this trip by the local tourism bureau. All opinions posted here are mine and mine alone.