We are reader-supported. When you buy through links on our site, we may earn an affiliate commission.
Living at the Jersey Shore, we take for granted that we can go to the beach or stroll along the boardwalk any day we want. The beach is one of the greatest things about living here. However, because we do live close to the shore, we've never taken an actual beach vacation. We were able to spend a weekend as guests of Morey's Piers and Morey Resorts in Wildwood, New Jersey. What a special treat it is to stay and play at the beach! Wildwood continues to have the retro "Doo Wop" charm and Morey's is at the center of fun in family friendly Wildwood, NJ.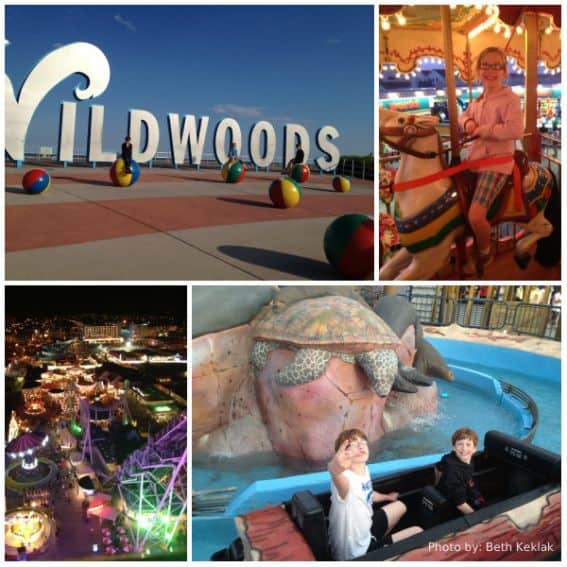 Morey's Piers & Beachfront Waterparks is the largest seaside amusement park in the Western Hemisphere. The piers began back in 1969, started by two brothers building one slide. Over the years, their vision and the piers grew. Today, it is still operated by two Morey brothers, and has evolved into a premier family destination. Our family had a fabulous weekend and so can yours. Here are the top five reasons to make Wildwood and Morey's a part of your summer plans.
1. Fun Rides on the 
Piers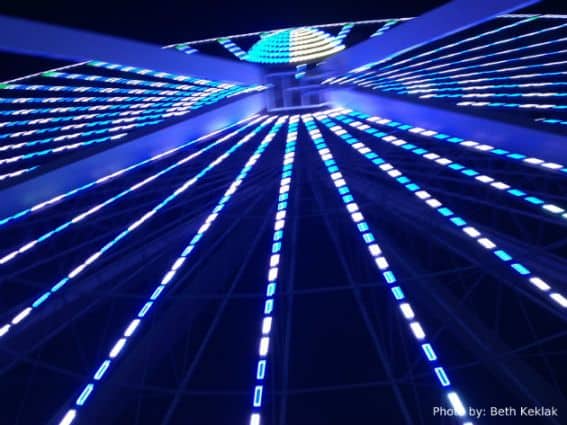 Morey's Piers offers three different piers with rides for a variety of fun. From the tamest of kiddie rides to the wildest of thrill rides, everyone in the family can enjoy his/herself among the more than 100 rides and attractions. Each pier has its own appeal. Adventure Pier is found to be the most "extreme" of the three piers. While there are some family rides, the main attractions are the high thrill rides such as the Skyscraper, The Great White classic wooden roller coaster, and the Spring Shot. It is also home to the brand new artBox, a unique artists' colony made of old shipping containers. Stop by to see the artists working on paintings and blown glass, shop in the museum shop, or listen to live music.  This is also a great spot to grab some sushi. Mariner's Landing Pier is the central pier. Here you will find many more kiddie and family rides including the Ferris Wheel.  There are many dining and game options for families on this pier as well. Surfside Pier was the first pier Morey's ever opened back in 1969 with its giant fiberglass slide. Today, you will find a variety of kiddie, family, and thrill rides as well as the new updated log flume ride, Zoom Phloom. While my favorite pier attraction was by far artBox (and I even went home with a few reminders of how great it was), my kids loved the endless rides.
2. Kid Approved Water Parks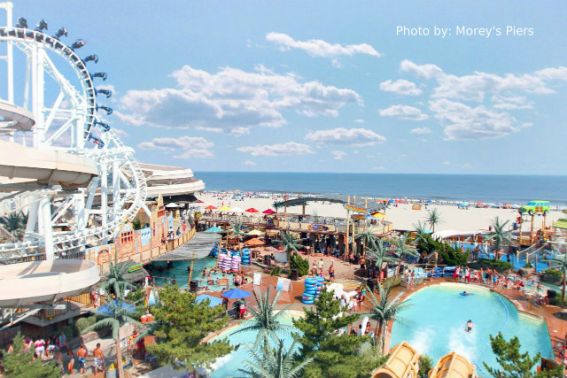 On the end of the piers overlooking the beach and ocean, visitors can choose from two water parks. Both are big on fun and perfect for the whole family. Race down multiple water slides, float along in the lazy river, or splash your way around the kiddie areas.  Raging Waters Waterpark is located on Mariner's Landing Pier and is inspired by shipwrecks. Small kids will find two play areas to enjoy and there are still plenty of water slides and an activity pool to keep the older ones happy too. Ocean Oasis Waterpark and Beach Club is located on Surfside Pier. The dare devils will love the Cliff Dive where riders drop 5 stories in just 3 seconds while the smallest of children will enjoy splashing in Bonsai Beach. There are private cabanas for rent and even an adult pool complete with a swim up bar. My kids and I spent several hours here enjoying the sun and trying all the slides (except the Cliff Dive!). For a little down time, we played on the giant chess and checker boards. Ocean Oasis was spotless and the staff attentive.
3. Family Friendly Hotels
Morey Resorts offers 5 hotel properties and all are perfect for families.  Our family had a pleasurable stay at the Starlux Boutique Hotel. The Starlux is just a block from the beach and conveniently located by the convention center. A 10 minute walk down the boardwalk will take you to the first ride pier. This hotel features a retro "Doo Wop" feel. Families of all sizes will find the Starlux accommodating with its standard hotel rooms, one and two bedroom suites, and even retro Airstream Trailers and a cottage to choose from! Kids will love the pool, the bikes, beach toys, DVDs, and board games to borrow. Parents will appreciate the friendly staff. The Blue Palms Resort is located in downtown Wildwood and provides the feel of a boardwalk bungalow.  The resort is surrounded by great shopping and dining experiences. Families can choose from a standard room, suite, or even a family suite. Located in Wildwood Crest, the ocean front Pan American Hotel offers standard rooms or efficiency suites with private balconies, and a stunning pool within a 1960's travel setting. Also in Wildwood Crest, the ocean front Port Royal is decorated in a nautical theme, and has private balconies and heated pools. At the Jolly Roger Motel, kids and adults alike will enjoy the pirate theme. Choose from a standard or efficiency room. Guests enjoy private balconies, a heated pool, grills for guest use, as well as a tennis court and shuffleboard.
4. Delicious Food Options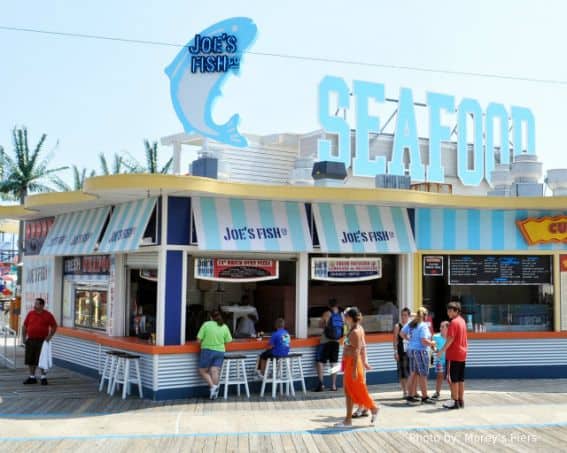 Delicious food that strays from the "typical" boardwalk fare is one of the highlights of Morey's Pier. Don't worry, you can still find curly fries and funnel cakes but you'll be surprised at some of the other choices as well. Thanks to the guidance of Executive Chef Wally Jurusz, a little gourmet flair has come to the piers. With over 20 eateries to choose from, even the pickiest member of the family will find something to like, from casual walk ups to sit down restaurants.  Among some of the newest restaurants, Joe's Fish Company on the Morey's Surfside Pier, is a great contemporary family pick, offering large portions and a variety of offerings. The Soggy Dollar Beach Bar is brand new and offers up stunning ocean views and tasty options. Don't let the fact it is called a beach bar scare you away from taking the kids. This is far from a typical bar. It is outdoors, featuring live music, and great food. For a truly unique experience, Breakfast in the Sky offers a breakfast indulgence with a view 150 feet above sea level from atop the Ferris Wheel.
5. Free Beaches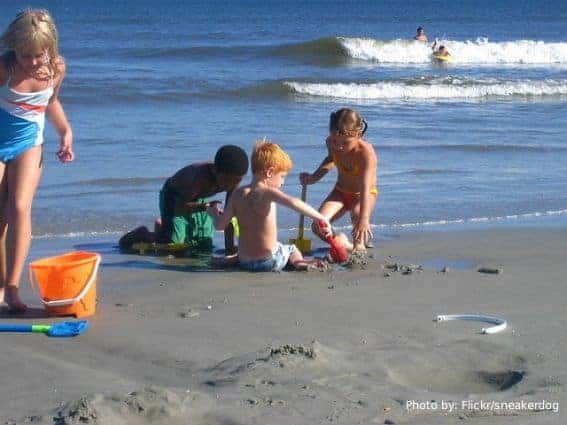 Last but not least, no visit to the shore is complete without the beach. Wildwood beaches are wide and expansive. Best of all they are free (a rarity here in NJ). Be sure to pack your sunscreen and towels to enjoy a day building sandcastles and swimming in the ocean. Throughout the year you'll also find the beach hosting sporting tournaments, races, concerts, and festivals.
Disclosure: The author and her family were guests of Morey's for the weekend. Lodging, some activities, and some meals were provided at no cost. While the hospitality was greatly appreciated, all opinions are that of the author based on her experiences.