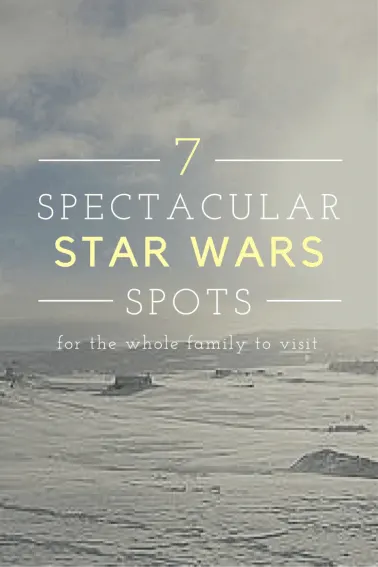 The 2015 launch of the much-anticipated Star Wars sequel has fans of the uber successful SciFi series in drooling over all things Star Wars related. To prepare yourself for the December 18th release of "Episode VII, The Force Awakens," we have rounded up a few of the best places on this planet to take your Star Wars loving family. Explore film locations, museums, memorabilia, and attractions from a galaxy far, far away in locations much closer, closer to home.
1. Disneyland and Walt Disney World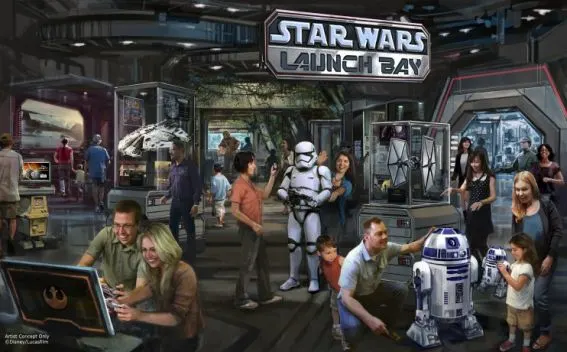 Artist rendering of Star Wars Land, announced to debut at both North American parks.
Photo courtesy of Disney Parks.
Star Wars fans had mixed reactions about Disney's recent acquisition of the Lucasfilm franchise, but the parks have actually been home to Star Wars-themed attractions since 1987, when Star Tours opened at Disneyland. Today, on the West Coast, Disneyland visitors can ride "Star Tours –The Adventure Continues" in Tomorrowland and give their kiddos the chance to train to be a young padawan at the Jedi Training Academy, a family favorite! In Florida, Disney's Hollywood Studios boasts its own Star Wars Jedi Training Academy and Star Tours.
In addition to the current fun, the Walt Disney Company just announced brand-new Star Wars Lands, coming soon to parks on both coasts. Disneyland Park and Disney's Hollywood Studios will each boast a 14-acre new land allowing fans to step into the iconic story and experience two signature attractions, including one that puts guests behind the controls of the Millennium Falcon! No official launch or opening date projections have been disclosed, but fans won't have to wait long to enjoy new Star Wars fun in the parks. Season of the Force, a new seasonal event, will open early 2016 on both coasts. The event will feature a Star Wars themed "Hyperspace Mountain," live Star Wars-themed entertainment, food, drinks, and more.
2. Tunisia & Death Valley National Park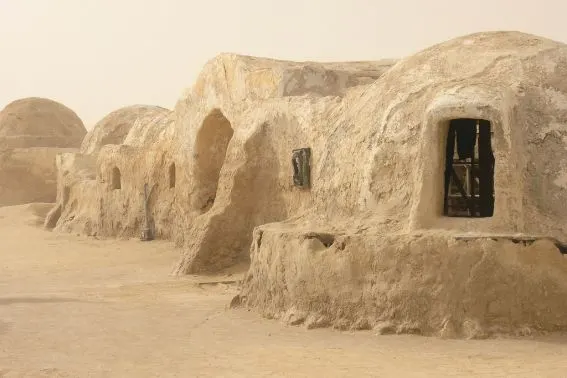 Photo by: Wikimedia Commons/yovansan
The North African country of Tunisia boasts a myriad of Star Wars filming locations and sets that can be visited by adventuresome fans. The country served as the primary shooting location for everything Tatooine, which appears in numerous episodes of the series. Favorite spots to visit include Luke's childhood home (the now-current Sidi Driss Hotel–yup, you can stay here!), the Dunes de sable, the Chott el Jerid Lars Homestead, and Medenine, Tunisia, childhood home to Anakin Skywalker.
A bit closer to North America, Death Valley National Park served as a secondary filming location for Tatooine. Desolation Canyon, Artist's Palette, and Coffin Peak were all used as filming locations.
3. Letterman Digital Arts Center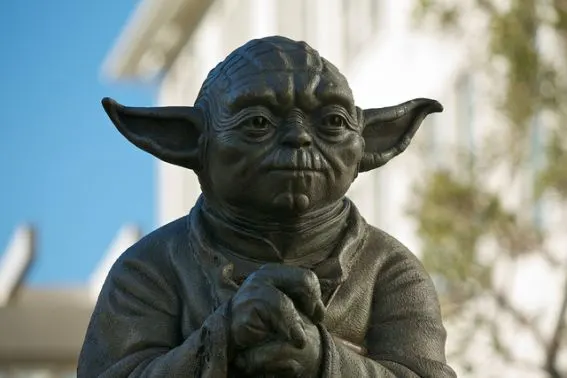 Yoda Fountain at the Letterman Digital Arts Center. Photo by: Flickr/sw77
Located in San Francisco's Presidio, the Letterman Digital Arts Center is an awesome (and free!) stop for Star Wars fans. The outdoor, life-size Yoda statue and fountain is a favorite spot for kids, and inside the lobby of this working building (open only during regular business hours), visitors can peruse the collection of Star Wars memorabilia including a life-size Darth Vader costume, Boba Fett, light sabers, and numerous small artifacts.
4. Southern Europe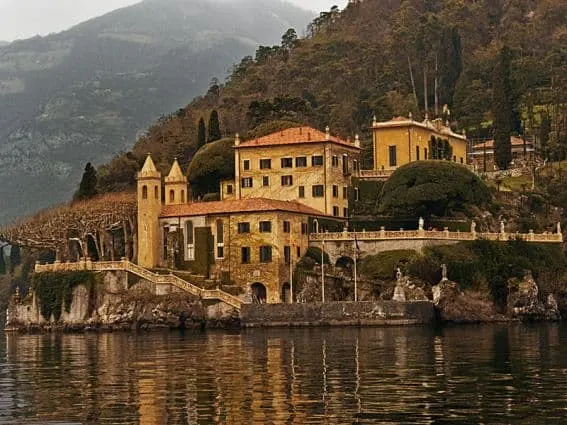 The Villa Del Belbianello, Lake Como, Italy. Photo by: Wikimedia Commons/FireGS
If your family is planning a visit to Southern Europe in the nearby future, why not make it a Star Wars themed trip. These stunning film locations are actually some of Italy and Spain's most visited, so even non-movie buffs will enjoy tagging along. Many of Queen Amidala's palace scenes were filmed throughout Italy including the stunning Royal Palace of Caserta (Reggia di Caserta) in Naples and the Villa del Balbianello at Lake Como, Italy, that served as the lakeside retreat for the royal queen. In the Plaza da Espana in Seville, Spain, visitors can find the exterior of Queen Amidala's palace. The Palacio Español is surrounded by beautiful fountains, trees, museums, and tourist destinations.
5. Norway

Finse, Norway in Winter. Photo by: Wikimedia Commons/CyberK no
The dramatic battle scene on the ice-planet Hoth was filmed in Finse, Norway. The snow-covered landscape is accessible only via the Oslo-Bergen railway and travel during the winter seasons is limited to cross-country skiing or by foot. The Finse 1222 Hotel housed the cast and crew during filming and still retains a few pictures and props from the movie. Guides can easily be hired to explore the Star Wars connection here; snow cover typically stays through May.
6. California Redwoods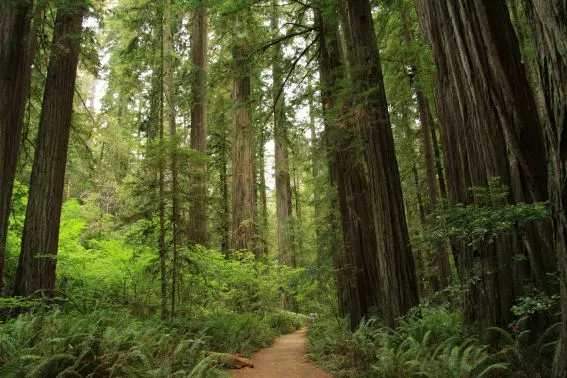 Stout Memorial Grove. Photo by: Wikimedia Commons
Back in North America, fans of the film can head into Redwood National Park in Northern California to see the lush foliage-filled forests that make up the planet Endor. Home of the Ewoks, the natural beauty of this park can be explored on its numerous hiking trails or by car on Highway 101 or 204, although your kids might beg for a speeder to ride on instead.
7. Rancho Obi-Wan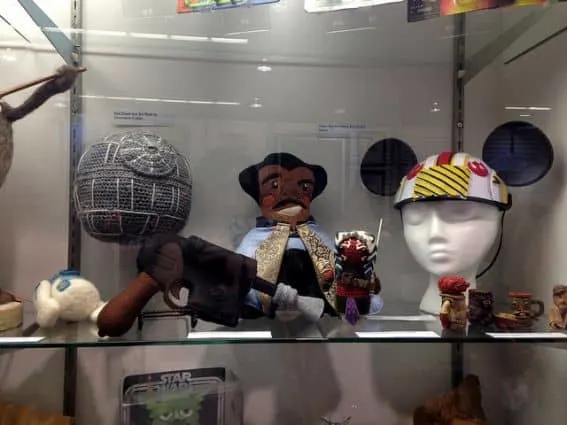 Memorabilia at Rancho Obi-Wan. Photo by: Flickr/Amy Irulan
The largest private collection of Star Wars memorabilia is housed at Rancho Obi-Wan, a massive museum for the most avid Star Wars fans in Sonoma County, California. With tours led by owner Steve Sansweet, visitors can ask questions, explore relics, and even play in the Star Wars arcade that boasts vintage Star Wars games. Membership to the museum is required for tour, and kids under the age of six are not permitted.