My family's journey to real food started by necessity. I didn't grow up a label reader or a whole food eater (my busy upbringing was a bit more full of Chicken McNuggets and sugar-laden soda), but because of my family's health issues and severe food allergies, we now try to eat as healthy as possible. And for us, that means eating real food. (And only very occasional Chicken McNuggets!

But you don't have to develop severe food allergies, celiac, anxiety, or ADHD (my family's collective MO) to venture into a world of eating real foods. You can simply just start for the benefit of your family's health, for the benefit of society, and for the benefit of our planet earth. To help with the likely pushback from your kiddos when beginning the switch to real, whole foods, consider taking them to one of these fabulous locations where your children can make an authentic connection to the food they are eating. There is nothing like hands-on experience. Getting back to the roots of our food can start a food revolution in your family of the best kind.
Helping Kids Understand Where Their Food Grows. Photo by: Bigstock/mythja
U-Pick Orchards, Local Farms, & Farmer's Markets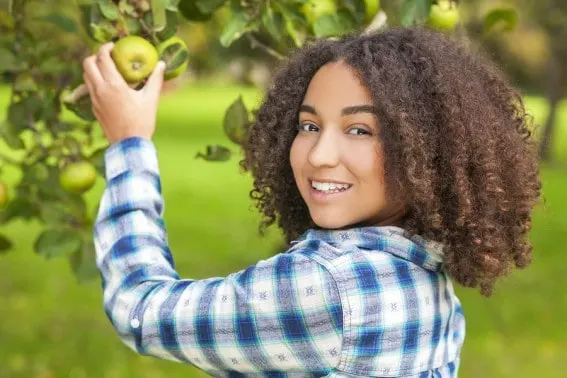 Photo by: Bigstock/darrenmbaker
You don't have to travel far to help kids get the connection that their food doesn't originate in the grocery store. Visiting a local U-Pick farm is a great way to jump-start the conversation about where fruit comes from, and your kids will love sampling the sweet harvest. Small, organic farms dot the North American landscape, and local farmer's markets are offered weekly in towns big and small across the nation. While visiting, you can teach your kids about the difference between organic and non-organic produce, while also teaching them a practical lesson about locally grown and harvested foods.
U-Pick Farms & Orchards
Here are some of Trekaroo's favorite kid-friendly reviewed U-Pick farms & orchards across North America:
California: San Diego County, San Francisco Bay Area, Southern California | Connecticut | Georgia | Illinois | Indiana | Maryland | Massachusetts | Minnesota | New Jersey | Oregon | Pennsylvania: Bucks County, Central PA, Eastern PA, Western PA | Utah | Washington
Farmer's Markets
Farmer's Markets can be a ton of fun! Be mindful of perusing only the most local produce, veggies, & meat, and come ready to sample some new foods. Facebook is a great way to find local farmers markets near you, as many don't operate full websites. Certified Organic Farmer's Markets are a guaranteed best bet for finding organic options. Kids will love strolling through the market and sampling produce and other locally made goodies.
Famous Farmer's Markets that families love include:
Original Farmers Market (LA) | Portland Farmer's Market | Pike Place Market (Seattle) | St. Lawrence Market (Toronto) | Union Square Greenmarket (NYC) | Eastern Market (DC) | Dane County Farmer's Market (Madison)
Resources to maximize your farm/market visit
Pick up these books on amazon, or at your local library, to read before or after a local farm visit:
Taking a Farm Vacation (really!)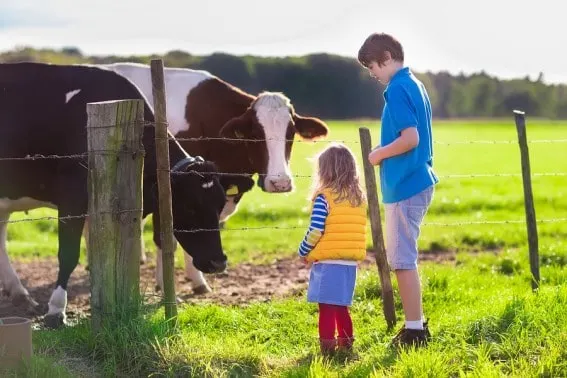 Photo by: Bigstock/famveldman
In addition to day trips to farms, families might want to consider an actual vacation on a farm itself. The agritourism business is booming and numerous farms offer their finest to guests, including those with young kids, who want to get a glimpse into the lives of America's farmers. The reality of farm life varies from location to location, but most allow families to experience a slice of life on the farm including feeding chickens, collecting eggs, milking cows, gathering crops, and preparing meals made from the harvest's bounty.
Trekaroo loves farm vacations. Check out our guide to the best farm vacations we've experienced, including tips on where to find a farm stay vacation near you.
Cities and Regions where Real Food Comes Alive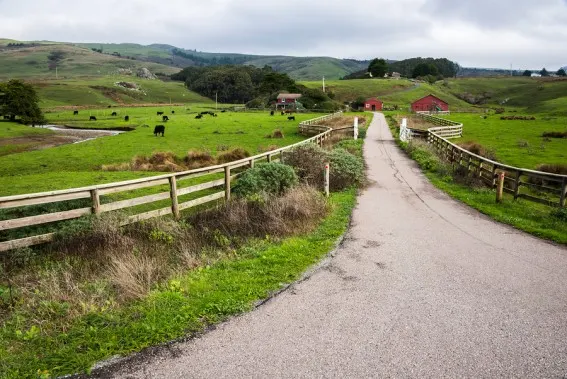 Photo by: Bigstock/dplett
Some regions really know how to showcase their local food and artisan fare. Here are a few of our favorites:
Kelowna, British Columbia. Local farming comes alive in Kelowna, British Columbia (about 5 hours east of Vancouver). The Okanagan region grows the majority of BC's crops, and your family can experience a bounty of farm tours, bee farms, artisan goat cheese farms, wineries (it's the Napa of BC), and so much more.
Explore Kelowna, British Columbia: Farms, Agritourism, & More
Napa Valley & Sonoma County, California. Napa and Sonoma County are known for their vineyards, for sure. But families can also enjoy a wide variety artisan and natural experiences while visiting the region.
New England, USA. Your kids will love experiencing the amazing craft of harvesting and producing maple syrup in New England. Throughout the region, you'll find both old-fashioned and modern farms to tour.
Hands-On Learning: Maple Syrup Production Tours
Punta Cana, Dominican Republic. While traveling to this all-inclusive resort city, don't miss out on some of the local specialties from this region where real food is more prevalent than not.
Kid-Friendly Foodie Tour of Punta Cana, Dominican Republic.
Other don't-miss real food tours include Weatherlea Farm & Vineyard (VA) | Seattle's Pike Place Market Tour & Foodie Dinner
Snacking Healthy While Traveling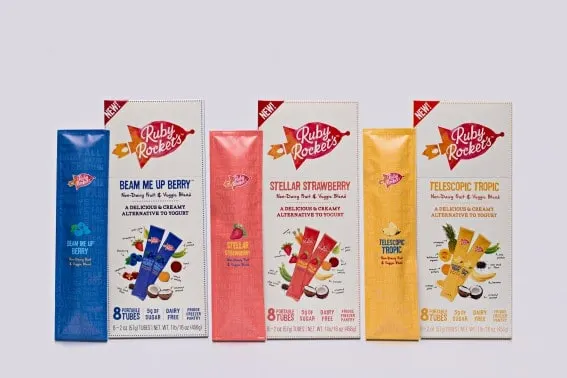 When traveling, it can be hard to keep those healthy eating habits going. It would be a shame to be instilling a connection with real foods while filling up our kids on junky snacks. Instead, pack lots of natural dried fruit, nuts, apples, nut butters, honey sticks, and cheese. Ruby Rocket's new non-diary yogurt tubes make healthy snacking so easy. They are made with only organic fruits and veggies, and power packed with plant-based protein like coconut milk, chia seeds, and pea protein. Best of all, they don't need to be refrigerated.
More Healthy Food Tips & Resources for Families