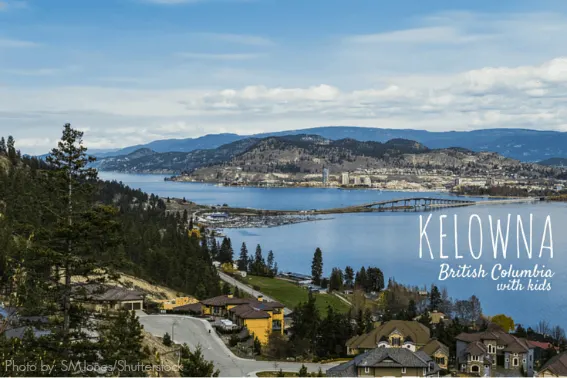 "Beautiful British Columbia." This phrase, written on license plates throughout the region, is an accurate representation of Canada's westernmost province. This summer, my family embarked on a road trip across British Columbia that led us through Kelowna, the primary city of the Okanagan Valley.
Situated on the lake and river of the same name, the Okanagan Valley sits in the southern portion of British Columbia, almost at the exact midpoint between Vancouver in the west and the Alberta border and Rocky Mountains to the east.
Getting There: Kelowna is an easy four-hour drive east from Vancouver, five hours north of Spokane, WA, and a direct flight into their international airport from cities like Vancouver, Calgary, Toronto, Seattle, Las Vegas, Phoenix, and even Cancun!
Farms & Artisans in Kelowna, BC
The rolling hills that surround Lake Okanagan in Kelowna are ripe with produce, farms, and vineyards. Our early summer visit made the landscape even more lovely with wildflowers, flowing green grasses, and leafy trees lining every winding road. The region's passion for locally grown, sustainable food is evident in their farm-to-table culture, and families can enjoy a glimpse into the process from plant to plate by following the city's free Farm to Table self-guided tour that meanders through over 20 farms and artisans. Here are a few of our favorite stops.
Arlo's Honey Farm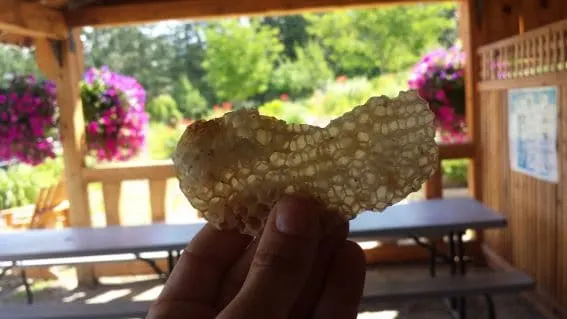 Arrange for a private tour to enjoy learning about the "dance of the honey bees" as they pollinate flowers, fruits, berries, and vegetables on Arlo's Honey Farm, a beautiful 14-acre honey-making paradise that your family should discover while in Kelowna. Even if you don't schedule a tour, your kids can still learn about the integral role of bees, safely observe active hives, and our favorite part, sample unique varieties of honey!
Carmelis Goat Cheese Artisan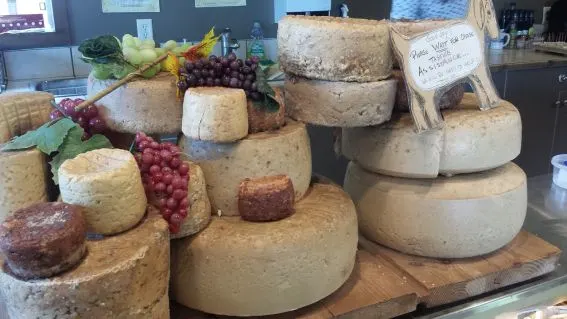 We've got some serious goat cheese fans in our family, including yours truly, so a stop at Carmelis Goat Cheese Artisan was a must. The kids loved watching the goats play, eat, and sleep, and my brave little eaters enjoyed sampling the rich, complex varieties cheeses made on property. Their goat's milk Gelato is a unique treat to finish your tour.
Okanagan Lavender & Herb Farm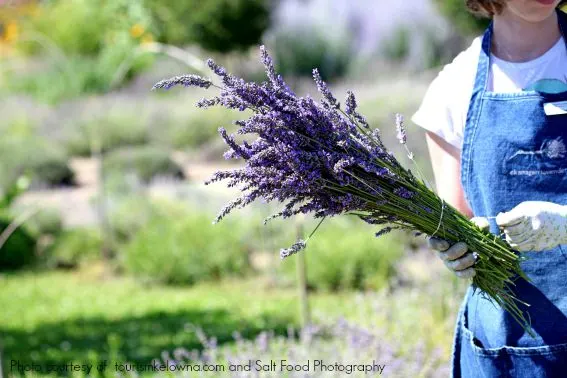 Although we arrived just before the lavender plants were in their full bloom, Okanagan Lavender & Herb Farm was still a beautiful place to explore. Tours through the garden are not free, but kids can enjoy an interactive scavenger hunt through the grounds while you take in the sights and intoxicating smells. Visitors short on time can skip the tour and head straight to the outdoor patio to enjoy stunning lake views while sampling house-made treats, including their lavender gelato.
Where to Eat & Drink in Kelowna, BC
With all the artisan growers, makers, and bakers in Kelowna, there are plenty of farm-fresh places to dine for families and budgets of all ranges.
Okanagan Street Food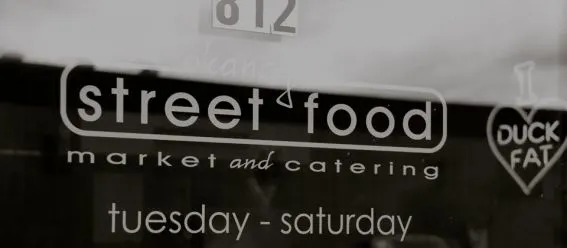 If you are looking for a casual eatery to enjoy some of Kelowna's finest artisan food, Okanagan Street Food is a best bet. The laid back counter service and far from pretentious atmosphere of the industrial north end of Kelowna makes dining on some of the city's most fantastic fare an easy feat for families. I recommend the fish tacos and quintessential Canadian poutine, but my children heartily enjoyed the gourmet macaroni and cheese.
Bellissimo! Pizza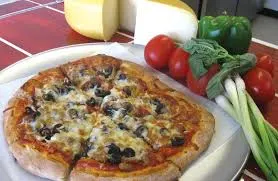 Open year-round for take-out and delivery, Bellissimo! Pizza sits adjacent to a country grocery store boasting outdoor picnic tables and umbrellas for outdoor seating during the summer. The easy outdoor setup gave the kids the chance to run around in the sunset-shimmering grass while waiting for their pizza. Don't be fooled by the small, commonplace exterior, the gourmet pizza served on site is absolutely incredible; made with the best local ingredients whenever possible, gluten-free and vegan options are also available.
Wine Tasting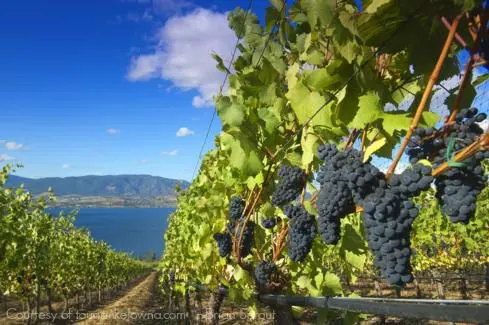 The city of Kelowna has become the most dominant wine-making region in British Columbia with dozens of local vineyards. Although not every winery has children running wild through their grounds, there are plenty of vineyards that not only allow children on property, but they actually welcome them. At the Quail's Gate Estate Winery, my girls were kept busy tasting juices and checking out adorable stuffed animals while I sipped on Pinot, Syrah, and Gewurztraminer. Pocketbooks beware, after sampling wines I was much more amiable and bought the kiddos a stuffed animal quail to remember the fun experience. Similar kid-friendly tasting and activity offerings are available at numerous wineries throughout the region.
Other great kid-friendly winery options in Kelowna include: Sperling Vineyards (playground and picnic area), House of Rose Winery (picnic area with toys), St. Hubertus Estate Winery (sparkling juice and colouring area), Summerhill Pyramid Winery (juice tasting, outdoor play area including mini-golf!), Volcanic Hills Estate Winery (sparkling juice tastings and kid's play area), Ancient Hill Estate Winery (juice tastings, snacks, and toys on the patio).
Where to Play in Kelowna, BC
Although farms and artisan eats dominate the landscape in Kelowna, the attractions in the Okanagan Valley are certainly not limited to the foodie and farm-to-table scene. Check out these top picks for family fun and adventure in Kelowna.
Beaches, Parks & Lake Okanagan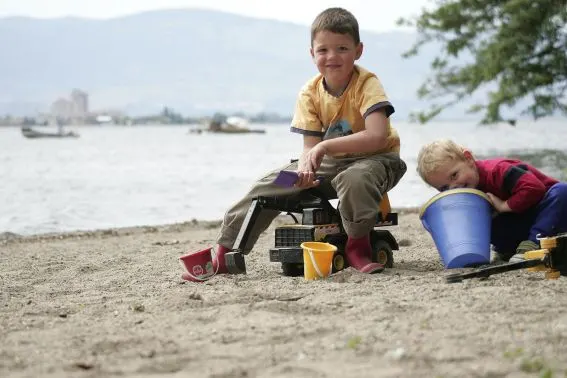 Lakefront parks, sandy beaches, and play areas abound along Kelowna's Lake Okanagan shores, but our favorite was City Park, located just north of the William R. Bennett Bridge. Here families can pack a picnic lunch (or enjoy one of the food trucks) while playing, swimming in the warm waters of the lake, building sand castles in the sand, or splashing in the giant zero-entry water play area.
Other great family-friendly beach access options include Waterfront Park's sandy Tugboat Beach, Bertram Creek Regional Park, and Boyce-Gyro Park Beach, boasting paddleboat rentals, large stretches of sand, and a playground.
Active Adventures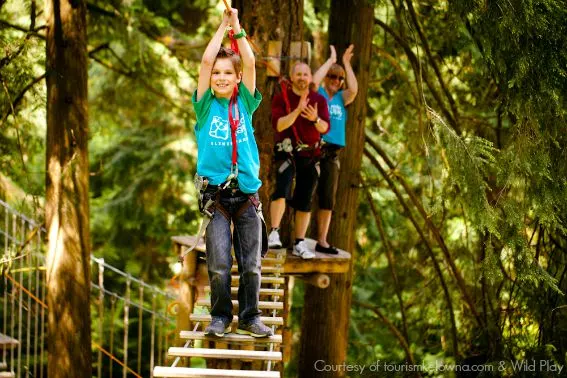 Although I certainly could spend an entire vacation in Kelowna on the lake's shore with a cool drink in my hand, there is actually a wide variety of active adventures for the more on-the-go family.
Active families can hit the lake on a rented (or guided) speedboat or jetski, try stand-up paddleboarding or kite-surfing, or fish on the nearly 100 miles of lakeshore that surround the area. On land, families can rent bikes and take them on the city's numerous bike trails including a visit to the must-visit Myrna Canyon Trestles. Numerous adventure parks boast zip lining, climbing, and high adventure thrills, or get your nerve up to trek the Kelowna Mountain Vineyards and Bridges Agri Park where you make your away across the longest suspension bridge in North America!
Culture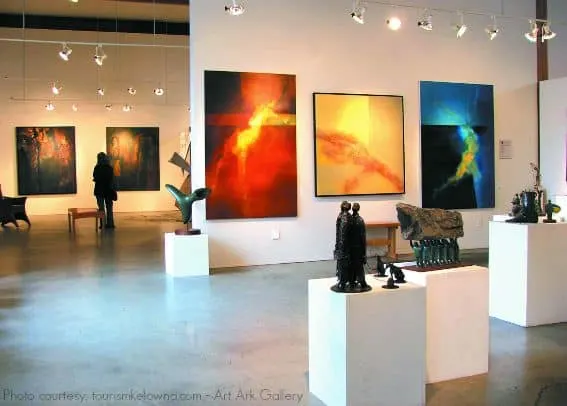 We try to visit art museums in every city we travel to, so a stop at the Kelowna Art Gallery was in order. The kids absolutely loved the hands-on art creation room, included with admission. Here they were given all the tools, supplies, and encouragement to begin creating their own masterpieces. I worked on a self-portrait sketch that will remain unpublished at this time. You're welcome.
Other great cultural options include the Geert Maas Sculpture Gardens & Gallery and Okanagan Heritage Museum.
Festivals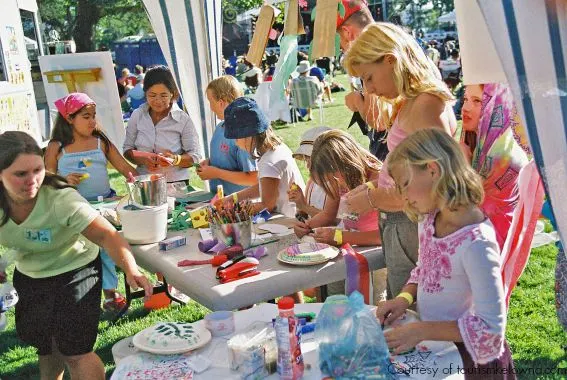 Kelowna is British Columbia's go-to destination for festivals. From the food and wine festivals including the Canadian Culinary Championships, to the BC Interior Jazz Festival, the Fat Cat Children's Festival each June, and Parks Alive!, a family-friendly summer lineup of entertainment and music, there is sure to be a festival running when you visit. Explore the Kelowna Visitor Info Centre for more information.
Where to Stay in Kelowna, BC
Kelowna boasts a variety of accommodations, with many catering specifically to families seeking easy access to the lake and its amenities, onsite pools, and waterslides. Familiar chains that help take anxiety out of an international journey add to the convenience for those traveling from far distances. We enjoyed our time at the Ramada Kelowna Hotel and Conference Center, where we stayed in a unique two-story townhouse that gave us plenty of room to spread out while staying together. The Best Western Plus and Fairfield Inn & Suites are other great budget and family-friendly options.
Disclosure: I received complimentary attraction tours and a meal while staying in Kelowna. I also received a media rate at the Ramada Kelowna Hotel. I was not required to state any particular view; all opinions are my own.