Nuuksio National Park is the perfect day trip for nature lovers from Helsinki. In just 30 minutes you can escape into the forest and bathe yourself in the healing magic of Finnish nature. Nuuksio is located on the northern end of the city of Espoo, Finland, which is part of the Helsinki metropolitan area. Of the 40 National Parks in Finland, Nuuksio National Park is one of the most visited, and for good reason!
While some families take a day trip from Helsinki to escape into nature for a few hours, others spend a few days truly unwinding. For visitors coming to visit Finland from abroad, Nuuksio is the perfect place to get a taste of the purity of Finland's forests and lakes. We spent four days exploring every nook and cranny of Nuuksio National Park to bring you this guide.
What Visitors Need to Know Before Visiting the Finland National Parks
First things first, if you're visiting Finland, there are few things you need to know about how Finland's National Parks are managed, how the trails are marked, what facilities you can expect, and what are rules and guidelines you should be aware of.
Getting Information about Finland National Parks Online
The protected areas of 40 Finnish National Parks are managed by Metsähallitus, the Finnish Forest Service. On the Finland National Parks website, you can find information about prominent features of the park, hiking trails, camping sites, wilderness huts, and rules for the park.
You can also find links to local businesses that have permits to operate services in the park such as guided excursions, outdoor activities, rental equipment, restaurants, lodging, and transportation services.
Tips for Exploring Finland's National Parks
Each park will have specific rules, so be sure to check the national park's website for that information. However, here are general rules that an American family might find different.
Camping is generally allowed anywhere in Finland. You may camp on private or public land according to the law known as "Every Man's Right".
The same law allows you forage for food in the forest even if it's privately owned. Unlike a U.S. National Park where you aren't even allowed to pick up firewood to burn, in Finland, as long as you are not in someone's backyard, you can pick edible berries, mushrooms, and pick up twigs for firewood.
Campfire are not permitted except where the national park service has stated they are permitted.
Fishing requires a permit for adults ages 18-64. It can be purchased from the fisheries department –

Eräluvat.fi

Picnic day use areas (laavu) can be found along hiking trails. They have a shelter, campfire pit and cooking tools, free firewood, and a picnic table. Just bring your own matches. No fee or reservation is required.
Kota hut day use huts are similar to a laavu except that they are enclosed. In some national parks, especially those in the Lapland area where the weather can be extreme most of the year, Kota's are not meant for spending the night unless you have no choice due to extreme weather. No fee or reservation is required.
Wilderness huts are also available in most national parks. Many are free and require no reservations. They are often equipped with bunk beds, kitchen tools, propane or wood stove, campfire pit, free firewood, dry toilets, but no running water. Did I mention, that some have wood saunas as well?
Free firewood is a wonderful thing, but it's expected that before you leave you chop new kindling for the next visitor. Visitors to the country should follow this common etiquette. There should be an axe nearby.

Clean up after yourself. The Finns are fastidious and incredibly courteous. When you leave a picnic area or a wilderness hut, you're expected to clean up after yourself, clean all the dishes, put everything back where it belongs, and restock the firewood. Pack all trash out with you.
Finland is one of the few countries where the water in lakes and streams are clean enough to drink from. Even if a lake looks brown and you don't want to drink from it, you can use it to wash dishes. So, when you're in the wilderness without access to tap water, nature is your water source.
Nuuksio National Park
Many thanks to our media partners Hawkhill Villas and Cottages, Nuuksion Taiki, Eco-camp Nuuksio, Viva Natura, and Visit Finland, and FinnAir who hosted us in various ways to facilitate the creation of this guide.
Some links in this article are affiliate links to Booking.com. This means that Trekaroo gets small commission to help feed our baby kangaroos.
Forest bathing– that was a new concept for me. It was Satu de Weerd who introduced this concept to me when I spent the afternoon with her at Nuuksion Taika. The concept of forest bathing is actually a Japanese concept.
"This is not exercise, or hiking, or jogging. It is simply being in nature, connecting with it through our senses of sight, hearing, taste, smell, and touch. Shinrin-yoku is like a bridge. By opening our senses, it bridges the gap between us and the natural world."
– Dr. Qing Li, author of Forest Bathing: How Trees Can Help You Find Health and Happiness
Turns out the Finns have been forest bathing for generations. It is this deep connection to nature and their ability to soak in her healing power that's at the heart of why Finland is the happiest country on the planet. Nuuksio National Park is exactly the kind of place where you find your spirit coming alive. Come simply to enjoy an afternoon hike or bike ride, or you can spend the time to fully unwind.
Nuuksio National Park features old, lichen-covered granite boulders strewn between lakes, ponds, and boreal forests. These valleys and gorges were formed during the last ice age. The folktale of the region tells of unfriendly giants who threw granite boulders in the forest.
Birds like the woodlark, the European nightjar find their homes in the pines. The endangered Siberian flying squirrel also finds refuge in Nuuksio. Although the park has one of the densest populations of the flying squirrel, it's hard to see these little creatures as they are most active at dusk.
Nuuksio National Park embodies the spirit of Finland. Here are 20 other things to do in Finland that can't be missed.
How to Get to Nuuksio National Park from Helsinki
Nuuksio National Park is easily accessible by car or public transportation. Haltia, the most common access point, is just 30 minutes northeast of Helsinki by car. Wondering about driving in Finland, our friends at Kidtripster put together a useful guide on the subject.
While there are no roads through Nuuksio National Park, here are several parking areas for you to access the park's trails:
Haltia and Haukkalampi – EAST (Haukkalammentie 32, Espoo)


This is the primary entry point to the park. The visitor information center is located here. Natura Viva Outdoor Activity Center where you can rent outdoor gear is in this area as well.

Högbacka – NORTH (Kattilantie, Espoo)
Kattila – NORTH (Kattilantie, Vihti)
Siikaniemi – SOUTH (Kolmoislammenranta, Espoo)
Hotelli Nuuksio – SOUTH (Naruportintie 70, Kirkkonummi)
Veikkola – SOUTH (Soidentaantie, Kirkkonummi)
Lake Kurjolampi – WEST(Valklammentie, Vihti)
To get to the various parts of the park, you can bike or hike through the park, or there is a road that circles around it.
It is also possible to take public transportation to Nuuksio National Park from Helsinki via the City of Espoo. Journey Planner is a public transportation tool you can use or follow these great instructions from a local. There is also a bus shuttle that circles the park.
For your time in Helsinki, here are the top 20 things to do in Helsinki.
When You Arrive
Once you are in the park, head to the visitor center information desk located in Haltia Nature Centre. They are available to answer your questions about exploring, staying, and dining at the park as well as provide maps for hiking marked trails in the wilderness areas.
The Haukanpesä Guide Hut on the shores of Lake Huakalampi is another spot you can visit to get information about Nuuksio and pick up maps. You can also warm up with a cup of coffee and snacks at Cafe Silva.
Trekaroo Tip: The Haukanpesä Guide Hut is not visible from the parking lot. After you pass the Haltia Nature Center, it's the next parking lot on your left. Park and find the path leading towards the lake.
Things to Do in Nuuksio National Park
1. Visit Haltia Nature Centre
Your visit to Nuuksio National Park should begin at the stunning Haltia Nature Center. Architecturally, this nature center if one of the finest examples of Finnish wood structure architecture. It's the second-largest in the country.
The design of Haltia is inspired by a national epic – Tales of Kalevala – about a bird. Inside the heart of Haltia, you'll find the bird's huge wooden egg. The roof of this green building harvests the two essential elements of nature, water and sunlight.
The incredible multimedia displays and multi-sensory exhibits offered at Haltia are immersive. You'll experience Finland's various ecosystems. I was surprised to learn that Finland has five seasons! Haltia brings Finland's 40 national parks under one roof, from the southern archipelago up to the snow-laden hills of the Finnish Lapland.
From Haltia Nature Center, you can access most of the Nuuksion National Park's nature trails on your own or inquire about a guided hike.
2. Foraging for Berries and Mushrooms
The long summer days coupled with the moist and mossy understory of the forest offer the perfect growing conditions for all sorts of berries and mushrooms. Do something quintessentially Finnish – go foraging in the forest. Picking your wild food is the perfect way to slow down to the rhythms of nature.
We were lucky enough to stay at Hawkhill Villas and Cottages where Annu, one of the co-owners is a trained wilderness guide and mushroom expert. I would not have been comfortable picking up random berries and mushrooms off the forest floor. I knew to avoid the bright red ones which had "poison" written all over it, but the edible ones sometimes look rather similar to the inedible!
From late summer into autumn, you'll find cloudberries, bilberries, blueberries, lingonberries, and cranberries everywhere your feet step. We were told that every Finnish child spends hours walking the forest trails picking berries that are used to make compotes, jams, and juices.
There are also hundreds of varieties of mushrooms growing on the forest floor. At Nuuksio, there are 10-15 that are edible. Some require special preparation before being eaten.
3. Forest Bathing, Folktales, and Magic
In the northern part of Nuuksio National Park at Kittila, you'll find fewer crowds during the busy summer months. Here, in the quiet of the forest, it's not hard to let your imagination run wild. One might expect a fairy or gnome to pop up amidst the mossy boggy forest trails.
At Nuuksion Taika, they specialize in immersive nature experience. Go on a guided forest bathing experience with a nature therapist or role play folktales on the Magic of Nuuksio experience. Younger kids and parents will love participating in this forest hike filled with folk music and role-playing that takes place as you hike through the magical forest trails of Nuuksio National Park.
Starting with a mystical fire ceremony, it's followed by a mission to appease the unfriendly giants of the forest. As you meander through the forest together, you'll learn about wild herbs with healing properties, superstitions of the Karelian people, and make music in the forest. When you return, you'll enjoy a private performance of Finnish folk music followed by a campfire meal of sausage, Karelian pastries, and berry juice.
4. Canoe or Row on a Finnish Lake
There are 43 glassy lakes in Nuuksio National Park. The reflections on each lake are incredible! There is no better therapy for an anxious mind than to row a boat or paddle a canoe, kayak, or SUP-board across a lake. The stillness is intoxicating.
If you are staying at a lakeside cottage, they usually have a rowboat you can use. But you can also rent one at Lake Haukkalampi Lake from the Natura Viva Outdoor Activity Center. Lake Huakalampi with large granite boulder flanking its shore is one of the most picturesque lakes in Nuuksio National Park.
I found it very unusual that all the lakes we encountered at Nuuksio National Park were so still. Turns out, it's because there is no inlet or outlet for many of these lakes. They form as a result of the ground being saturated with water from snow melt!
5. Hiking in Nuuksio National Park
When planning a hike around Nuuksio National Park, keep in mind that there are several wilderness areas that adjacent to Nuuksio National Park. Many trails actually connect to the ones in Nuuksio.
There are various marked trails and you can find a short trail description here. The Nuuksio Hiking Trail tool allows you to plug in what kind of hike you'd like to take, where you are coming from, and the dates you are visiting to suggest the perfect hike for you. The suggestions they give include detailed descriptions and instructions on how to get there by public transportation or by bike or foot.
Among the favorites shared by locals is the Haukankierros Trail where there is a high rock lookout to Brook Myllypuro Valley in the northeast. At Giant's Kettle in the north, you'll find deep holes carved into the granite by the last ice age. It's located on Kattilantie Road, near the Kattila area.
The turf floats of Lake Mustalampi are also a special feature of Nuuksio National Park. A dam that was built in the 1950s caused the water level to rise and the turf floats around the lake to get loose. Now they float freely on the lake.
6. Sauna and Ice Swimming
When Finns see a lake they immediately think sauna. There is nothing more Finnish than to sit in a hot sauna, jump into an icy cold lake, then go right back into the sauna again. Set on repeat and that's a Finnish Saturday night for you.
This is exactly what we did when we stayed at Hawkhill Villas and Cottages. Well, let's just say, the Finns are a little crazy for inventing this sort of pass time. Many apologies to the folks across the lake for disturbing your peaceful evening with our screams and squeals.
If you are staying overnight in any of a lakeside cottage or hotel, they all usually have their own private saunas. But even if you aren't spending the night, you can rent one for a few hours.
Here is a list of saunas you can rent in Nuuksio National Park.
7. Fat Biking over Dirt or Snow
Active teens and parents can give fat biking a try, even in the snow! You can rent a fat bike from Natura Viva Outdoor Center or at the Haltia Nature Center. Or you can book a guided fat bike tour with Natura Viva or Feel the Nature. There are 30km of bike trails in the park.
We learned the hard way that designated biking trails are clearly marked with a bicycle logo. If you don't see a bicycle, you're on the wrong trail and will quickly be faced with obstacles that will test your nerve.
Trekaroo Tip:
There are no child seats or tag-along trailers for fat bikes. These are rugged bikes with extra fat tires that allow you to bike over snow during the winter months. Finns truly embrace the idea that there is no such thing as bad weather. Just make sure you have dressed appropriately.
8. Snowshoeing and Nordic Skiing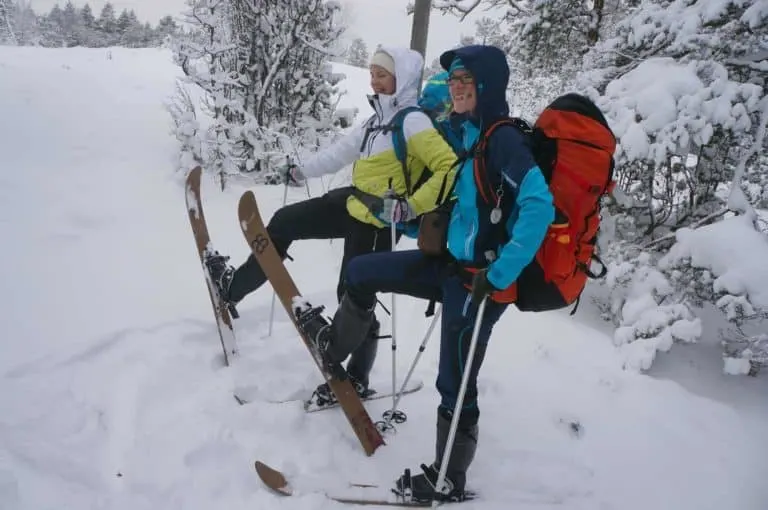 During the winter, the trails of Nuuksio National Park are covered in snow. Which makes it a perfect place to snowshoe or cross country ski. You can rent snowshoes and cross country skis at the Haltia Nature Center.
9. Fishing in the Summer, Ice-Fishing in the Winter
The lakes of Nuuskio National Park are great for fishing. In the winter, most of the lakes ice over and you can go ice-fishing! That involves drilling a small hole in the ice, dropping a line, and waiting. Even if you catch nothing, it's a fun experience to snowshoe on a lake and to learn to drill a hole in the ice.
Don't have the gear for fishing? The Magic of Summer or The Magic of Winter experiences offered by Nuuksion Taika include fishing and ice-fishing.
Trekaroo Tip: Ice fishing, hook and line fishing, and lure fishing with a single rod are all permitted in the national park. Adults ages 18-64 need a fishing license if you plan on fishing on your own.
10. Feed Reindeer
If you cannot get to the Lapland to see reindeer, you can see them at Reindeer Park which is open November to April. You can feed lichen to the friendly gentle reindeer. Then grill some stick buns over a fire in the White Reindeer Teepee. In December, Santa comes to visit as well. They even have a few igluhuts at Reindeer Park you can stay in.
Where to Eat in Nuuksio National Park
Roast Some Sausages and Enjoy a Picnic by the Lake
Locals love going for a hike with a picnic basket filled with sausages, rye bread, and some berry juice. Finnish national parks are dotted with laavu picnic areas. These cooking shelters are stocked with firewood and cooking tools.
All you need to bring are matches. The birch wood lights incredibly.
You'll find a cooking shelter by the lake at Haukanholma, Mustalampi, and Kattila.
Haltia Restaurant
Located on the east side of Nuuksio National Park inside of Haltia Nature Center, this restaurant serves a wonderful buffet lunch using locally sourced food. Dishes are as organic as possible. Coffee and snacks are served for the rest of the day.
Nuuksion Tupa
Located on the southside of Nuuksio National Park at Hotelli Nuuksio. This restaurant serves breakfast, lunch, and dinner buffets featuring locally sourced, fresh, and seasonally ingredients., including wild food handpicked in the forest. Fresh bread is baked onsite and fish is brought in from local fishermen. An a la carte menu is available in summer.
Overnight Stays in Nuuksio National Park
During our visit to Nuuksio National Park, we stayed in three different delightful and unique places that we highly recommend for very different reasons.
Lakeside Cottages and Villas
Our stay at Hawkhill Cottages and Villas was the most memorable in Nuuksio. These family-owned villas and cottages oozing with Finnish charm. The log cabin construction feels rustic and authentic but inside the cabins are furnished in a homey Scandinavian style. Each cottage is unique.
The original cabin, built by the grandfather who purchased the land for his family lake home, has no running water and all heating is powered by wood including the sauna and water for bathing.
The largest cabin has three bedrooms and sleep 8. The larger villas are luxuriously furnished. It is typical that in Finland, cottage rental does not include linens and towels. Those can be added for an extra fee.
Every cottage or villa has its own sauna, a lakeside dock, and a rowboat. An outdoor campfire pit and fully equipped kitchens make is easy to self-cater.
Hawkhill also offers wonderful guided experiences for their guests. The owners are certified wilderness guides, so all their experiences are about being immersed in nature. Wellness activities include wild herb hikes and forest yoga. You can also take a guided hike in the forest to forage for mushrooms and berries.
There are other cottages in Nuuksio National Park that are typically for larger groups – Villa Paratiisi, Green Window Oy to name a couple.
Tentsile Experience Camp
A Tentsile is a hammock tent suspended in the trees with zero footprint. If you like the idea of sleeping in a tree-like a bird in a nest, you're in luck because Finland has more Tentsile Experience Camps than any other country.
Green Eco-Camp Nuuksio is located next to the Haltia Nature Center. They are available June, July, August, and part of September. Nighttime temperatures in September make a stay in a Tentsile unadvisable, especially with kids. You're provided with everything you need to go from the plane into a Tentsile – sleeping bag, extra blankets, headlamp, and towel.
The community Lappish tent has a fire pit stacked with wood, picnic table, lanterns, matches, cups, tea settle, and BBQ tools. All are available for your use. Bring your own dinner or order a dinner basket.
A stay at the Eco-camp Nuuksio includes tickets to Haltia Nature Center and breakfast at Haltia Restaurant.
Rent a Wilderness Hut
The most budget-friendly accommodation besides camping is to stay in a Wilderness Hut. Although Wilderness Huts are typically free, these two at Nuuksio are reservable. During your stay, you won't need to bunk in with strangers wandering in. Book the Oranvankolo and Tikankolo Wilderness Huts by contacting Natura Viva.
Camping in Nuuksio National Park
In Nuuksio National Park there are twelve free camping sites. Nine of these sites have a campfire site/ring, firewood shelter with axe, and dry toilet. The camping sites are located at Mustalampi (2), Haukanholma, Holma-Saarijärvi (2), Isoholma, Saarilampi, Urja and Vääräjärvi.
In addition, there is one reservable camping site, where a fee is charged for camping. It is similar to the free camping sites but requires a reservation. It is located at Kolmoislampi.
Renting Outdoor Gear at Nuuksio National Park
The Haltia Nature Centre rents out equipment that families might need when exploring the park. They have rain boots, ponchos, child backpack carriers, lanterns, and so on.
Natura Viva is a private concessionaire that operates an outdoor activity center out of Haukanpesä Guide Hut. They offer guided outdoor tours around Nuuksio and rent equipment like canoes, SUP-boards, rowboats, kayaks, fat hikes, and snowshoes
If you plan on camping elsewhere in Finland, you can rent camping equipment in Helsinki.
Other Finland National Parks Not to Miss
Archipelago National Park


Has more islands than any other archipelago in the world. Island hop and visit picturesque villages and lighthouses.

Gulf of Finland National park


A birdwatchers paradise in the spring when huge flocks of arctic geese and waterfowl pass through these waters.



Repovesi National Park
Repovesi and the River Koukunkoki that runs through it abounds with wildlife including bear, deer, and various birds. It's also popular with rock climbers.
Koli National Park


Koli in the Lakeland Region has the longest valley in Finland, 10 famous caves, waterfalls, devils, boulders, and a ridge running in the Lake of Pielinen.

Hossa National Park


In the Lakeland Region close to the Russian border, this park is known for having one of the largest populations of wild brown bears in Europe.

Oulanka National Park


Unspoiled forest and raging rapids are what draw visitors to Oulanka. In the autumn, this park boasts stunning fall foliage.

Urho Kekkonen National Park (UKK National Park)


Trek through magnificent arctic fell country on foot or on skis in this Lapland park. Famous among Finns as the home of Father Christmas.

Lemmenjoki National Park


In the Lapland region, this park has hills and valleys carved by the Lemmenjoki River. This land is the sacred homeland of Lapland's indigenous Sámi people.

Pallas-Yllästunturi National Park The most visited national park in Finland, featuring high fells and arctic wildlife.