Winter Park, Colorado is gorgeous with its snow-capped mountains, beautiful ski resorts, and challenging ski trails. Nestled within the continental divide, this city, known as Colorado's Favorite Playground, provides much fun for families during the winter and summer months. You read that right! When the snow melts Winter Park transforms. The trails, the lifts, and the flowers all shed their winter "attire" and are ready to help create the most memorable family vacation adventure that you can imagine! So, get ready to have some summer fun with a Winter Park Colorado Vacation for the whole (adventurous) family.
Hiking in Winter Park Colorado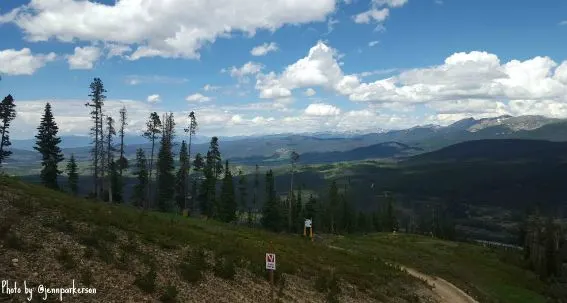 Photo by: Jenn Parkerson
There are 600 miles of hiking waiting for visitors in Winter Park, Colorado. Each trail is unique in the view and difficulty that it offers. Before heading out, be sure to visit the Winter Park Visitor Center for helpful trail maps and important hiking tips. The Mary Jane, which was once an old sheep trail, provides wide hiking trails, a gradual incline and fabulous views of the continental divide. This trail is perfect for families with young ones. For a more challenging climb, skip the chairlift and start from the base of the mountain. Fraser River Trail is an easy, scenic, paved trail that runs along the river. If you really want to flex those hiking muscles then Devil's Thumb is for you! With a summit of 12,236 feet you are bound to get that heart pumping and find a great picture opportunity or two along the way!
Ziplining in Winter Park Colorado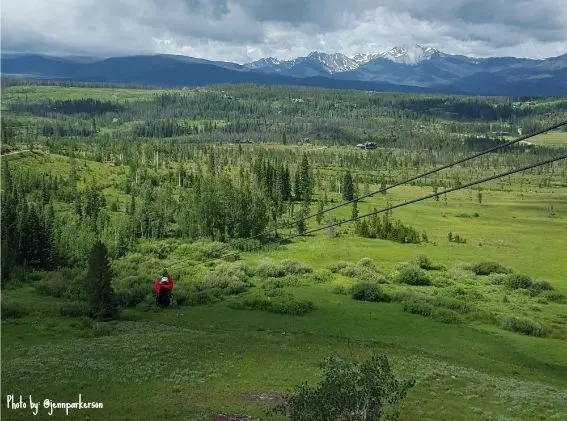 Photo by: Jenn Parkerson
As a kid I loved feeling the wind rush against my face as I flew through the air on my swing set. I experienced a similar feeling, along with a bit of an adrenaline rush, while ziplining at Devil's Thumb Ranch Resort and Spa. This is a great activity for families with elementary aged kids and above. If you are looking to combine ziplining with rafting then be sure to visit AVA.
Alpine Sliding in Winter Park Colorado
Photo by: Jenn Parkerson
Have a blast winding down a mountainside on a plastic sled in a concrete tube on Colorado's longest Alpine Slide. This is an experience not to miss when visiting Winter Park Resort. Get a taste of the excitement bobsledders feel when racing down a mountain! Of course, if slow is more your style that is no problem as they have a slow lane made just for you!
Mountain Biking in Winter Park Colorado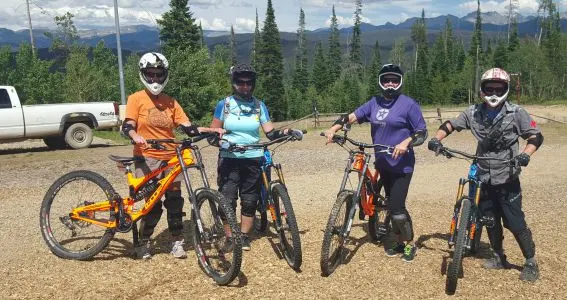 Photo by: Jenn Parkerson
When visiting Mountain Bike Capital USA, you must go mountain biking! Strawberry Jam at Granby Ranch is where I first experienced downhill mountain biking and it was such a rush! It was me against the insane terrain and I won! Biking at Granby Ranch is for the more experienced family of riders. If you are a newbie or a family with littles definitely head over to Winter Park Resort where they offer introductory classes in addition to their awesome trails. If cross-country biking is more your speed then Devil's Thumb Ranch and the Fraser River Trail would be perfect!
Where to Eat in Winter Park Colorado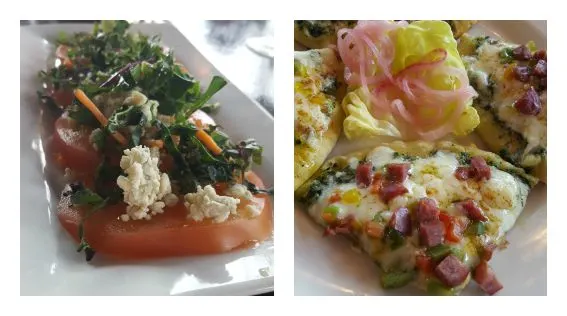 Photos by: Jenn Parkerson
Winter Park offers a flavorful array of food options. Enjoy a taste of the "wild" and breathtaking views at the Lodge at Sunspot or Heck's. The Foundry Cinema & Bowl offers delicious pizzas and drinks along with a "bowling" good time. Enjoy fine dining in a relaxed atmosphere at DaVinci or Volario's. Need to grab a quick bite? The Back Bowl Soup Bistro is the spot!
Where to Stay for your Winter Park Colorado Vacation
Photo by: Jenn Parkerson
Finding the perfect place to call home during Winter Park adventure will not be a difficult task as there are many options to choose from. The Vintage Hotel offers a great assortment of amenities and fun transportation options! Devil's Thumb Ranch offers bunkhouses, cabins, and a lodge to its guests. If roughing is more your style then Idlewild Campground is the place for you! The campground is located on the Fraser River and offers RV and tent camping.
Disclosure: I was offered a complimentary stay, meals and activities by The Winter Park-Fraser Valley Chamber of Commerce and businesses. I was not asked to state a particular point of view and, as always, my opinions are my own!
Featured photo by: Shutterstock