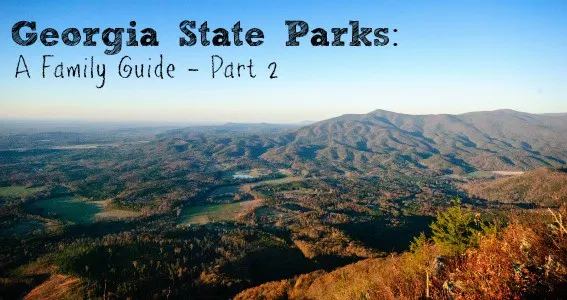 I can't believe it was only 12 months ago that our family set a New Year's resolution to stay at a Georgia State Park every month of 2014. We did it! My boys and I stayed in cottages, a yurt, and a hostel. We took short walks to waterfalls, a long hike into the forest, and canoe trips on several lakes. We visited the mountains to the north, and the black waters of South Georgia. This challenge was life-changing; I encourage every family to try it for one year. Our love of nature, and of Georgia, has grown substantially. Be sure to visit Part 1 of our adventure, and read below about the last six parks we visited.
James H. ("Sloppy") Floyd State Park in Summerville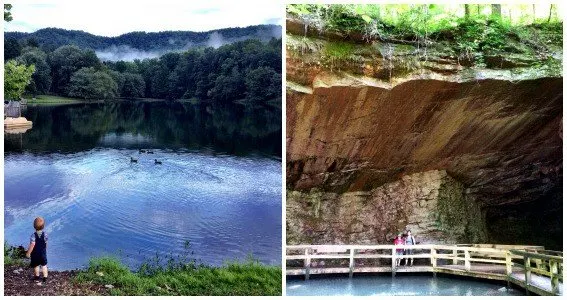 Family-Friendly Park Highlights
James H. ("Sloppy") Floyd is a peaceful park with a focus on the lakes and relaxing. Fishing is a major draw at Sloppy Floyd, with fishing boat rentals and a large pier. In the evening we watched the sun set over the Upper Lake, which was magnificent. We enjoyed the Marble Mine Trail hike, with access to the Pinhoti Trail. The marble mine is no longer accessible, but you can walk to the front and feel the temperature change, and see the waterfall over the mine entryway.
Cottage Critique
The cottages at Sloppy Floyd are older, but spacious. We enjoyed the open floorplan that allowed me to cook while the boys watched a little TV in the evening. There are only four cottages, and they are spaced out, with ample yard for running around or playing ball.
Read all the details about James H. ("Sloppy") Floyd State Park and the park cottages.
Vogel State Park in Blairsville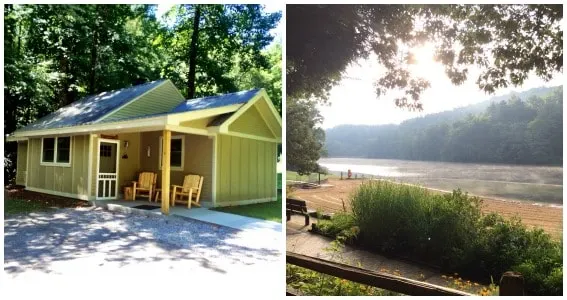 Family-Friendly Park Highlights
Vogel State Park is one of Georgia's most cherished state parks, both because of the exciting adventures within the park and those in the near vicinity. We visited after Labor Day so the beach (plus pedal boat and kayak rental) was closed, but that didn't stop us from hiking the lake and the waterfall spur, and playing a round of mini-golf. Bike rentals are also available, as well as a CCC Museum. Multiple waterfalls and the historic Mountain Crossing building – the only covered section of the Appalachian Trail – are minutes down the road.
Cottage Critique
We stayed in one of Vogel's refurbished cottages, which could easily have graced the cover of Southern Living. Imagine pocket doors, dark-stained hardwood floors, wainscoting, and a stone fireplace. It was cozy and warm. We especially enjoyed the shallow, gentle creek just outside the front door. The boys tossed pebbles between bites of s'mores, while I lounged on the chairs by the firepit: a taste of heaven.
Read all the details about Vogel State Park and the park cottages.
High Falls State Park in Jackson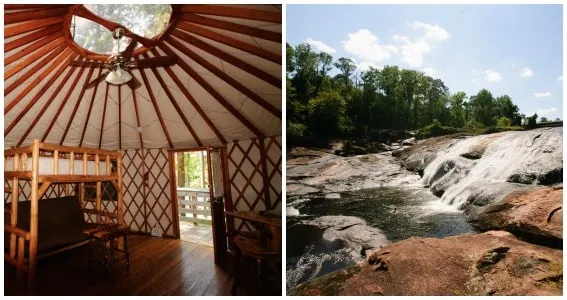 Family-Friendly Park Highlights
We hiked the Falls Trail at High Falls, which provided breathtaking views of the Towaliga River and the cascades formed by the unique rock structures. We also hiked the Historic Trail, on which are ruins of the Old Mill and Old Powerhouse that once sat along the river. Wading isn't allowed among the falls, as it is slippery, but the lake at the top of the falls is ideal for bass fishing and kayaking. There is also a swimming pool near the campgrounds. You're only 15 minutes from Indian Springs State Park, with sulpher spring and other activities.
Yurt Critique
High Falls is home to 100 campsites and six lakeside yurts. The canvas-and-wood-tent easily sleeps six. Each yurt also features a small deck, picnic table and grill outside, plus a bunkbed, dresser and sleeper sofa, electrical outlets, and a ceiling fan inside. There is no kitchen and no restrooms; in that respect it is much like camping. We cooked dinner on an open fire, and used the campground restrooms, which had showers.
Read all the details about High Falls State Park and the park yurts.
Len Foote Hike Inn in Dawsonville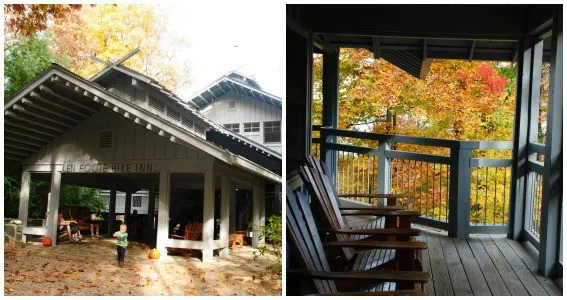 Family-Friendly Park Highlights
Len Foot Hike Inn was the delight of our year! The boys and I hiked five miles deep into the forest during fall's big show of gorgeous reds, yellows, and oranges. Once there, we didn't want to leave! We explored the property, played cornhole, watched the sun rise over the mountains, and met a thru-hiker that had just completed the Appalachian Trail. We played games in the Sunrise Room while listening to another guest sing and play guitar. We ate sumptuous meals served family style, and then played with the compost worms out back.
The Hike Inn is a marvel in its conservation efforts and achievements. The staff was kind and genuine. The food was delicious! The view and scenery were breath-taking. I wish everyone could experience an overnight excursion like this.
Bunkhouse Critique
The Hike Inn wasn't the Four Seasons or a Westin. You're not coming because of the lavish room. You're coming to decompress, connect with the kids, embrace Mother Nature, and exhale. We slept comfortably in our room…but we were only there to sleep. Each room (or bunkhouse, as they call it), contained a bunk bed. The beds were long enough for a tall adult, and each could sleep an adult and child, if necessary. Or, in my case, an adult and two kiddos!
Read all the details about Len Foote Hike Inn.
Fort Mountain State Park in Chatsworth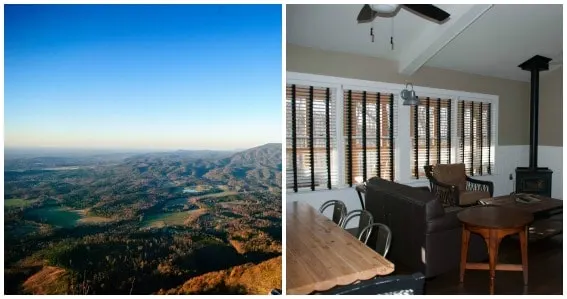 Family-Friendly Park Highlights
My family and I visited Fort Mountain State Park in late fall. There are 14 miles of trails, all of varying lengths and degrees of difficulty. We enjoyed the West Overlook Trail, with glorious views of the valley below. We also saw the Stone Wall, which fascinated us. A historical account is available at the wall to read, but one of the possible stories is that this structure was created by Europeans who visited the "New World" many years before Columbus. In addition to hikes with waterfalls, some other activities are the beach, canoeing, paddle boating, mini golf, and more. That doesn't include the additional 27 miles of mountain bike trails!
Cottage Critique
The cottages at Fort Mountain are gradually undergoing renovations; we stayed in a newly refurbished accommodation. We loved the dark hardwood floors, wood-burning stove, and gorgeous kitchen. We made pizzas and popcorn, and watched movies once the sun went down. The next morning we enjoyed bacon, eggs, and coffee on the large back porch overlooking the woods.
Read all the details about Fort Mountain State Park and the park cabins.
General Coffee State Park in Nicholls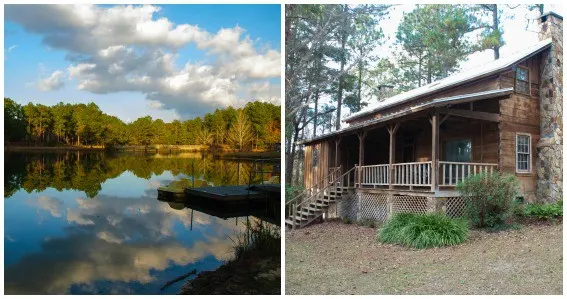 Family-Friendly Park Highlights
General Coffee, in South Georgia, is filled with adventures for the family. Our favorite part was the Heritage Farm, which displays a 19th century farm including live barnyard animals, log cabins, a tobacco barn, blacksmithing barn, and more. There are miles and miles of unique trails at General Coffee. Some follow the blackwater of Seventeen Mile River and others take hikers into an area called "home" by over 130 Gopher Tortoise. There are equestrian trails, an amphitheatre, and a lake with seasonal canoe, pedal boat, and kayak rentals. General Coffee has all the makings for a perfect family vacation.
Cottage Critique
General Coffee offers five cottages, 50 tent/RV campsites, 10 equestrian campsites, a group lodge, and a pioneer campground. Additionally, there are two stately cottages: Burnham and Hawksnest. We had the privilege of staying in Burnham Cottage, a beautifully restored farmhouse trimmed to the nines for Christmas. It included period furniture, three bedrooms and bathrooms, with claw-foot bathtubs, a spacious kitchen and dining area, and a wonderful back porch. The master suite included multiple sitting areas and a lovely fireplace. The cottage was spacious and grand, but cozy and warm. And, the holiday decorations added so much! It's the perfect "home base" for exploring all there is to offer at General Coffee.
Read all the details about General Coffee State Park and the park cottages.
Disclosure: Thank you to Georgia State Parks and Historic Sites for hosting my family and me this year at the above-mentioned parks and cottages. While I appreciate their hospitality and generosity, it no way influenced my opinions.