I distinctly remember the first great art museum that I visited, the Hermitage in St Petersburg, Russia. My memories of wandering around the extensive Russian museum as a college student are vivid, from the taste of the chocolate purchased in the gift shop to the smell of the lacquer used on the intricate wood floors. Certainly, it was such a memorable experience because I had never seen anything like it before. I did not visit art museums as a child. Considering my upbringing, why do I find myself exploring art museums with my kids? Art museums can open up a whole new world to your children. Looking for the best art museums in the US for kids? We have tips for taking kids to art museums and teaching art to children.
Road School: Best Art Museums in the US for Teaching Children about Art

To help your children get started on their life-long appreciation for art, explore our tips and ideas for getting kids interested in art, making the most of your museum visits, and even marking art at home. Don't miss our resources section featuring kid-friendly, age-appropriate books and tools for teaching your kids about art and integrating art into your kid's education.
Connecting Children with Art – Best Art Museums in the US for Kids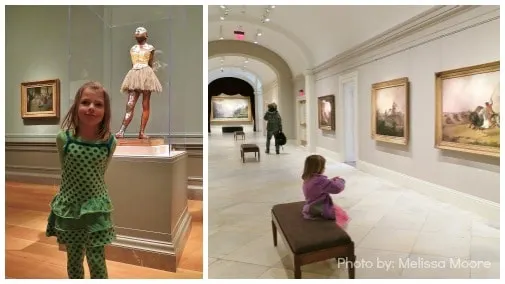 Storytelling: Using Picture Books & Literature to Encourage Art

Appreciation – Teaching Art to Children
Every child enjoys a good story, and utilizing stories is a fabulous way to get even the youngest children interested in viewing art. Last summer, The National Gallery of Art read the story of Giotto, a child tending sheep outside of Florence, before leading the children into a gallery full of Italian Renaissance art. The kids were hooked; they could relate to the artist that had painted 700 years ago.
In the process, the children not only learned about art, but also formed a connection with a boy from a different time, culture, and continent. The kids discovered that art isn't just about appreciating beauty; it's about forming connections and learning about how different people view the world. Many museums around the country offer such programs. Trekaroo families have especially enjoyed similar educational programs at High Museum of Art in Georgia and Dallas Museum of Art in Texas.
Tip: Check out the resources linked below for great books that can easily link your kids to art.
Connecting Art with Hobbies and Interests – Teaching Art to Children
A great way to get kids excited about a trip to the art museum is to find a connection between art and something that they already love. My kids love knights in armor and ballerinas. My son's favorite place to appreciate art is in Baltimore at the Walters Art Museum's gallery of medieval metalwork. I can't wait to take him to the much larger collection of armor at the Philadelphia Museum of Art.
My daughter loves to dance; it's not surprising that her face lights up every time she sees a painting or a sculpture by Edgar Degas at the National Gallery of Art. (If you have a ballerina but don't live close to the Nation's Capital, Degas' work can also be found at countless museums across the country including Metropolitan Museum of Art in New York City and the Denver Art Museum.) Take the time before you head out the door to read about an artist who created images of things that your kids love, and there will be an instant connection.
Tip: Teenagers and older children who are learning about mythology or history in school have the background to connect pieces and styles of art with what they have already studied.
Connecting Art with Travel & Experiences – Teaching Art to Children
Has your family taken a family road trip through Yellowstone or to Niagara Falls? My kids love finding photographs, paintings, or digital art that reminds them of places where they have traveled. We enjoy visiting the Smithsonian American Art Museum and spotting a landscape that we recognize. The Rockwell Museum of Western Art in Corning, New York, is a small, kid-friendly art museum where families can also find familiar western landscapes. Before you go to the museum, take time to read about an artist like Norman Rockwell or Ansel Adams so the kids can have an even better understanding of why these artists took the time to preserve the landscapes with their paintbrushes and cameras.
Experiencing the Art at Museums – Best Art Museums in the US for Families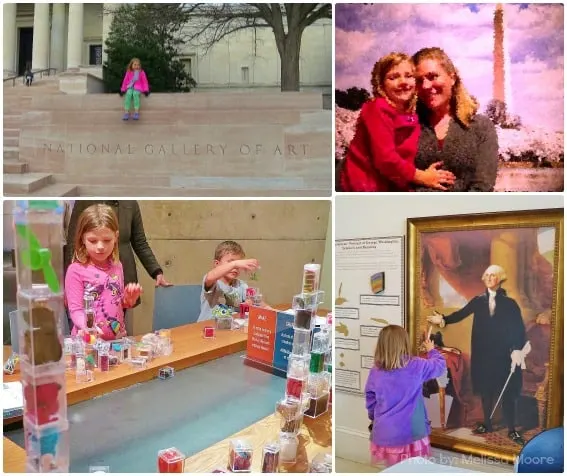 Learning to Ask the Right Questions – Teaching Art to Children
While observing a preschool art class in a gallery of medieval armor at The Walters Art Museum, the basics of appreciating art became clear to me. The four-year-olds were learning to use adjectives to describe what they saw. "Is the metal shiny or dirty?" "Does it feel hard or bumpy?" After the children described what they saw, the teacher continued to probe deeper by asking, "Who would wear this armor or this bracelet?" This required the kids to think just a bit more.
Have Kids Tell Stories – Teaching Art to Children
Older kids can learn to tell their own stories about the art and begin to contemplate why art exists. Bring a journal for older grades and have them write out a quick story idea behind a particular piece of interest.
Take Audio Tours – Best Art Museums in the US for Kids
Many museums boast audio tours for older ages, and some offer tours for even the youngest of guests. Most major museums, including The Nelson-Atkins Museum of Art in Kansas City, a Trekaroo favorite, have tours available for mobile devices. The art viewing experience can be enhanced when the whole family syncs their mobile devices and reflects as a group about their experience.
Utilize Technology – Best Art Museums in the US for Kids
When technology is available in an art museum, kids are automatically drawn in through familiarity. My daughter and I recently enjoyed a Neo-Impressionist exhibit at The Phillips Collection. My five-year-old was able to snap our picture in front of a classic Washington DC scene, and then she used a tablet to digitally change the tone, pixilation, and color of our picture. In the end, our picture looked like a pointillism masterpiece. The Crocker Art Museum in Sacramento, CA, also features art on a screen with a giant iPad-like device in their tot-land exhibit. The Cleveland Museum of Art has an app to get the kids involved at the museum as well. What a treat to be able to interact with an art exhibit, without even getting messy!
Experience Art Education Programs – Best Art Museums in the US for Kids
Many art museums consider it one of their most important missions to educate the next generation in art appreciation. The Getty Center in California has hands on exhibits that allow kids to interact with replicas of art from the collection. The New Britain Museum of American Art has dress up clothes that relate to art in their galleries. In Massachusetts, the Eric Carle Museum in Amherst features the artwork of the famous illustrator of the Hungry Caterpillar and other illustrators familiar to children; it is inherently kid-friendly because so much of the art is already familiar to even the smallest children.
Make a Scavenger Hunt – Teaching Art to Children
Ask if your museum has a children's guide or scavenger hunt. Tip: If a scavenger hunt isn't available at your local art museum, make your own by purchasing 3-5 postcards in the museum gift shop and searching the museum for a match. We've always been lucky enough to find a friendly looking docent or guard to give us hints.
Take a Break Outdoors – Visiting Art Museums with Kids
Once you're done inside the museum (or if you need a break), head outdoors. Many art museums have a sculpture garden outdoors. While your toddler can't touch or climb on the structures in the garden, they can make a bit more noise and move at their own pace. I have found the gardens outside the Hirshorn Museum on the National Mall in Washington DC to be an excellent place to enjoy some art without needing the best indoor museum manners.
Appreciate Art by Making It – Teaching Art to Children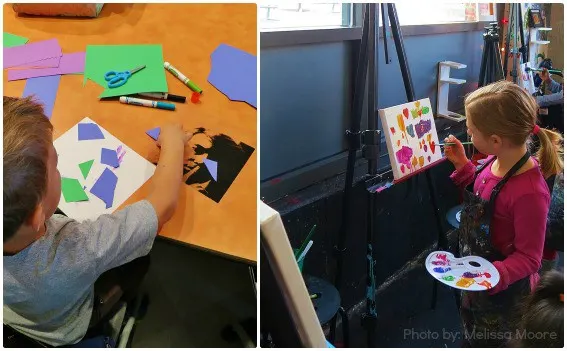 The best way for most kids to learn is from hands-on experience. Once your family has visited an art museum or studied art in age-appropriate books, do a related art project either as part of a museum program or at home.
Do Art at a Museum or Class – Teaching Art to Children
Art museums themselves regularly feature art-making programs. At the National Portrait Gallery our family enjoyed a story about Sequoyah, the man who created an effective writing system for the Cherokee language. After the story, we were invited to translate our own names into Cherokee script and write them using a pen and India ink. What a fun experience for this generation of kids who are more accustomed to using an iPad than taking the time to make their printing look pretty! Trekaroo families also love the drop-in art programs at Tampa Museum of Art.
Many children's museums, such as the Museum of Children's Art (MOCHA) located in Oakland, CA, offer art classes throughout the day. They include all the supplies (and clean up!) so you can keep your home neat and tidy and still introduce art.
The same trendy painting studios in urban and suburban areas that offer social gatherings for adults often offer children's hours and classes. At Washington DC's ArtJamz, my daughter enjoyed a children's painting class in their cozy studio. With more than a dozen colors to choose from, she picked out all the possible purple and pink hues to paint her abstract masterpiece of heart shapes. It was a great way for her to feel like an artist for the day.
Do Art at Home – Teaching Art to Children
Buy a pre-made art kit designed to introduce children to the world's most famous masterpieces.
Browse Pinterest boards for inspiration. We've included some of our favorites in the board linked below.) You can find some great educational art experiences you can make right at home with little-to-no supplies.
Art Appreciation Resources- Teaching Art to Children
Two of the best internet resources for studying art with children have been developed by two of the top art museums in the country, the Art Institute of Chicago and the Metropolitan Museum of Art.
Follow Trekaroo Family Travel's board Road School: Art Museums on Pinterest.