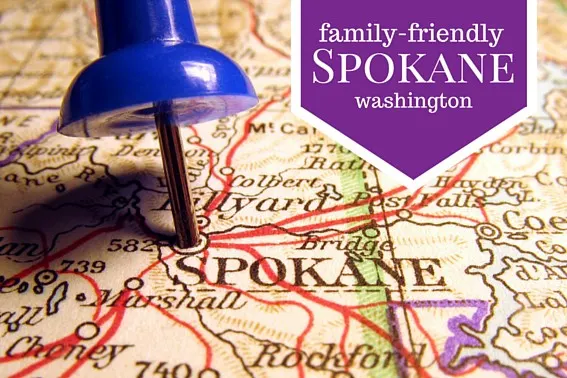 Seattle may be the largest and most well-known city of Washington State, but east of the Cascade Mountains is another big city: Spokane. My family of three spent a weekend sampling some of the activities that family-friendly Spokane has to offer.
Riverfront Park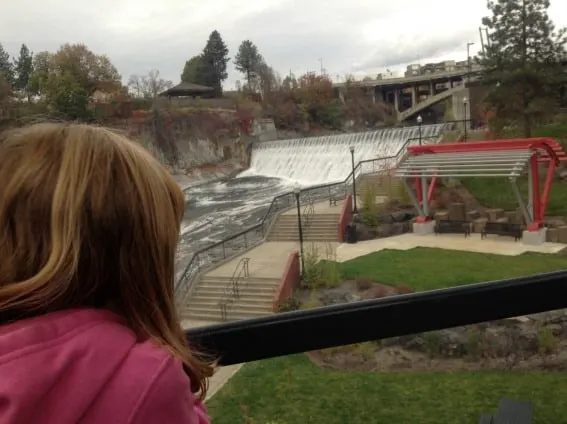 Photo by Jaclyn Gotch
The first big draw for families in downtown Spokane is Riverfront Park. This park is located across from River Park Square mall along the Spokane River. It has great paths for walking or jogging and plenty of grassy areas for running and playing. Activities located within Riverfront Park include a gondola ride over Spokane Falls (called the Spokane Falls SkyRide), a carousel (Looff Carrousel), an IMAX Theatre, and a train ride around the park. During the summer months there are the Pavilion Amusement Rides including a ferris wheel, tilt-a-whirl, and a kids coaster, plus many more. Through the winter months families can enjoy ice skating at the Ice Palace. My family had a great time on the SkyRide. It was a relaxing ride over Spokane Falls, and all three of us enjoyed the pretty views. We were also able to ride the carousel, which my daughter absolutely loved and would have gladly ridden a dozen times! My husband and I enjoyed the carousel ride, but were left feeling slightly queasy afterwards (apparently riding a carousel in your mid-thirties is not the same as riding when you're a child!).
Mobius Children's Museum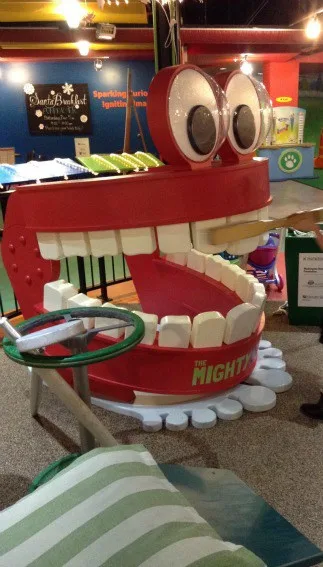 Photo by Jaclyn Gotch
Across from Riverfront Park, within the large shopping mall (River Park Square), is Mobius Children's Museum. The museum is fantastic for younger children (kids 2-6 would love this place) and quite affordable (only $7 per person). There are a multitude of activities available in the museum. My daughter's favorite area was the "Mighty Mouth" exhibit, which featured a gigantic set of teeth kids could scrub with huge toothbrushes and big pieces of rope as dental floss. She spent at least 20 minutes playing in this area, giving the giant teeth a good cleaning and giving dental check-ups to teddy bears. Mobius is a great children's museum and worth adding to your itinerary when visiting Spokane. A family could easily spend several hours playing here. Seating is scattered throughout the museum, for those moments when you need to take a break, and there are clean restrooms for everyone to use.
Mobius Science Center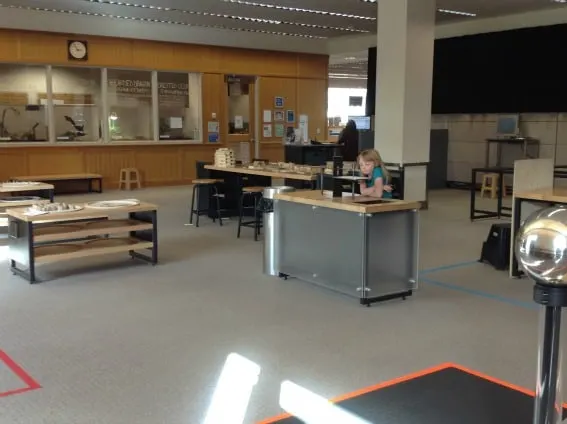 Photo by Jaclyn Gotch
Associated with the children's museum is the Mobius Science Center. The science center is located just across the street from River Park Square in the downtown Spokane Public Library. This is a small science center, but it does contain some fun activities. My family enjoyed the exhibit explaining how you can hear music through sound vibrations by biting down on a metal rod. My daughter also enjoyed making hanging pieces of fabric move with a sound wave drum, and the drawing station which created drawings similar to those you create with a Spirograph set. These are just a few of the fun activities in this science center making it worth a family visit.
Mobius Science Center participate in the ASTC Travel Passport Program, which allows for reciprocal, free entry to other centers participating in the program. If you have a science center membership from your hometown, check to see if they participate in the passport program. You might be surprised to see the number of centers throughout the country where you can have free admission! My family always checks the list of participating ASTC science centers and museums before we leave for a vacation. We have used our local science center pass in multiple states (Washington, Oregon, Colorado, New Hampshire, and Maryland, just to name a few) including Canada! We love being able to visit other science centers and museums for free through this reciprocal membership program.
So Many Parks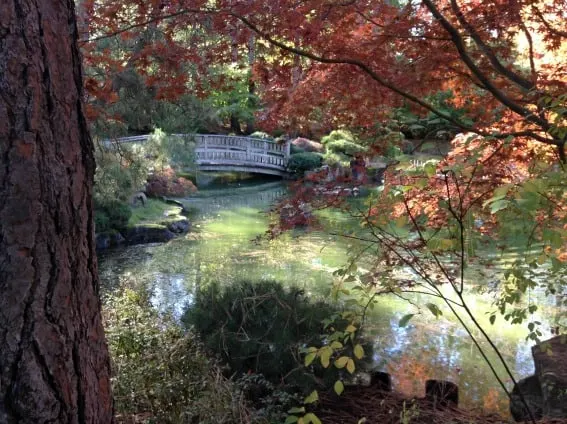 Photo by Jaclyn Gotch
In addition to Riverfront Park, there are many wonderful parks for families to enjoy in Spokane. Huntington Park is located at the foot of Spokane Falls, just across the street from Riverfront Park. This green space is a quiet haven amidst the hustle of the city. On Spokane's South Hill is Manito Park. Manito is an enormous park with a variety of different highlights (a pond, a rose garden, a Japanese garden, a small playground, and plenty of trails and areas for walking). We had fun seeing and smelling the variety of roses in the rose garden. The pond in the Japanese garden (complete with several giant fish) was also a huge hit! Outside of Spokane, near the Spokane Valley Mall, is Discovery Playground. This is a wonderful area for young children (ages 2-6 would love this!) to play and explore -and it's free! My family especially enjoyed the large outdoor musical instruments scattered throughout the park (including tubular bells and bongos). Definitely check this one out if you're out near Spokane Valley Mall.
Places to Stay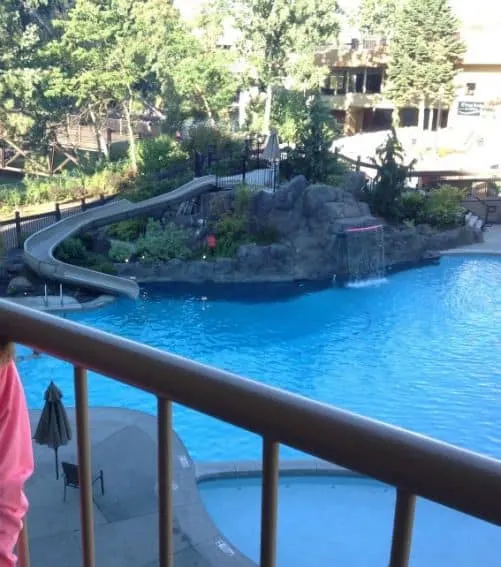 Photo by Jaclyn Gotch
If you are visiting Spokane and plan to do activities downtown, I highly recommend the Red Lion Hotel at the Park. My family had the pleasure of spending a summer weekend at this hotel and absolutely loved it. The outdoor pool includes a super fun slide and a mini waterfall. It's fantastic! My daughter and I enjoyed lunch on the pool deck one day because we were having so much fun and didn't want to leave! This hotel has a perfect location (just across the river from Riverfront Park) for exploring downtown Spokane without having to drive and park.
If you would prefer to stay away from downtown, the Mirabeau Park Hotel and Conference Center (located just a 10 minute drive from downtown) is a great option. We stayed at this hotel during our October weekend in Spokane. It is a nice hotel, with plenty of little outdoor spaces to use if you have a pet with you.
Places to Eat
There are numerous restaurants in downtown Spokane. From chain restaurants to local ones, you can find a variety of cuisines and settings. We have enjoyed good meals at several Spokane eateries, but one restaurant in particular is our family favorite: Chkn-N
---
-Mo. This tiny restaurant offers authentic Southern food. The building looks plain from the outside, but the food is outstanding. If you enjoy Southern food (think fried chicken, biscuits, red beans and rice, collard greens), then this place is a must! We absolutely loved the food here especially the peach cobbler for dessert! In addition, all of the workers were incredibly friendly. It's an easy walk to and from Riverfront Park and other downtown activities.
Spokane, Washington is a fantastic place for families to visit with a variety of family-friendly activities and a multitude of parks scattered throughout the region. I encourage you to spend a weekend visiting this area with your family.
*Thanks to the folks at Visit Spokane for hosting the author on this stay and providing them with passes for activities! No additional compensation was received and the opinions stated the author's alone.