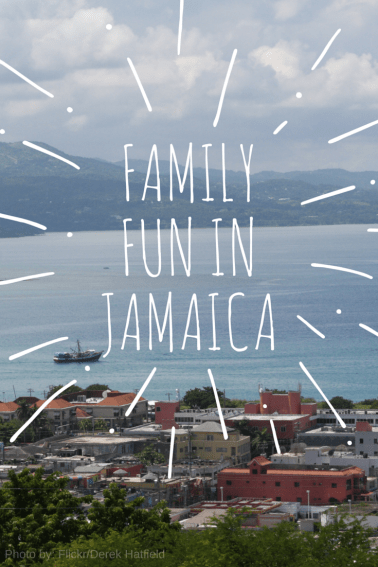 Do you believe in love at first sight? I typically do not, but one look out of my airplane window is all it took for me to be head over heels for beautiful Jamaica. Rolling hills covered with lush green trees, blue skies, white beaches, and aquamarine ocean water lay below me in a gorgeous tapestry of colors. I could hardly wait to get out of my airplane and explore the wonderful sights below me!
Family-friendly Accommodations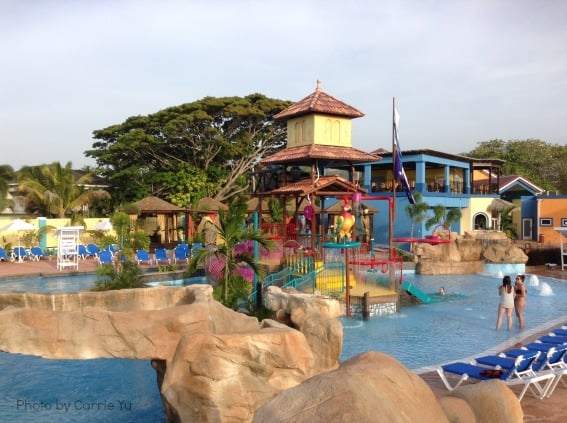 Jamaica is well-known for being a country with warm, sandy beaches, and beautiful resorts where visitors can relax and enjoy the sun. There is no shortage of gorgeous resorts all over the island – including the Jewel Runaway Bay and the Royalton White Sands, where we had the opportunity to stay during our trip. The Jewel Runaway Bay is located near the city of Ocho Rios and features lovely rooms, friendly staff, beautiful pools, kids' clubs, and a brand new water park families absolutely adore. The Royalton White Sands is just a short drive from the airport in Montego Bay and is a gorgeous luxury resort with recently renovated, upscale rooms, and amazing amenities. It also features a water park, kids' club, and plenty of beach and pool fun for everyone in the family.
Diverse Fun and Adventures
Even though it's tempting to just pull up a beach chair and spend the whole trip in Jamaica enjoying the ocean views, there is so much to do and see on this island that guests really need to take the opportunity to get out and explore. Dream of swimming with dolphins? Dolphin Cove is the place to do just that. It offers three different levels of dolphin-centered fun, as well as the opportunity to snorkel, swim with nurse sharks, wander a nature path and see local flora and fauna, or take a ride on a water slide! Young kids can enjoy simple encounters with the dolphins, while older guests can swim with the dolphins or even get launched into the air by a pair of dolphins. I'll never forget the experience of zipping through the water while holding on to Sky, the dolphin's flippers, and later getting the chance to give her a kiss! It was definitely a special experience.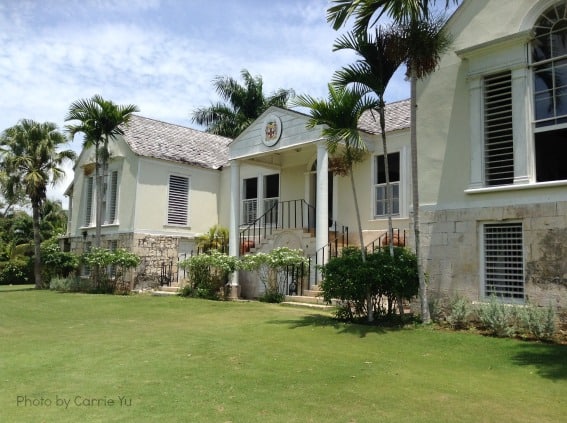 Learning about the history of a place is one of my favorite things to do when traveling, so I especially loved our visit to the Good Hope Estate. This house dates from 1755 and offers a glimpse into life in Jamaica through the past centuries. We loved learning about the house, its inhabitants, and its place in Jamaican history. The views from the hill on which the house is perched were nothing short of spectacular. But Good Hope isn't just a place to learn, it's a place to play as well! We had the pleasure of taking a river tubing trip down the Martha Brae River. It was lovely to relax in the tubes and enjoy the beautiful scenery from the river. It was also fun to see other visitors ziplining their way through the treetops above us as we floated below. There's a cafe, bar, and pool on the property for families to relax and enjoy when they aren't busy with other activities.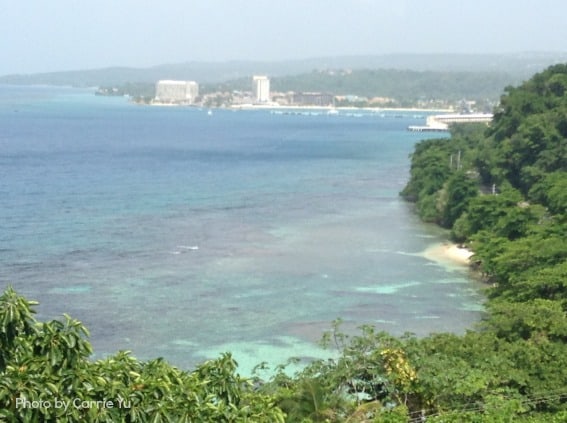 Another experience that families shouldn't miss is a visit to Mystic Mountain Rainforest Adventures. Here visitors get to ride high above the rainforest on the SkyExplorer on their way up to pursue activities at the top of the mountain. I think I took about 1000 pictures on our way up the mountain – the views of the Caribbean Sea on one side and rainforest on the other was too gorgeous to not document. Up at the top of the mountain, we had the chance to drive bobsleds! I'm what could be described as a scaredy cat, so I appreciated that I could control the speed of my bobsled as I wound around the track through the trees. Mystic Mountain also has a waterslide and pool, ziplines, and a nature trail, so there's plenty to keep families busy for hours.
Enjoy Delicious Food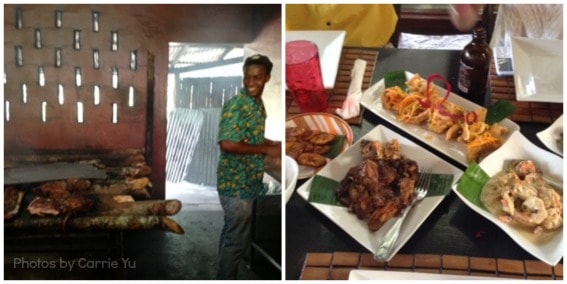 When you're in Jamaica, don't miss the chance to get away from your hotel and eat where the locals eat. Jamaica is famous for its jerk chicken and other meats. This style of cooking involves meat slowly cooked over pimento wood and seasoned with a wonderful set of spices. Visit Scotchies in Ocho Rios and Montego Bay for authentic jerk chicken and the chance to watch the cooks at work! Jamaica also has a number of other delicacies for you to try. We loved eating an assortment of local delicacies at Miss T's restaurant in Ocho Rios. My favorite was the curried goat, but everything was so yummy that I'm still fondly remembering our lunch.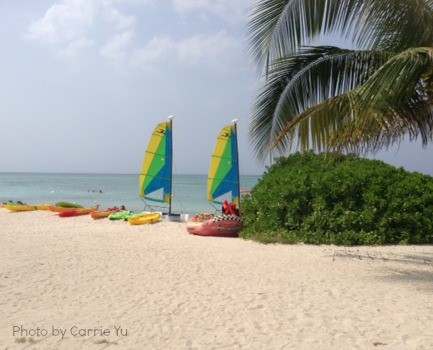 Leaving a place like beautiful Jamaica to head home is always difficult, but the transition out of vacation and back to real life is made much smoother, thanks to an airport club called Club Mobay. Purchasing admission to this club provides travelers with an expedited route through security (the regular lines were VERY long when we used the service), access to a large club with free food, open bar, comfy seating, and free WiFi, not to mention a soundproof, enclosed kids' play area! Relaxing with a snack and drink before getting on the plane was a perfect end to a beautiful trip.
Jamaica is a spectacularly beautiful country full of friendly people, good food, gorgeous beaches, and plenty for families to do. I'm dreaming of a return visit to this amazing place! 

*Thanks to the Jamaican Tourism Board for hosting me on this trip and providing me with activities and accommodations. All opinions are my own.
Comments
comments