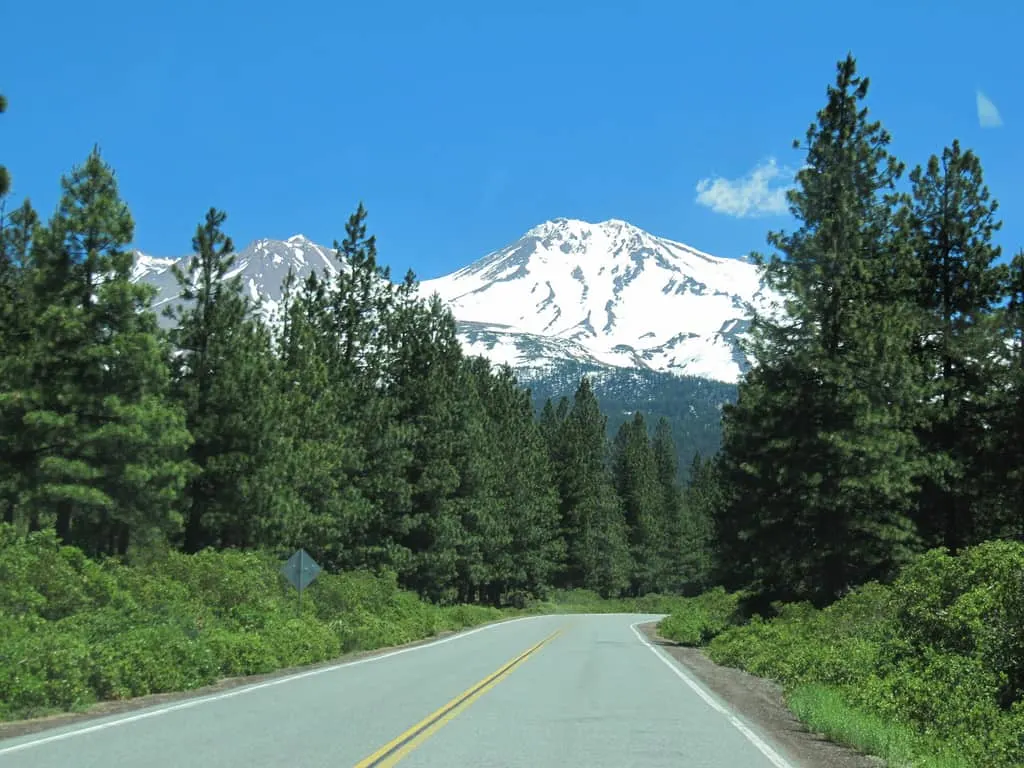 Photo by: Flickr/iwona_kellie
Northern California's hidden gem of a winter wonderland sits at the foot of Mount Shasta, the second highest peak in the Cascade Range. It resides amid a hearty history laid by Native Americans, trappers, gold and silver miners, railroad workers and lumberjacks who lived in outposts with names like McCloud, Redding, Weed, and Dunsmir.
Visitors won't find a manufactured alpine village filled with fusion cuisine and designer chalets here. Visitors also won't care what the Wi-Fi password is when they see the spectacular landscape. It plays a starring role in this adventure: rugged mountains, pristine slopes skirting the surface of a dormant volcano, and Nordic trails so long and winding they won't hear the sounds of civilization as they navigate them. Shasta exudes the simple purity of what getting away to the mountains used to be, an active day outdoors on snowshoes or skis, sledding with the kids, maneuvering a board, or riding a dogsled.
While some Mount Shasta area enthusiasts are hoping that we don't spill too many secrets, newcomers can expect a warm welcome and friendly competition no matter the sport. So, if you desire a winter sports experience with a more rugged feeling, a rustic bent, and a lot more elbow room, then you need to plan a family get away to Mount Shasta.
Mt. Shasta Board & Ski Park: Kid and Dog-Friendly Winter Fun Awaits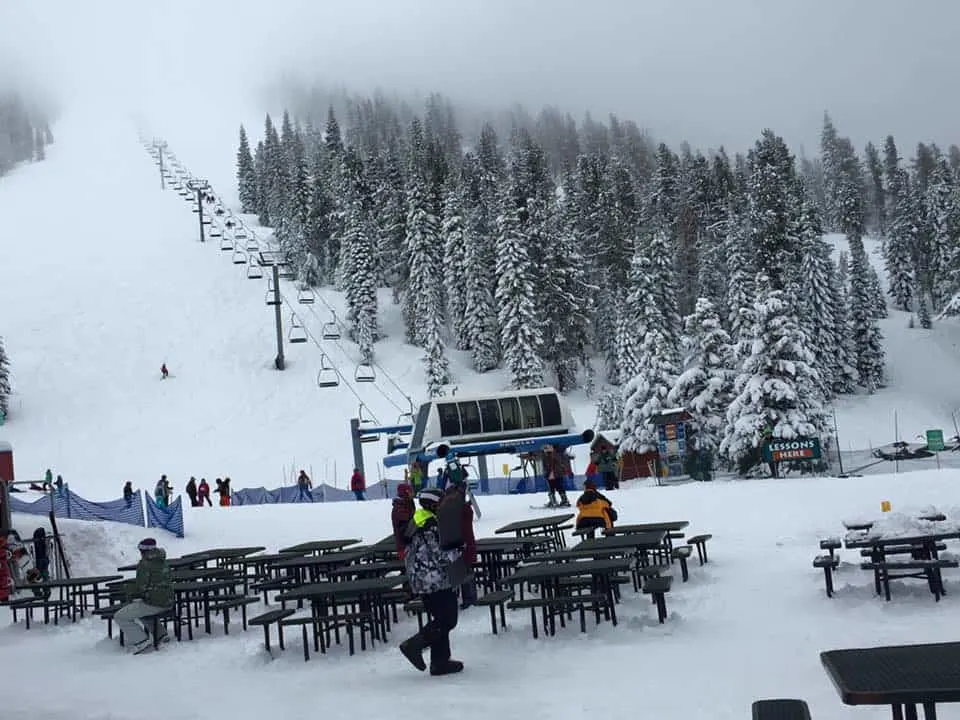 Photo by: Kristine Dworkin
A 20-minute drive from the town of Shasta, the Mt. Shasta Board & Ski Park is a low-key, funky, mountainous playground that is all about skiing and snowboarding. Visitors get right to the business of tackling the slopes here. There's no tiered parking system forcing you to pay through the nose. The resort boasts 425 skiable acres at 1,390 vertical feet. Three triple chair lifts and two carpet lifts transport guests to 32 trails. Night skiing is available on 14 of them. A contained and far from chaotic atmosphere, this is a great place to introduce young children to skiing or snowboarding. One thing to be aware of: ski and board lessons are offered on a first come, first served basis. If you plan to be at the resort during high traffic times (like Ski Week in February), come early in order to ensure your child has a spot!
Take a Dog Sled Ride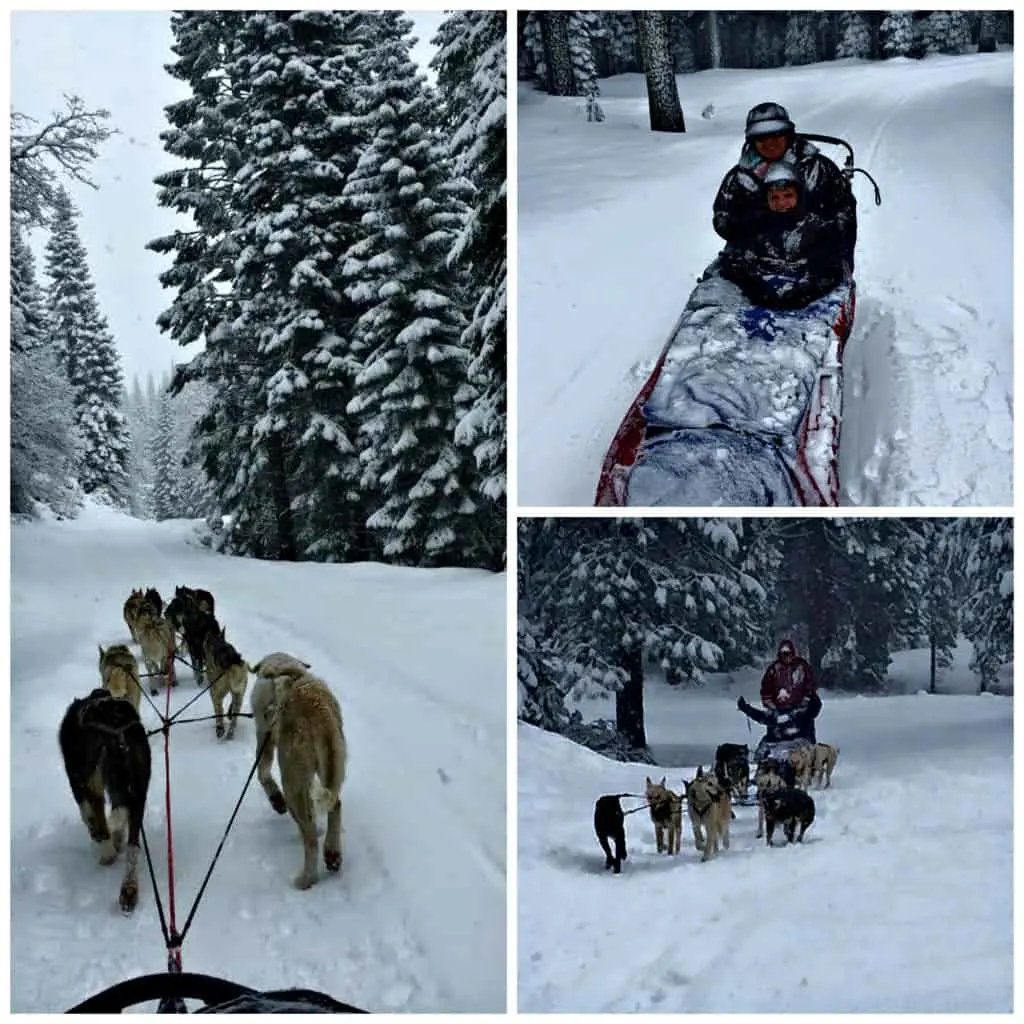 Photos by: Kristine Dworkin
Take a one-hour ride with Dog Sled Express into a winter dreamscape lush with spruce and pine trees. If the season has seen a productive snowfall, this landscape will be covered in a thick coating of the fluffy white stuff. On the day of our ride, the majestic view of the mountains was shielded in a consistent powdery haze. Still, I could not ask for a more breathtaking backdrop. There was something so relaxing and surreal about the experience of gliding through the area bundled in the sled, with the only audible sounds being that of a runner underneath the ride making contact with the slick surface of the snow pack, the musher's commands and the dogs' response to them. For my 11-year-old son, the highlight of the ride will always be when he was invited to help command the sled. He was given a few pointers and handled it like a champ. For the remainder of the afternoon, he was walking tall because of this experience.
Mt. Shasta Nordic Center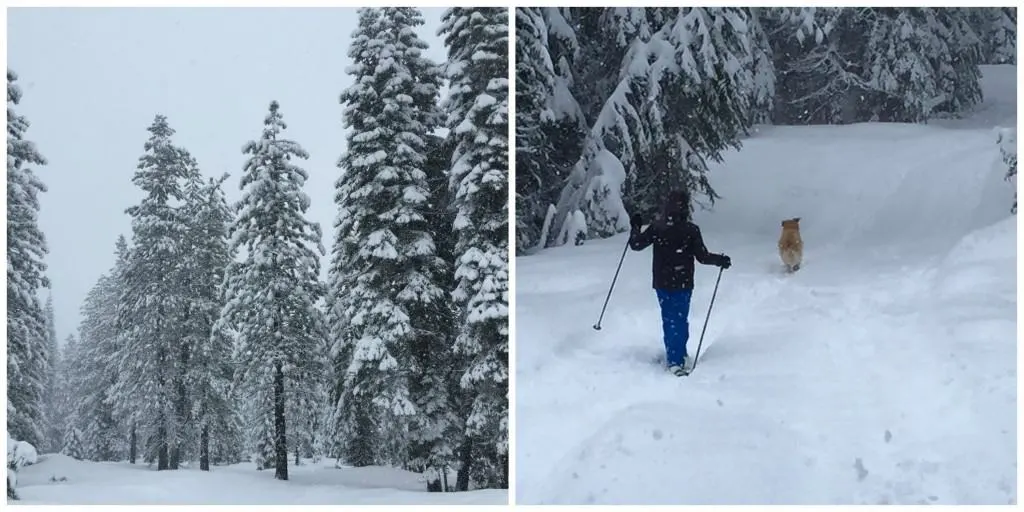 Photos by: Kristine Dworkin
For the dog loving sorts wanting a mountain experience they can enjoy with their own canine friend, head over to the Mt. Shasta Nordic Center. Groomed and marked back country trails await you. Getting started couldn't be made easier for guests. Snow shoes and Nordic Ski equipment are available to rent on the spot. There's even a warming hut for when a break or sustenance is needed. Inside there's hot chocolate, tea, and other snacks paid for on an honor system. Does your party include small children who aren't ready for Nordic skiing or snowshoes? Don't worry, the Nordic Center has sleds you can bundle the little tykes into so that you can pull them behind you.
My son and I went snowshoeing and took our young golden retriever on the adventure. The forest and back country we passed through during our two-hour aerobic trek was gorgeous and unspoiled. The trails were so well groomed that even with the nonstop snowfall it was still very possible to follow the route. It was so quiet and still that it was nice to stop periodically and take it all in while breathing the crisp air and being a part of the moment free of electronics and modern day noise.
Where to Stay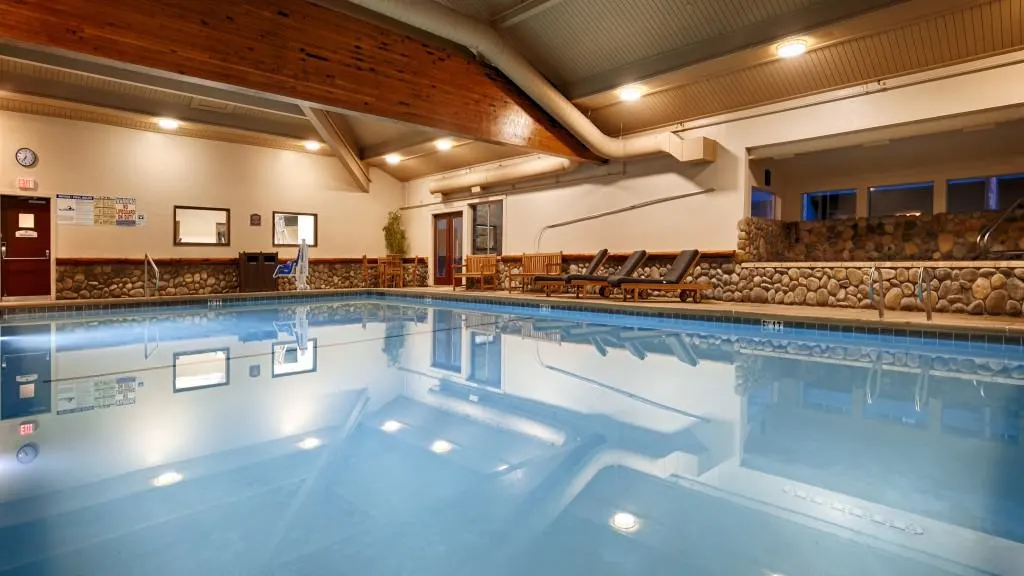 Photo courtesy of the Best Western Plus Tree House
We knew the moment we walked into the Best Western Plus Tree House, that we were going to like it there. This ultra family- friendly Best Western has everything your family needs for a great stay. Even dogs are welcome! We are a family of four traveling with a golden retriever and we certainly did not feel crowded; the rooms are ample. Other amenities that went over well with my family include: a large indoor pool and hot tub as well as a full service restaurant at night, and breakfast each morning. Centrally located just off Interstate 5, the Best Western Plus Tree House is within walking distance of Shasta's movie theater, much of its shopping, and many of its restaurants. The hotel is a less than 20-minute drive from Shasta's premiere winter fun attractions including Mt. Shasta Board & Ski Park, its Nordic center, and other winter play fun in the area.
Read reviews of kid friendly lodging in the Shasta Cascades on Trekaroo.
Where to Eat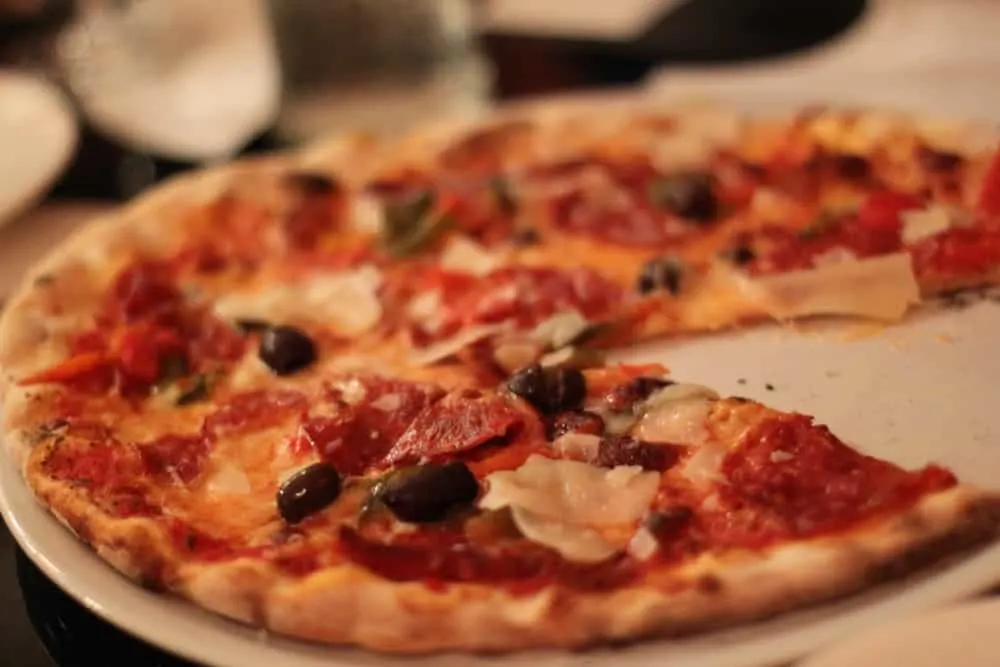 Photo by: Flickr/Matt Ryall
Let's face it. Quite often taking the kids out for pizza means putting up with obnoxious costumed rodent-like characters and cardboard pie. Not at Say Cheese Pizza! The salad bar is filled with fresh options I have not seen in other salad bars including a variety of peppers, antipasto that does not appear to be processed, and healthier dressing options like balsamic vinaigrette and honey mustard. The pizza was tasty as well. Yes, yes, you can still appease the classic kid palette with a cheese pizza but at this establishment, parents can have something better. We ordered a pizza that included vegetables and chunks of real chicken. After fueling up, we worked off our meal; this place has a nice little arcade, pool table, and air hockey to enjoy.
Discover more reviews of kid friendly fun in the Shasta Cascades on Trekaroo.
DISCLOSURE: Thank you to the Redding Convention & Visitors Bureau for hosting my family during our winter adventure in the Shasta Cascades. Although my family received complimentary lodging, dining, and activities, my reviews are always my own opinions and are not influenced by staff or its affiliates.
Featured photo by: Bigstock/Borrowed Light Images