Dog sledding in Colorado is more popular than ever. This fun winter sport is a great addition to any winter Colorado family vacation.
As both a Coloradan and a longtime owner of Siberian huskies—my husband, Michael, and I got our first two, Kitah and Panda, in 1997, and we're on our third generation with rescue huskies Boris and Tasha—I've long been obsessed with dog sledding.
While Siberian huskies and Malamutes are often associated with dog sledding, most dogs are Alaskan huskies, basically "mutt" sled dogs bred for working ability instead of looks or pedigree. Although we're a skiing family, dog sledding is our favorite winter activity when we're away from the slopes.
Indeed, my first published travel article illustrated our three-day dog-sledding tour in 2002 while driving our own teams in Alaska's Denali National Park, the apex of all dog-sledding journeys, in my humble opnion.
Some believe dog sledding is a cruel sport. And there's no question that the canine athletes deserve the best treatment, with sufficient food, shelter, and love. What I do know for sure, though, is that these dogs live to pull a sled in snowy, frigid temperatures. They howl and lunge, practically frothing at the mouth with anticipation of being in harness and pulling a load through a snow-dusted wilderness.
Basically, there is nothing more gleeful to a Siberian husky or other Northern breed than to be outside in the snow, charging ahead like they are pulling a sled filled with gear or humans.
In fact, in my experience of dog sledding in Colorado (and Alaska), the only dogs I've felt sorry for are the ones who must stay behind, crying as they watch their kennel mates pull away without them from the dog yard. After all, not all the dogs can go out on a tour every time.
What I also know for sure is that taking a dog-sled ride is one of the most exhilarating yet peaceful alpine adventures in the winter. Here are several ways you can go dog sledding in Colorado—even a couple of summertime dog-sledding tour options—most of which are detailed in my book, Colorado Family Outdoor Adventures.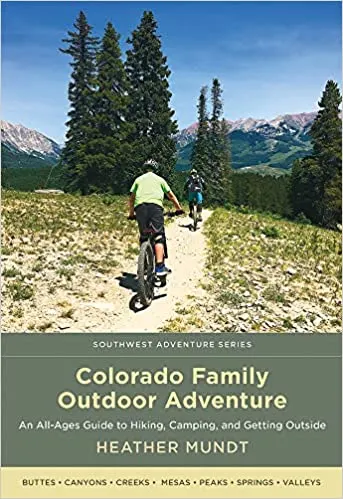 How much does dog sledding cost in Colorado?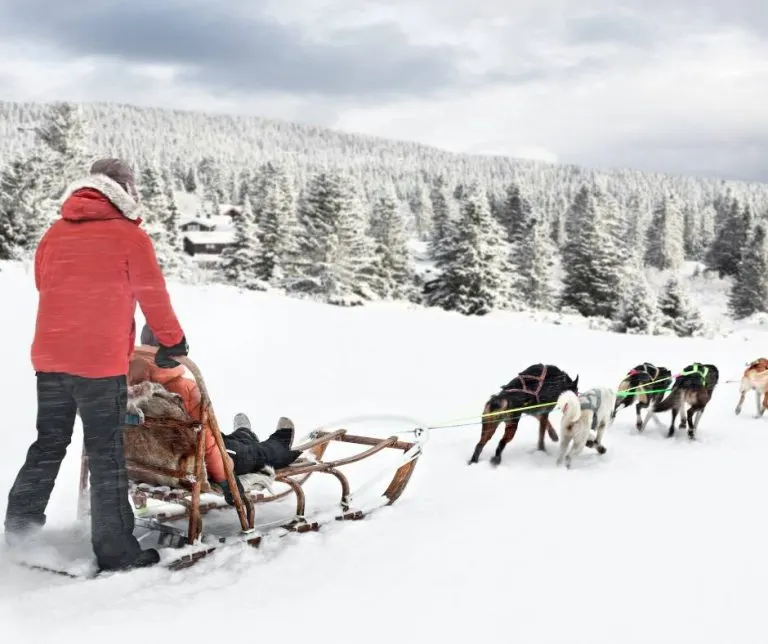 Costs for dog sledding in Colorado can vary depending on location, duration, and whether or not you are booking a private experience. Generally, speaking expect to pay $150 to $250 per person, though most companies do offer significant discounts for younger children.
Dog sledding costs are high because the season is short- typically four months- and the food and care for these dogs can be expensive.
What cities can you dog sled in Colorado?
There are 10 places we recommend for dog sledding in Colorado. These small outfits are located all over the Rockies, including major destinations like Breckenridge, Vail, Steamboat Springs, and Telluride. Keep reading to find one near your favorite Colorado vacation destination.
What to Wear When Dog Sledding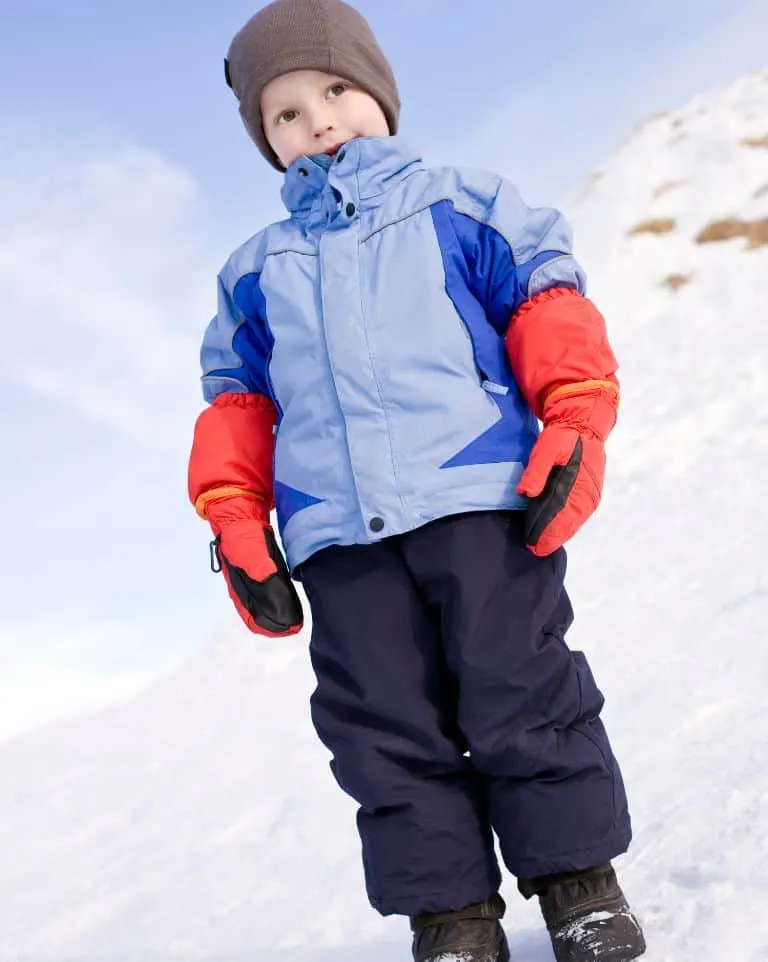 Dog sledding is a cold-weather activity where you'll be in chilly temperatures for hours, so make sure you're wearing the same gear you would for sledding or skiing/snowboarding.
That means dressing in layers—preferably with a wicking base layer like long underwear to keep moisture away from the skin, which will help your family stay warm throughout the tour—plus snow pants, a good winter coat, a hat (maybe even a scarf), and quality gloves or mits. And of course, you should wear insulated winter boots.
Since you're likely going dog sledding with kiddos, you should always have a stash of foot and hand warmers in case it's extra cold, since you'll be inactively sitting in a sled. Also be sure to bring a goggles or sunglasses, sun protection, lip balm, and maybe even some snacks to avoid those "hangry kid" tantrums.
Don't forget your camera and/or phone because you'll be snapping lots of photos of the affable sled dogs, whose greatest joy is to pull your family/friends (or any heavy item, for that matter) behind them as they race in harness as a team along a snow-covered trail.
Dog Sledding in Colorado- 10 Amazing Places to Experience the Sport
Alpine Adventures Dogsledding in Leadville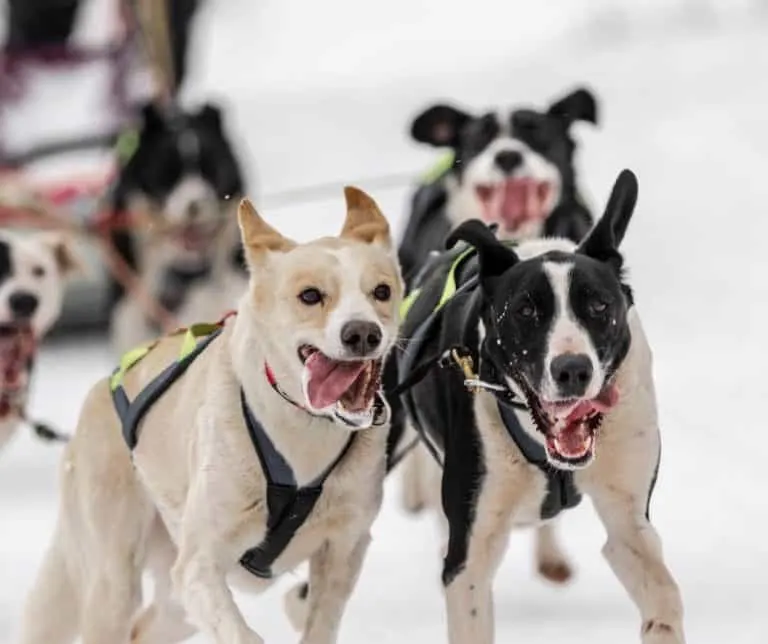 Alpine Adventures is set in the historic mining town of Leadville. It is nicknamed "Two-Mile High City" because of its 10,152 feet elevation and has the distinction of being the highest incorporated city in North America.
Surrounded by Colorado's two highest 14ers (peaks topping 14,000 feet or more) Mt. Elbert and Mt. Massive, Alpine Adventures offers 5.5-mile tours (about 90 minutes, one hour of trail time) with several group configurations.
Opt for the "Tagsled Tour," where two dog sleds are pulled by a group of 10-12 dogs. This tour can accomodate 1-4 people with a total weight limit of 600lbs. You will have the opportunity to drive the dog sled on this tour and plenty of time playing wiht the dogs. $245 ages 9 & up, $175 ages 3-8.
Or try the group tour which is perfect for private parties of up to six guests, plus one child rider in two sleds. Each one accommodates three adults: one driver, one rider in the sled's basket, and another rider on a sled pulled by a guide on a snowmobile in front of the dog team.
You will have the opportunity to drive the dog team on this tour as well. Basically every once in a while you stop and rotate so everyone gets a chance to take photos or drive the sled $160 ages 9 years and up, $135 ages 3-8, $940 for private tour.
Looking for more winter fun? Here are our favorite spots for snow tubing in Colorado.
Cosmic Cruisers in Crested Butte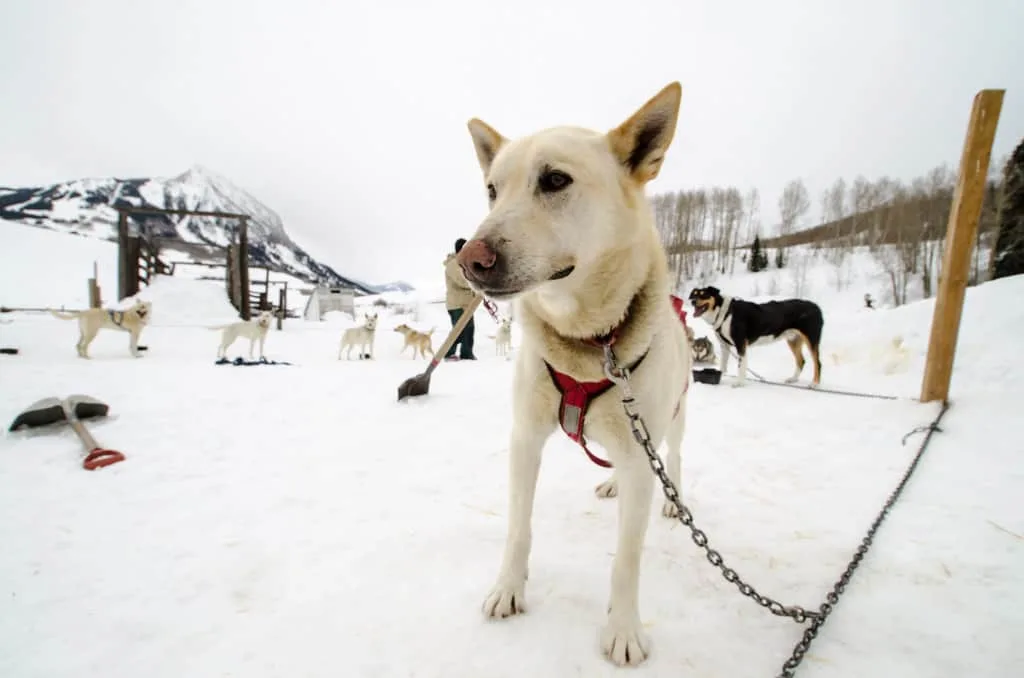 Cosmic Cruisers is just a short drive from Crested Butte Mountain Resort in the town of Crested Butte, Colorado's Wildflower Capital.
Take a one-hour tour, where you can become a true mountain musher, learning about mushing basics and actually driving your own team (or ride in the small passenger sleigh).
Full-day tours are also available (riding only) where 8-12 Alaskan Huskies will happily pull your sleigh into the Gunnison National Forest. On this journey you will spend 2.5 hours mushing and have plenty of the time to take pictures and enjoy the views.
All ages are welcome to ride at Cosmic Cruisers but you will need to contact them directly for rates. 970-641-0529
Crested Butte made my guide to the 15 best mountain towns in Colorado. See which other spots made the list!
Durango Dog Ranch in Durango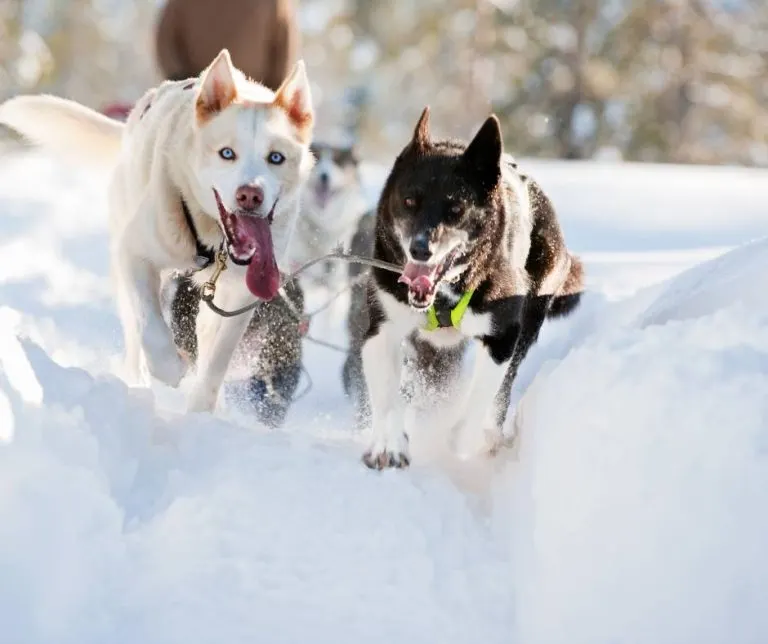 Departing from Purgatory Resort, a ski area just 25 miles north of Durango in Southwest Colorado, Durango Dog Ranch tours traverse along a scenic snowy trail with breathtaking views of Engineer Mountain.
This company charges by the sled ride and each sled can accomodate two people with a combined weight less than 375lbs. Tours depart from the kennel near the Purgatory base area Friday through Monday from 10am–3pm and the entire experience lasts about two hours. $395 per sled
Good Times Adventures in Breckenridge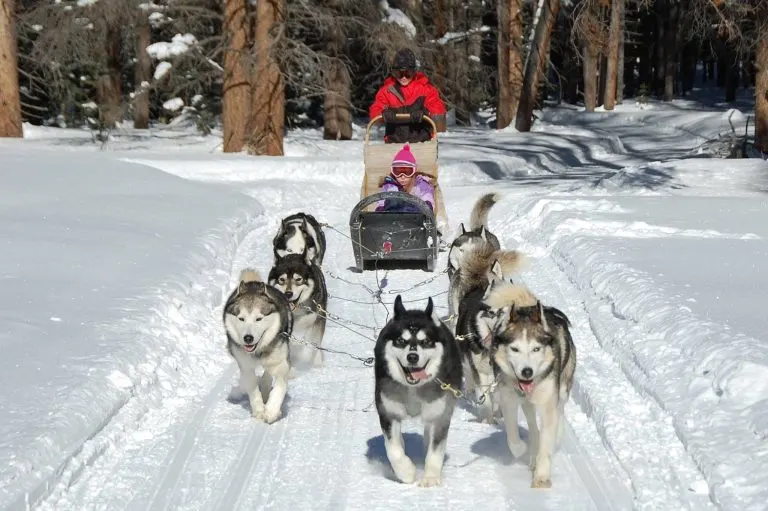 Looking for dog sledding in Breckenridge? Just a 10-minute drive outside the famous ski town of Breckenridge, Good Times Adventures' half-day tour features a six-mile cruise through the snowy trails of the Swan River Valley (up to six people), switching between mushing and riding in the sled or a passenger sleigh. A guide can drive guests who prefer only to ride.
Arrive early to cuddle with the pups! In summer, the kennel offers guests a two-mile tour in a golf cart via dog power, starting with a tour of the yard to meet some of the 150 Siberian huskies. Winter ride are $160 per person, weight limit of 300 pounds on the dog sled at a time. Minimum age 5 years.
Read our full guide to visiting Breckenridge in winter.
Grizzle-T Dog and Sled Works in Steamboat Springs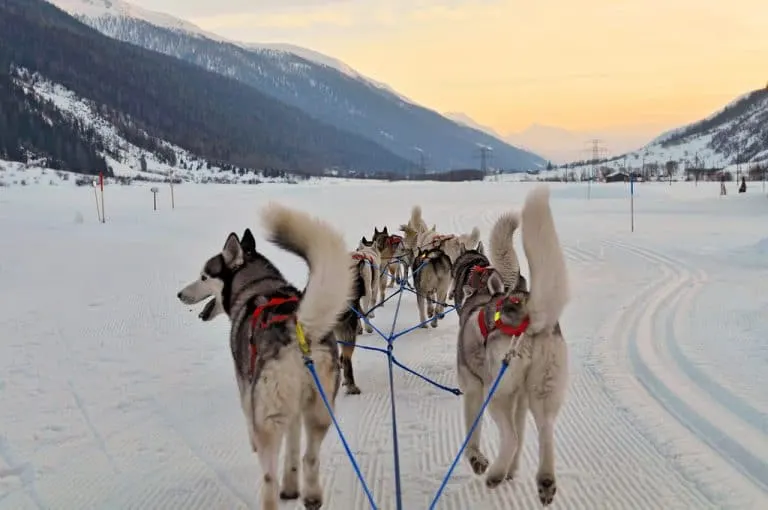 Located about 11 miles west of Steamboat Springs—home to light, dry snow known as Champagne Powder®—Grizzly-T Dog and Sled Works is the closest thing to our Alaska dog-sledding tour that we've found in Colorado.
Participants can drive the sled for up to two hours– the longest drive time I've actually experienced myself in Colorado- but mushers must be at least 80 pounds to drive.
Owned and operated by Iditarod Musher Kris Hoffman and his wife, Sara, experience a true "call of the wild" with the "Mush Your Own Dog Team" half-day excursion, which includes a 12.5-mile loop on private trails with a chance to drive the sled for up to two hours, or one hour if there are two riders taking turns driving.
Kids two years and up can ride but two-year-olds must ride on a lap. $275 per guest 80 pounds and over; $175 per guest under 80 pounds; $50/per lap child.
Monarch Dog Sled Rides in Salida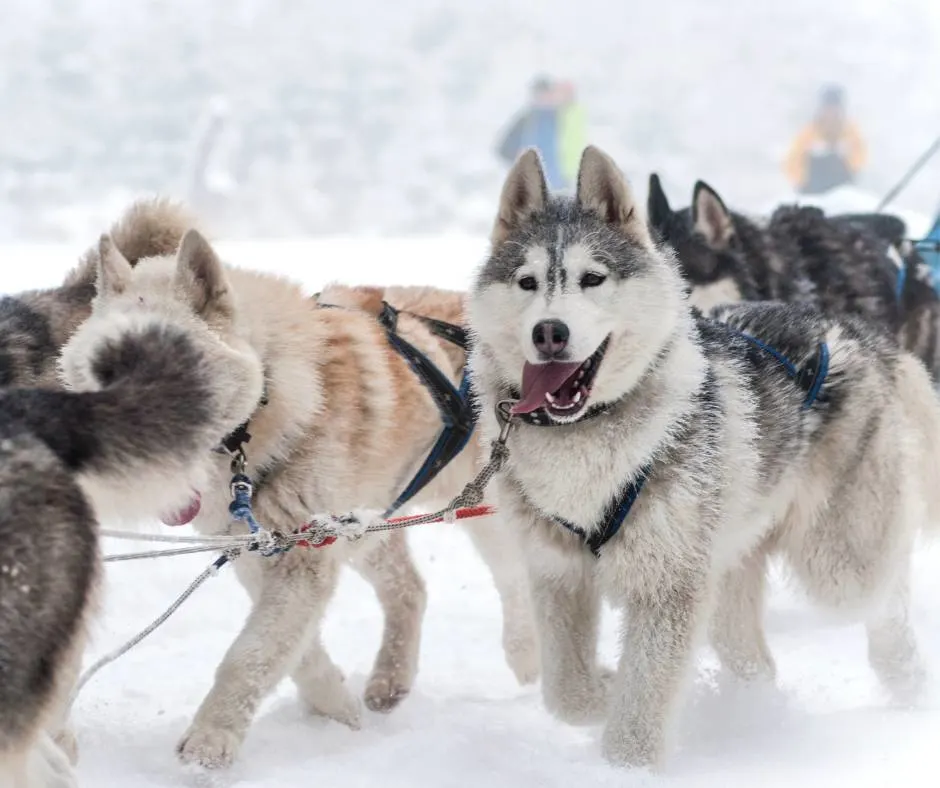 Leaving from Monarch Mountain—a ski resort known for its deep snow that's located set on the Continental Divide at Monarch Pass, about 20 miles west of Salida—take a dog-sledding tour with Monarch Dog Sled Rides. This is the closest dog sledding in Colorado Springs metro.
The experience features a half-hour ride on a sled surrounded by 13,000-foot peaks. The entire session is 75 minutes, which includes meeting the sled dogs. Choose the big sled if you want to do some driving of the sled.
Choose between a small sled: $275-$375 per sled which seats two people and a maximum 350 pounds or big sled: $400-$525 per sled which seats two-four people, three adults (maximum) and a maximum 500 pounds. Participants must be at least three years old.
Mountain Musher Dog Sled Rides in the Beaver Creek/Vail area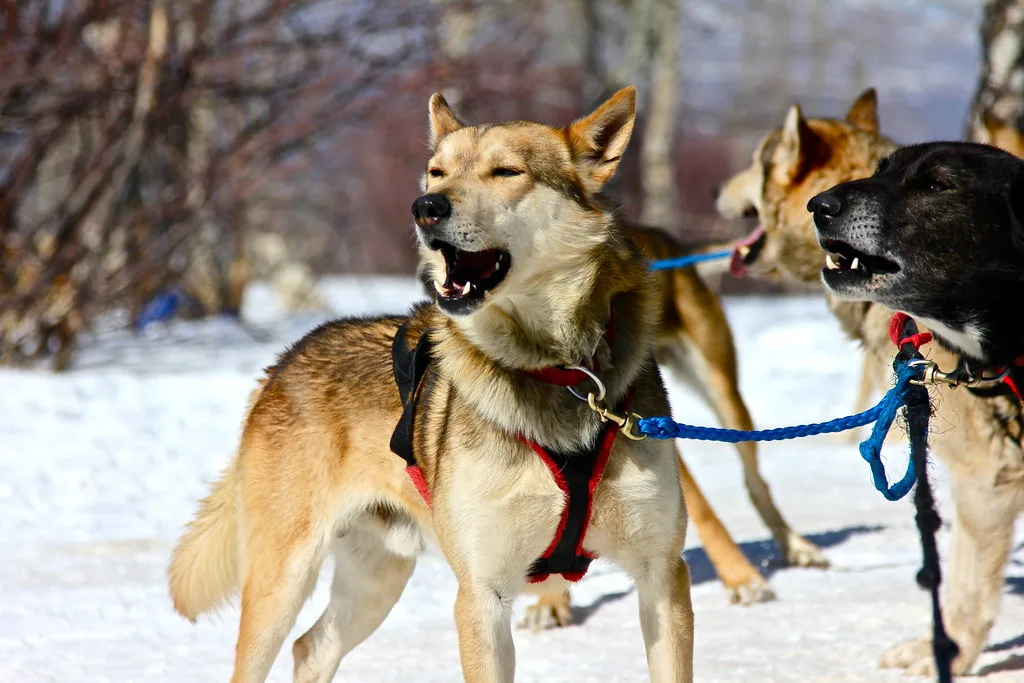 Mountain Musher Dog Sled Rides offers tours on a private trail in Wolcott just 10 miles west of Beaver Creek and minutes from Vail.
Enjoy a 90-minute, five-mile ride on a dog sled through aspen trees and pine trees, often spotting wildlife like fox, coyote, deer, and elk along the way.
The tour company operates morning and afternoon rides with six sleds at a time, meaning you'll get to see about 60 sled dogs running the trail at once and great photo opportunities when you stop at the tour's halfway point for homemade pumpkin bread and hot chocolate. $550 per sled, which holds one or two guests and a maximum of 400 pounds per sled. Minimum age 4 years.
Mountain Paws in Pagosa Springs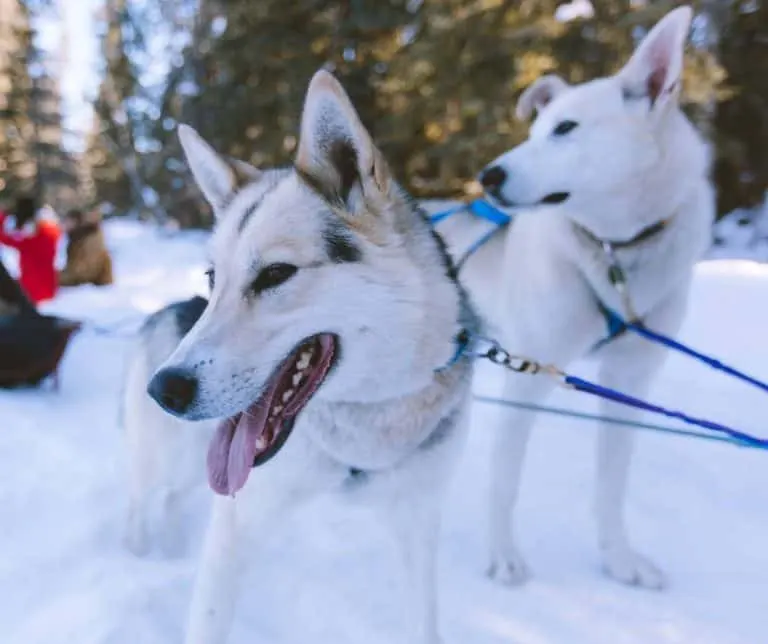 Mountain Paws dog sled tours is located in the outdoor-lovers paradise of Southern Colorado's Pagosa Springs. This town is home to the world's deepest geothermal hot spring, according to Guinness World Records, and surrounded by more than 2.5 million acres of wilderness and national forest areas, including the Weminuche Wilderness, the San Juan and Rio Grande national forests, and Southern Ute Indian lands.
As you can imagine, it's a beautiful destination for dog-sledding tours. Plus Wolf Creek Ski Area is only 25 miles, about 40-minutes' drive, northeast of town.
Mountain Paws' 2.5-hour tours allow guests to drive a dog team of five-eight dogs for up to seven miles through the backcountry. Two sleds per tour for a maximum of four adults. Two small children are equivalent to one adult.
Cost is $195 per person over 80 pounds, $120 per child under 80 pounds, and $45 per toddler under 2 years. For an additional charge of $120, guests can reserve the sled for one person. There is a maximum of 400 pounds per sled.
There's also an Extended Scenic Tour which lasts approximately six hours. Offering a true mushing experience, one drive per sled gets the chance to drive 22 miles through the area's scenic backcountry.
Driving a sled requires a certain level of fitness (especially driving a sled for a full day), as you'll be shifting your weight on the sled as the dogs run—sometimes you even need to run behind the sled on uphill sections of the trail to aid the sled dogs in getting up that slope—so it's suggested guests call to determine if this physically demanding tour is the one that's right for you. This is an adults-only tour (maximum two people) and costs $495 per driver.
Mountain Paws also offers summer tours where you will ride in a cart pulled by a team of huskies. This tour gives you a chanance to learn about harnessing the dogs and enjoy the scenery in either Navajo State Park or the Reed Hare Ranch. Two adults and two small children can sit in the cart with a 400 pound limit. $85 per person over 80 lbs. $55 per child under 80 lbs.
Snow Mountain Ranch in Granby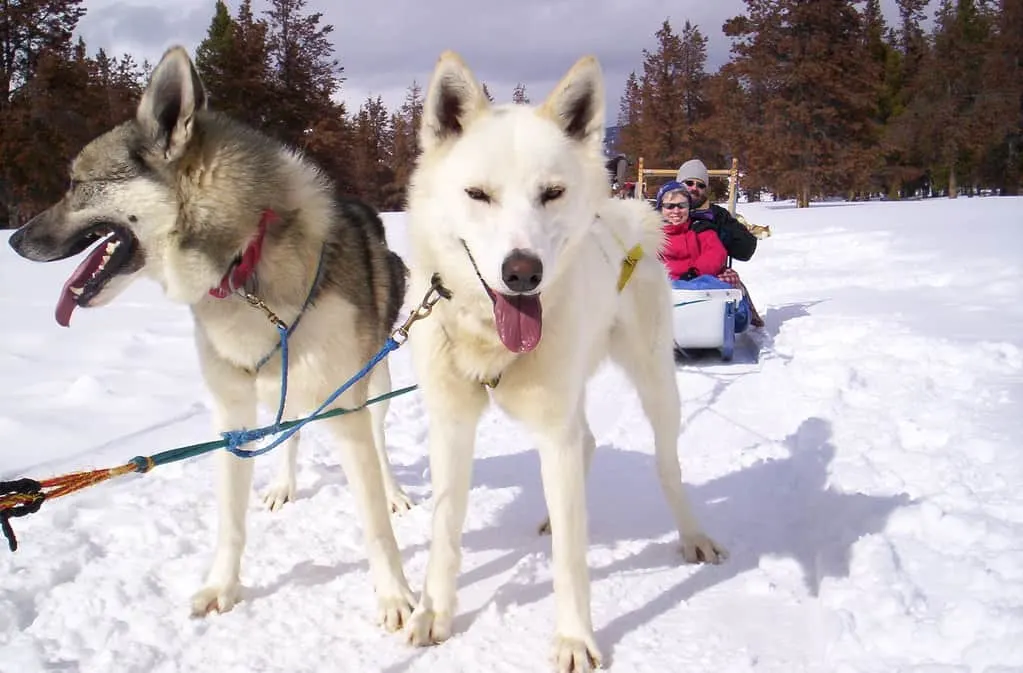 Officially the YMCA of the Rockies, Snow Mountain Ranch is one of the places I most often recommend because of its extensive lodging options (including yurts) and plentiful on-site activities (indoor and outdoor), all offered at a good value for families.
The winter season offers one of Snow Mountain Ranch most popular activities: dog-sled rides. For a fee, ride behind the musher on a two-mile loop. Reservations are required. You can also meet the canine athletes for free and maybe see puppies if you're lucky!.
A 50-minute "Long Ride" is also available Friday mornings which can seaone adult and one child (between ages 5 and 10) as long as they don't exceed 250 pounds. $125 per person for the two-mile loop.
Even in summer months, visitors can still meet these cute Colorado dogs at the dog park on Mondays and Fridays for the "Hanging with the Huskies" program.
Wintermoon Sled Dog Adventures in Telluride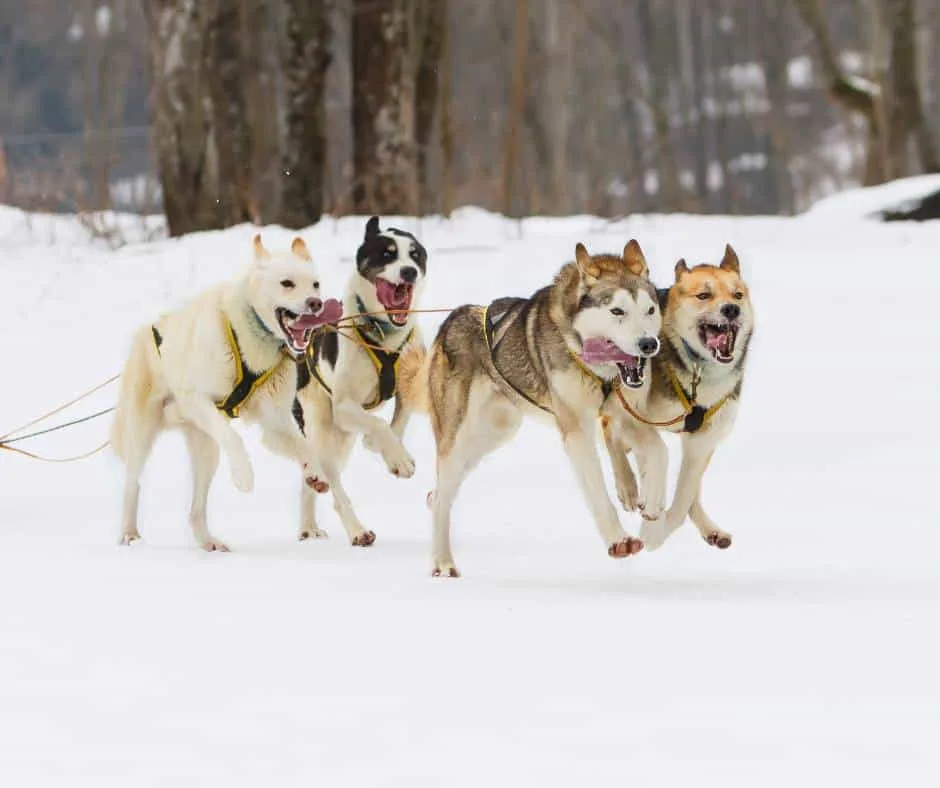 Experience snow-covered trails throughout the San Juan and Uncompahgre national forests via Alaskan-husky power with Wintermoon Dog Sled Adventures. Kids are welcome on half-day tours that leave from meeting locations in Telluride and Mountain Village.
These tours have a two-person minimum and five-person maximum. There is a 400lb limit per sled. Time on the trail is 2.5 hours. Contact them directly for price information.