For a 4-year-old, Disney cruises are all about dance lessons from Snow White, tea and cookies with Ariel, and Mickey ice cream bars for dessert after every meal. For me, the mom of two young children, the highlights of my Alaskan cruise was the opportunity to share the views of crystalline-blue glaciers with my kids and also the freedom to dine at Palo's brunch buffet sans children. Most travels with young children are full of adventure, but a Disney cruise to Alaska is one of those rare adventures that is also a vacation.
Alaska Day Excursions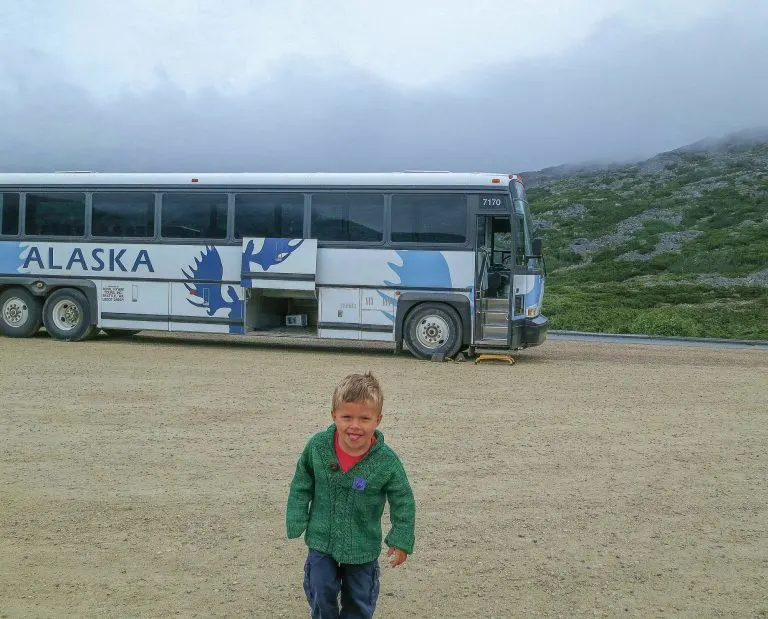 There are many splurge-worthy, once-in-a-lifetime port adventures available on an Alaskan Disney Cruise. Most of these adventures take to the air to give families a birds-eye view of Alaskan landscape that can only be seen from the sky because roads simply don't go to these remote locations. Families can take a helicopter ride over the ever-changing Juneau ice field stopping on the glacier itself to learn about dog-sledding; children might even get to try to mush their own dog sled team. Or, experience some of the most spectacular scenery in Alaska flying over Misty Fjords National Monument with guides pointing out waterfalls and lakes that few people ever have the opportunity to see.
Disney currently makes three stops on their Alaska cruises: Skagway, Juneau, and Ketchikan.
Skagway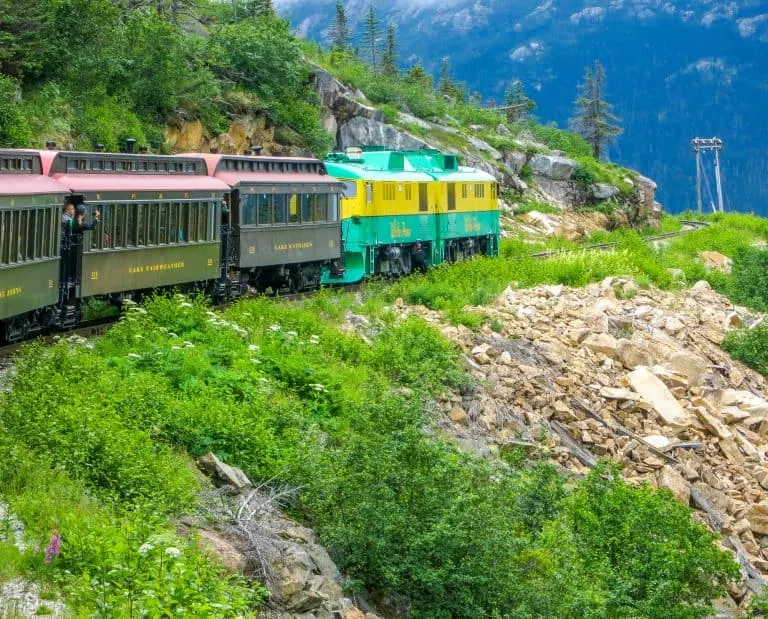 If experiencing the interior of Alaska, stepping foot into the Yukon Territory, learning first hand about the Klondike Gold Rush, or riding the
White Pass Railway
are on your family's bucket list, families must plan to do these activities when the ship makes its first port of call in Skagway.
Skagway is a very small town with less than a thousand year-round residents; it is known for being the gateway to the Klondike Gold Rush and has some of the most interesting history found on Alaska's southeastern panhandle.
Our family chose a shorter half day excursion on the White Pass Railway when our cruise stopped in Skagway because we felt that our young children couldn't handle a full day's adventure. Having toured Alaska previously, the short trip by bus or train up to Frasier from Skagway is, in my opinion, the easiest way to get a glimpse of the wild, interior of Alaska on an Alaskan cruise vacation. Certainly, after experiencing this small taste of Alaska, your family will want to come back and explore the whole state!
Juneau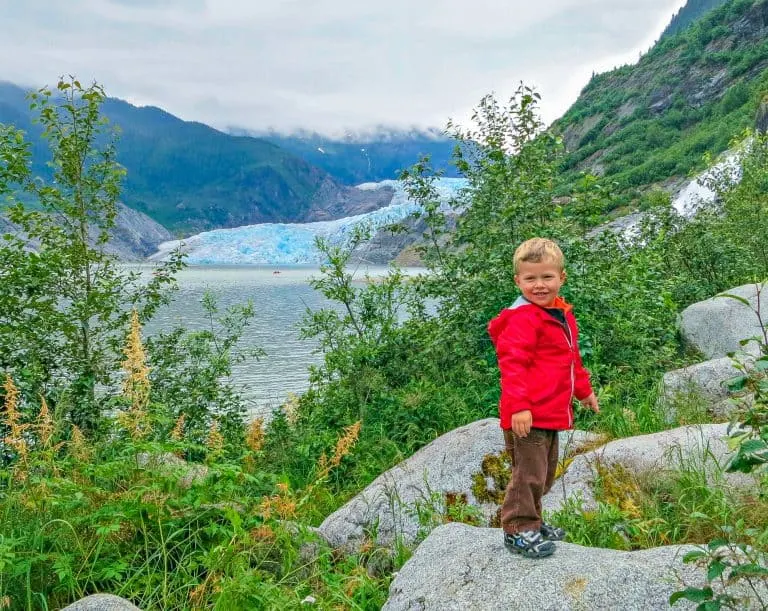 Juneau is the capital of Alaska so it is a bit more populated than either Skagway or Ketchikan. It's unfortunate that the Disney Cruise ship only stops for one day in Juneau because there is easily enough to do in the area to keep a family busy for a couple of days.
One of the most popular excursions in Juneau for families with older children is whale watching; families can spot humpback whales, sea lions, and eagles from ships of all shapes and sizes.
In addition to whale watching, most visitors to Juneau try to fit in a trip to
Mendenhall Glacier
. The glacier is situated lakeside just minutes outside the city of Juneau by bus; it is an easy trip for families to do either traveling on their own, via bus, or as part of a tour. At the glacier, families traveling in July and August might be able to spot salmon swimming in a nearby creek; of course, in Alaska, where there are salmon, there are often bears as well.
Ketchikan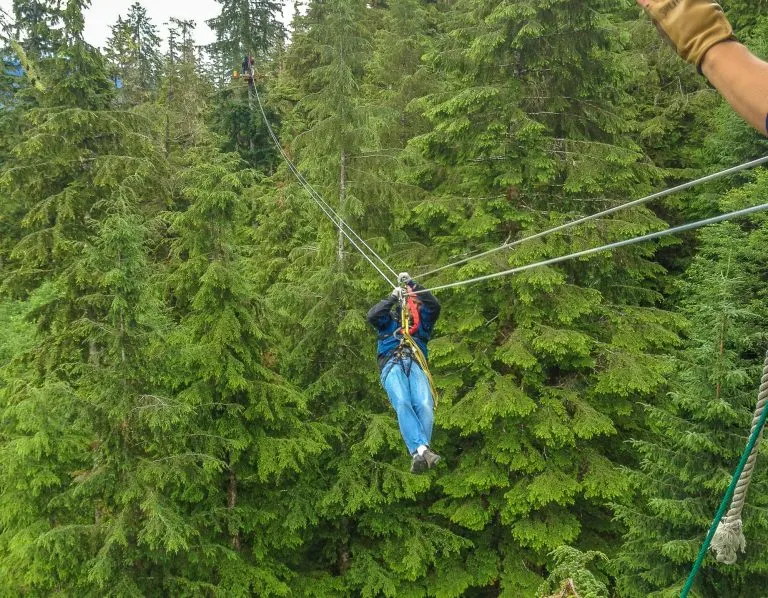 Ketchikan is the port on Disney's Alaska Cruise where families have the opportunity to experience Alaskan culture.
There are lumberjack shows and parks with totem poles that families can visit to learn a bit about the stories that have shaped this most southern region of Alaska. While we were in Ketchikan, my husband and I took a zip line tour; while we've zip lined in Costa Rica and Hawaii before, the views of the mountains meeting the ocean in Ketchikan are spectacular and unique. Of course,
Disney's Port Adventures website
is the perfect place to help families decide which zip line adventure is the best fit for their family; there's something available for almost everyone.
---
[cta id="67809″ align="none"]
---
Onboard Kid-Friendly Fun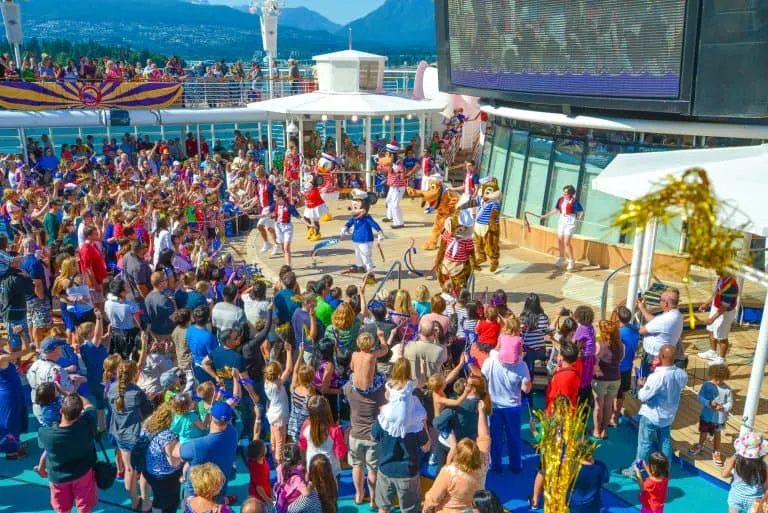 A Disney cruise is among the best places to dance with Donald and chat with Cinderella because characters seem to pop up unexpectedly around the ship; even the organized meet-and–greets in the lobby have relatively short wait times. My son, a huge Monster's Inc. fan at the time of our cruise, will never forget high-fiving Mike Wazowski at the Pixar dance party. My little girl will always remember learning proper manners at her tea time with Ariel and Tiana.
The kids were even able to play with many of their favorite characters at Disney's Oceaneer Club and Lab, the ship's on-board child care program for ages 3-12. Programming, often hosted by the familiar Disney characters, is scheduled throughout the day in both the Club and the Lab. There is also science and cooking activities geared towards older children available in the Lab. All programs are voluntary and kids can choose to play with the dress-up clothes or computer games available instead of participate in the group activities. Scheduled meals are also served as part of the program so parents can even enjoy a date at Palo, the upscale adults-only restaurant, while the children play and are fed kid-friendly options.
Periodically, the Club or Lab will hold an open house, meaning that parental supervision is required in that portion of the childcare facility. Open house times are great for families with younger kids who might not be ready for the loud, busy environment of the normal programming.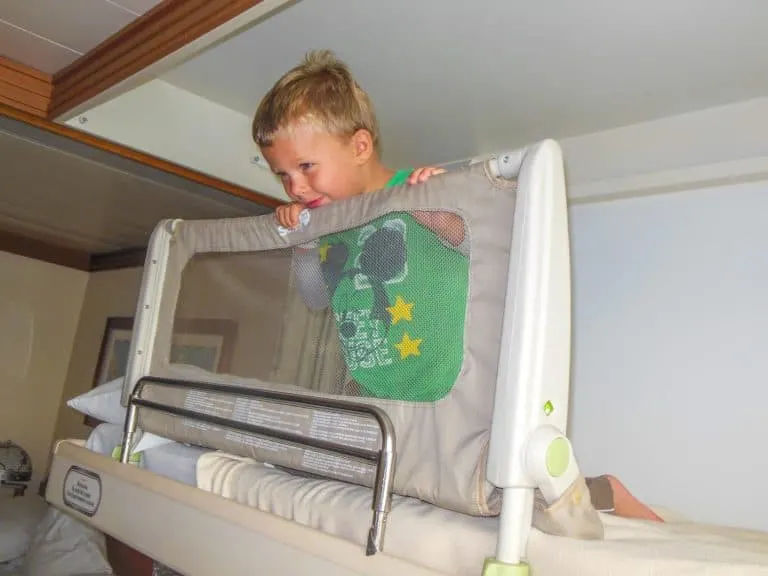 Of course, the Disney fun does not end with children's programming in the Club or with character encounters around the ship. My kids enthusiastically took a dip in the Mickey-shaped pool on our first sea day; despite cool temperatures, the pools on the ship are open when traveling in Alaska. And nearly every afternoon, the kids recharged while watching classic Disney movies from the top bunk of their bed on our cabin's television.
Kid-Friendly Dining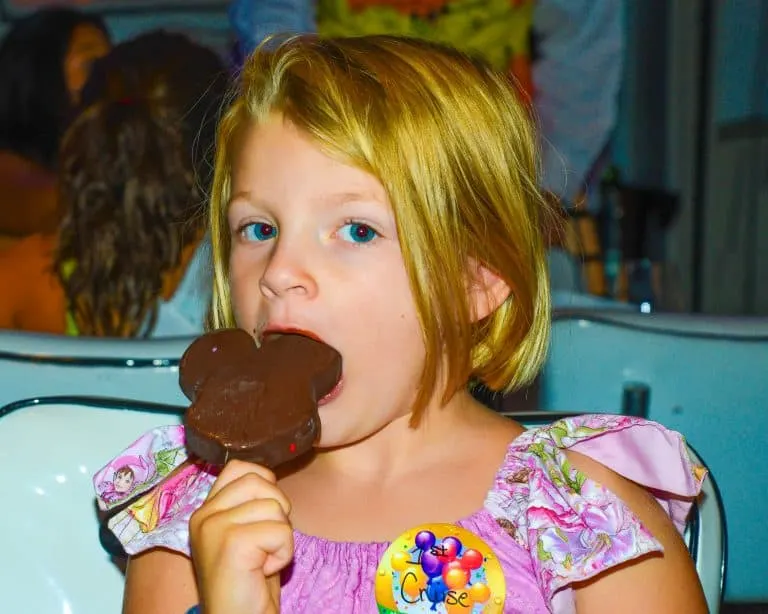 Before boarding the ship, I was quite nervous about dinner time. My picky-eaters could barely sit still for ten minutes at home before leaving for the cruise, how was the family going to enjoy a leisurely three-course dinner? The servers on a Disney cruise ship can work wonders; they used every magic trick that they had up their sleeve to make our dining a pleasant experience. Bringing out the kids dinner first thing so that their deserts arrived at the same time as the adults' entrees was ultimately the key to making our dinner a success; while the kids were distracted with their Mickey Bars, I had a chance to actually savor my dinner in relative peace. Having two servers who were experienced with entertaining over-tired children was another key to making our Alaskan cruise a true vacation.
Enjoy the Disney Magic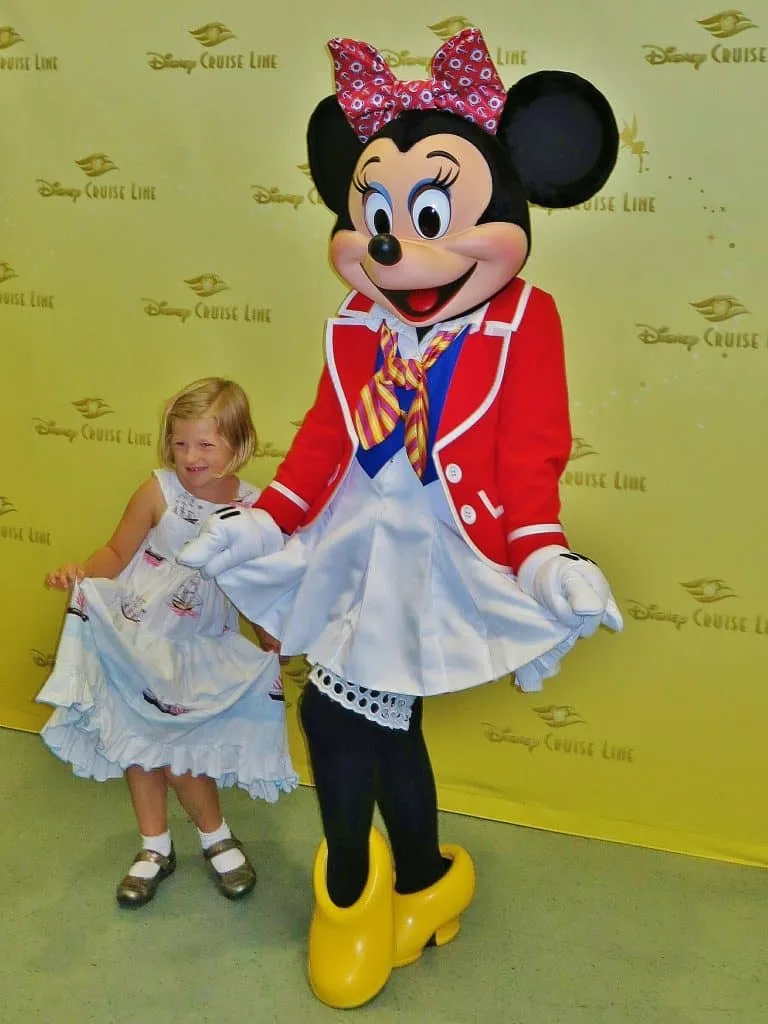 A Disney Cruise is unique because all the staff on board know that they'll be working with families every single time that the ship sails. From the housekeeping staff walking the halls to the servers at each meal, everyone working on the ship made my daughter feel like a princess and had a trick up their sleeve to divert my little boy's inevitable toddler meltdowns. Traveling kids are happier when they're recognized and greeted with a smile. Traveling parents are happier when there is a dining room server with a magic trick up his sleeve ready to calm the tired, tantrum-throwing three-year-old at their table.
Of course, many families, including my own, have learned from experience that Disney takes care of families when a vacation isn't going as planned. When my daughter became ill on our Alaska cruise, the situation was handled with professionalism and understanding; reasonable accommodations were made, and food was brought to our room. Disney has always gone above and beyond to make sure that my family is taken care of.
A Disney Cruise is special because it has something for everyone. My son didn't want to miss a single nightly show on the ship for the chance of seeing Buzz Lightyear again. My dad, who had mobility issues when we traveled, was able to spend the cruise photographing humpback whales from his stateroom balcony. My mom and daughter were able to enjoy to enjoy tea together – with two of my daughter's favorite Disney princesses. Kids don't stay little for long; we chose to enjoy the Disney magic while the kids were still little enough to be mesmerized by a stage show and screech in delight upon running into Minnie Mouse.
Have you been on a Disney cruise? We'd love to hear about your experience in the comments.