"Privacy Pop's pop-up bed provides your child a little privacy in a hotel room. This bedroom oasis doubles as a playtime fort, and Bedroom Oasis" – Alison Anderson
The Privacy Pop bed tent is a fun practical way to create private space in a full household.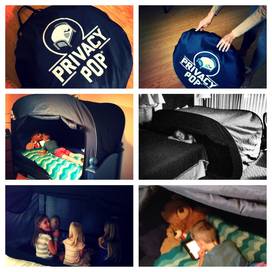 Pros:
Creates instant private space in hotel rooms or shared rooms

Kids all want a chance to have a playroom on their beds

Easy to put up after you figure it out

A dream bed for a sensory kid
Cons:
Awkward to put down. Imagine trying to fold up your sunshade in your car, but 10 times the size.

Initially challenging to get on the bed.

The large footprint was a bit difficult for the size of our hotel room.
I was surprised by the small package that arrived at our door. My family was anxiously awaiting the arrival of the Privacy Pop Bed Tent, but this package did not look big enough. We opened the package unzipped the bag and "pop" we had a mini-room in our living room. The tent "pops" by untwisting, similar to a sunshade in your car. There are 4 small poles that run along the 4 corners just like a tent to stabilize it. The tent comes in most standard bed sizes and can be found at www.privacypop.com.
BEDROOM SET-UP
The Privacy Pop Bed Tent fits UNDER your mattress. With the tent assembled I removed my sons twin mattress and put the tent on the bed, then worked the mattress back in. It was a little cumbersome, but once complete it all fit perfectly. Added bonus: no more toys and books that fall behind the bed. It all stays in the tent.
TRAVEL AND THE PRIVACY POP TENT
We travel often and last weekend the Privacy Pop Bed Tent came along. Again, set up was a breeze and we instantly had a private space in our hotel room. The only drawback being the need for a mattress or cushions for the tent and our particular room did not have a good space for it. Be sure to ask for a room that can accommodate an extra cot or has an another bed (one of which could be used for the tent.)
A SENSORY KID AND A SHARED BEDROOM
One of my sweet boys struggles with sensory issues and is challenged daily with navigating the onslaught of sights, sounds, textures, and smells that other kids simply do not notice in their day-to-day activities. Unfortunately, he must share a room. The Privacy Pop Bed Tent was perfect for him. He instantly had a place that was private and quiet. The tent has zippered flaps on all four sides. The large sides open up completely and the ends have mesh windows. I found plenty of airflow with the windows open and the sides down. The tent provides a retreat for him.
PLAYTIME AND THE PRIVACY POP TENT
Woohoo!! That is all I can say. It was so fun for my children to have friends over and play in the tent. It is an easy way to create fun space for games, girl-talk-time, creative play and in-house camping.
GETTING THE TENT DOWN
The Privacy Pop is so easy and fun to set up. Getting it down is a bit tricky and it took me a few tries to perfect. The 4 poles must be removed and folded. Then the tent must be twisted just so. When you get it right, it twirls down into a small circle that fits easily into it's bag and it is easy to duplicate this process once you get the hang of it. I found that you need two people or can simply prop one end of the tent against a wall and push and twist to close. Not impossible, but tricky the first time.
The Privacy Pop Bed Tent is a fun, practical oasis and my kids are fighting over who gets it next week. Whether on the go or just at home, it's a multi-function, unique piece of travel equipment.
"Note: This article contains affiliate amazon links."
Disclosure: I was given a Privacy Pop Bed Tent and was not asked to express a particular point of view. This review is based on my own experiences with the tent and the opinions are entirely my own.