My family loves a great road trip. After scanning the map, we thought it was about time to make the drive from Chicago to Florida. Oh, and what a fun road trip it was! Our Chicago to Florida drive included plenty of fun stops, museums, tons of food (especially BBQ), and of course ice cream.
Use this Chicago to Florida road trip itinerary to help plan your own big road trip. We suggest stops on your way to and from Florida, as well as some destinations in the state. Your family will hit the road and return with memories that last a lifetime.
Road Trip Stops on Your Chicago to Florida Drive
Chicago to Florida Drive Day 1: Make A Pit Stop in Columbus, Indiana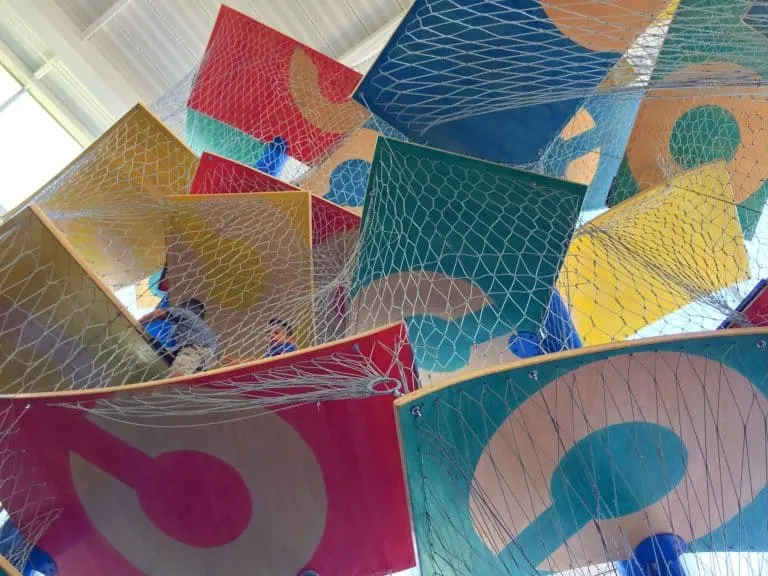 Just an hour south of Indianapolis is the small Midwestern town of Columbus, known for its modern architecture. Zaharakos, an old-time ice cream parlor and former candy shop, is a must-stop especially if you love ice cream (Who doesn't?).
Not only have they been churning their own homemade ice cream for years, but they happen to have a small museum on site with soda fountains and mechanical music of the past.
On a sugar high? Lucky for you – they have an indoor playground at The Commons with an awesome Luckey Climber. If time allows, the kidscommons Children's Museum, a couple doors down, might be worth a visit to see the famous giant toilet. We do hope to visit again and explore more of the art and architecture around the city!
Stay the Night in Glasgow Kentucky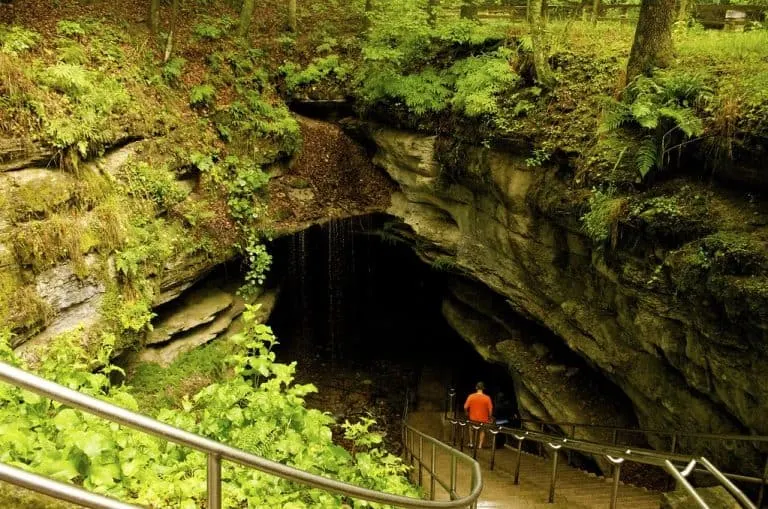 Our final destination for the day was Glasgow, Kentucky but not before grabbing dinner at local favorite, El Mazatlan. Although the food was pretty tasty, my husband and I were blown away by the large (and strong) 16 oz. margaritas for just $4! A well-needed reward for our first day on the road.
Have more time? Explore Mammoth Cave National Park, the largest cave system in the world. Mammoth Cave is just a few miles from Glasgow and there are tours that will give you a chance to experience the park on a limited amount of time.
Here are 10 great Things to do in Kentucky with Kids.
Where to Stay in Glasgow
We had a comfortable night's stay at the Holiday Inn Express Hotel & Suites Glasgow. Gotta love the free hot breakfast in the morning!
Chicago to Florida Drive Day 2: Stop to Enjoy Chattanooga, TN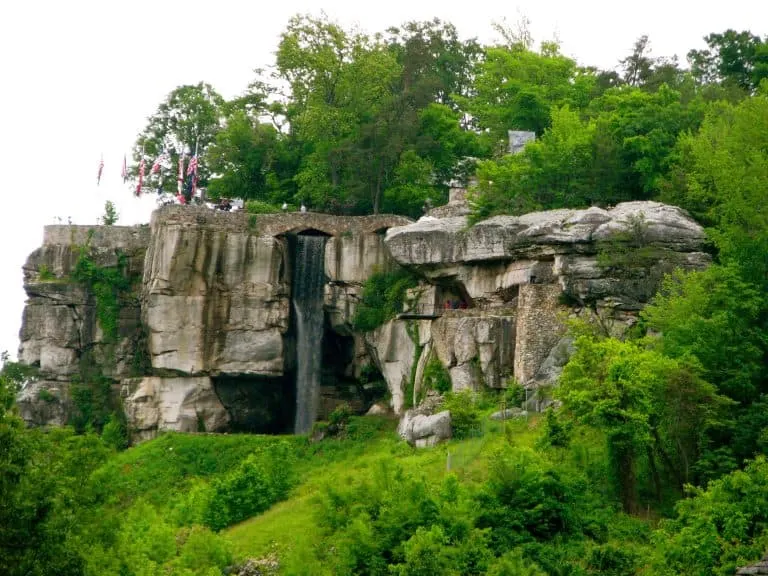 We had no idea how family-friendly Chattanooga was! This walkable city so many things to do and places to eat. In fact, visiting Scenic City may have been one of our favorite stops during our entire road trip! Do yourself a favor and plan to spend a few days in Chattanooga
Spending the day at Lookout Mountain is well worth your time. Head underground for a fun cave experience to see Ruby Falls, one of the tallest underground waterfalls. Take a ride up the Lookout Mountain Incline Railway's steep one-mile trek up the mountain.
Our favorite Lookout City attraction though was Rock City with its incredible vistas, waterfalls, and landscapes.
Check out all our favorite things to do in Chattanooga with kids.
Love animals? Learn about the river and ocean animals at the Tennessee Aquarium. If time allows, I highly recommend scheduling a backstage tour for either the river or ocean building. Go behind the scenes of the penguin habitat, watch stingrays and sharks being fed, then try your hand at feeding fish and possibly a turtle.
Learn about the city of Chattanooga on land and sea aboard a Chattanooga Duck, an amphibious vehicle. Take a stroll down Walnut Street Pedestrian Bridge, the world's longest pedestrian bridge which links the downtown area to the eclectic North Shore.
Find your favorite flavor of moon pie (our personal favs are caramel or strawberry) at the Moon Pie General Store, where it's made fresh daily at their only manufacturing plant in Chattanooga.
What to Eat in Chattanooga:
You will NOT go hungry in Chattanooga. Fried chicken is king at Champy's Fried Chicken, along with fried catfish and fried pickles. Don't miss out on their homemade sweet tea.
If you're looking for finger-lickin' BBQ with large portions, Purple Daisy Picnic Café is the perfect spot. Save room for an after dinner treat. Their super yummy banana pudding with Nilla wafers is so, so good!
If you're anywhere near the Tennessee Aquarium, follow the smell of cherry-smoked BBQ at Puckett's Grocery Store. Treat yourself to any of the unique and amazing ice cream flavors at Clumpies Ice Cream Co.
Looking for amazing burritos? Mojo Burrito by the base of Lookout Mountain is calling your name. And when (not if) it's donut time, try unique flavored donuts at Julie Darling Donuts.
Read all about the top 8 things to do in Chattanooga with kids.
Where to Stay in Chattanooga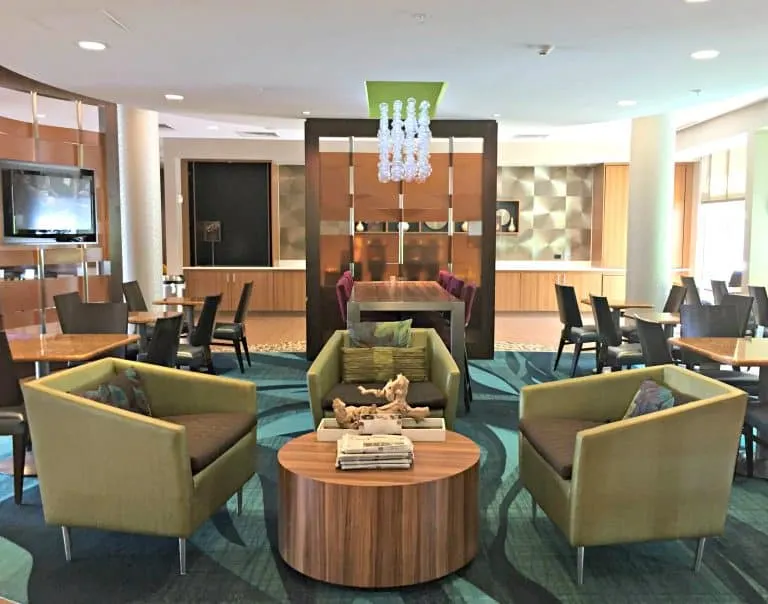 Located along the Tennessee River, the bright and comfortable SpringHill Downtown Chattanooga/Cameron Harbor boasts a fantastic location ideal for morning strolls or runs.
The downtown attractions are a few minutes drive or quick bike ride away (they have a bike share program for easy exploration). The rooms are ideal for families- modern, spacious, and comfortable. Plus, who can resist a free hot breakfast offered daily?
Chicago to Florida Drive Day 3: Georgia Pit Stops and a Stay in Gainesville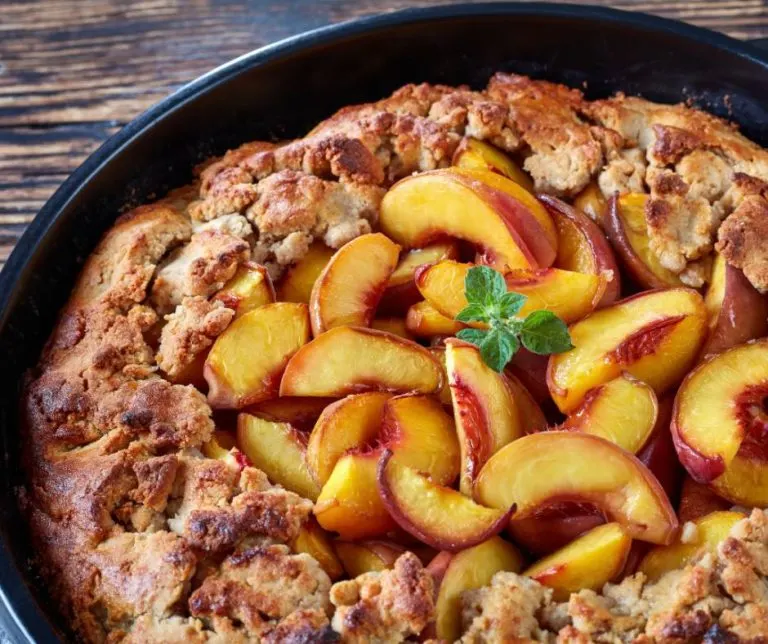 You can't pass through Georgia without trying sweet Georgia peaches. Luckily, we found Lane Southern Orchards just five minutes from the highway.
Not only do they sell the most amazingly sweet peaches, but we were pleasantly surprised to partake in a self-guided peach tour that showed us the process of cleaning, sorting, and hand-packing peaches from their orchard.
We couldn't leave without trying food from the cafe including their homemade peach cobbler topped with their homemade peach ice cream. What a fun, educational, and tasty stop!
Georgia is also known for pecans, so we had to make a pit stop for pecans as well. Located right off the highway, Ellis Brothers Pecans has aisles and aisles of pecans in every flavor. Can't decide what flavor you want? They offer samples of each flavor! Hint: This is a great potty time spot — the restrooms are clean.
Obsessed with eating BBQ (we were in the South after all!), we were ready for more at Smok n' Pig BBQ in Valdosta, Georgia. What a fantastic value! The portions were huge so the kids and I were able to share. In addition, the salad bar and dessert were included.
Gainesville, Florida Must-Sees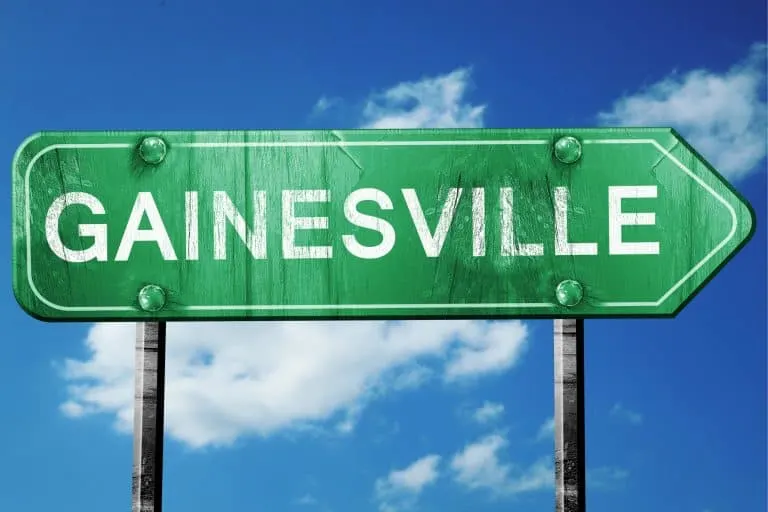 If the weather is on your side, make sure to bring bathing suits to Depot Park's splash pad in Gainesville, Florida. Not only do they have a pretty awesome train-themed playground, but there are also trails, a general store, and a museum not too far away.
Located in a convenience store (yes, you heard that right!) Pearl's Country Store & Barbecue, may have had the most unexpected location we visited but one of the best bbq meals we've had the entire road trip.
Have more time? If you happen to visit on a Saturday, stop by the Retirement Home for Horses at Mill Creek Farm. As the name suggests, 140 horses call Mill Creek Farm home. The admission is two carrots – a fantastic deal!
Where to Stay in Gainesville
The Holiday Inn Express & Suites Alachua – Gainesville Area was the perfect stop for us after a few hours on the road: clean, comfortable rooms, a pretty nice fitness center and of course, free breakfast.
Florida Destinations- LEGOLAND Florida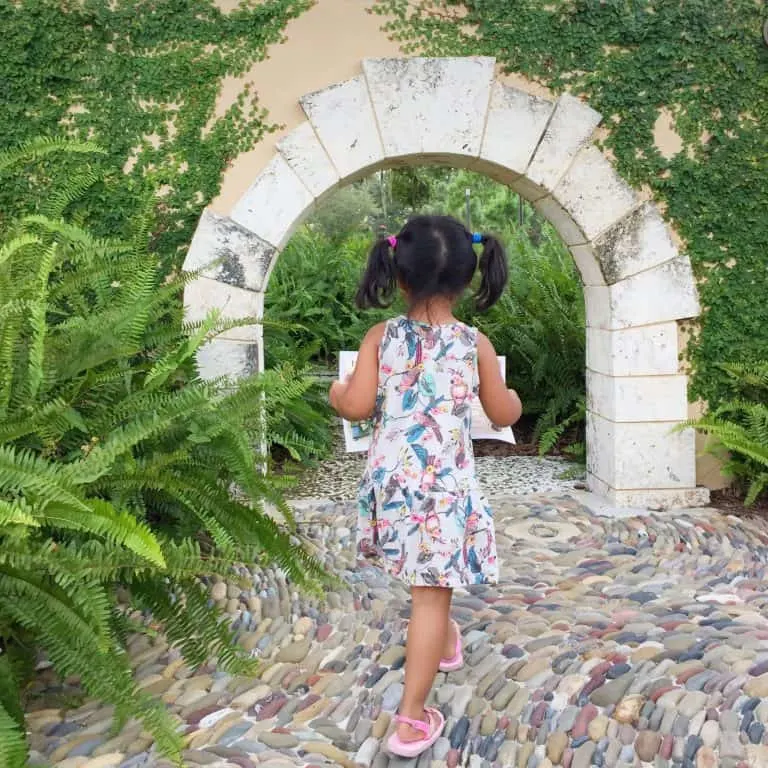 Nestled between Tampa and Orlando, the biggest attraction in Central Florida's Polk County is none other than LEGOLAND Florida Resort. After spending some time here, we found more family-friendly things to do and wished we had more time to explore. Trekaroo has a full guide to LEGOLAND Florida Resort to help you plan your visit.
My kids had an absolutely brick-tastic good time at LEGOLAND Florida Resort. We saw a Miniland on steroids, hung out with our favorite ninjas in Ninjago World, devoured apple fries, splashed away at LEGOLAND Water Park and bought a few new Lego sets to add to our collection. Everything was indeed awesome!
Also in Polk County, Bok Tower Gardens, a National Historic Landmark, has beautiful gardens to peruse including the 205-foot Singing Tower with daily carillon concerts. The kids loved exploring the 2.7-acre Hammock Hollow Children's Garden.
Children can climb a giant spider web, build, balance across logs, create art masterpieces, and then cool off in the fountain. It was the perfect place for kids to connect with nature!
Where to Stay Near LEGOLAND Florida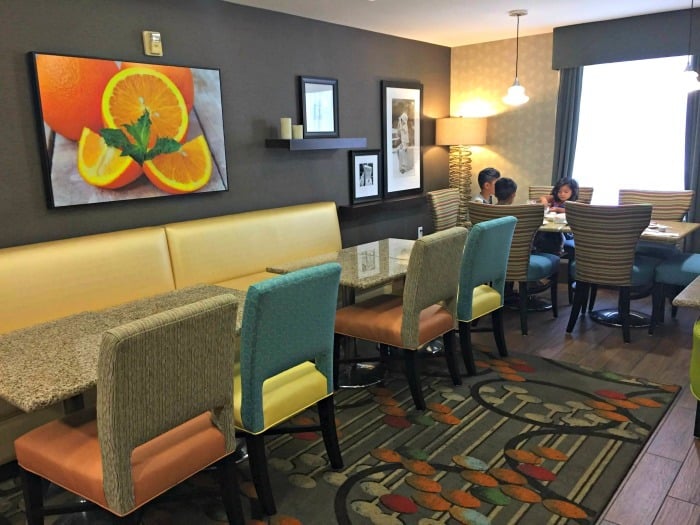 At Hampton Inn Winter Haven, you're no more than a five-minute drive from LEGOLAND Florida Resort (LLFR). Before LLFR had their own accommodations, the Hampton Inn used to be part of their "Bed and Brick" program.
With little brick-tastic touches throughout the hotel such as a Lego guy to snap photos with or Lego coloring sheets with crayons, the Hampton Inn gets kids excited for a theme park visit. To top it off, the hotel offers free popcorn in the lobby.
Parents, on the other hand, will appreciate the complimentary hot breakfast needed for a day full of fun. Another great option to stay is next door at Holiday Inn Winter Haven which also participate in the "Bed and Brick" program.
Tallahassee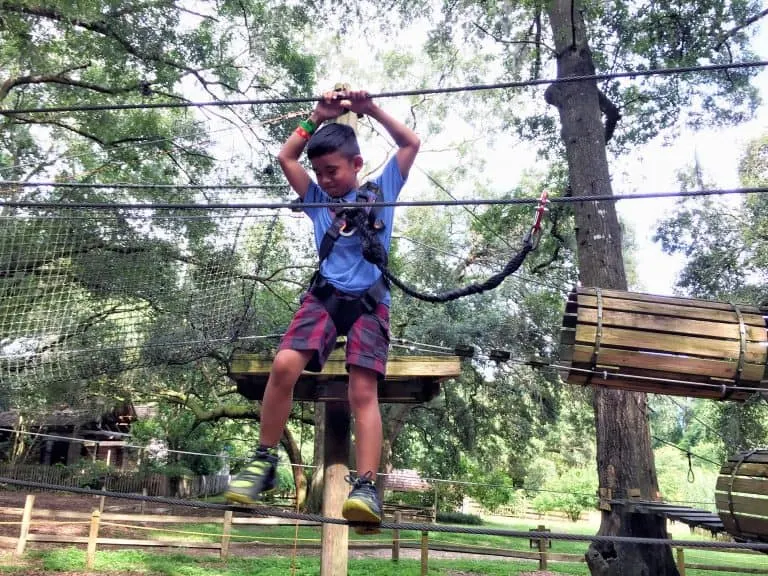 We stayed a night in the Sunshine State's capital of Tallahassee. In the short time we visited, we found it to be a friendly city with great food, and we wished we had more time to explore. We were blown away with the Tallahassee Museum — so much more than a museum!
The mostly outdoor 52-acre museum showcases native wildlife habitats, a zoo with animals such as panthers, jaguars, and even bears, along with educational exhibits and dinosaur sculptures throughout the grounds.
The kids had a blast going from tree to tree at the Tree-to-Tree Adventure Park, an outdoor zip line and adventure course. After a fun-filled adventure at the Tallahassee Museum, we couldn't wait to chow down.
Lucky for us, our next stop was the Midtown Caboose with epic burger creations. A stop at Lofty Pursuits, an ice cream and candy shop, was the perfect way to end the day.
Trekaroo loves Tallahassee. Find the top 10 things for families to do in Tallahassee.
Where to Stay in Tallahassee
At Aloft Tallahassee Downtown we found a hip, trendy hotel with a pool table in its lobby. The xyz bar was hopping and us adults couldn't resist a cocktail or two.
The kids though were ecstatic to receive a goodie bag full of toys upon check-in. The pet-friendly hotel even fosters a dog at a time until it finds the dog a forever home. How awesome is that?
The Emerald Coast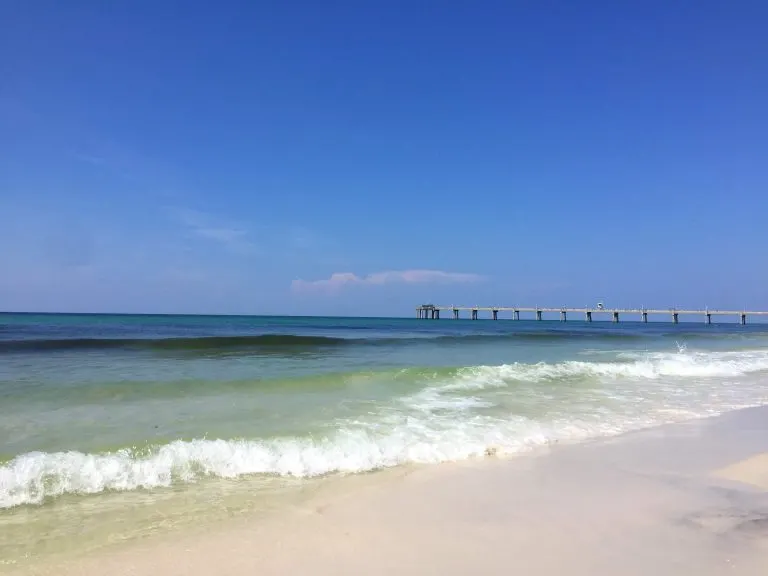 Whenever I think about our time at heart of the Emerald Coast, I sigh and immediately wish we were there again. It was our slice of paradise on our road trip.
Whether you want to fill your time with activities, lounging on the beach, or both, exploring the heart of the Emerald Coast promises a great time spent with the family.Walk along The Boardwalk on Okaloosa Island and Okaloosa Island Pier for fantastic views of the emerald green waters.
While there, take a break at Al's Burger and Beach Club with fantastic views of the beach and ocean while munching on awesome burgers (hello ahi tuna burger!) and sipping on your fave tropical drinks. Spend as much time as possible catching some rays at the beach, while the kids can build sand castles with the white, soft sand.
Love dinosaurs? How about golfing with dinosaurs at Wild Willy's Adventure Zone? Afterward, escape to the arcade for more fun. Ever wanted to see dolphins in the wild? Spot them on Southern Star Dolphin Cruises.
Can't get enough of the animals? The Gulfarium holds dolphin and sea lion shows and showcases other area animals including an albino alligator. Have more under-the-sea fun with bowling at Uncle Buck's Fish Bowl, while sipping your fishbowl drink and snacking on gator bites.
Head straight down 98, to the quieter town of Fort Walton Beach for food. You won't be disappointed grabbing food at The Cowhead where you can customize your burger any way you want it (chicken, beef, or even bison) or stick with any of their tested recipes.
After your meal, head a few doors down for snow cones at KC's Sandbar and Grille. Whatever flavor you choose make sure to get it with ice cream and topped with homemade sweet cream. Thank me later!
Where to Stay in Fort Walton Beach
The beachfront hotel, The Island by Hotel RL, was everything we could want in a beach vacation: easy access to the beach and more pools to splash in including one with a swim-up bar. We absolutely loved our recently renovated rooms and the kids were pretty excited to finally have their own room with a bunk bed.
Florida to Chicago Drive: Pit Stops En Route to St. Louis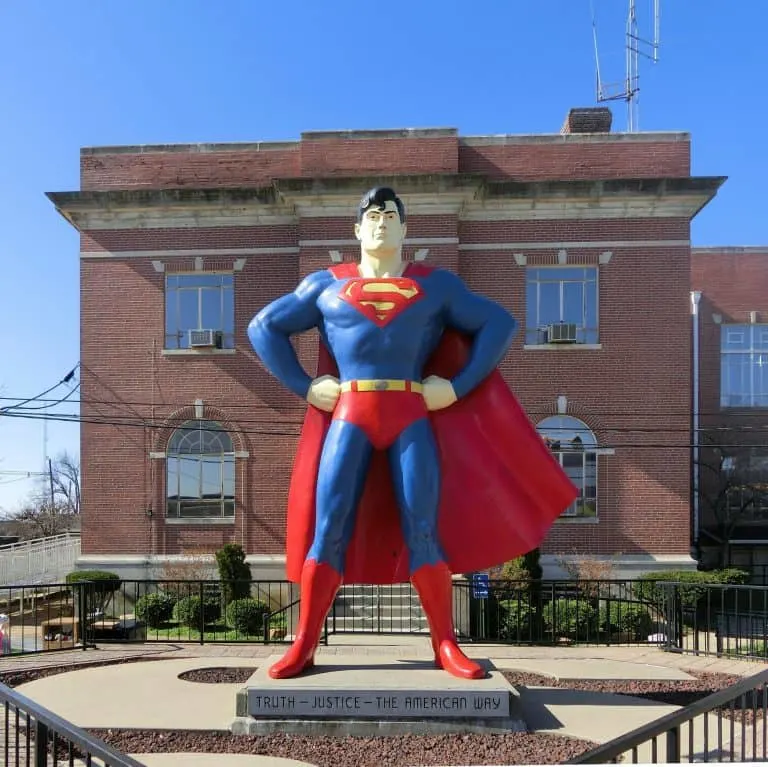 Learn all about space at the U.S. Space & Rocket Center in Huntsville,Alabama. The museum has a vast collection of artifacts and exhibits related to space exploration, including rockets, spacesuits, and interactive displays.
In the Rocket Park, you can see various rockets and spacecraft, including a replica of the Apollo 11 Command Module.You can also experience Space Shot and G-Force- two thrill rides that simulate the experience of a rocket launch and the feeling of being in a high-G environment.
Grab food at Supper Heroes, a superhero-themed restaurant in Huntsville that is fun for the whole family.
From Hunstville, continue your drive north on I65. If you need to stretch your legs, The Paducah Riverfront in Paducah, Kentucky is a great place to walk while looking at historical murals.
On your drive, make time to visit the hometown of Superman in Metropolis, Illinois. There are plenty of photo ops throughout town including a huge statue of the man himself and a museum dedicated to all things Superman.
Spend the Night
Our overnight stay at Holiday Inn Express & Suites Huntsville West – Research Park was exactly what we needed after a day on the road: clean, spacious rooms and free breakfast in the morning.
Stop in St. Louis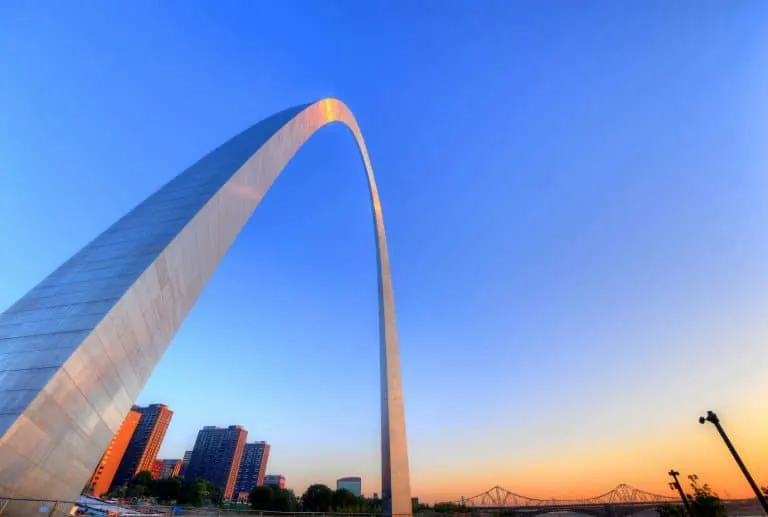 We've been to St. Louis in the past, but with the $380 million CityArchRiver renovation project finally complete, we were curious to see the transformation to the Gateway to the West.
We made it a priority to check out the new changes at Gateway Arch National Park which, of course, has to include going up the Gateway Arch and experiencing the updated tram tour.
It's crazy, it's cool, and at times it's overwhelming, but you'll have a total blast the unique City Museum. It's an adventure for both kids and adults. The museum features an array of exhibits that showcase the history and culture of St. Louis. You can see artifacts from the city's past and learn about the people and events that have shaped the city.
There is also MonstroCity, a sprawling playground made of recycled materials, including two airplanes, a fire truck, and a castle. Visitors can climb through tunnels, across bridges, and over obstacles.
There are several slides, including a 10-story slide that takes you from the roof to the bottom of the building. Toddler Town is designed for younger visitors and features a soft play area, a miniature town, and a ball pit.
The museum even has a circus ring where visitors can try their hand at circus acts such as tightrope walking, juggling, and trapeze.
Want more? The free Saint Louis Science Museum with dinosaurs and space exhibits is totally worth a visit. Make sure you visit the outdoor area with rain garden and chickens, plus cross over the sky bridge to the Planetarium to see the cars zooming underneath you.
Where To Eat in St. Louis
Have you ever tried St. Louis-style pizza? Imo's Pizza is the place to go. Don't forget the toasted ravioli.
Get your ice cream fix at Clementine's Naughty and Nice Creamery where you can indulge in homemade ice cream as well as boozy ice cream creations.
Try Afghani food at St. Louis' first Afghani Restaurant at Sameem Afghan Restaurant in The Grove. Feast on the Emperor Plate with lamb and chicken kabob, rice, and salad perfect for sharing.
Where to Stay in St. Louis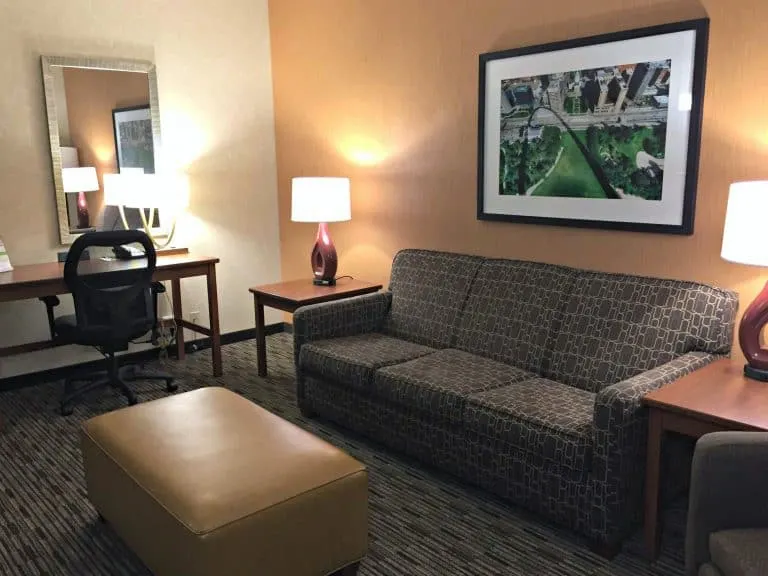 One of our favorite chains to stay at is the Drury Inn, where the extras aren't extra. We had a free hot breakfast with plenty of choices, free popcorn, free soft drinks, free alcohol (yes, free!), and free light dinner.
Our stay at The Drury Plaza Hotel St. Louis at the Arch was no exception. The location rocks and is just a few steps away from the Gateway Arch and Old Courthouse.
One Final Pit Stop on Your Florida to Chicago Road Trip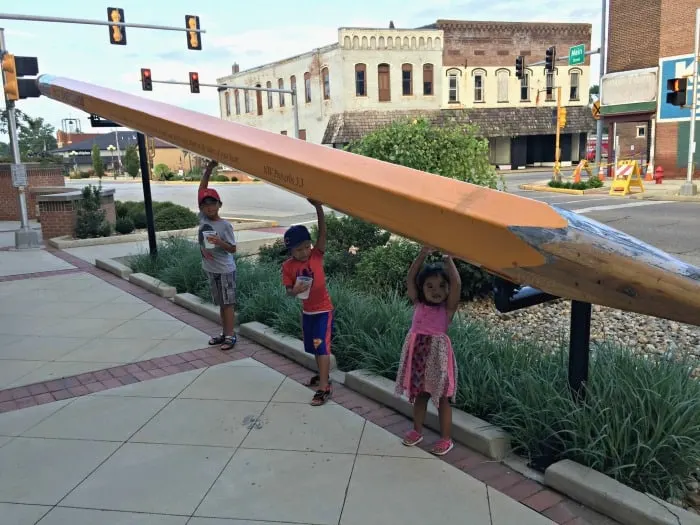 Before heading back home to Chicago, we couldn't help but make our final pit stop at the charming small town of Casey, Illinois, home to eight of the World's Largest items.
We had tons of fun grabbing a map and taking pictures in front of all the world record holders including the largest wind chime, rocking chair, a mailbox and more. What a great way to end our road trip vacation in a big way!
Are you road trip ready? Check out our favorite road trip games for kids with free printable before hitting the road.
Disclosure: Many thanks to Chattanooga CVB, Visit Central Florida, Visit Tallahassee, Emerald Coast Convention & Visitors Bureau, and Explore St. Louis who hosted us for the purpose of writing this article at several hotels and attractions. I was not required to provide any specific review and all opinions are my own.