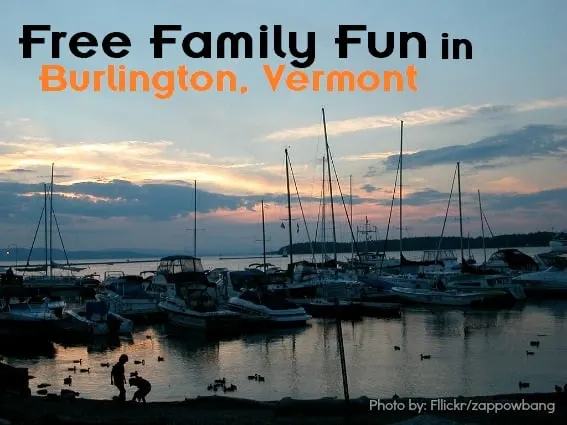 Our family loves a visit to Vermont. We love the fresh air, the friendly people, and the fabulous food. Burlington is as close to a family mecca as one might find in Vermont. This small city and the immediate area offers so much for families to do together all centered around the beautiful Lake Champlain and the zesty city center that is Church Street Marketplace. There is plenty of free family fun in Burlington, Vermont to be had in any season.
Winter: Enjoy Cold Weather Pursuits

Vermont is well-known for glorious skiing. Bolton Valley, near Burlington, offers free skiing for kids under 6, and all resorts in Vermont offer free skiing to 5th graders who participate in the Fifth Grade Passport Program. Beginners will fare well at nearby Middlebury Snow Bowl at Middlebury College where their brand new magic carpet has been installed, and it is FREE for the public to use! Once you have had your fill of skiing maybe some ice skating is in order. The Lakeside Park Community Rink is a free skating venue offering little ones a chance to try out their skates. Sometimes community families will leave skates on porches for visitors to use just in case you forgot yours!
Echo Lake Aquarium and Science Center is located on the shores of Lake Champlain. This center features hands on wildlife exhibits and other scientific displays. Free admission can be obtained through library passes and reciprocity museum passes. Additionally, children 2 and under are admitted free of charge.
As the winter fades, the sap starts running on all the sugar bushes visible during the ski season. Kids love to watch the syrup being collected then turned into divine maple syrup at the sugar house. Vermont offers the Maple Open House weekend annually in March for free tastings and tours. The Isham Family Farm in nearby Williston creates their green maple products with all renewable resources. Here you can watch the syrup being collected and made.
Check out skiing and museums in Vermont
Spring: Maple Season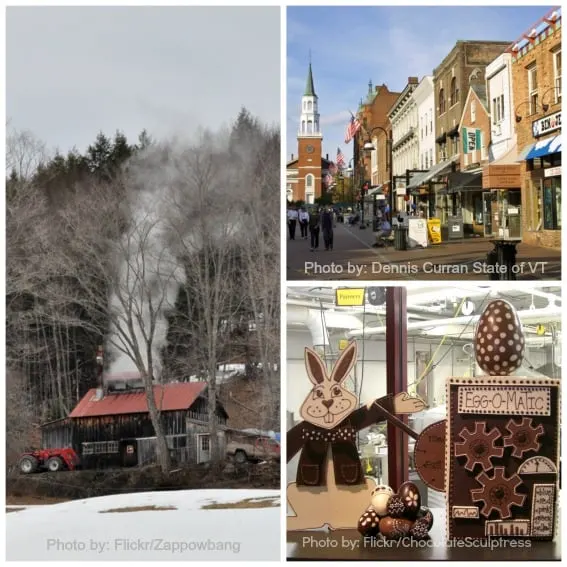 Maple sugaring ushers in the spring season and the outdoor fun continues with the thaw. While the ground is still too muddy for hiking, your family can take advantage of some indoor pursuits. The Fleming Museum, a consort of the University of Vermont, offers free admission to children under six; the museum curates historical art including paintings, sculpture, textiles, and tools spanning civilizations from around the globe. Children under three are allowed free admission to the Ethan Allen Homestead Museum where families can learn about life in Colonial days and the American Patriot Ethan Allen. The surrounding Ethan Allen Park area with trails, playground, overlook, and seasonal tower offers free admission.
Exploring the streets of Burlington is also fun and free parking is available. Stroll along these city streets known for wacky street performers, food carts, interesting shops, terrific food carts, and restaurants. The 30+ year old Discover Jazz Festival is held in the spring. There are festivals offered seasonally including the Festival of Fools featuring street performers from around the globe and the Dragon Boat Festival on Lake Champlain featuring 40 foot boats, dragon dancers, and music.
Lake Champlain is also home to Lake Champlain Chocolates, some of the yummiest around. Get a glimpse into their chocolate production with a free factory tour. You never know what they might be making!
Find sweets around Burlington,Vermont here.
Summer: Seek the Great Outdoors

Vermont is alive in the summer. The summer air brings out families and vacationers in droves, but don't worry there is plenty of space for everyone, as well as free outdoor activities to delve into.
Visit the Island Line Trail for walking and biking. Beginning in downtown Burlington, this 12 mile trail along Lake Champlain can be the starting point for many of your family's free outdoor excursions. There are several fun family parks with playgrounds to enjoy including Oakledge Park where you can take a dip or play in the sand on the shores of the lake. Visit Leddy Park, Burlington's largest park which offers a host of pursuits including trails, basketball, tennis, and swimming.
Burlington also takes advantage of their mountain air to provide free outdoor arts activities during the summer months. Ben and Jerry's offers family outdoor movie nights on Church Street with a selection of family friendly flicks. Bring snacks and a chair for a free night of family fun. For live performances seek out the Very Merry Theater Troupe for free shows starring children in adapted classic plays such as Gypsy or Shakespeare productions. The troupe hits the road with their own Traveling Theater Wagon which adds to the fun.
Free music concerts can be heard on Thursdays in the summer at Battery Park featuring regional talent in the band shell. Summervale is sponsored by the community food and farm organization, Intervale. Summervale offers weekly free outdoor concerts for families at Intervale Gardens with the option of bringing your own food or purchasing from a local vendor. Kids have fun roaming around or taking advantage of a craft opportunity while listening to some great music in the fresh Vermont air. Nearby Shelburne Farms also offer a free Farm Barn concert series in the summer which is fun for the whole family.
Find summer fun in Burlington,VT.
Fall: Festivals, Food, and Foliage

Fall brings the fabulous foliage to Burlington as the air gets crisp and the leaf peepers come out for a visit. Hiking of course is still magnificent. Nearby, Mount Philo offers easier family hiking but still with fabulous views.
Church Street and the free festivals continue into the fall. The Harvest Celebration provides free fun for the family with activities, prizes, food samples, and live music. In nearby Charlotte, seek out the unique Charlotte Tractor Parade. Since 2001 this festival has grown in size and scope and features all types of tractors on parade as it pays homage to the farming tradition in Vermont. The festival also includes free activities for children, contests, animals, food,and more.
The fall farming harvest puts local farm markets into high gear. While it is open year round, the Burlington Farmers Market allows for the purchase of locally grown fresh vegetables and cheeses, as well as crafts. Occasionally, there is entertainment. Sampling locally grown Vermont food in the fresh fall air is heaven.
Find Fall fun in Burlington,VT.
Of course any season is a great time to visit Lake Champlain and her shores. Find a sandy slice of beach, take a dip, go for a boat ride, check out the boardwalks, scout the wildlife,delight in the fall foliage, or go ice fishing. Burlington, Vermont is a kid-centric city focused on fun, food, and family. Your family can enjoy some of what Burlington has to offer, without spending a ton of money. Enjoy!
Thank you to Dana Freeman from Find and Go Seek Vermont for her information assistance for this article.