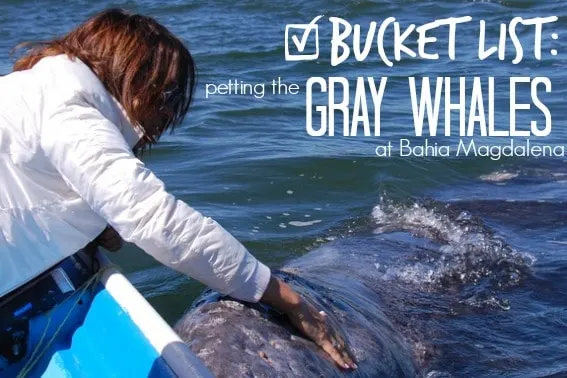 The road to Bahia Magdalena is lonely. Towering cardón cactus and scrubby, half-dead looking shrubs dominate the barren desert landscape in a stark yet beautiful way. As we headed down the highway, our only fleeting companions were an occasional bird lazily surfing air currents overhead and the rare truck whooshing by. Far from the mega hotels and all-night party vibe of Cabo San Lucas, this stretch of road reminds travelers that most of Baja California is still very wild and uninhabited. On the day of my visit, the sky was a forget-me-not shade of blue that seemed to stretch on to infinity, except for one small fluffy wisp of a cloud hanging in the far distance. As we drove closer to our destination, that single wisp grew larger and was joined by several other cotton ball companions tinged with just enough grey to inform us that they were lingering remnants of a foggy morning on the coast. We pulled into the sleepy fishing village of Puerto López Mateos around 11am and were greeted with a salty sea breeze that beckoned us to get out on the water. The whales were waiting.
Approximately 180 gray whales make their annual 10,000 mile migration to Bahia Magdalena not because they are looking for a warm place to get away from all the hustle and bustle of busy ocean life, but because these whales have firmly made up their mind- or perhaps instinct has done this for them-that this warm, shallow, and protected bay is the absolute best place to welcome their offspring into the world. The bahia may just be a narrow strip of water flanked by Baja desert on one side and a small spit of sand dunes on the other but to the gray whales, it is the baby birthing jackpot. Countless generations have been born in this protected bay, feeding and growing in peace before venturing out into the big, bad world to make their way back up the North American coast on their very first epic migration. The pescadores of Puerto López Mateos share these sacred waters. They have lived in harmony with their annual visitors, making friends with gentle beasts 400 times heavier than them. Thanks to the rise of eco-tourism and the bond these fishermen have fledged with a few of these amazing sea-dwellers, tourists can experience a whale-watching expedition unlike any other.
I feel like I can safely say that a whale watching trip on Bahia Magdalena is unlike any whale watching excursion you may have experienced before. Your vessel is not some state of the art fishing boat meant to hold 50 passengers and decked out with high tech tracking equipment, indoor plumbing, and a cash bar. This is a small fishing boat with an outboard motor operated by a man who spends most of his year scraping together a modest living pulled from these waters. It is far more dingy than yacht. When you catch your first spray of a whale's exhale, it might be 50 feet off in the distance or it might be so close you could reach out and touch it. And then you do.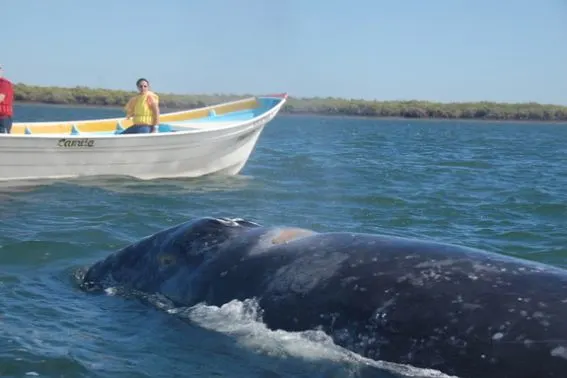 The excitement was tangible when Lucrecia graced us with her presence. Thrilled as we were to see her, we were also keenly aware that she wasn't really there to see any of us. Her interests lied solely with a trusted old friend, a man with whom she had been peacefully sharing these tepid waters for twenty years. Her daughter, on the other hand, was quite interested in everyone and everything. Like an excited toddler eager to use all of her senses get to know the world, she wanted to see, smell, touch, and be touched. Mom had indicated to her that our vessel was safe, and she was eager to say hello. Lucrecia and Hector's relationship was built on trust. Through this trust, Lucrecia could safely allow her inquisitive calf to interact with us and Hector could gain a nice boost in income to supplement his meager fisherman salary by taking small groups of eco-tourists like us out on the northern reaches of Bahia Magdalena to for an experience of a lifetime.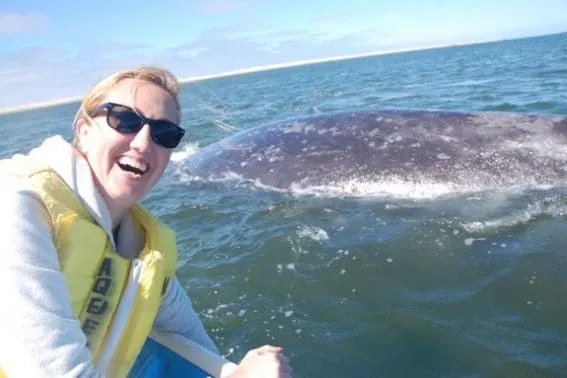 Never in my life did I think I would touch a whale in the wild. At best, I thought I might get lucky enough to be picked out of the crowd by a overly perky woman in a wetsuit to say hello to an orca at a marine park. I had been on several whale watching trips in the past but the boat had always been at least a couple dozen yards away from the whales and us passengers several feet above the water on the boat deck. Intimate encounters with the whales were always an impossibility. As impressive and awe-inspiring as those prior whale watching trips had been, they had nothing on this.
When something 15 feet long approaches your boat to say hello, it takes your breath away. When you regain your breath, you can't help but let out an involuntarily "wow" followed by an "oh my gosh" and yet another "wow." You will probably say wow at least 20 times and nobody else in your boat will notice because they will be busy trying to wrap their head around the magic of what they are experiencing. Then a giant hump will rise out of the water just a few feet away and you will remember that the massive creature you just pet was an infant and her 49-foot mother is closely watching just a few feet away. She makes you feel like an ant in the most marvelous of ways.
View our video of this incredible, interactive whale experience.
All video taken with the Sony Action Cam.
Getting there: EcoBaja Tours offers tours from La Paz and Cabo San Lucas. The cost is $115 per person and includes transportation in a comfortable van (with movies!), box lunch, the 2 hour whale tour, and dinner at a local seafood restaurant. Cough up $15 more and your dinner will include lobster and shrimp. Their recommended minimum age for this tour is age 3 but I think it is best for kids age 7 and up.
Want more marine adventure in Baja? Check out my post on swimming with sea lions in the Sea of Cortez.
Disclosure: A special thanks to the La Paz Visitors Bureau which included this once in a lifetime experience on my press trip itinerary. All opinions and magical memories are my own.