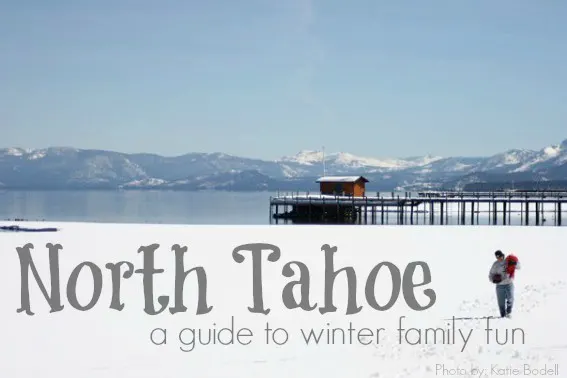 I may be biased, having grown up in the Sierras of Northern California, but I believe North Tahoe to be one of the best outdoor winter playgrounds for families. With its famed sunny days and deep powder, this region of Lake Tahoe is not only pocketed with first-class ski resorts, but situated in the heart of breathtaking national forest land with multiple state parks ready for family exploration. North Tahoe boasts a wealth of family-friendly lodging and dining, and in every town, parents will find a friendly, laid-back atmosphere that combines old-school resort living with modern luxury. Explore North Tahoe in winter with your family using this handy guide:
Get Your Bearings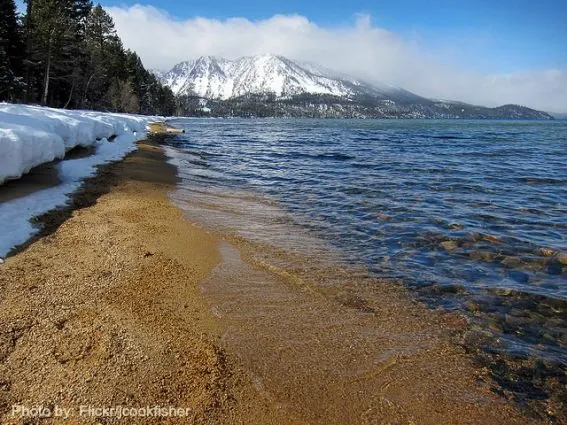 North Tahoe is generally defined as the northern arc of the Lake Tahoe shoreline from Tahoe City in the west to Incline Village to the northeast. North of the lake, Truckee makes the point of a North Tahoe triangle. In-between, families will find several distinct communities, all with a different vibe.
Tahoe City: We find Tahoe City to be the perfect mix of affordable and upscale. The 'downtown' strip is lined with quaint shops and restaurants and a nice walkway along the lake shore, but right outside of town, families can find a decent-sized supermarket and relatively quiet shoreline punctuated by state parks and snow parks. Tahoe City is a 'gateway' to Highway 89, which leads away from the lake toward Squaw Valley and Truckee. This is a nice area to rent a vacation home and be close to several main North Tahoe attractions.
Camelian Bay: This bay, north of Tahoe City, is lined with luxury homes and mostly private beach access. Unless you're lucky enough to live here or rent a vacation home in Camelian Bay, you're liking to be passing through en route to Northstar or Kings Beach. Families visiting North Tahoe in summer may likely set off on fishing expeditions from Camelian Bay.
Kings Beach: A busy, touristy town right at the northern tip of the lake, Kings Beach is the gateway to Highway 267, which leads to Northstar California and Truckee. Families will find kid-friendly dining in Kings Beach, including our favorite, Jason's Beachside Grill. There's a nice public beach adjacent, with plenty of parking in the off-season. Even in winter, this beach is our favorite spot to stop and take a family photo (Lake Tahoe is stunning year round). Parents will find additional grocery stores and rental stores in Kings Beach, as well as budget motels and hotels.
Incline Village: Incline is just east of Kings Beach, right over the California/Nevada border. Living is certainly upscales in Incline Village, with resorts and vacation homes at a premium. Incline is the gateway to Highway 431, which leads to Diamond Peak ski resort.
Truckee: The most 'liveable' North Tahoe town, with the biggest local population, Truckee is situated north of the lake, near I-80. It's only 30 minutes from Reno, Nevada, and the route most families will take if arriving via the airport in Reno. Truckee has a new and old section; the old downtown is historic and quaint, with great shops and dining opportunities. The pioneering spirit is pervasive here. The new part of town offers strip malls, fast food chains, and plenty of standard motel lodging and ski rental shops. A great place for breakfast in Truckee is Squeeze Inn.
Where to Ski in North Tahoe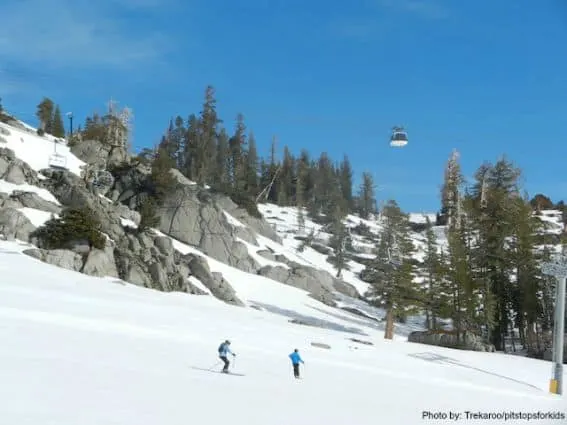 Squaw Valley: Squaw Valley on a powder day can't be beat! Expert families will love the KT-22 face and, our favorite, the glades and bowls found off the Granite Chief chair, but Squaw is great for beginners, too. Why? The learning area is at mid-mountain, instead of at the bottom. This means even newbies get to ride up the central gondola or tram to the heart of the resort, and learn to ski or ride in the beauty of the mountains (within easy access of two lodges), instead of down by a parking lot. Families will want to take the time to stop into High Camp to see the small, free museum commemorating the 1960 Olympic Games and see the Olympic rings. In winter, ice skate here, and by Spring Break, swim in the heated outdoor pools! Oh, and Squaw boosts a 'ski through' Starbucks at mid-mountain, too.
Read Trekaroo kid-friendly reviews of Squaw Valley.
Alpine Meadows: One of the best kept secrets in North Tahoe, Alpine Meadows is the small ski resort with big features. Alpine is easy to access, and has only one main lodge, which means parking and navigating the morning shuffle to the slopes is easy-breezy. It has a great learning area and green runs for beginners, but some of the best bowl and cornice skiing for experts. We take laps up and down the front face and bowl all day long and never get tired of it. Alpine Meadows is now part of Squaw Valley, which means one lift tickets gives families access to both. The downside: this raises the lift ticket price, but there's a shuttle that takes skiers and riders between the two mountains. Plan to ski for two days at least to get to both 'sides.'
See Trekaroo parent reviews of Alpine Meadows.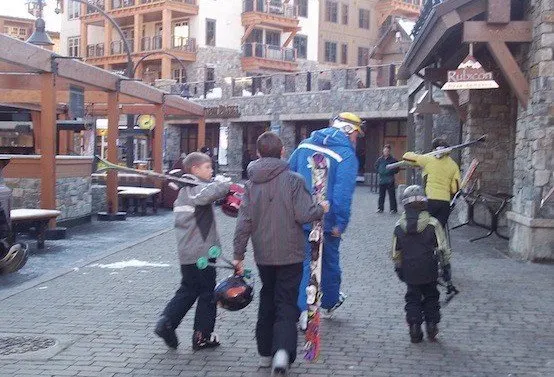 Northstar: My personal favorite ski resort for family-friendly atmosphere, Northstar California has a great village that keeps small children and non-skiers happy on the ice skating rink and bungee trampoline, and the best snowboard school in Tahoe (in my opinion): Burton Snowboard Academy. Families skiing or riding at Northstar have many lodging options on site, which I recommend utilizing to take advantage of the fun, after-hours activities in the village for families.
Check out Trekaroo reviews of Northstar.
Diamond Peak: Families can find great deals at Diamond Peak to give their wallets a break. Plus, this resort is a bit more off the beaten-path (I don't think very many families stay in Incline Village, the closest town), so crowds are usually smaller. Experts will still find good terrain at Diamond Peak, and their ski school is among the best.
Check out a Trekaroo review of Diamond Peak.
Sugar Bowl: My favorite 'local' resort growing up, Sugar Bowl is located off I-80 near Truckee in Norden, and has come a long way since the '80s and '90s. Parking is still on the street, where families then take a gondola, but there are now two additional parking areas, one exclusively for ski school customers. The beautiful historic lodge is still in place, but Judah Lodge adds convenience and another place for families to situate themselves. The skiing and riding is amazing at Sugar Bowl and crowds are still very thin. Come here to get away from any 'corporate' feel and ski with locals.
Read Sugar Bowl Trekaroo reviews.
Lodging in North Tahoe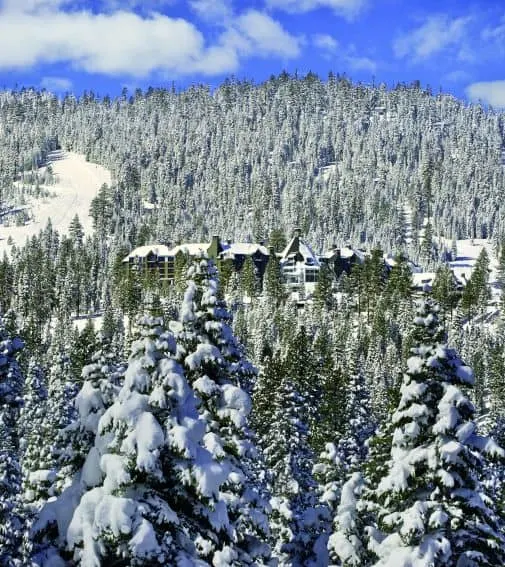 Depending on the weather, it takes anywhere from 30 minutes to an hour to get from point to point within the North Tahoe region. I suggest families decide where they want to stay first, then pick the type of lodging that's best for them. Basically, anything from vacation homes to condos to hotel rooms will be available in most locations.
For families primarily skiing in the Squaw/Alpine area: A stay in the Squaw Village is ideal, as families are steps from the slopes and evening entertainment and dining. Check out our review of village lodging in this post on spring skiing at Squaw. For parents who prefer hotel rooms, check out the Resort at Squaw Creek. Alternatively, families may want to rent a vacation home further afield for cost savings; head to Tahoe City or the west shore.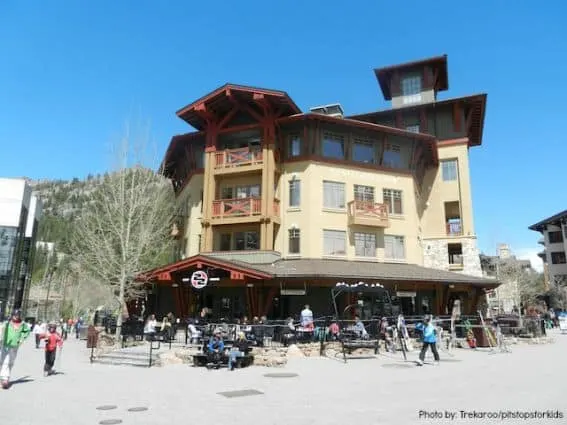 For families primarily skiing in Northstar, Sugar Bowl, or Diamond Peak: Staying inside the Northstar community is more expensive than a vacation rental in Truckee or Kings Beach, but much more fun for families with kids who want to take advantage of village life, ice skating, and swimming pools (indoor and out). We've stayed in Northstar budget condos as well as the Northstar village luxury condos. A Northstar vacation home can be arranged through the resort lodging, or through a rental service such as HomeAway (we've done both). For a most glamorous stay, head to the Ritz Carlton Lake Tahoe (summer or winter).
For families primarily looking for snow play (non-skiing): I suggest renting a vacation home near Tahoe City. The area of Homewood is quiet (at the start of the west shore), and families will find Sugar Pine Point State Park and snow parks to snowshoe in or cross-country ski and sled. There are also rental homes in Truckee that may fit the bill.
For families looking for shopping and dining: It's fun to stay in a ski village (Squaw or Northstar), even if you don't ski. For families looking for more shopping opportunities, I recommend a hotel stay in Incline Village or downtown Truckee. Larkspur is a good choice in Truckee, or the Hyatt Regency in Incline (keep in mind that this is the Nevada side, so there will be gambling).
Favorite Places For Snow Play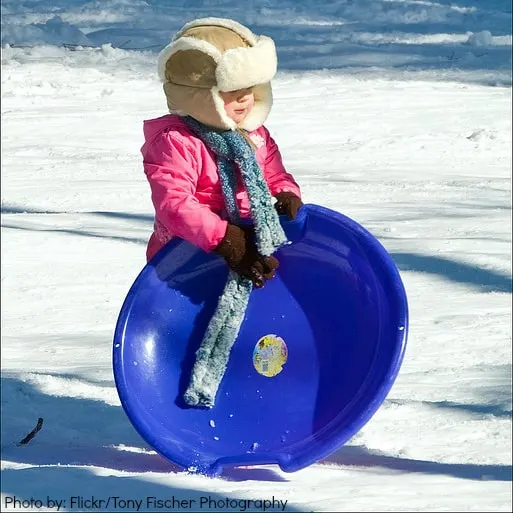 Not skiing? No problem! Head to one of these free or low-cost places to sled or simply play in the snow in North Tahoe. In addition, most major ski resorts in the area offer their own tubing or sledding venues, for a higher cost. Ice skating is found at Northstar or in Truckee, at the Truckee Ice Skating Rink.
Granlibakken: This historic ski, sled, and spa location is found just outside Tahoe City. Families can use the sledding hill for about $10 per child, or learn to ski for much less than at large resorts (they have a rope tow and one main hill). Granlibakken is dog-friendly and there's a small, but cute lodge for hot chocolate breaks.
Sugar Pine Point State Park: As mentioned above, this is a great place to go for snowshoeing or general snow play. Sugar Pine Point offers snowshoe moonlight tours as well! Find it on the west shore, below Tahoe City.
North Tahoe Regional Park: Located in Tahoe Vista (near Kings Beach), this regional park transforms from sports venue to sledding hill in the winter months. Come here to find groomed hills and a fun community atmosphere.
Soda Springs Tube Town: For $25, kids can tube all day at Soda Springs, which also offers low-cost (though limited), skiing for beginners and intermediates. Their 'Planet Kids' area includes learning areas for skiers, plus tubing lanes and a 'snow volcano.' Soda Springs is located near Truckee off I-80 (near Sugar Bowl).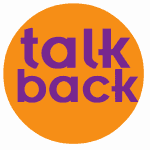 We'd love to hear from you. Where do you like to go for snow in North Tahoe? Where do you stay?