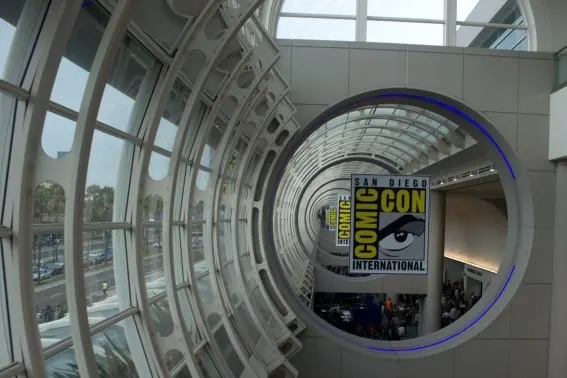 Photo by Flickr/Rach
San Diego Comic-Con is an event many look forward to all year long – they even plan major life events around it! When traveling to Comic-Con International you might be worried about bringing your children but there are many great experiences to be had for the entire family! Families will enjoy the endless attractions and panels; whether your children enjoy reading, drawing, or watching comics, they will learn a great deal about what it takes to make each and every story come to life. Parents and children alike will share memories to last for years to come!
Bringing your Family to Comic-Con – For Free!
Children 12 and under may enter Comic-Con International without a pre-registered badge with any adult (who was lucky enough to snag a badge themselves). Parents can pick up the complimentary child's badge at the Convention Hall – the complimentary badge is required to walk into the hall and join in on panels.
Tip: If your child is 12 years old it is important to get a registration ID so they may enter the pre-sale for the following year.
RELATED: When requesting housing through Comic-Con make these top San Diego hotels for families a priority on your list.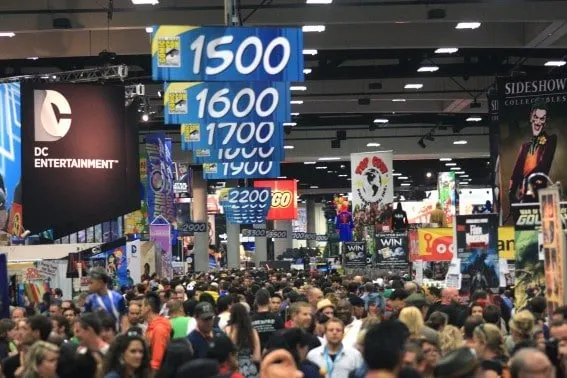 Photo by Flickr/Kevin Dooley / http://www.travelbusy.com/kevin-dooley-photography/
Tips on Navigating the Exhibition Hall
The exhibition hall can be an overwhelming area. Quite often people are walking shoulder to shoulder and it is extremely important to have your child securely near you! Here are a few tips on navigating the Exhibition Hall:
Before entering the hall, have a pre-designated meeting space in case you get separated.
Be sure to check out The Grid on comic-con.org, which is available two weeks prior to the convention. This map will tell you where you'll find the exhibit booths and experiences you are hoping to explore.
Many booths inside the exhibit hall will have long waits and may quite possibly close their lines throughout the day. Plan your trip with multiple back up plans – it's likely you will meet long lines with more mainstream topics. Hall H may require an overnight camp out!
Booths like Legendary typically offer interactive experiences but you will need to get your ticket for this booth at the beginning of your day – interactions and autograph signings are often different each day.
The Warner Bros. Booth, and other popular favorites, will have their lines open and close throughout the day due to limited space. If a line is closed, it is important for you to check back regularly.
There is food inside of the convention area, however it is limited and quite pricey. SDCC allows outside food so packing a picnic or snacks for you and your family is always a great idea.
Tip: Looking for a meal offsite? You can leave and return to Comic-Con after dining at some of Trekaroo's favorite kid-friendly restaurants in San Diego!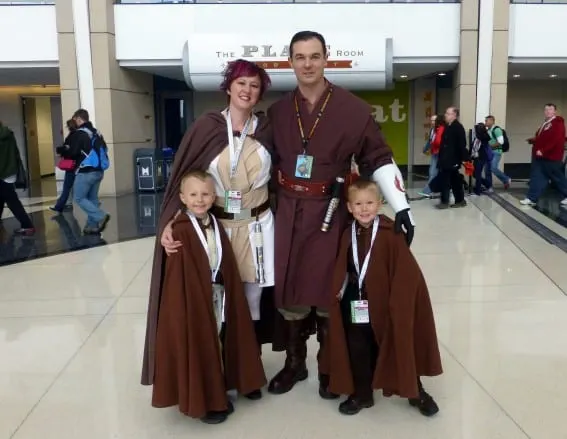 Photo by Flickr/GabboT
Exploring Offsite Activities at Comic-Con
Many offsite activities at Comic-Con do not require a badge to enter, which is great for families who want to have a Comic-Con experience but were unable to secure badges for every day of the event. Offsite options offer kid-friendly activities like 3-D movies, inflatables, and hands-on activities at many events. The interactive locations are scattered throughout all of downtown San Diego and it is important to check out the Toucan Blog on the Comic-Con website to get the exact location for all of these offsite events.
Educators should check out the free event at the San Diego Library. This event focuses on comics and their influence on literacy for all ages. Comics are a part of main stream media and even day to day life – this conference helps harness that energy and producing positive results in education.
Tip: Not all activities will be worth the line or be available to your child due to age or height requirements. It is important to check at the front of the line before waiting!
RELATED: Looking for more San Diego fun and adventure? Explore our Top 10 Things to do in San Diego.
Photo by Flickr/Frederik Hermann
Kid-Friendly Details at Comic-Con
Kid's Day
Kids will find a great collection of panels for them to attend on Sunday, Comic-Con's official Kid's Day. There are often panels on drawing, comic book story-lines, and meet-and-greets for characters they love! Sunday is typically one of the last days to sell out and is a good option for parents to buy. Be sure to check out the programming guide on comic-con.org – the grid will tell you where all of the kid-friendly panels are located throughout the day.
Childcare
If you want to visit an adult-themed panel during your visit, Comic-Con International has you covered! KiddieCorp, located within the convention center, is a childcare group designed to securely entertain your children throughout the day. KiddieCorp has been providing child care for Comic-Con for over 30 years!!
Nursing Mothers
Whether your children are with you or at home, nursing mothers can go to disabled guest services and request a nursing room and you will be provided a private area to nurse or pump during your visit. Additionally, there are outlets in all restrooms if you are in a hurry or en-route to another panel.
RELATED: If your family plans to extend your stay take a look at our Top 10 Things to Do in San Diego for an enjoyable vacation!
Featured photo by: Shutterstock