Smiles the size of the Grand Canyon. The whoosh of the wind tearing my daughter's eyes up with squeals of delight. That feeling of accomplishment when you know you've conquered your fear. Sure, this may sound like a candy bar commercial from the 1980's but in reality, it's exactly what happens every time I take my family ziplining. We love the thrill of racing down a zip line (sometimes at speeds approaching 60 mph!), the gorgeous scenery and views, and, whether it's a canopy or open land style of tour, we can never get enough. Happily, my family isn't the only one that has a love for adrenaline. Zipline courses are popping up all over the United States. We at Trekaroo love sharing top-notch zip line courses so we've compiled a list of our favorites. So put on your closed-toe shoes, tie your kids' hair back, and get ready for some sky-high fun!
Riverbanks Zoo's Zip the Zoo, Columbia, SC
Photo Credit: Karyn Locke
Ranging from 200 to 1,000 feet, seven zip lines carry guests through Riverbanks Zoo and Garden's tree canopy and across a river, Zip the Zoo was made for families that love easy zipline experiences. The zip lines were created so there's no hand-braking or worry about stopping at the right time, too.
Tip: Zipliners must weigh between 70 and 250 pounds to safely navigate the course. There's a couple of cargo net climbs and a rickety bridge that sways, so make sure the kids are prepared.
Screamin' Gator Zipline at Gatorland, Orlando, FL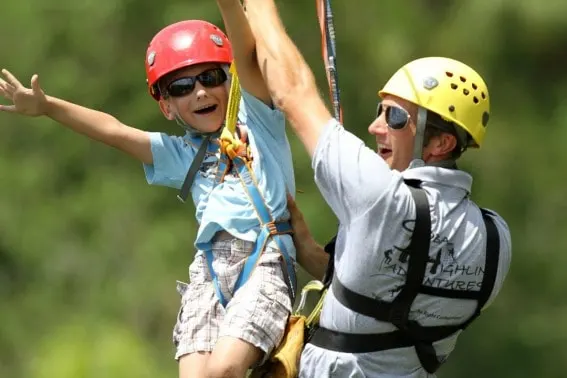 Photo Credit: Gatorland, Orlando, FL
Voted the "Best Zip Line in the U.S. by AOL Travel", Screamin' Gator Zip Line at Gatorland in Orlando, Florida sends participants over both Cuban and Nile Crocodile habitats and even over an alligator breeding marsh! If zooming over 130 alligators isn't thrilling enough, the 1,200-foot long course offers seven-story tall zip towers and gorgeous views of Gatorland.
Tip: Go first thing in the morning or later in the day when the Central Florida heat is tolerable. Guests must be at least 37 inches tall and no more than 275 pounds.
Gravity at Adventures on the Gorge, Lansing, WV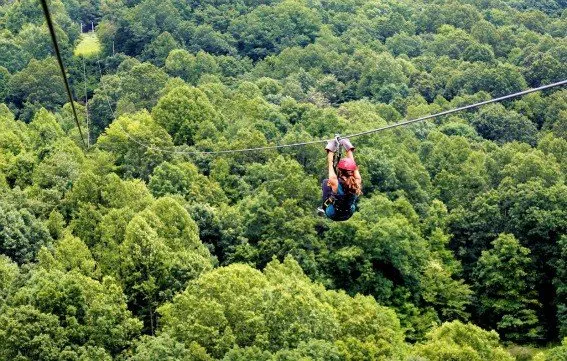 Photo Credit: Adventures on the Gorge
The New River Gorge isn't the only blood-pumping scenery in Lansing, W.V. Gravity Zip Line Course at Adventures on the Gorge offers two 500 foot "warm-up" zip lines to get the feel of the course. The lines only get longer and speedier as guests will master 1,800 feet long ones and be over 200 feet above the ground. The final zip line, AdrenaLine, is 3,150 feet long and two guests can race each other at 60 mph with the proper technique. No worries about hand-braking either because there are several safety measures to slow you down on each line.
Tip: This course is definitely not for younger kids. Guests must weigh at least 100 pounds and not over 260.
Catalina Zipline Eco Tour, Catalina Island, California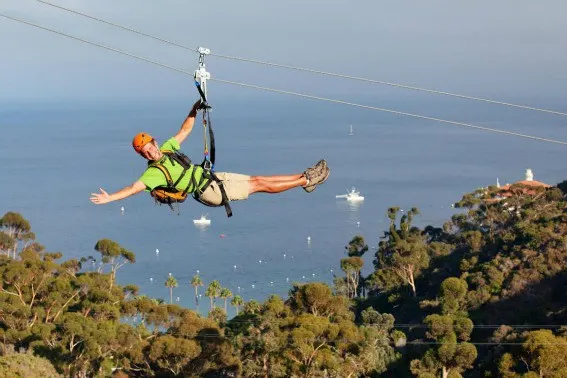 Photo Credit: Santa Catalina Island Company
Pre-teens and teens will love this course. Trekaroo's Editor-in-Chief, Sharlene Earnshaw, called it a "must do" when visiting Catalina Island. The Zip Line Eco Tour offers incredible views both down below and straight ahead, and of the five zip lines, the second one has amazing views of the ocean.
Tip: Smaller kiddos (ages 5-9) need to ride tandem with an adult 18 years of age or older and the combined weight cannot exceed 235 pounds. Have children that love zipping alone? They need to be 10 years of age or older and weigh more than 80 pounds.
Zipline at Big Sky Base Camp, Big Sky, Montana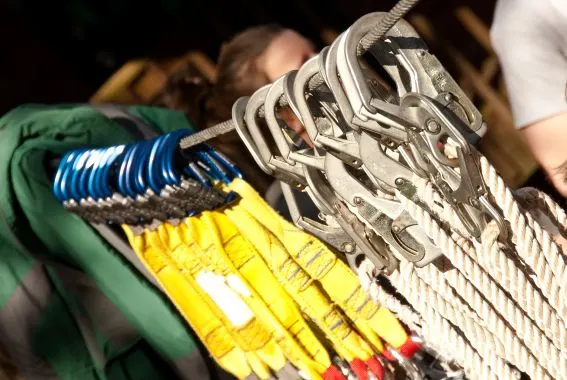 Photo by: Bigstock/sstrickler
When the creator of Trekaroo tells you a zipline is great for kids, you take it to heart. Big Sky Resort Zipline is "a great way to savor the beauty of Big Sky" with a tour through beautiful clusters of log pines on yaktrax. Three ziplines stretch through the trees with a chance to see the skiers below (if you visit during ski season) and the guides are excellent.
Tip: If the kiddos are not used to a high altitude, plan on adding a couple of days to adjust to the increase. There's an uphill climb at the beginning and they'll thank you for it.
Hidden River Cave & American Cave, Horse Cave, Kentucky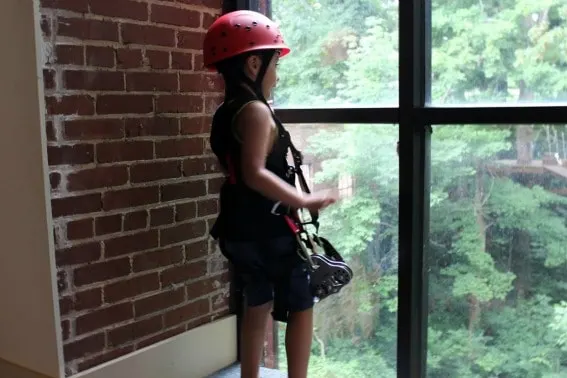 Photo Credit: trekaroo/imsnow
There are two kinds of zip lines in this world: those you can enjoy, tandem-style with your child, and those they can ride by themselves. Hidden River Cave & American Cave Museum in Horse Cave, Kentucky is the latter, but you can do tandem rides there too. During my visit, my 5-year-old ziplined solo while I cheered him on from the platform with my fist pumping in the air. The attraction is split up in three parts: a tour through Hidden River Cave along the banks of a subterranean river, a tour about the history of Hidden River Cave and its cave animals at the American Cave Museum, and a zip line and rappelling adventure! Gem Mining is also available. Hidden River Cave is located on Main Street in the middle of Horse Cave's National Register of Historic Places Commercial District. Dare you to try to say that fives times fast. You can see the cave entrance from the sidewalk on East Main.
Gunstock Mountain Resort Zipline Adventure, Gunstock Resort, New Hampshire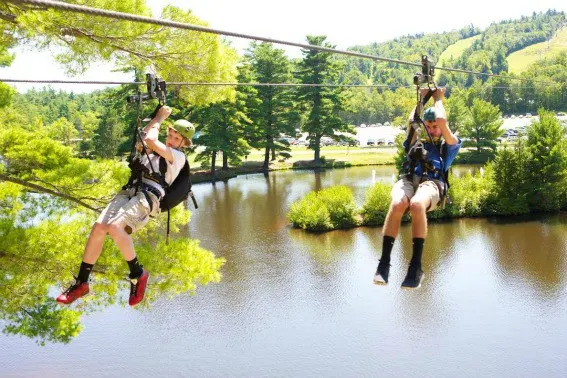 Photo Credit: Gunstock Mountain Resort
We love New Hampshire. Every season brings another reason to get outdoors and enjoy the fresh mountain air and terrific scenery. An adventurous way to do this is to take part in the zipline tours at Gunstock Mountain Resort in the Lakes region of New Hampshire. Here, friendly, helpful, and fun staff will train you to take part in a zipline adventure that holds bragging rights to one of the longest zip lines in the USA. Children 10 and older are able to tour the five zip courses that will take you on a zip line over 1.5 miles long reaching speeds of over 65 mph! You can go faster than a Prius! Of course, they also offer skiing, an aerial treetop course, and some fine camping opportunities.
Devil's Thumb Ranch Zip Line Course, Tabernash, Colorado
Photo Credit: trekaroo/Beach Mom
What a way to explore the ranch – from high in the air! Beginning with smaller lines and working your way up to longer and faster lines, Devil's Thumb Zip Line Course's views are complemented by history lessons from experienced guides. Course guides even provide drinks at the end of the tour. Riders are required to be between 75 and 275 pounds.
Tip: Even in summer it can get chilly so bring a jacket with you just in case.
The Wilds Zipline Safari, Cumberland, Ohio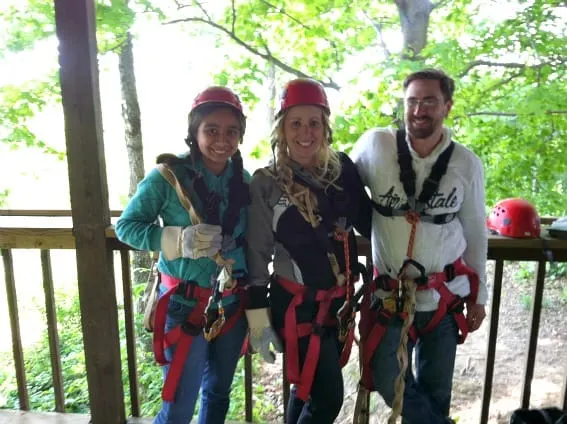 Photo Credit: Karyn Locke
Looking for a wild ride that carries you over lakes, through a tree canopy, and even over exotic animals? The Wilds Zipline Safari does all three. The most thrilling of all of the safari tours at The Wilds is the 10-line course that grows longer and faster while at the end, there is a rope rappel – with a photographer to capture the moment. Tour guides provide great information about the land and animal conservation efforts, and their knowledge and skill put my family at ease.
Tip: Weight guidelines are listed between 70-250 pounds and children ages 10-15 years old must be accompanied by an adult.
Kentucky Action Park, Cave City, Kentucky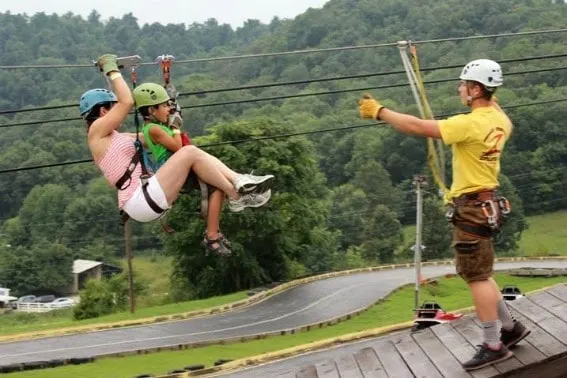 Photo Credit: trekaroo/imsnow
Kentucky Action Park is home to the longest zip line in Kentucky, and it's amazeballs! If you're a thrill seeker but have been limited in the types of activities you've been able to participate in due to the age of your kids, you might love this park. I fell head over feet while ziplining with my 5-year-old, a half-mile over the lush landscape of Cave City. This isn't a watered down zip line either. We're talking full speed, high up in the air, heart pumping, chest thumping, pure adrenaline. You get some speed on a 300 ft. zip! Outside of its crazy-good zip line attraction, which is accessed by a scenic chairlift, the park's chock-full of thrill-seeking adventures including bumper cars, an alpine slide, canoe trips, a tour through Outlaw Cave, and a 30-minute horseback ride, just to name a few! Suffice to say, you won't be twiddling your thumbs at Kentucky Action Park wishing your wee ones were old enough to do something more exciting.
Tip: Kentucky Action park has guidelines and restrictions by age and weight, but offers programs for kids three years and up.
Ziplines at Pacific Crest, Wrightwood, California

Photo Credit: Michelle McCoy
Nestled in the small mountain community of Wrightwood, just over an hour drive from Los Angeles, is a most thrilling mountain adventure on Ziplines at Pacific Crest (formerly Navitat). Children as young as 10 years old and weighing 90 pounds or more will reach speeds of 55 mph on zip lines that top out at ¼ mile long. You'll also take two small hikes, cross two sky bridges stretched high over a gorge, and climb a sky stair made of logs, but the most fun part might be the dual racing zip to close the tour. Who will win?!
Tip: The tour lasts at least three hours, so make sure the kids use the restroom before beginning the zipline tour.
1000' Dual Zip Lines and Twin Zip Flyers at Camelback Mountain Adventures, Poconos, Pennsylvania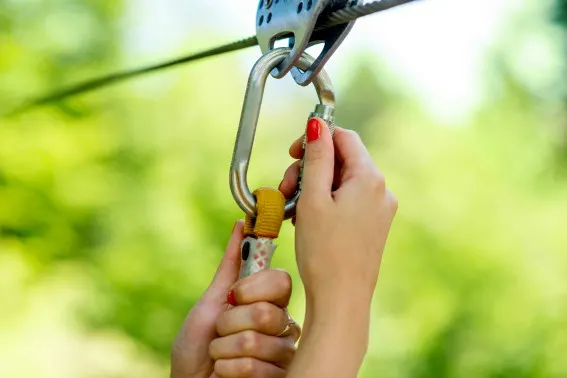 Photo by: Bigstock/RossHelen
If the kids have that competitive drive, racing down Camelback Mountain is a great way to bring out a healthy competition! At heights of eight stories above the ground, dual zip lines allow guests to race one another. There's a way to stay seated and have fun as well with the Twin Zip Flyers. With a 4,000 feet-long zip cable and speeds of 60 mph, kids will be able to spy the water park and other pretty views during their run.
Tip: Minimum height and weight is 4'4'' and 75 pounds, so check to see that the kids measure up ahead of time so there are no pouty, disappointed faces.
Treetop Adventure Park at Granglibakken, Tahoe City, California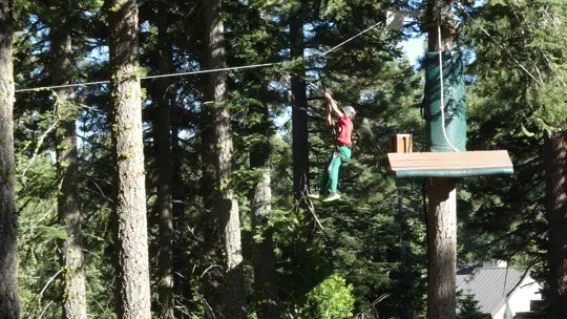 Photo Credit: trekaroo/kristined
The Treetop Adventure Park at Granglibakken vary from beginner to advanced zipper, but if you want a thrill, go for the Black Course. This one is for "the most adventurous of kids and beginning adults" and has a total run of almost 1,000 feet. Similar to a canopy tour with three zip lines and two bridges, most of the platforms top out at 40 feet in the air. Want a little less adventure in your life? Try the Green and Blue courses.
Tip: Participants can be as young as five years of age and the experience lasts about 2 ½ hours. Make sure to wear layers – it can be chilly up in the trees!
Game Creek Aerial Adventure, Vail, Colorado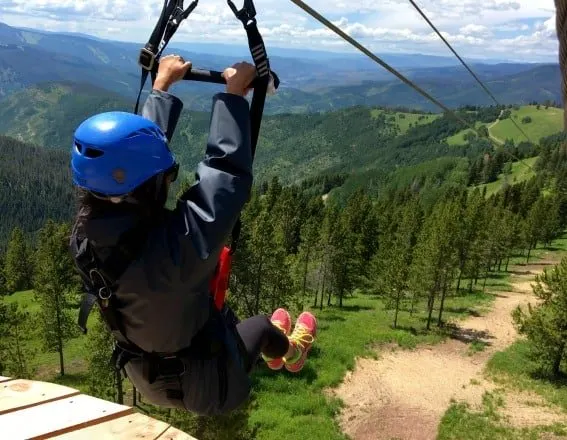 Photo by: Michelle McCoy
To say this zip line course is epic may be an understatement. Guests ride over 2 miles of zip lines, the longest string of zips in the US. The Game Creek Aerial Adventure in Vail takes guests with expert guides along 8 zips, 2 rappels, up a chairlift, over several sky bridges, and one epic zip zooming along at up to 65mph over 1/4 mile in length. As part of the zip line course, guests receive passes to the Epic Discovery area, full of fun, family-friendly activities including a tube run, mountain roller coaster, and ropes courses. Kids must be at least 10 years old and weigh between 75-250 pounds to take the zip line adventure but the Epic Discovery course is for all ages.
Tips: Afternoon thunderstorms are common in the Colorado Rockies so it may be best to book a morning tour. Bring warm clothes as the wind can be cold up on the mountain.
Yunke Zipline Adventure, Puerto Rico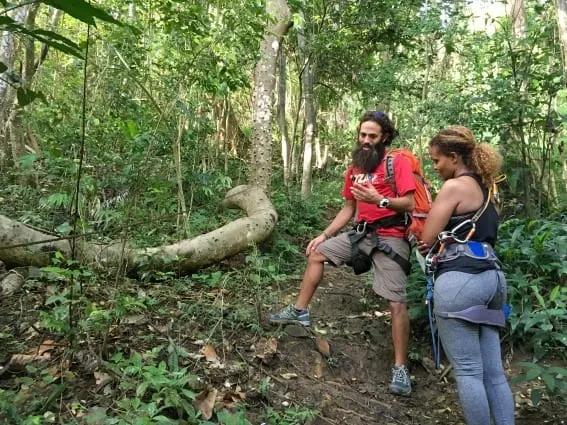 Photo by: Michelle McCoy
In the jungle of Puerto Rico, next to El Yunque National Rainforest, sits a thrilling zip line course, manned by expert guides who love sharing the thrills and ecological nature of their homeland. Not only do guests get to zip across 6 speedy zip lines, but a nature hike through the forest gets you up close to wonders of the jungle. We learned so much and had a blast at YZA. The huge iguana resting in the treetops and the rappel down a giant old-growth jungle tree were the final touches on a fun afternoon.
Tip: Bring good insect repellent because the mosquitos loved us.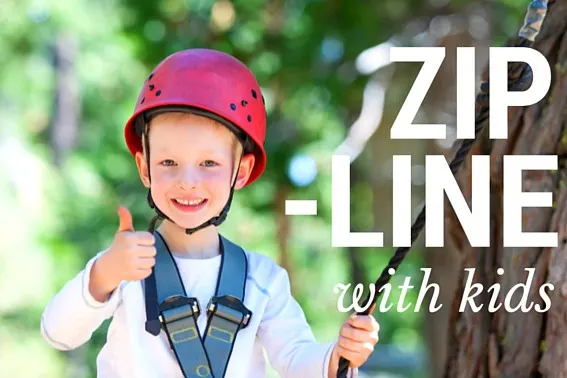 Photo by: Bigstock/noblige
Lead image by Shutterstock Daniel Chetroni