It takes my breath away every time! That first glimpse of majestic Yosemite granite always hits me like a rock.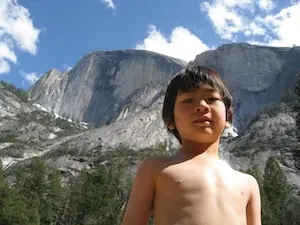 It's experiences like this that make me grateful to the National Park Service (NPS) for making these wonders of nature accessible not just to the hardiest of explorers. I am grateful that our 4 and 7 year old boys can feel, touch, smell and see in person some of the most beautiful and fascinating places in this great land. Over the last almost 100 years, more than 400 entities have come under the protection and management of the National Park Service.
Families all over America and the world love exploring America's National Parks. In Part 1 of our endeavor to unlock America's National Parks for families, we bring you 6 of our favorite National Parks and some of the most popular National Monuments. You'll find a unique list of kid-friendly activities for toddlers through teens and family-friendly lodging.
Now it is up to National Park loving families to fill in the gaps with their personal recommendations.
Yosemite National Park with kids– this vast National Park is distinctive for it's magnificent granite monoliths, some of the highest waterfalls in the continent, and stately redwood groves.
Yellowstone National Park – psychedelic thermal hot spring pools, geysers, boiling rivers, majestic waterfalls, and stately elk. Yellowstone National Park is one of the most unique places on earth.

Photo by: Flickr/AlaskanDude
A List of National Monuments to Visit with Kids
Tips on Exploring National Parks and Monuments:
If you've got the inside scoop on any of these National Parks, don't hold back! Share reviews, tips, photos and memories. Tell us all what are your favorite hikes for kids, what ranger programs and privately run tours shouldn't be missed, and which campsites and lodging are the most kid-friendly.
The Pioneers:
Along with the Trekaroo team, I would especially like to acknowledge these Trekaroo families who have been key in getting the ball rolling: DGL19652003, Womanofsalt, arial, Familiarycerz, Dan, fani*fam, mamateresa2007, Mom Most Traveled, Travelersbarista, pitstopsforkids, zerbut, JulieCC, Nene, Christinebyrd and Grandma Adele.
Read our user reviews of Zion National Park and add your own voice.
"This land is your land, this land is my land
From California to the New York Island
From the Redwood Forest to the Gulf Stream waters
This land was made for you and me."
Travel with kids to: CA | CO | DC | FL | HI | IL | MA | NC | NY | PA | TN | TX | VA | WA