New Mexico is an amazing place to visit with kids. In October, Albuquerque comes alive with its annual International Balloon Fiesta, the world's largest hot air balloon festival. For nine unforgettable days, Albuquerque's skies are decorated with hundreds of balloons from 19 countries. One family-friendly event in particular, the Special Shapes Rodeo, draws countless smiles as 100 whimsical hot air balloons—from a woodpecker head to Darth Vader's head to Humpty Dumpty—ascend into the sky. Beyond the Balloon Fiesta, Albuquerque's cup runneth over with family-friendly activities—at least a full week's worth!
Look for current hotel deals in New Mexico
Read Trekaroo's list of New Mexico Family-Friendly Adventures
Getting to and Around Albuquerque Is Easy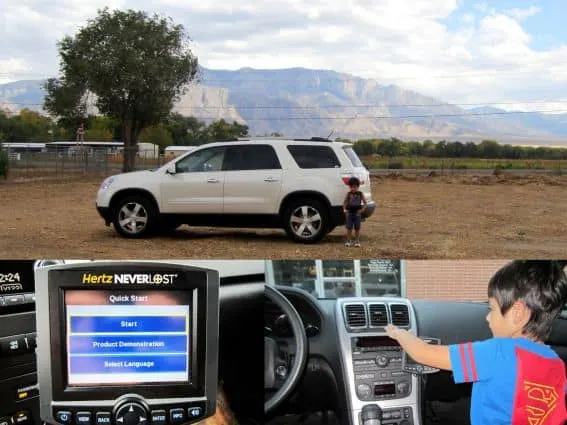 From San Diego, it's only a 90-minute flight to Albuquerque's International Airport (ABQ). After landing, I shuttled to the Hertz counter and rented a GMC Arcadia (a full-size crossover) with Hertz NeverLost. Hertz NeverLost is an in-car GPS system featuring real-time content regarding attractions to visit, activities to enjoy, and places to eat. Navigating through New Mexico with Hertz NeverLost was easier than I ever thought possible. Every place I wanted to see was already preloaded into the car's GPS, making travel from Point A to Point B, almost effortless.
Normally, when I rent a vehicle, I go for the cheapest car that can accommodate my baby gear. I've been doing it all wrong! My pimped-out Hertz was a key component to my vacation success and, in the future (when my budget allows), I'll guiltlessly splurge on a Hertz SUV with four doors, all leather interior, satellite radio, and a rear view camera! I see now that Hertz rentals are worth it.
Check for hotel availabilities in Albuquerque
Have you been to Albuquerque? Share your scoop!
Kid-Friendly Albuquerque Attractions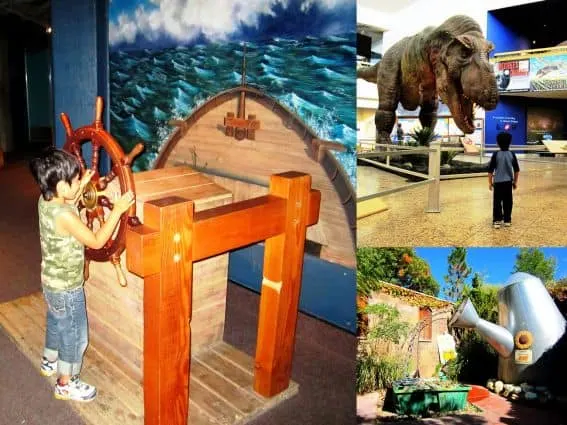 At Albuquerque's Museum of Natural History & Science, discover everything from the origins of the universe and New Mexico's dinosaurs to the eruptive age of volcanoes and the harsh realities of the Ice Age. Strollers are not permitted in the Planetarium, but it's a great place to watch a movie in total darkness while your child naps on your lap. My preschooler fell asleep within minutes of the lights turning off!
Explora Science Center and Children's Museum features more than 250 fun and engaging interactive exhibits designed to bolster creativity and foster a joy of learning. Explora's interior set up reminds me of a maze fashioned out of office cubicles. If your child is a sprinter—like mine is—don't let them get too far ahead of you.
Albuquerque's Botanic Garden features a Fantasy area reminiscent of Alice in Wonderland. Much to our delight after entering, we found ourselves at the entrance of a castle with gates guarded by a fourteen-foot-tall topiary dragon standing on the edge of a moat!
The Rio Grande Zoo offers excellent primate viewing opportunities. A fun sign warns spectators that Gorillas can throw objects at the crowds (snicker). FYI: Zoo bathrooms do not offer toilet seat covers.
Look for the best hotel prices in Albuquerque
Kid-Friendly Albuquerque Hotels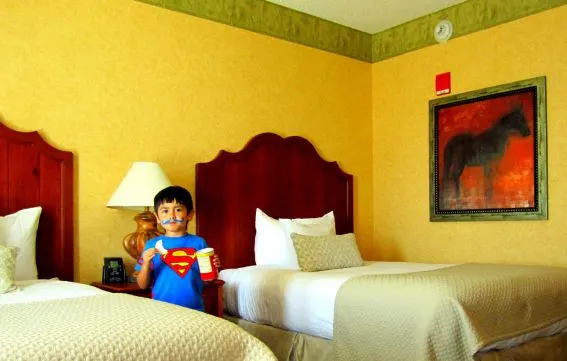 Embassy Suites Albuquerque offers hard-to-live-without family-friendly amenities such as two-room suites with refrigerator and microwave. Highlights include a coffee shop in the lobby with a Starbucks menu, free cooked-to-order breakfast, Cartoon Network and the Disney Channel, and complimentary self-parking. If you prefer, valet parking is also available for $10.
Embassy Suites Albuquerque is a great spot to stay at for the International Balloon Fiesta. The hotel is 15 minutes from Balloon Fiesta Park and only 10 minutes away from most of Albuquerque's family-friendly attractions. It's also conveniently located off the freeway and only three miles from the Albuquerque International Airport.

Have you stayed at a hotel in New Mexico? Leave a review!
Surprise! Santa Fe Is Kid-Friendly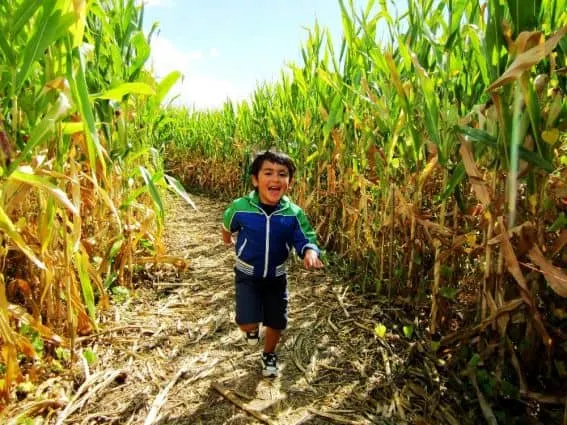 The one-hour drive from Albuquerque to Santa Fe is a panorama of tabletop mesas. I normally hate to drive, but I loved driving in New Mexico—the landscape is just that pretty! Along the way, I drove through Corrales en route to Wagner's Farm—a lush, green six-acre corn maze with hayrides, petting zoo, play areas, and pumpkin patch open annually from mid-September through October. Wagner's Farmland Experience was a trip highlight.
For miles along Corrales Road, artistically decorated scarecrows were showcased on either side of the street leading up to the farm. It was a fun and unexpected delight that I wish I would have photographed. I still smile at the thought of them.

Look for current hotel deals in Santa Fe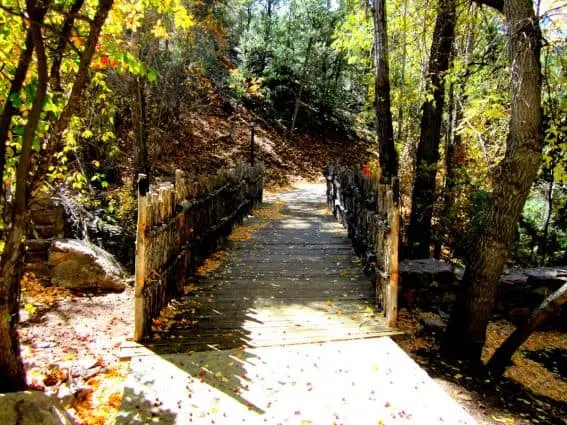 Though much smaller than Albuquerque, Santa Fe's gorgeous natural landscape leaves a big impression.
Santa Fe Lodging: Bishop's Lodge Ranch Resort & Spa
Just outside of town, Bishop's Lodge Ranch Resort & Spa sits on 450 colorful acres in the Tesuque Valley, surrounded by national forest in the Sangre de Cristo Mountain. The hiking is unbelievable! Bishop's extensive line-up of family-friendly activities includes sunset cookouts, a seasonal camp for kids, and a multi-sports kids program. During our stay, my son enjoyed a wrangler-led horse ride around the corral. As I walked and chatted with the wrangler, he recommended dinner at Santa Fe's Cowboy Bar and Grill, a family-friendly restaurant with picnic tables and kids play area in the back. Instead, we opted for Bishop's on-site restaurant, Las Fuentes Restaurant & Bar, where I enjoyed the most delicious vanilla ice cream that's ever blessed my lips.
Kids Are Definitely NOT Bored in Santa Fe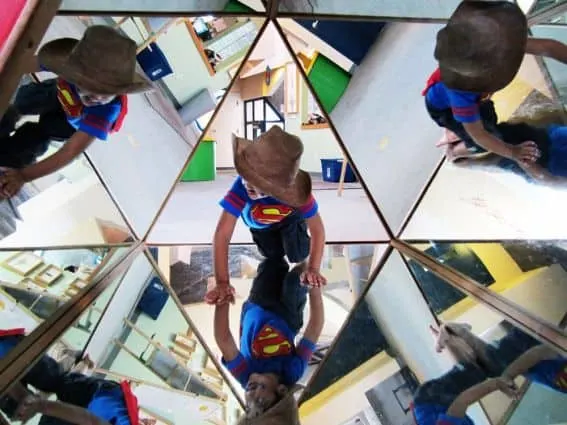 Check for hotel availabilities in Santa Fe
I read an article once advising against visiting Santa Fe with kids. It claimed children would be bored amidst the art galleries and jewelry shops of the nation's oldest capital city. This picture begs to differ! My son loved Santa Fe, especially the Children's Museum! Who wouldn't want to crawl through a kaleidoscope wearing a funny hat and a blue handlebar mustache?
Just minutes from the museum, in the heart of downtown Santa Fe, Rosewood Inn of The Anasazi offers visiting families special amenities designed just for them. The Rose Buds program offers en-suite wireless baby monitors, full-size crib and linens, in-room baby proofing services, changing table, diaper pail, baby bath tub with non-slip mat, bed rails, in-room bottle warmers, and babysitting services. Wow! If that didn't sell you, hold on, there's more…
Rosewood Inn is pet-friendly and children's menus are offered at the delicious Anasazi Restaurant. To the right of the Inn is Santa Fe's public library with crafts, events, and story times for children and across the street is a toy store! During the day, free lemonade and cookies are offered in the library, and moms can arrange for an in-room massage. When Calgon takes you away, it takes you here!

Lead image by: Shutterstock
Read more about New Mexico with kids here: New Mexico Ballooning – A Family Friendly Affair
Thank you to the Albuquerque CVB, Embassy Suites, and Rosewood Inn for hosting this wonderful adventure. All opinions are my own.