Whether you live in Michigan or are just passing through, a weekend trip to Mackinac Island with kids should be near the top of your to-do list. Recently, for the 10th anniversary of my 30th birthday, I signed up for a trail race on Mackinac Island and planned a quick family trip around it. Here are some of the tips I learned while planning: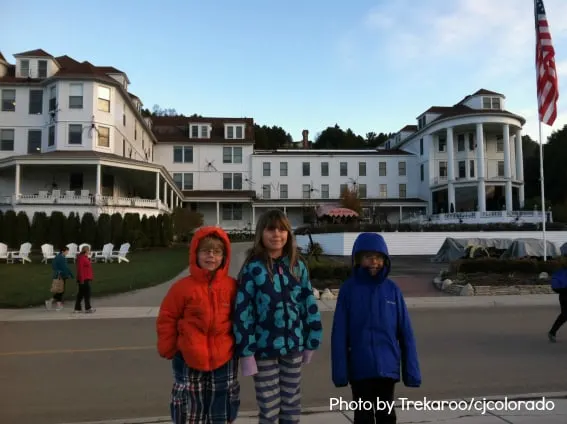 1. Reserve Lodging as Early as Possible!
The island has quite a few family-friendly hotels and B&B's, however, even on moderately-busy weekends, they fill up quickly. We were visiting the island on the last 'open' weekend of the year in late October. Even though it wasn't very busy, most everything was booked, so we ended up staying on the mainland in St. Ignace. The up-side of that is that our hotel was much cheaper.
Check the best deals on Family Friendly Hotels in Mackinac Island
2. Avoid High Season
Consider a visit during the shoulder seasons in early spring and late fall. We're not big crowd people and heard that the high season on Mackinac Island can be as crowded as Disney on the 4th of July, so we were pleased with the cooler temps and open sidewalks of late October. An extra bonus: The cool temps kept down the pervasive, oddly-mingled smell of chocolate fudge and horse manure…which brings me to my next tip!
3. Prepare to Hoof It or Bring Bikes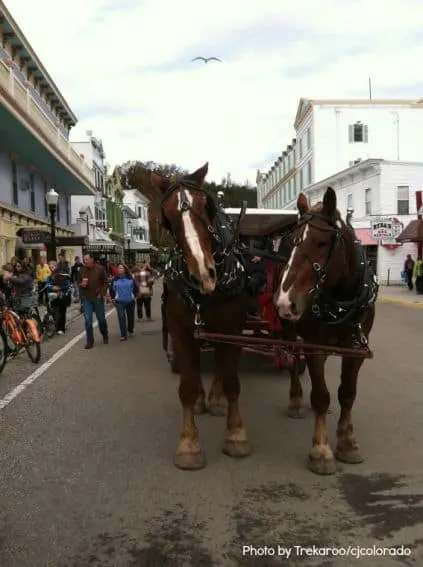 Mackinac is a car-free island where everyone gets around either by foot, bike, or horse. Bike rentals (and kid carts) are everywhere in town, if you don't bring your own, and biking is a great way to see the sights without wearing down your kids with tons of walking. Another fun alternative is taking a horse-drawn carriage tour. There are public and private tours available.
Check for availabilities on Family Friendly Hotels in Mackinac Island
4. Check Out the Online Events Calendar
Have a look at the Mackinac Island events calendar for numerous island festivals might be of interest to your family or to avoid the busiest weekends. We were lucky enough to be there during their downtown trick-or-treat and Halloween party, so my kids came away with a nice little stash of candy (and some of the iconic Mackinac fudge, of course).
5. Ride the Ferry
Kids may consider the ferry ride to and from the island one of the highlights of their trip! Consider one of the ferry routes that takes a scenic detour under the impressive Mackinac bridge and learn a little history about the area at the same time.
Bonus: all the ferry lines offer discount coupons on their websites for a free child fare with paid adults–check those out before you go.
Look for current deals on Family Friendly Hotels in Mackinac Island
6. Plan Fun Family Activities

Fort Mackinac is the Revolutionary-era fort that was occupied on the island from 1780-1890. They now offer fort tours, rifle, and canon demos along with a number of reenactments and "soldiers' life" tours.
Though only done on Labor Day each year, the Mackinac Bridge Walk is where you can walk across the 5-mile span of the Mackinac Island Suspension Bridge that connects the Upper Peninsula to down-state Michigan. The bridge is normally only open to cars, but boasts amazing views so make sure to have your camera ready and bring a stroller for younger kids.
The best way to see the sights of the island while learning about island life and history is on a horse-drawn carriage tour. Our tour by Mackinac Island Carriage Tours inspired us to make another trip back to the island!
Mackinac is charming and intriguing at the same time with enough to see and do for adults and kids alike, but it definitely bears a little planning to make it as smooth as possible!
Featured photo by: Shutterstock