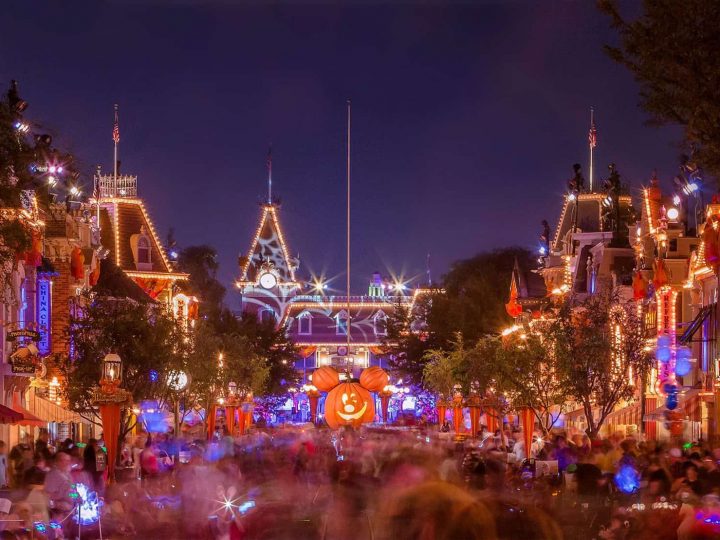 Disneyland Halloween 2019 is officially in full swing. Halloween has always been one of my absolute favorite times to visit the Disneyland Resort. There are plenty of special experiences and attractions to get excited about, including the all new Oogie Boogie Bash at Disney's California Adventure.
You might be wondering, when does Disneyland decorate for Halloween? Well this year, the Halloween Time fun begins on September 6 and carries all the way through the Dia De Los Muertos Celebration through November 3, 2019.
We're an affiliate of Booking.com. When you book with us, it helps us feed our kangaroos at no additional cost to you. Thanks for helping to keep Trekaroo free.
Oogie Boogie Bash
On 20 select nights throughout the Halloween season, The Oogie Boogie Bash, a Disneyland Halloween party, takes over Disney California Adventure during the evening. During these special nights, the park closes early to regular guests, allowing ticket holders to enjoy Halloween Disney style. This is the first year of the Oogie Boogie Bash, which replaces Mickey's Halloween Party in Disneyland. Note: A regular park ticket will not work for this event. You must purchase a separate ticket to enjoy the Oogie Boogie Bash.
Highlights include a new Descendants-inspired dance party and numerous Trick or Treat trails dishing out enough candy (and healthy alternatives) to keep your kids deliriously happy until the wee hours of the night. Various character encounters and rare photo ops take place around the park, including five new "immersive" trails where you can snag candy while interacting with villains including the Evil Queen (behind Grizzly River Run), Maleficent (next to Soarin'), Dr. Facilier (Stage 17 in Hollywood Land), the Mad Hatter (outside Hyperion Theater), and Oogie Boogie himself (inside the Animation Academy building). These "encounters" were my favorite part of the night.
The always popular Frightfully Fun Parade has made its way over to Disney California Adventure with new appearances by Cheshire Cat. One of the biggest highlights is the new World of Color show which is villain themed and features the newest Disney character, Shelley Marie. Also new for 2019 is the Mickey's Trick and Treat show at the Disney Theater in Hollywood Land. This interactive show is geared towards young children. Another new event for 2019 is Villainous!, a slightly spooky light show walk-through at the Redwood Creek Challenge Trail.
Is this your first trip to Disneyland? Haven't been in a while? Check out all our Disneyland tips.
Good-to-Know Tips for Oogie Boogie Bash
Since Disney only sells a limited number of tickets to each party and there are so many fun distractions to enjoy, the

lines for rides are actually much shorter than normal! So be sure to buy your tickets in advance as dates sell out quickly.
Dress up!

Disneyland Resort typically limits costumes to kids under 14, but at Oogie Boogie Bash, everyone can join in the fun, regardless of age. Many families go all out with themed group costumes so get creative and add your family's creativity to the mix. Check Disney's website for rules on costumes as there are restrictions for guest safety.

Lines to take pictures with rare characters can be long, but die-hard fans will say it is worth it to snag a pic with the likes of Claude Frollo or the Sheriff of Nottingham. Bonus! PhotoPass downloads are included with your ticket to the bash.
Come early. Tickets to the Oogie Boogie Bash actually get you in the park up to four hours before the party begins. Use this extra time to explore even more of the park's seasonal offerings (see below).
If lines are long for Villanous!, just come back later. Although the adults in the group thought the light show was impressive, the kids were a bit bored and curious why there was no candy in this meandering line.
Disneyland Resort Halloween Decorations
I am a sucker for all things fall decor. When Disneyland gets decked to the nines in pumpkins, fall-colored leaves, and ribbons of orange and black, I'll admit that I get a little sentimental. Maybe it is the lack of seasons we experience in Southern California, but Disney's Halloween transformation is basically the only thing that signals fall for me outside of an old-fashioned Starbucks PSL (which you can also get inside Disneyland- score!).
Halloween Decorations at Disney California Adventure
Halloween decor weaves throughout Disney California Adventure. Starting from the entrance to the park, guests are met with Halloween-themed fun from a giant Oogie Boogie. A 10-foot statue of the Headless Horseman holding his jack-o'-lantern head dominates the scene on Buena Vista Street.
The facade of Carthay Circle's tower is transformed with swirling, spooky bats in the belfry. Spooky-fun music, Halloween window displays, and Mickey and friends ready for pictures in their Halloween costumes round out the experience near the park entrance.
Haul-O-Ween at Cars Land
Speaking of costumes, the residents of Radiator Springs are joining in the "Haul-O-Ween" fun by dressing up in "car-stumes" to go "trunk-or-treating!" I know! You won't want to miss pictures with these vehicles. Mater is dressed as a "van-pire", Lightening McQueen is a super hero (no surprise there), Red the Fire Truck is a clown, and Cruz Ramirez is a pirate.
The streets of Radiator Springs have also been covered in automobile themed-decor. Near the entrance to Radiator Springs, Sarge's Pump-kin Patch is filled with "pump-kins" and the yard art at Fillmore's includes a variety of Halloween-inspired items, including a spinning mobile of "jack-oil-lanterns". There is a themed miniature model of the Cozy Cone Motel made out of seasonal candy near at the lobby of the Cozy Cone Motel.
The music playing in the background is Halloween-themed, helping set the mood. There is a Scare-car (the Radiator Springs version of a scarecrow), a Zombie Car, and a Spider-car in front of Flo's V8 Cafe. As a matter of fact, there are 30 car-achnids lurking around Radiator Screams! Don't miss Old Witchy Miss Lizzie and her curiosity shop filled with special Haul-O-Ween souvenirs.
During the evening, be aware of the supernatural spirits that have taken over the town. The Sheriff's voice can be heard over the loud speaker in a attempt to restore order in town.
There are several fun, Halloween-inspired food items in Cars Land as well. Highlights include the Slow-Burni' Mac and Cheese Cone as well as sweet treats like the Pumpkin Spice Shake at Flo's and the Spoke-y Cone Macaron and Haul-O-Ween churro at Cozy Cone Motel.
Dia De Los Muertos at Disney California Adventure
Back for a second year, don't miss a visit to Paradise Pier's Plaza de Familia to explore the World of Coco. This seamless tie-in with Dia de Los Muertos features the "World of Coco" art gallery, a massive ofrenda (like the one Miguel built in the film), and a family-themed live music and dance show, "A Musical Celebration of Coco." Crafts and activities include photos at the "Arbol del al Vida" and making "alebrije" (spirit guide) masks.
This year, guests will be able to take pictures with Miguel between shows. And, back by popular demand, the Mariachi Divas will be playing in the plaza.
Food for sale at Paradise Garden Grill is Mexican-themed and includes tamales, polle verde wet burrito, pan dulce Conchita, and a "Coco" cake.
Back in Cars Land, Ramone is celebrating the Day of the Dead in his auto-detailing shop with special painted hoods, an ofrenda, and even a sugar car (reminiscent of sugar skulls).
Halloween Decorations at Disneyland
Every nook and cranny of Disneyland Park is enveloped with Halloween and fall decor. I love spotting the hundreds of individually carved unique pumpkins along Main Street and snapping pics in front of the giant winking Mickey pumpkin. Park visitors looking for a touch of Día de Los Muertos in Disneyland park will find skeleton figurines, flowers, and decorative items in Frontierland, just outside the entrance to Big Thunder Mountain Railroad.
Halloween at Disneyland Resort: Rides & Attractions
In addition to the eye-candy on display throughout the parks, don't miss the slew of #HalloweenTime attractions, offered only for a limited time.
Halloween-Themed Rides and Attractions at Disney California Adventure
Returning for another Halloween season, Guardians of the Galaxy – Mission: BREAKOUT! gets transformed into a spookier version of the thrilling ride: Guardians of the Galaxy – Monsters After Dark. The Halloween-themed ride follows the premise that the power breakers go out letting all of the monstrous creatures out of their cages while Rocket asks you to help him find and save baby Groot. The ride features a new 70s-style punk rock song written by Tyler Bates (who composed the films' music) that keeps the ride full of energy, excitement, and thrills.
Tip: Kids 7 and under might find the premise of Monsters After Dark a bit frightening (the lights go in and out, emergency alarms and breaking glass, etc… are heard throughout, making the atmosphere scary). FASTPASS is available for this popular spooky attraction.
Cars Land also boasts a few Halloween updates. Mater's Junkyard Jamboree has transformed into Mater's Graveyard JamBOOree with Mater singing Halloween-themed songs like "Monster Truck Smash" and "Purple Fender Bender" while you spin yourselves silly on the mini tractors. Luigi's Rollickin' Roadsters celebrates Haul-O-Ween with their "Terror-antella" and transforms into Luigi's Honkin' Haul-O-Ween.
Halloween-Themed Rides and Attractions at Disneyland
2019 marks the 50th anniversary of the Haunted Mansion and the 19th time it has been transformed into Haunted Mansion Holiday. This special ride transformation brings Tim Burton's Nightmare Before Christmas to life My kids find this version of the ride less scary than the original and love to see their two favorite holidays, Christmas and Halloween, blended together in such a whimsical fashion.
The Haunted Mansion Holiday gingerbread house has become a beloved tradition and this years's house stands nearly 10-feet tall. Six chefs spent 13 days building and decorating the gingerbread mansion which is made of 30lbs of gingerbread, three gallons of egg whites, 120lbs of frosting, 75lbs of powdered sugar, and 140lbs of fondant!
Halloween at Disneyland: Food and Drink
Now to my favorite part. Food. I love Disney food and it is such a huge part of the #HalloweenTime experience that we had to share. Candy treats and a variety of fall-themed churros fill both parks. Must-try candies include the Minnie Witch Apple, Jack Skellington Cake Pop, Mummy Marshmallow, and Pumpkin Fudge.
Halloween-Themed Food and Treats at Disney California Adventure
Cars Land is featuring a Slow Burnin' Mac & Cheese Cone, a Spoke-y Cone Macaron filled with marshmallow buttercream and candy corn, Candy Cone Pie, and Fire Dragon Tacos. The Lamplight Lounge in Pixar Pier features a variety of tasty appeziters and snacks, as well as a secret drink menu with cocktails and mocktails for the Halloween season.
While exploring the rest of the park, visit Clarabelle's Hand-Scooped Ice Cream for a Bat Wing Raspberry Sundae or Spider Silk Ice Macaron Sandwich. Additional must-try treats include sourdough Mickey Bread with Fangs at Boudin Bread Cart, Pacific Wharf Cafe, and Mortimer's Market, Green Apple Spell Lemonade at Smokejumpers Grill, and a garlic-y Anti-Vampire Pizza at Boardwalk Pizza and Pasta.
Halloween-Themed Food and Treats at Disneyland
Disneyland Park is offering a wide variety of harvest and Halloween-inspired fare. Rancho del Zocalo in Frontierland features an Orange Sugar Skull Pot de Crème and a Frozen Abuelita Horchata to entice your sweet tooth. Cookie decorating kits, Pumpkin Spice Mickey Beignets, and savory options like Crab and Corn Chowder or a Halloween Hot Dog allow for an entire meal of Halloween-themed offerings. Looking for the ultimate Halloween-treat station? Visit Jolly Holiday Bakery Cafe where you can purchase Sweet Potato Hand Pie, Cruella de Vil Brownies, a Graveyard Cupcake, Spice Bundt Cakes, Pumpkin Layered Cheesecake, Pumpkin Muffins, and a Mickey Mummy Macaroon!
Plan Your Disney Vacation with the Help of Trekaroo
We've got all the tips, tricks, and tools you need to plan your vacation. From managing the lines to the best kid-friendly places to eat to amazing spots to rest your head at night, explore our comprehensive Disney Vacation Planning Guide.
Check out amazing deals on family-friendly hotels near Disneyland.
Find other fun Events at Disney Parks that worth planning you trip around.
Disclosure: My family received a complimentary visit to Disneyland and Disney California Adventure to attend a media event for #HalloweenTime and this guide. I was not required to state any particular view; all opinions are my own.

Special thanks to Sharlene Earnshaw who helped update this article for 2019.