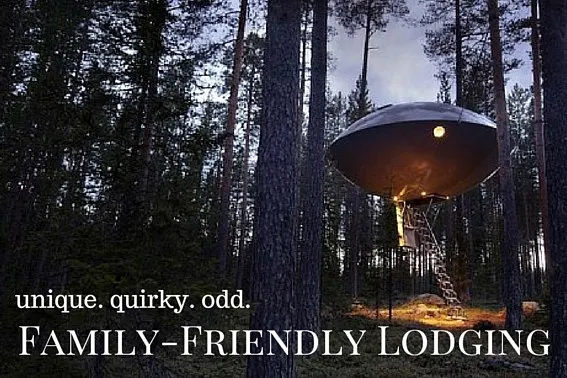 Photo Courtesy Tree Hotel Sweden via Booking.com
Highly-stylized, thematic hotel rooms, including the likes of many of the Disney resorts, the Treehouse rooms at Saratoga Springs Resort, or the Kidcabin suites at Great Wolf Lodge, are certainly fun for families. There are also resorts that feature fabulous rooms with unique settings such as the Nickelodeon Hotel with it green slime or the Atlantis Hotel and its encompassing grounds, fabulous waterslides, and sea life.
But perhaps your family is looking for a something different. Something that delights the senses with a bit of kitsch, retro feeling, or randomness? Perhaps a hotel based on a very specific theme or a resort area like no other. Maybe a room designed to look like a UFO or a place where you can sleep in and take care of a lighthouse?
These unique properties offer a stay that is different from the rest. There is one for every price range and travel style. Explore these fantastically unique family-friendly accommodations.
Stay in a Jail: Jailers Inn – Bardstown, Kentucky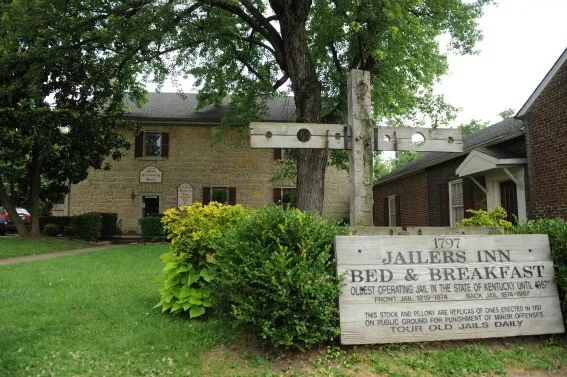 Photo Courtesy Of Jailers Inn
Housed in a jail dating from 1819, the Jailers Inn is a Bed and Breakfast in an area of Kentucky known for its civil war history and distilleries. The Jailers Inn actually housed prisoners up until 1987! While most of the rooms have been redecorated with an antique feel, the 'fun room' or Jail Cell is an actual jail cell with a bit of pizzazz to make it more comfortable. The jailhouse bunks, however, are still there to sleep in. The proprietor will be happy to give you a tour and share the its colorful history with your family.
Stay in the Doghouse: Dog Bark Park Inn – Cottonwood, Idaho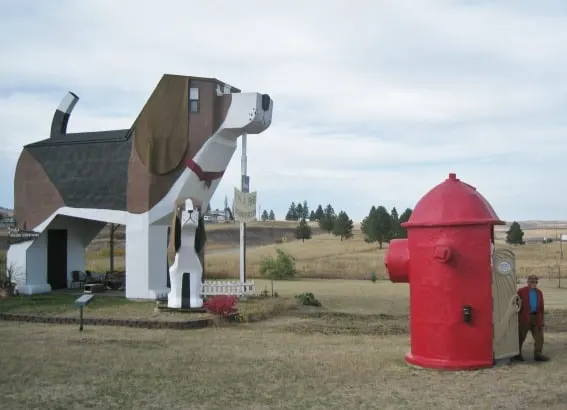 Photo Courtesy of Dog Bark Park
If you are a dog-loving family, then Dog Bark Park in Cottonwood, Idaho midway between Glacier and Yellowstone National Parks might conjure up dreams of sleeping in the "Doghouse." The proprietors, Dennis and Frances, renowned chainsaw artists, created the Doghouse from the profits of their art. The comfy room of this Bed and Breakfast is located in a giant beagle with doggie décor all around. As they say at Dog Bark Park "sleeping in the doghouse is a good thing."
Sleep in a Lighthouse: Rose Island Lighthouse –
Newport Harbor, Rhode Island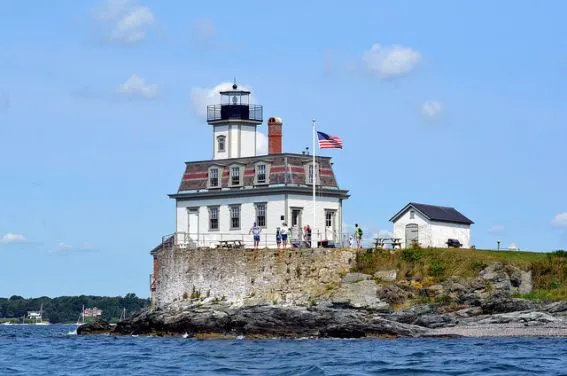 Photo by MJ Boyd
The Rose Island Lighthouse on Rose Island is a ferry ride away from Jamestown, RI. You can tour during the day, spend the night, or become "keeper for the week." Keepers for the week have the responsibility of tending to the lighthouse systems, grounds, or any special projects that might be scheduled. Of course an application is necessary, but your stay may be tax-deductible. This is a great opportunity to live off the grid in a gorgeous ocean setting. There is a terrific sense of freedom and responsibility in keeping the lighthouse.
Secure a Swamp: Swamp Bungalow – Everglades, FL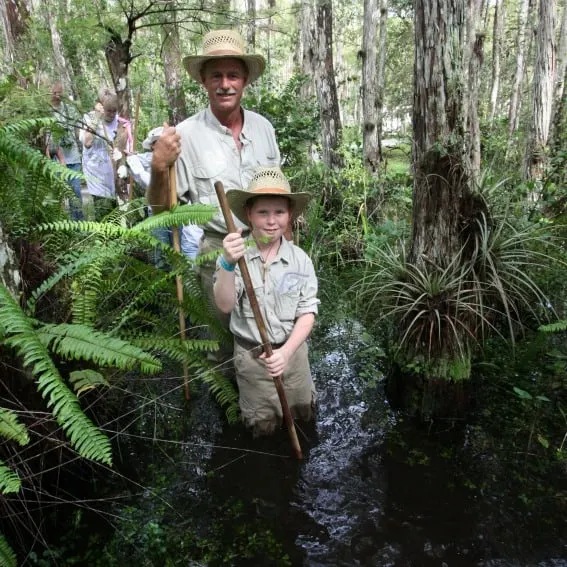 Photo Courtesy Clyde Butcher Swamp Bungalow
The Swamp Bungalow offers a family-style cottage with home-style amenities in the million acres of the Florida Everglades. Wake up each morning and eat breakfast on your enclosed porch while the local wildlife eat theirs on your pond! The proprietor Clyde Butcher takes visitors through Swamp Tours which you will not want to miss. Be led on a three-hour photo safari of the Big Cypress Preserve where you will muck through the swamp for some unforgettable shots!
Step Back in Time: Lake in Wood Resort – Lancaster, PA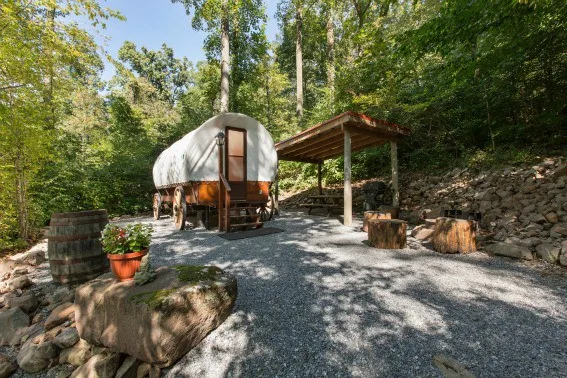 Photo Courtesy of Lake in Wood Resort
Located in the heart of Lancaster County, Pennsylvania and all of the local Amish attractions, the Lake in Wood Resort is foremost a well-loved campground, but it has some special rooms available. What child (or adult for that matter) wouldn't like the idea of sleeping in a reproduced Teepee, a prairie-ready covered wagon, or a hip double-decker bus? There is also a tree house and rail car caboose to choose from for your stay. Families choosing these rooms have access to all resort amenities.
Stay Underwater: Jules Undersea Lodge – Key Largo, FL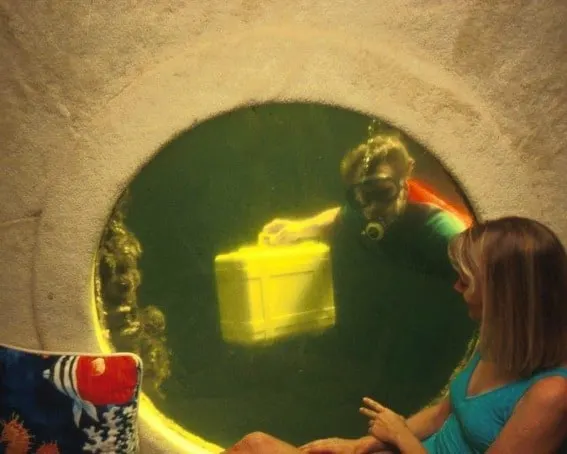 Photo Courtesy Jules Undersea Lodge
Whoa…a room under the water? Located in the Florida Keys, Jules Undersea Lodge is the only underwater hotel in the world. Aspiring marine biologists or SCUBA fanciers would be thrilled with the opportunity to sleep in the 'underwater terrarium' and watch the fish swim by from their beds. The kitchen in the cottage is well stocked and there are enough books and DVDs to keep busy when you tire of watching the fish. The room is situated 21 feet below the surface of the water and all guests must be SCUBA certified to enter the room. There are certifications on site for children aged 10 and up.
Adventure Suites – North Conway, New Hampshire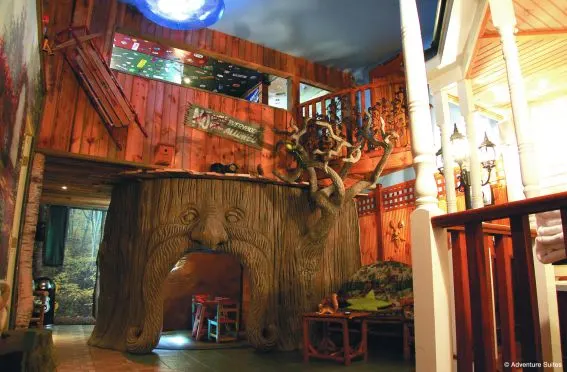 Photo Courtesy of Adventure Suites Theme Hotel
The Adventure Suites Theme Hotel is located in the White Mountains of New Hampshire flanked by views of the namesake range. Inside, however, are rooms based on a variety of themes and decorated to blow up the senses. The Cave room is a two-story room with an ancient theme including stalactites, tunnels, and bones, not to mention the large indoor hot tub, king-sized bedrock, sleeping cavern for up to six kids, and a waterfall tower. Similarly, the Treehouse room presided over by the indoor Mr. TreeTrunk has a lookout with kid-sized treehouse furniture, a carousel horse, and child inspired décor. There are many other uniquely themed rooms to choose from for your stay.
Stay On-Board: Queen Mary – Long Beach, California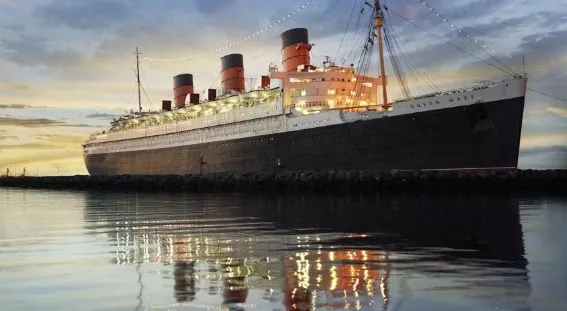 Photo Courtesy Queen Mary via Booking.com
While it is rumored to be haunted, staying on the Queen Mary promises to be a different type of experience. Rooms on this retired luxury liner will transport your family back to cruise ship travel from the days of the '30s and '40s. Each stateroom is uniquely decorated with original artwork, yet modern enough to be welcoming by today's standards. While on board sign up for one of the historic tours or for the brave, a twilight historical tour or paranormal ship walk!
Sleep in a Helicopter: Winvian Farm Morris, Connecticut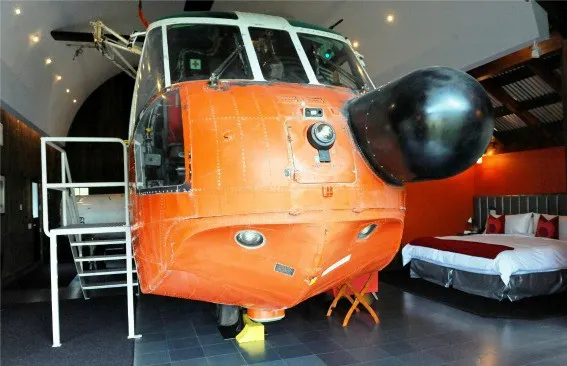 Photo Courtesy Winvian Farm
Fans of fancy flight will adore the Helicopter Cottage at Winvian Farm in the Litchfield Hills of Connecticut. This resort is a collection of themed cottages and Helicopter Cottage is the most requested by families during family weeks at this coveted Relais and Chateax property. The fully-restored Sikorsky Coast Guard Helicopter is parked inside a large "hanger' which is the cottage. Guests can use the Helicopter in their room for catching a flick or having snacks then sleep in the beds inside the cottage. The Winvian offers superb dining and accommodations in the beautiful Connecticut countryside.
Sleep Aboard a Train: Red Caboose Motel Lancaster, Pennsylvania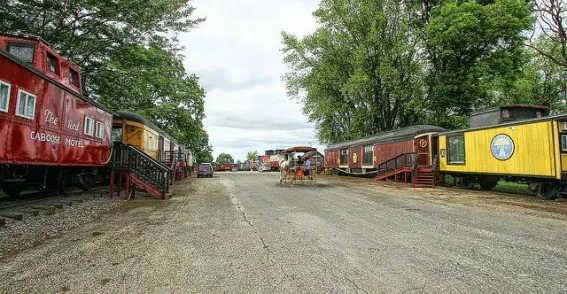 Photo by: Flickr/ForsakenFotos
Most kids love a train ride but at the Red Caboose Motel your family can actually choose to stay IN the train car. The Red Caboose offers 40 train cars or cabooses for a stay while visiting Amish Country. The train cars have been updated to accommodate beds, private baths, and televisions. On site at the resort is a kid-friendly petting zoo, a playground, homemade Amish baked goods, and buggy rides. It is nearby the Railroad Museum of Pennsylvania for an extra dose of train fun!
Sleep in Ice: Ice Hotel Jukkasjärvi, Sweden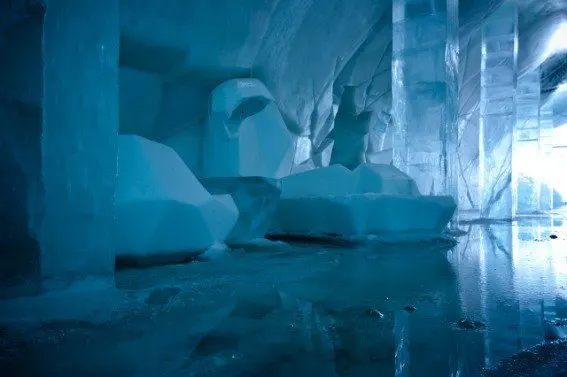 Photo by Martin Smedsén courtesy Ice Hotel
This is perhaps a once in a lifetime experience. The 65 rooms of the Ice Hotel in Jukkasjarvi, Sweden are here today and gone tomorrow! Since 1989 when the weather dips below freezing, the art experiment/Ice Hotel is created for guests to spend their nights sleeping in icy comfort. The rooms themselves are works of art with fines lines and columns made of ice. Rooms choices include snow rooms, ice rooms, or Northern Lights rooms with animated replication of the natural phenomenon. When the spring comes the hotel melts awaiting the next installation from this group of talented artists.
Take a Red Eye to Nowhere: STF Jumbo Stay Hostel Stockholm, Sweden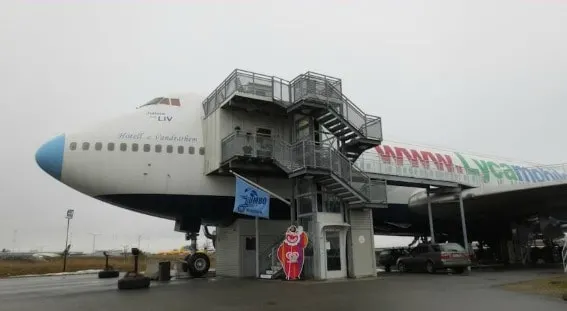 Photo Courtesy STF Jumbo Hostel via Booking.com
Sweden comes through again with the Hostel Arlanda. Frequent fliers familiar with the red-eye might be comfortable on this jumbo jet turned hostel. Rooms are small and facilities are for the most part shared, but spending the night in a grounded jet might be a very big treat for an airplane-loving child. You might even choose to stay in the luxury suite which is the converted cockpit with panoramic airport views.
A Hotel for Car Lovers: V8 Hotel Motorworld Stuttgart, Germany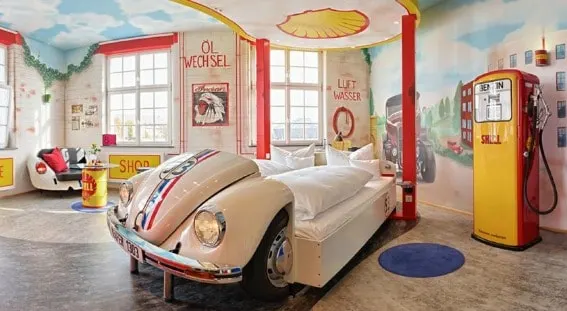 Photo Courtesy V8 Hotel Motorworld via Booking.com
Auto enthusiasts line up to stay in the V8 Hotel Motorworld Germany. Each room is individually decorated with a nod to all things automotive. Iconic cars have been recreated into beds so you can sleep in the chassis of a Mercedes, VW Lovebug, or classic Caddy. Rooms are decorated to theme with winners circle podiums and Route 66 memorabilia. Of course all of Motorwold is dedicated to cars so you are sure to find a way to spend some time pondering the history and future of cars.
Live in a Song: Yellow Submarine Liverpool, England

What better way than the Yellow Submarine Barge to celebrate a visit to Liverpool, England for a Beatle lover. The barge is docked in Liverpool England at the Albert Dock and visible upon arrival at the Yellow Submarine. The interior of the Yellow Submarine is decorated with Beatles' and 60's music memorabilia. Of course all the modern amenities are available on the barge if you don't choose to leave the sub to explore Liverpool on a walking tour!
Sleep in the Trees: Tree Hotel Harads, Sweden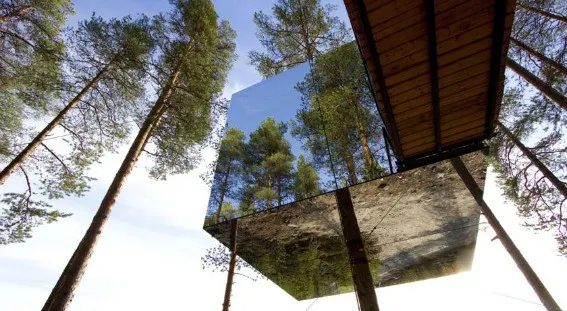 Photo Courtesy Tree Hotel Sweden via Booking.com
Sweden knows how to create a unique hotel suitable for families. The Tree Hotel is by far one of the most special. Every tree house room at this property is different from the others. You might choose a UFO room which looks like an alien ship settled amongst the Swedish forest, or maybe the Birds Nest which is a recreated nest camouflaged in the trees. The most unusual is the mirrored cube which all but disappears into the foliage reflecting on every side. While you are visiting take advantage of the many outdoor pursuits offered, such as horseback, fishing, zip lining, dog sledding, or snowshoeing.
With so many fun and unique accommodations available for families it will be tough to make a choice among these options. We are narrowing our list down right now!