Salt Lake City becomes a magical winter scene surrounded by the stunning snow-capped mountains each holiday season. The scene is idyllic, with a pile of holiday cheer on top! This is a place where family holiday traditions are made, from admiring holiday displays to attending holiday art and cultural events. Check out the best holiday events in Salt Lake City.
Stay at these Family Friendly Hotels in Salt Lake City
The Best Holiday Events in Salt Lake
Festival of Trees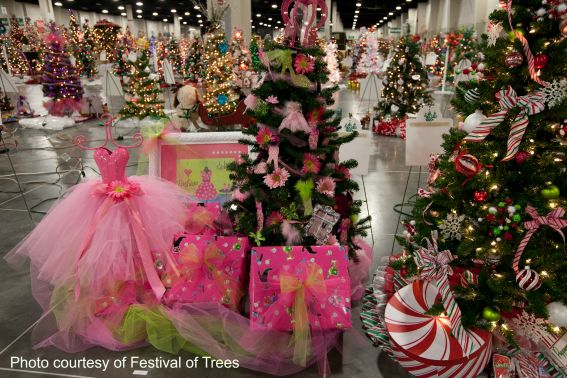 Charity and holiday tradition unite at the Festival of Trees. This annual event treats families to themed Christmas tree displays, Christmas boutiques, and entertainment, all while benefiting children fighting severe illnesses. Businesses, families, and individuals get into the holiday giving spirit by decorating and then donating Christmas trees for this annual fund-raiser. The trees are displayed, admired, and then auctioned off to the highest bidder, with 100% of the proceeds going to the beloved Primary Children's Medical Center.  This event caters to families offering plenty of kid-friendly fun such as Santa visits, face painting, bubble machine, and other fun activities. Word of warning: do not attempt to peruse the Angel Tree displays without tissues in hand.  These trees share the stories of kids who have fought, often won, yet often lost their fight against terminal illness. This is truly one of the most magical holiday events in Salt Lake City.
Sounds of the Holidays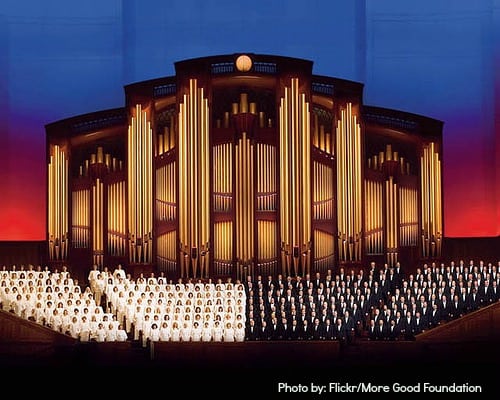 Venues throughout Salt Lake City offer many free and low-cost holiday concerts during the holiday season. The Cathedral of the Madeline offers an annual Christmas Carol Service with the talented Madeline Choir School child performers. Temple Square features musical performers around the grounds throughout the holiday season (check their website for a schedule of events). If your family prefers to sing-a-long rather than listen in, then warm up your vocal chords and join in the fun at the annual Messiah Sing-In with the Utah Symphony – Hallelujah!
The Nutcracker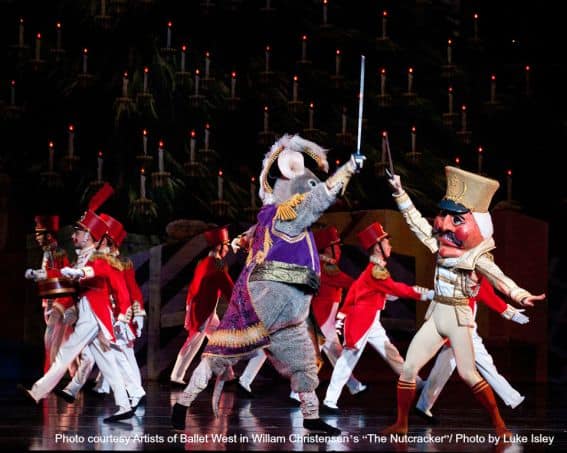 The holidays are the perfect time to expose kids to the performing arts in Salt Lake City as the world-renowned Ballet West features its annual performance of The Nutcracker. Yes, not every kid is the type to immediately appreciate and enjoy performing arts whole-heartedly. The Nutcracker is the ideal ballet to expose kids to this art form; the story is easy to follow, the music is familiar, and Ballet West intermingles talented child performers with its professional dancers for this performance. Sword fighting mice and dancing toys may be just enough to instill art appreciation and spark a new cultural interest into a future performer's heart. One of the many do-not miss holiday events in Salt Lake City.
Breakfast with Santa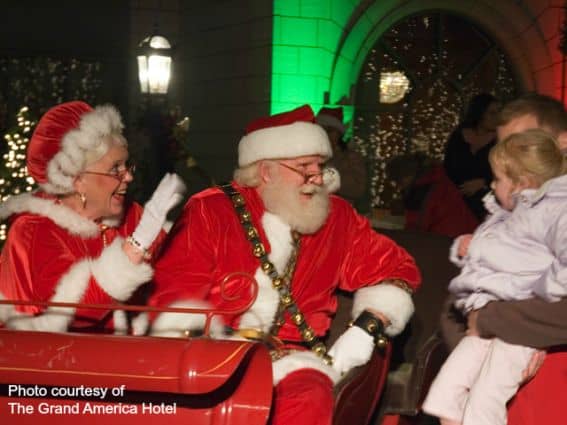 The luxurious Grand America Hotel is wonderful any time of the year, but it becomes exceptionally magical during the holiday season. Families will love strolling through the hotel's corridors where whimsical window displays and gingerbread creations abound. This festive atmosphere is sure to make little ones hungry. So what goes better together than Santa and pancakes? Okay, maybe peanut butter and jelly, but who can resist a delectable meal at a 5-star hotel in the presence of St. Nick? Santa and Mrs. Claus invite families to join them at the breakfast table for delicious food, holiday songs, and family photos. If you prefer to sleep in, families can indulge in an afternoon tea with Santa and Mrs. Claus, complete with holiday stories, hot chocolate, and cookies.
Read full reviews of the Grand America Hotel
Outdoor Ice Skating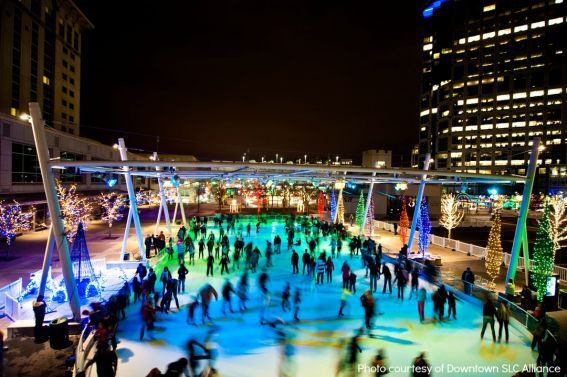 If you don't master gliding across the ice like an Olympic figure skater, at least you'll have a good time laughing at yourself with your kids. The Gallivan Center is just the place to test your skating skills during the holidays. Located in the heart of downtown Salt Lake City, the Gallivan Center ice rink is surrounded by holiday lights, music, and some excellent retail shopping opportunities. The location is central to many holiday events in Salt Lake City.
Stay at these Family Friendly Hotels in Salt Lake City
Experience Zoolights!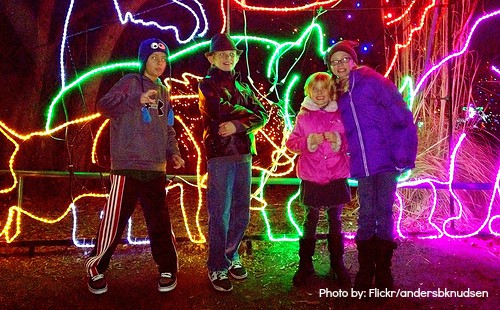 Wildlife meets wild lights at Hogle Zoo's annual ZooLights event. When the sun goes down, the animals become more active, sharing the spotlight with twinkling lights and animated holiday displays. Live reindeer, live entertainment, hot cocoa, and Santa Claus greet families at Hogle Zoo throughout the holiday season. Walking the lit pathways and the 135-foot lighted tunnel is Salt Lake City's brightest family tradition. Check out animals that live in St. Nick's neck of the woods at Rocky Shores' heated underwater viewing area complete with otters, sea lions, and seals. ZooLights features special family activities each night including ice carving displays, holiday crafts, and small animal encounters. Kids will find this a favorite among holiday events in Salt Lake City.
 Bah Humbug?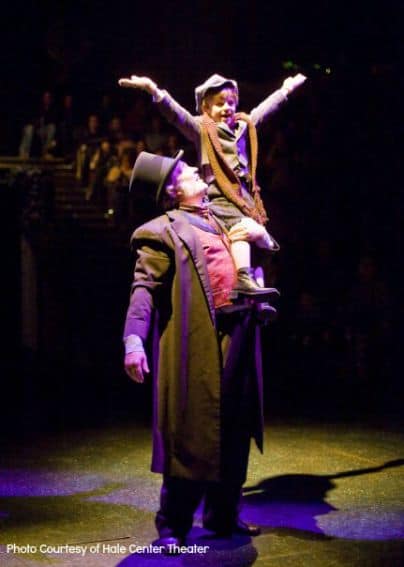 If the holidays often leave you feeling like a Scrooge, you may want to check out the Hale Center Theater's annual production of A Christmas Carol. Families will witness the true meaning of Christmas in this production, as Tiny Tim softens Ebenezer's heart in this intimate theater. There is no bad seat in this venue as the rotating stage sits center with audience seating encircled around. Audience members often feel like part of the performance; so much so that Jacob Morley's ghost and clanging chains may frighten some of the smallest spectating kids. Likewise, peaceful snow falling from the ceiling creates an enchanting scene as Scrooge discovers the joy of giving and the true meaning of Christmas.
Experience an Old Fashioned Christmas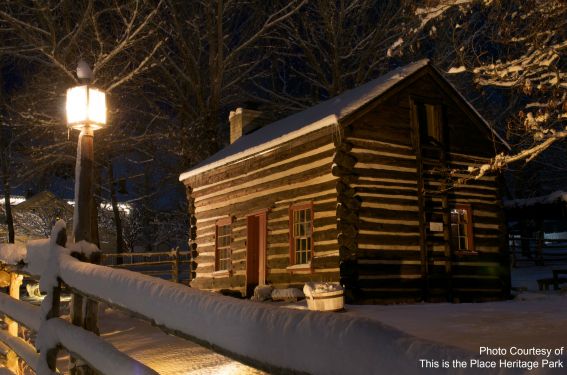 Step back in time and experience an old-fashioned Christmas complete with homemade gifts, Father Christmas, and pioneer carolers at the annual Candlelight Christmas event hosted by This is the Place Heritage Park.  Families will experience a simpler time, and a simpler holiday while meandering through this picturesque winter village.  Make a homemade gift, or purchase a handcrafted item at one of the many old-fashioned shops aligning the village. Visit with Father Christmas, see the reindeer, and admire the live Nativity scene at this enchanted event. Candlelight Christmas is a simple family tradition, a chance to slow down and get away from the holiday hustle and bustle.
Stay at these Family Friendly Hotels in Salt Lake City
Hit the Slopes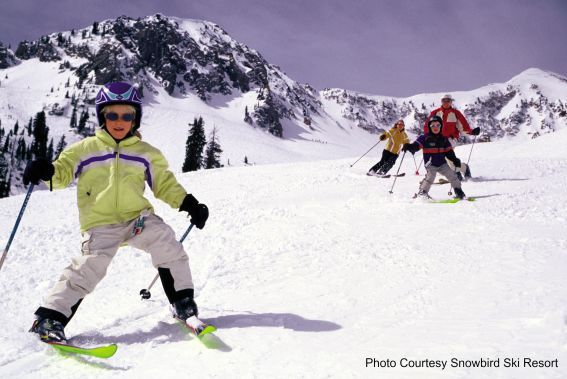 Skiing and family holiday traditions go together like hot cocoa and marshmallows. Salt Lake City area ski resorts offer some pretty great kid-friendly skiing, plus some pretty special holiday events. Snowbird Ski Resort celebrates the holidays with a traditional Hanukkah candle lighting ceremony and a stunning Christmas Eve torchlight parade where Santa Claus will rappel out of the tram to say hello to the kids! Solitude Ski Resort celebrates its annual Winterfest offering plenty of kid-friendly fun such as s'more parties, ice skating, ice carvers, storytellers, carolers, avalanche dog demonstrations, and the Children's Glow Parade.  Be sure to look for Santa while on the slopes – he can often be found handing out candy canes to all good boys and girls.
  The Lights of Temple Square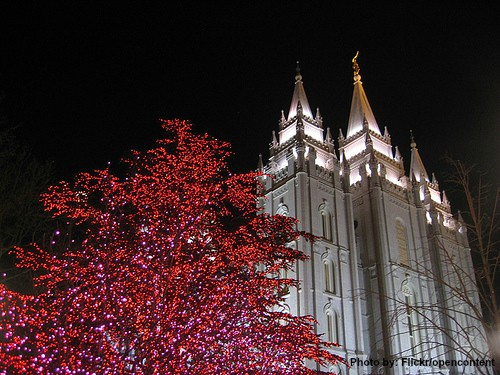 Witnessing holiday lights at Temple Square is one of the most popular family traditions in Utah. Hundreds of thousands of visitors make the annual pilgrimage to Temple Square during the holiday season to see the spectacle of light – it's that amazing! You see, groundskeepers begin putting up the lights in August in order to flip on the switch the day after Thanksgiving. Each tree is wrapped with thousands of lights, from trunk to each individual branch. Handmade luminaries align walkways, celebrating enlightened scenes from Christmas. Kids will especially love seeing the beautiful nativities from around the world, each demonstrating a differing cultural perspective. Enjoy the lights throughout December because, on January 1, the lights go dim, leaving groundskeepers hard at work until Spring taking down each little light.
Related:
Even MORE kid-friendly holiday activities in Salt Lake City
Cut your own Christmas Tree Farms in Utah's Wasatch Front
Toddler Activities in SLC  | Free (or close to it!) Activities in SLC
Pin this to bookmark all the holiday events in Salt Lake City; we update it yearly: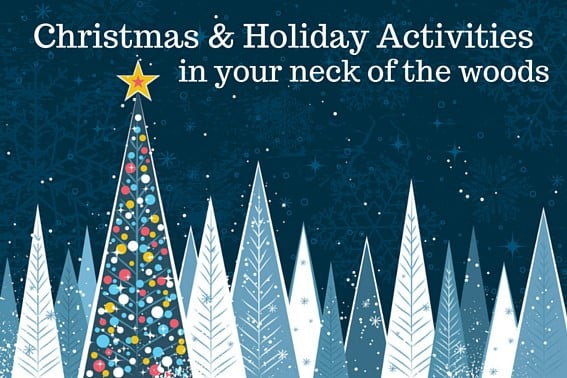 by Ann Anderson
Lead image by: Shutterstock.com