We are reader-supported. When you buy through links on our site, we may earn an affiliate commission.
The beautiful capital city of Ottawa, located in eastern Ontario on the border of Ontario and Québec, is one of Canada's most family-friendly destinations. This city, also known as ByTown, is a multicultural and bilingual capital where one is just as likely to hear French spoken on the street as English. The region has something for every interest – historical landmarks, museums, arts and culture, delicious food, and plenty of outdoor activities – making it ideal for families looking for either a short city break or a longer stay. Here are our recommendations for the top 10 Ottawa attractions with kids and a few tips on where to dine, stay, and take a day trip.
Top 10 Ottawa Attractions for Families
10. Visit the RCMP Musical Ride Centre
Known world-wide, the Royal Canadian Mounted Police (aka the "Mounties") are easy to find in Ottawa, especially around Parliament Hill. If there are horse lovers in your family, don't miss a visit to the RCMP Musical Ride Centre where you'll witness a series of choreographed drills set to music performed by 32 RCMP officers and their horses. This performance tours extensively from May through October, however, tours of the centre are open year-round. When the performers are at home, visitors to the centre may meet some of the riders and visit the horses in the stables.
Related: Book a hotel room in Ottawa, best rates guaranteed
9. Tour Rideau Hall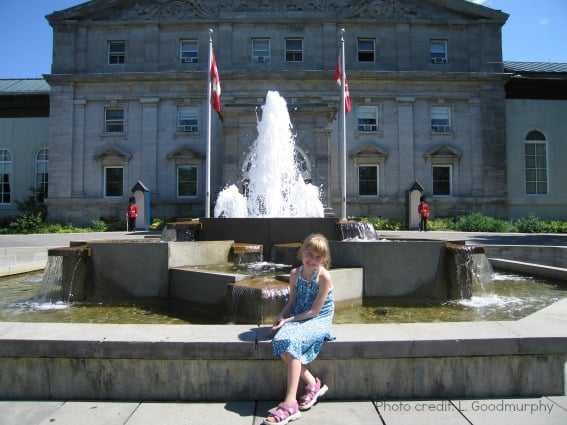 Since 1867, Rideau Hall, which is a National Historic Site, has been the Official Residence of the Governor General who is the Queen's representative in Canada. The residence, located just a few minutes from downtown Ottawa, is open year-round to visitors. Self-guided tours of the lovely grounds are available, or enjoy a guided tour of the residence's public rooms. All tours and activities at Rideau Hall are free to the public. The tour of the historic residence lasts approximately one hour and is intended to educate visitors about the role and responsibilities of the Governor General within the Canadian parliamentary system. During the summer season, families can participate in the children's activities, picnic on the grounds, and watch the ceremonial Changing of the Guard. During the winter, free skating on the Rideau Hall Skating Rink is a popular tradition which dates back to the 1870s.
8. Visit the Royal Canadian Mint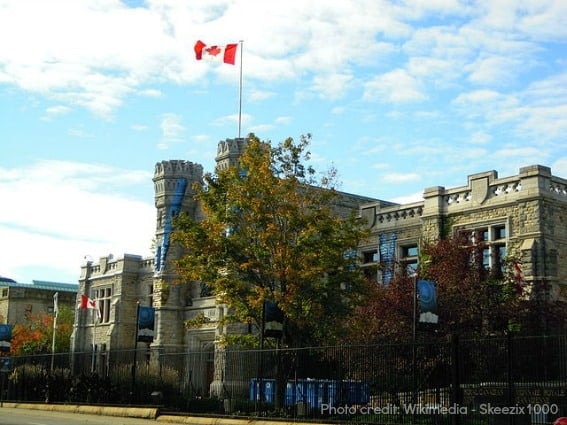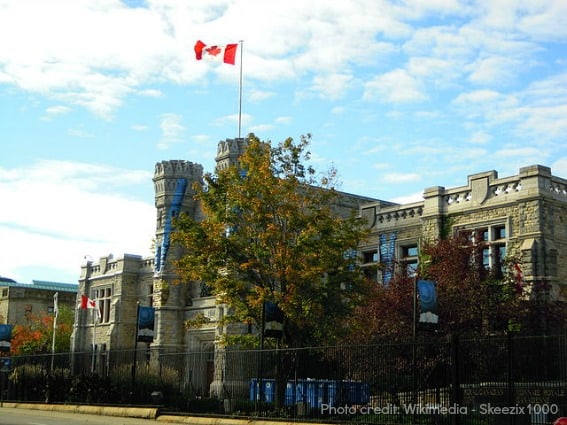 The Royal Canadian Mint is a historic building located in central Ottawa where the Canadian Mint was founded in 1908. At this location, hand-crafted collector and commemorative coins, gold bullion coins, medals, and medallions are produced, while the coins for everyday circulation are produced at a facility in Winnipeg, Manitoba. Take an interactive guided tour where visitors can learn how coins are made and see some of the special medals and medallions. The highlight of the tour is having a photo taken while holding a solid gold bar worth more than $750,000.
7. Enjoy the Great Outdoors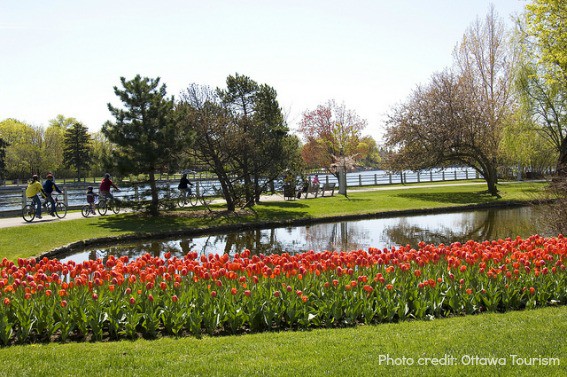 Ask anyone who lives in Ottawa what they love best about their hometown and they are likely to tell you that it's a great city for outdoor activities. This city has more than 300 kilometres (186 miles) of pathways which are great for cycling, running, walking, or rollerblading. The city has an abundance of green space including Major's Hill Park, Commissioners Park, Confederation Park, Gatineau Park, and the National Capital Region's Conservation Park. Kids will especially love Gatineau Park's year-round playground and outdoor activities such as hiking, swimming, cycling, rock climbing, boating, fishing, cross-country skiing, and snowshoeing. The Mackenzie King Estate, which was the summer home to Canada's 10th Prime Minister, is also located within this park and includes picturesque ruins collected by the Prime Minister.
6. Tour the City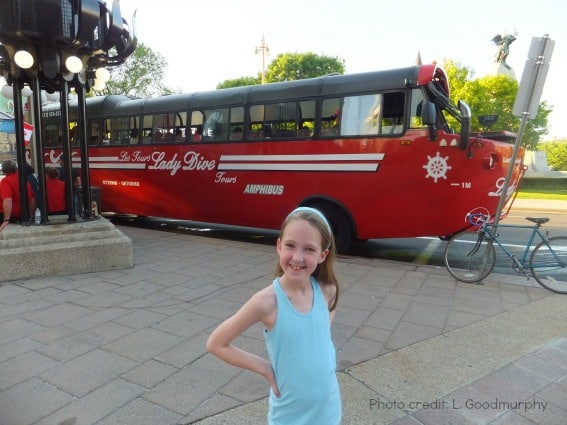 A guided sightseeing tour can be a great way to familiarize oneself with a city or to gain an expert's insight. Ottawa has many tours to choose from including tours by foot, bus, boat, bicycle, helicopter, or plane. A favorite excursion for families is the Lady Dive Splash Tours amphibious vehicle tour which drives around the city before plunging into the Ottawa River for a view of the city from the water. Families with older kids may wish to try a ghostly tour with Haunted Walks to learn about Ottawa's darker side.
5. Attend a Festival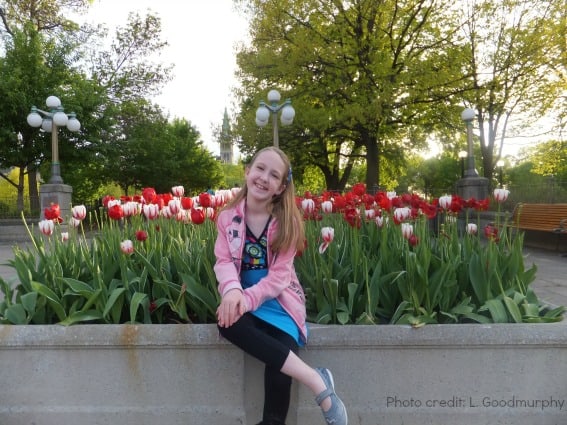 Ottawa is a fun city at any time of the year but if you're lucky enough to visit during one of the many festivals held throughout the year then it's even better. Each May, Ottawa celebrates the arrival of spring with the Canadian Tulip Festival with its displays of over 1 million flowers blooming across the region. During three fun-filled weekends of Winterlude in February, Ottawans celebrate winter with skating on the world's largest outdoor skating rink, ice sculpture competitions, a snow playground, and a packed schedule of fun family-friendly activities. There is no better place in the country to celebrate Canada Day on July 1st than on the lawns of Parliament Hill and across the Capital Region where the day starts with a flag raising and includes the Changing of the Guard ceremony, entertainment, family-friendly activities, and a giant fireworks show to cap off the day.
Look for current hotel deals in Ottawa
4. Explore the Rideau Canal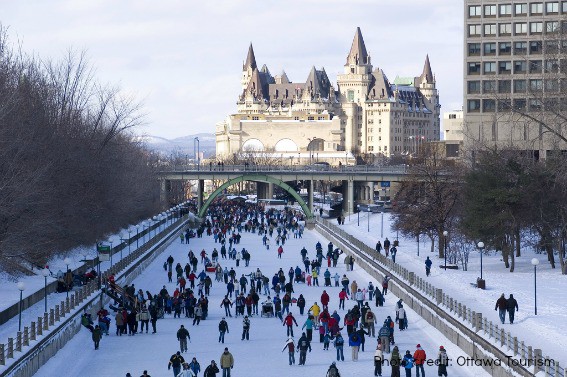 The Rideau Canal which winds through charming communities between Kingston and Ottawa connects lakes and rivers through a series of 47 locks. This canal is both a National Historic Site of Canada and a UNESCO World Heritage site. Curious visitors who wish to learn more about the history and construction of this engineering marvel should visit the ByTown Museum. Pathways and gardens on either side of the canal through Ottawa are ideal for walking, cycling, or having a picnic. Sightseeing cruises along the canal during summer months offer a great view of the city and the canal is also popular with recreational boaters, canoeists, and kayakers. Equipment such as canoes, kayaks, and paddleboats can even be rented at Dow Lake's Pavilion. During the winter season, the frozen waterway becomes the world's longest outdoor skating rink (7 kilometres long) and skating on it is a must-do activity if you visit Ottawa in the winter.
3. Shop and Eat at Historic ByWard Market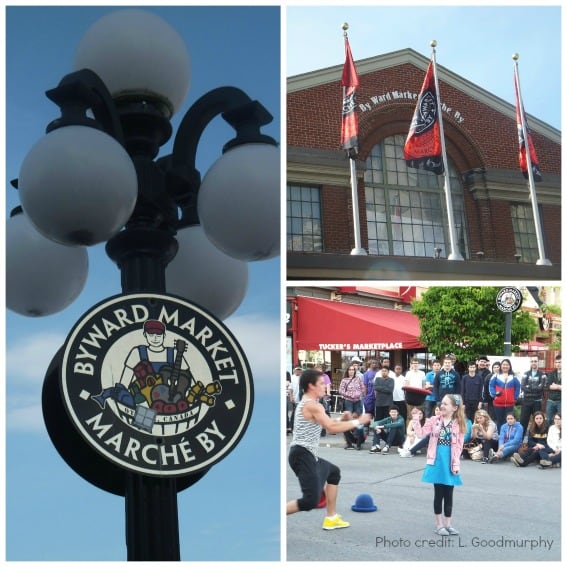 Historic ByWard Market, established in 1826, is one of the country's oldest and largest public markets. Today's visitors will find four square blocks of farmers' markets, a variety of restaurants and cafés, galleries, and shops. The market is within easy walking distance of Parliament Hill and is the neighborhood to head to for dining and entertainment.
2. Visit Museums and Galleries
Ottawa is home to many of the country's finest museums and a family could easily spend several days in the city doing nothing but visiting museums. The country's most-visited museum is the Canadian Museum of History (formerly known as the Canadian Museum of Civilization) which focuses on Canadian and world history and culture. The Museum of History also houses an IMAX theatre and the Canadian Children's Museum which introduces children to the adventure of world travel and provides them with a passport to have stamped along the way. The National Gallery of Canada was established to showcase Canadian art and has a robust family program that encourages kids to explore art through hands-on activities. Other popular museums which will appeal to children of varying ages include the Canadian Museum of Nature, the Canada Science and Technology Museum, the Canada Aviation and Space Museum, the Canadian War Museum, and the Canada Agriculture and Food Museum.
1. Visit Parliament Hill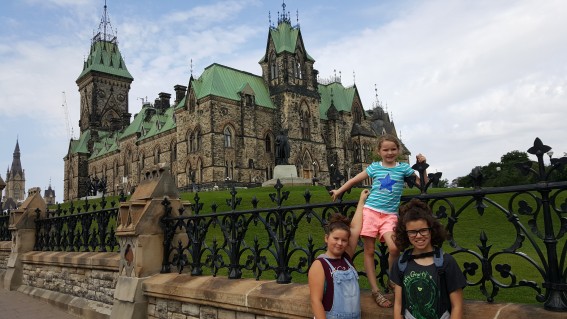 If there is an absolute must-see for every visitor to Ottawa it would have to be Parliament Hill (also known simply as "The Hill") which overlooks the Ottawa River. The grounds of Parliament Hill and the Parliament buildings have each been designated National Historic Sites of Canada. There are three separate buildings, however Centre Block (home to the House of Commons and the Senate Chambers) is the most recognizable as it is dominated by the Peace Tower. Visitors can stroll around the lovely grounds of Parliament Hill to see the many monuments and the Centennial Flame. Climb the Peace Tower for a spectacular view over the city or join a guided tour of Parliament if they wish to learn more about the workings of the Canadian political system. Tours are free but there are only a limited number of tickets available each day on a first-come, first-served basis so it's best to obtain them as early as possible in the day. During the summer months, the Changing of the Guard ceremony takes place each morning on the front lawn and each evening the free show Mosaika tells the story of Canada through music, lighting effects, and imagery projected on to the Centre Block of the Parliament Buildings. The Hill is also the focal point for Ottawa celebrations which makes it the best place in town to meet and mingle with other visitors as well as local residents.
What to Eat in Ottawa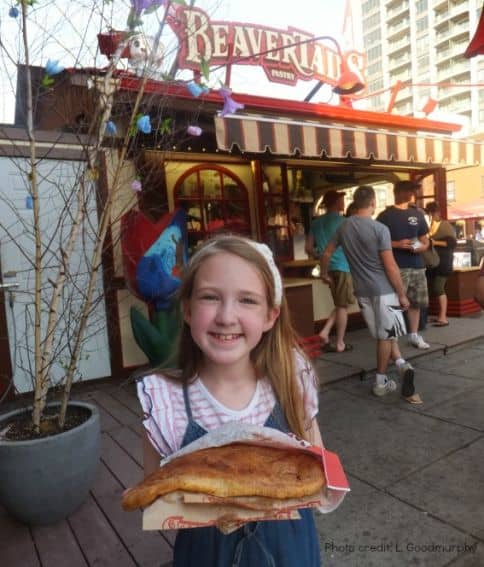 Families staying downtown will love the variety of dining choices in the ByWard Market neighborhood which has more than 100 restaurants. Anyone with a sweet tooth will also be happy to know that the Market is home to the original BeaverTails pastry outlet and Piccolo Grande gelato. Centrally located Elgin Street Diner, famous for its poutine, is also a popular choice for families. Families looking for specialty diets will love Olive & Chili in ByWard Market; oddly named, they offer 100% gluten-free pastries, breakfast items, snacks, meals, and sweet treats.
Where to Stay in Ottawa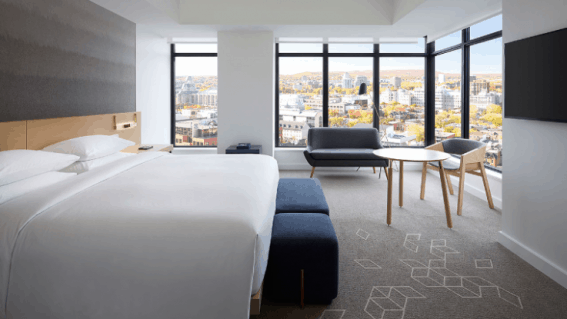 The rooms and suites at Andaz Ottawa ByWard Market overlook Parliament & ByWard Market
The Marriott Residence Inn in downtown Ottawa is ideal for families that enjoy having apartment-style accommodations with a fully equipped kitchen. Families will also appreciate the indoor pool, free WiFi, and free daily buffet breakfast. Families that like to be in the center of the action will enjoy staying at the stylish Courtyard by Marriott Ottawa which is located just steps from the restaurants and cafés of ByWard Market. The hotel also has an indoor pool and a lovely courtyard terrace. Kids will especially love this hotel's home theatre located in the lobby. Guests are encouraged to pick up some popcorn at the Market and make themselves at home while watching a movie on the big screen TV. Also located in ByWard Market, Andaz Ottawa ByWard Market is a modern-styled and super hip resting spot in the middle of the fun. Moms and dads will LOVE the free wine or cocktail at check-in, and your kids will love that the stocked mini-bar (minus the alcohol) is included with every stay.
Book a hotel room in Ottawa- Best Rates Guaranteed
The Lord Elgin is located just a couple of blocks from Parliament Hill and is ideal for exploring Ottawa. The hotel is within walking distance of many of the family-friendly attractions in the city including the National Gallery and Byward Market. Families that want a bit of luxury will love the Château Laurier which looks more like a castle than a hotel. The landmark hotel is centrally located next door to the Parliament buildings and alongside the Rideau Canal.
Read reviews of kid-friendly lodging in Ottawa
Top Day Trips from Ottawa
Upper Canada Village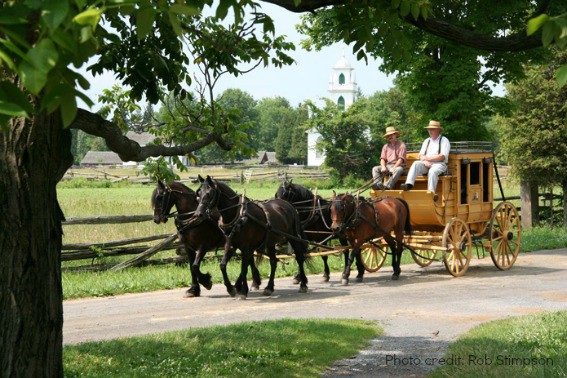 Upper Canada Village, located in Morrisburg, is located about an hour's drive from downtown Ottawa and is one of the largest living history sites in Canada. Here, visitors learn about life in a rural English-Canadian village during the latter half of the 19th century by observing how traditional farming techniques are used to grow vegetables and raise livestock, and also by watching demonstrations of traditional handiwork such as weaving and spinning. Costumed interpreters are on hand to answer questions about what life was like in the 1800s. Visitors to Upper Canada Village are transported back in time as they tour authentic historic buildings, try hands-on activities at the family activity centre, take a horse-drawn wagon ride, and even dress up in a 19th century costume for a walk around. The kids will have so much fun that they won't even realize that they are learning Canadian history while they're touring this living history museum.
Ottawa Region Rafting Trips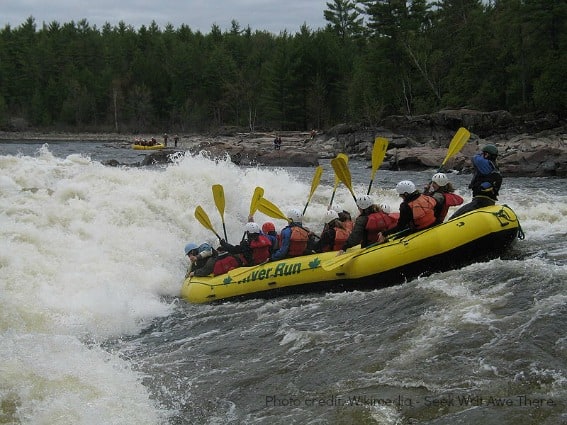 Families with older children seeking adventure may wish to head out of the city to the Ottawa Region for some white water rafting. There are several tour operators located 60-90 minutes from the city that offer white water rafting trips on the Ottawa River ranging from mild to wild.
Calypso Park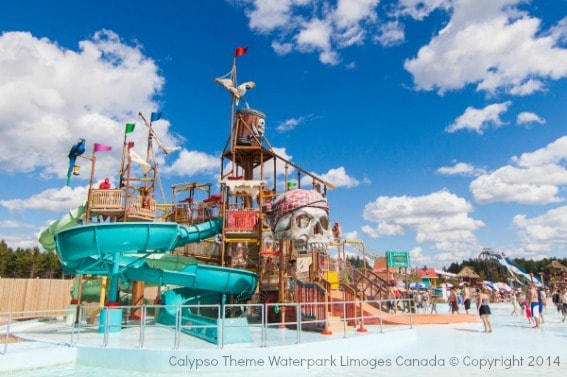 During the summer months, kids (and adults) of all ages will love a day trip to Calypso Park. This water park is Canada's largest and is located about a half hour's drive east of Ottawa. The park features more than 35 water slides, a wave pool, a roller coaster slide, a river ride, and a pirate-themed water play area for younger visitors.
Featured photo by: Shutterstock