If you're from the Midwest, no doubt you're familiar with Wisconsin Dells, the proclaimed Water Park Capital of the World. With numerous accolades including TripAdvisor's Best Destinations For Families, MSNBC's 5 Great Summer Getaways in 2011, and Trekaroo's own Top 10 Wisconsin Attractions, we definitely knew Wisconsin Dells was family friendly. Knowing that we wouldn't be spending too much time at the waterparks with 2 young tots, ages 2 years and 7 months, we were curious to see if the Dells was toddler-friendly as well. Wisconsin Dells did not only cater to our tiny ones but did indeed offer something for the entire family. Here are our picks of the best activities in the Wisconsin Dells for toddlers.
Walk the Downtown Dells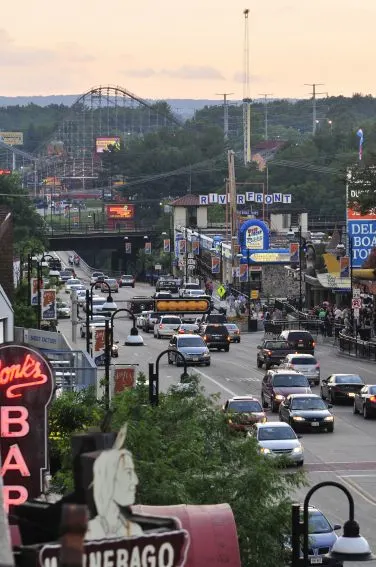 Photo Courtesy of Wisconsin Dells Visitor Bureau
Neon lights, souvenir shops, hotels, restaurants….and the smell of fudge! That's exactly what you'll find if you walk down on Broadway Street in Downtown. We followed the sweet smell to Swiss Maid Fudge where they just celebrated their 50th Anniversary. We thought we'd celebrate their success by trying their special 50th anniversary fudge complete with gold sprinkles on it. We had also noticed they had jumped on the bacon bandwagon by selling chocolate covered bacon. We, of course, couldn't leave without sampling a piece. Still craving more sugar? Keep walking down, you'll be sure to find more candy stores like Goody Goody Gum Drop where my son's attention immediately shifted to the model train running overhead.
Check the best deals on Family Friendly Hotels in Wisconsin
Have a budding artist or looking for the perfect keepsake? Kill two birds with one stone by stopping by Paint It! Pottery Shop. You or your little one can create the perfect souvenir such as a mug or ornament with your child's footprint or handprint. What an awesome way to remember the Dells!
Wisconsin Deer Park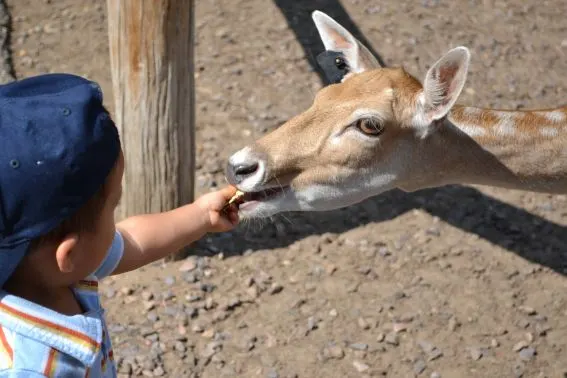 Where else are you able to have deer eating from the palms of your hands? At the 40 acre Wisconsin Deer Park, deer freely wander around and are eager to greet you especially if you are holding their favorite Ry Krisps crackers that can be purchased for only $2.00. A little worried about the deer roaming out in the open? We were at first until we saw how friendly and tame they really were. At times it seemed that the deer were begging for food, and once you fed one eager deer, the rest of their friends wanted some for themselves. This is a unique experience that should not be missed especially when visiting the Wisconsin Dells with toddlers.
Check out more reviews of Wisconsin Deer Park.
Tommy Bartlett Show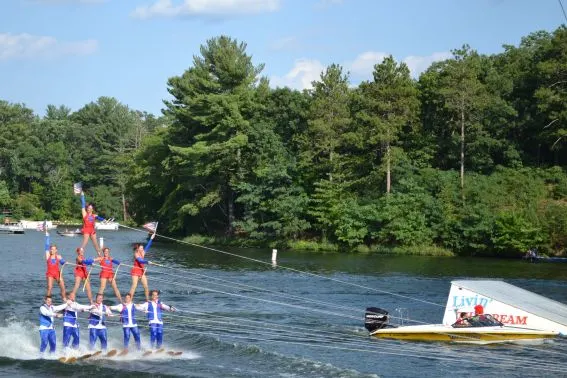 Once a traveling road show, the Tommy Bartlett Show has made Wisconsin Dells its home for the past 60 years. There's definitely a reason it has been successful for that long – the shows are fun for the entire family! From water-skiing action to hilarious comedic juggling to death-defying acts, this show definitely kept my always-moving toddler seated in his chair.
Fun fact: Tommy Bartlett had only water-skied once in his life when he was 70 years old!
Check for current deals on Family Friendly Hotels in Wisconsin
Original Wisconsin Ducks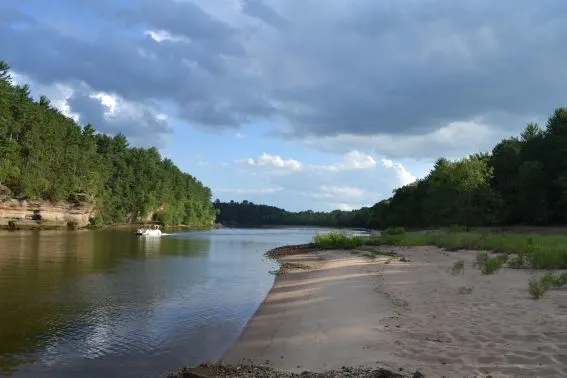 To do the Dells any justice you must see the unique natural features that are visible only by a cruising down the Wisconsin River. And what better way to experience it than by riding those infamous half truck half boat "Ducks?" These amphibious vehicles' history date all the way back to World War II when it used to carry soldiers. Nowadays, these ducks carry passengers through the surprisingly quiet side of the lower dells through woods, water, and Duck-only trails.
Even though the scenery may have been beautiful, the real reason they enjoyed this was the ride itself. With steep drops, fast turns, and splashdowns in the water, the Duck had my son exclaiming, "Whoa!" the entire ride. This is definitely one of the best activities in the Wisconsin Dells for toddlers.
Riverside & Great Northern Railway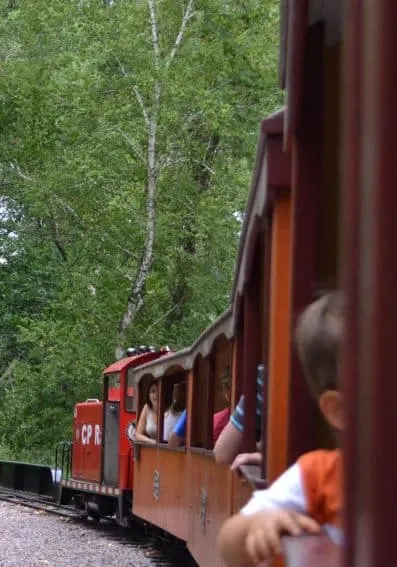 Train fans will have a spectacular time chugging up and down 3 miles of track on the Riverside and Great Northern Railway miniature-scale train. At the end of the line, passengers hop off as the engineer switches the engine on the turntable by hand. While the young ones may enjoy the ride, adults will appreciate the history of the railroad itself. Did you know that these small trains were originally used as transportation?
Want more train action? Check out Buffalo Phil's Grille where food is brought to you by train.
Circus World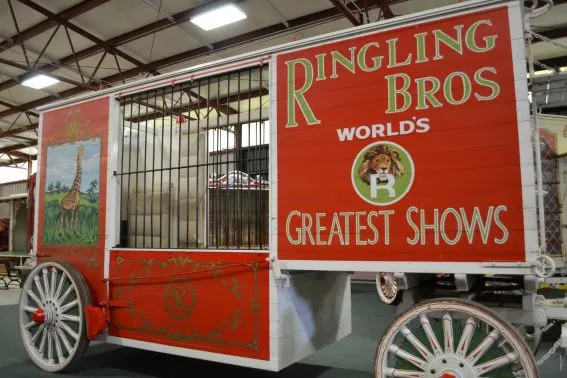 What kid or adult doesn't love the circus? Circus World is perfect for entire families. Adults will be fascinated with the circus history. And kids will love seeing classic circus acts. Going to the circus is the perfect family activity. With 10 shows daily, families that time it right can spend the entire day here. You'll find big top performances, magic shows, and animal rides. In between the numerous shows, don't forget to check out their fantastic collection of over 200 restored circus wagons. You'll even spot wagons that were used in the movie "Water for Elephants".
Look for the best prices on Family Friendly Hotels in Wisconsin
Do you have kids interested in being the stars of a circus show? Circus World caters to them with shows daily where kids learn tricks to perform their very own circus.
Wisconsin Dells may be the waterpark capital of the world, but in my family's book, it's THE best tot-friendly vacation spot around the area. We are already looking forward to our next vacation here!
---
Travel with kids to: CA |CO | DC| FL | HI | IL |MA | NC | NJ | NY | OR| PA| TN | TX | UT | VA | WA
Lead Image by: Shutterstock-/Kris Wiktor